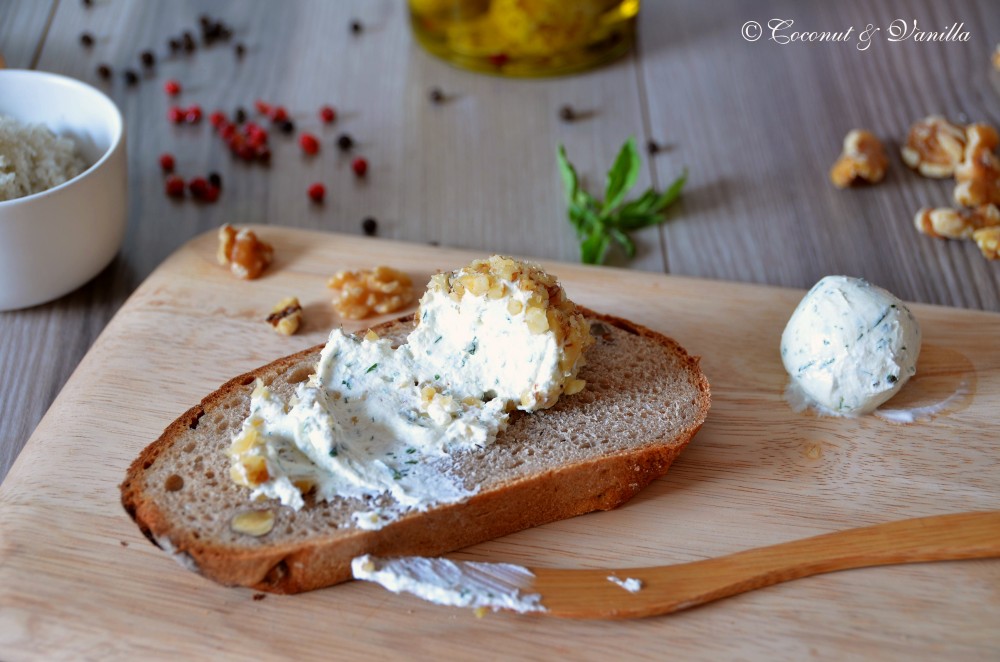 Einer der ersten Gedanken, nachdem wir wieder aus dem Urlaub zurück waren, war: "was bekommen die Nachbarn für 6-wöchiges Wohnung aufpassen und Blumen gießen". Etwas Selbstgemachtes natürlich. Seit dem ich das tolle Buch von
Nicole Stich
Geschenkideen aus der Küche
besitze ist die Frage glücklicherweise viel einfacher zu beantworten. Also kurz im Buch geschmökert und schon war die Sache klar: Kekse (allerdings die hochgepriesenen von der NY Times), Schoko-Müsli, selbstgebackenes Ciabatta und diese Frischkäsebällchen.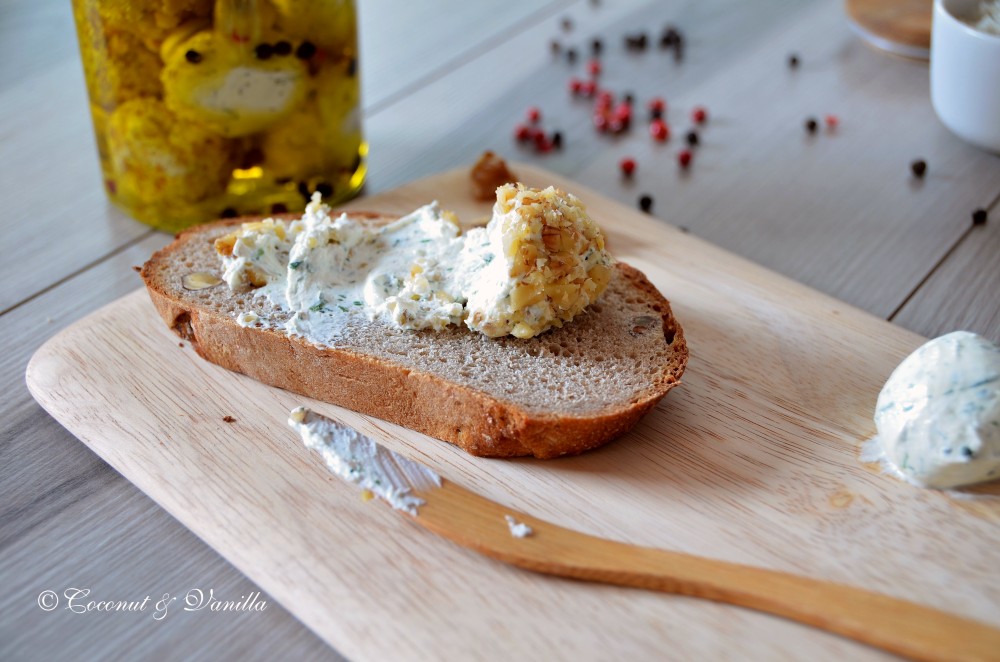 Die Käsebällchen sind sehr lecker, besonders da ich sie noch mit verschiedenen (TK) Kräutern gemischt und sie in gehackten Walnüssen gewälzt habe. So sind es keine 0815 Käsebällchen mehr. Die Bällchen werden aus abgetropften 10%-igem griechischem oder türkischen Jogurt hergestellt. Alles sehr easy, man muss nur ein bisschen Zeit haben. Man kann den abgetropften Jogurt mit allem mischen was das Herz begehrt: Kräuter, Gewürze und sie dann in Samen oder gehackten Nüssen der Wahl und sogar gehackten Trockenfrüchten wälzen. So bekommt jeder seinen individuellen Käse, der ein schönes Geschenk abgibt oder auch beim nächsten Brunch mit Freunden Eindruck schindet.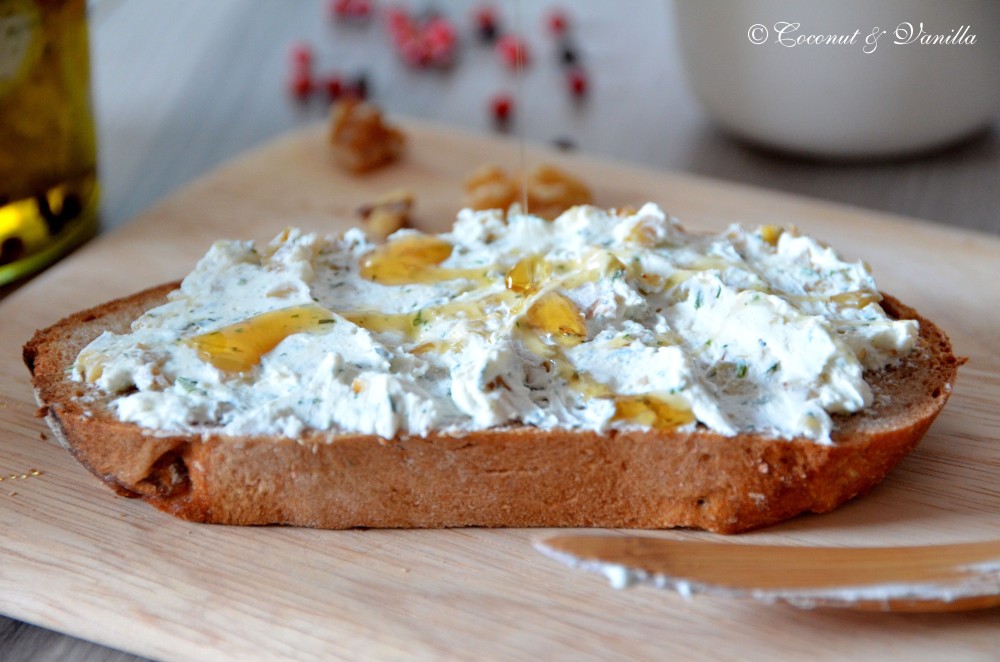 Frischkäsebällchen mit Kräutern und Walnüssen
ergibt etwa ein Glas mit 500 ml Inhalt und 10-12 Bällchen
es dauert 1-2 Tage bis der Jogurt abgetropft ist!
Zutaten:
400 g türkischen/griechischen Joghurt mit 10 % Fett

1/2 TL feines Meersalz

1-2 EL fein gehackte (TK) Kräuter (frische sind natürlich besser, wenn verfügbar): Kräutersorten und Menge nach Lust und Laune verwenden, ob gemischt oder nur eine Sorte

etwa 70 g gehackte Walnüsse oder andere Nüsse, Samen oder Trockenfrüchte

2-3 Knoblauchzehen

3/4 TL schwarze Pfefferkörner

1/4 TL rosa Pfeffer (Schinus)

Olivenöl zum Aufgießen
Den Joghurt mit dem Salz verrühren. Ein feines Sieb mit einem Mulltuch oder Küchenpapier auslegen. Über eine passende Schüssel hängen, dann den Joghurt in das Sieb geben und glatt streichen. Den Joghurt zum Abtropfen für 1-2 Tage kühl stellen. Am Ende kann man etwas nachhelfen, indem man den Joghurt im Mulltuch etwas auspresst. Laut Rezept sollte er am Ende nur noch die Hälfte wiegen. Das hab ich nicht hinbekommen und es hat trotzdem funktioniert.
Den Frischkäse in einer Schüssel mit den Kräutern (und/oder) Gewürzen mischen. Mit leicht geölten Handflächen (sonst lässt sich der Käse nicht rollen) den Frischkäse zu etwa walnussgroßen Kugeln formen. Auf eine Platte legen und nochmal 2 Stunden in den Kühlschrank stellen, damit sie fest werden.
Knoblauch schälen und in dünne Scheiben schneiden.
Die Käsebällchen in den gehackten Nüssen wälzen.
Das Glas mit etwas Olivenöl befüllen. Die Bällchen vorsichtig hineingeben, ebenso wie den Knoblauch und die Pfefferkörner, dann wieder Öl und Käse und so weiter. Am Ende sollte alles mit Olivenöl bedeckt sein.
Im Kühlschrank für etwas 2 Wochen haltbar.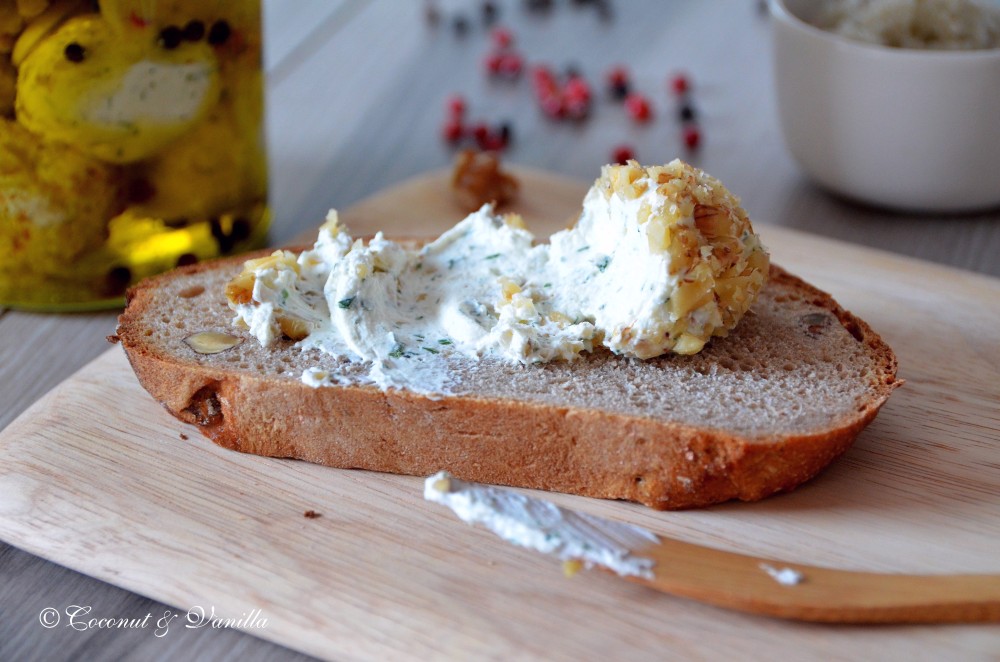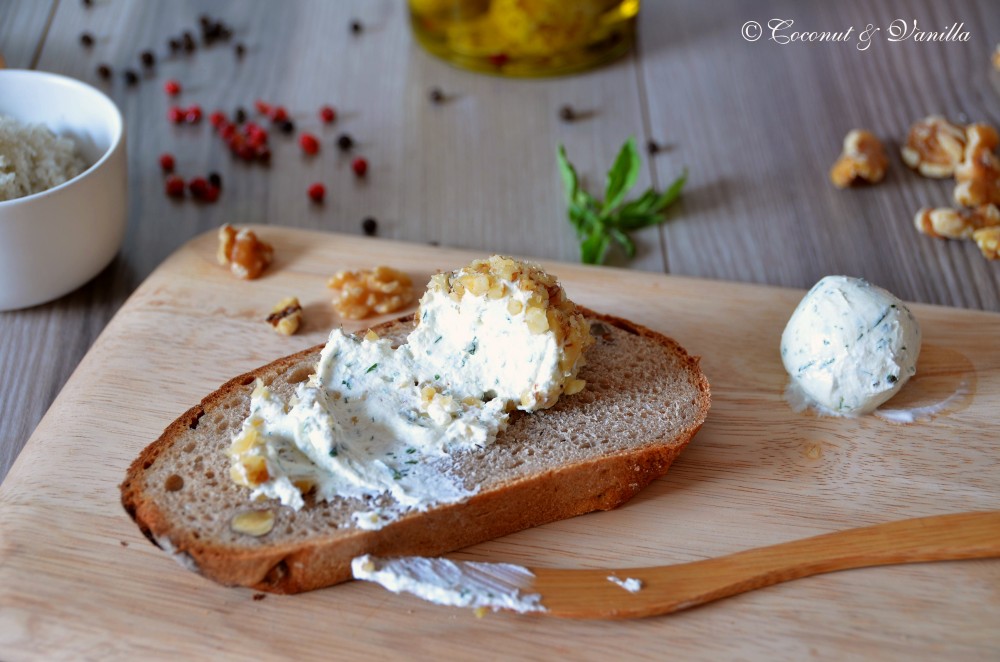 One of the first thoughts I had, when we where back home after our vacation was: " what is a good gift for our neighbours for sitting our apartment and caring for our plants for 6 weeks". Something home made of course. Since I'm in possession of
Nicole Stich's
fabulous book
Geschenkideen aus der Küche
(yet, only in German) this question is much more easy to answer. So after a brief look into the book it was clear: cookies (but the highly recommended ones from the NY Times), chocolate granola, home made ciabatta and these cream cheese balls.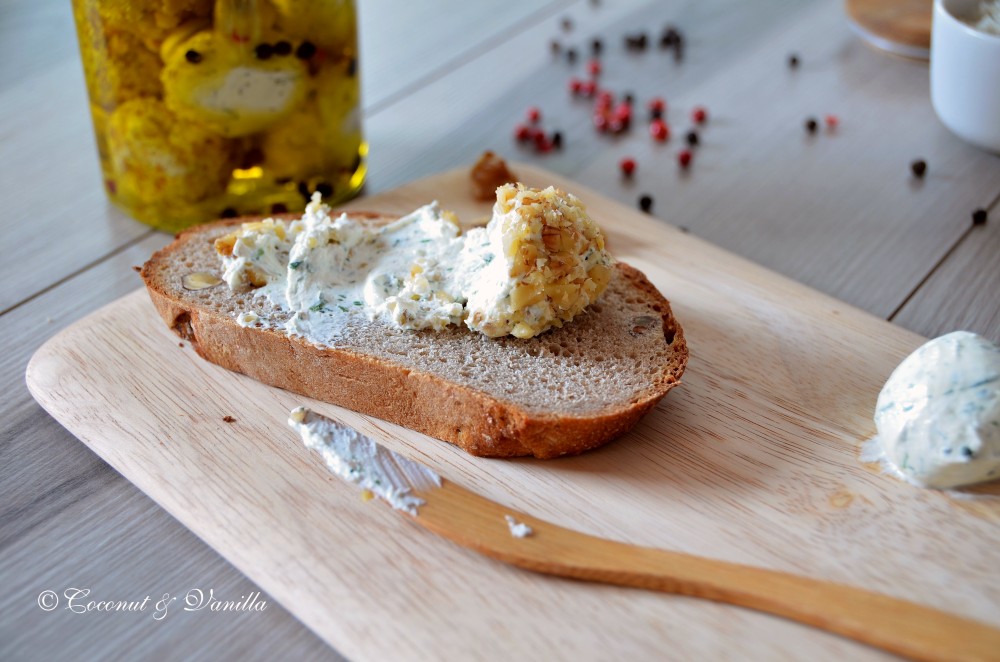 These cream cheese balls are very delicate, especially after mixing in some (frozen) herbs and rolling them in chopped walnuts. Like this, they are a real delight. The cream cheese balls are made of Greek or Turkish yogurt containing 10 % fat, which is drained. The whole process takes some time, but is very easy. The drained yogurt can be mixed with everything you desire, such as herbs and spices and they can be rolled in seeds, chopped nuts or even chopped dried fruit. This way you get individual cream cheese balls, that are perfect as a gift or will impress your friends at your next brunch.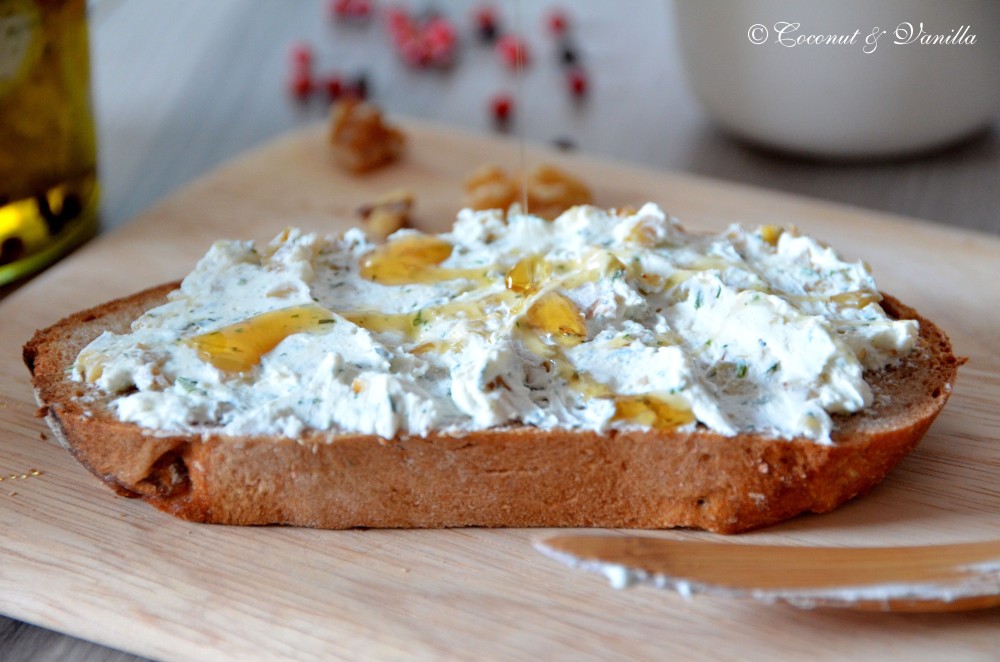 Cream Cheese Balls with Herbs and Walnuts
yields one glass with 500 ml and 10-12 cheese balls
notice: it takes 1-2 days to drain the yogurt
Ingredients:
400 g Greek/Turkish yogurt 10 % fat

1/2 tsp fine sea salt

1-2 Tbsp finely chopped mixed herbs (I used frozen, of course fresh are better if available): use the herbs you prefer, mixed or not and adjust the amount to your likings

about 70 g chopped walnuts or other nuts, seeds or dried fruits

2-3 garlic cloves

3/4 tsp black peppercorns

1/4 tsp rose peppercorns

olive oil for preserving
Mix the yogurt with the salt. Line a fine sieve with a cheese cloth or a paper towel. Hang it over a bowl and give the yogurt onto the cloth and smooth it out. Put it in the fridge for 1-2 days for draining. In the end it's possible to drain it even more by pressing the cheese cloth with the yogurt. The recipe says the yogurt should weigh only the half by the end. That didn't happen as I made it, but it worked out nonetheless.
In a bowl fold the herbs and/or the spices in the  cream cheese. With lightly oiled hands (otherwise the cheese will just stick to your hands) form about walnut sized balls. Put them on a platter and chill them again for two hours so they become firm.
Peel and the slice the garlic in thinly.
Roll the cream cheese balls in the chopped walnuts.
Fill a bit of olive oil in the glass. Add some of the cheese balls carefully, as well as some of the garlic and the peppercorns, then again oil and cheese balls and so on. In the end everything should be covered with olive oil.
The cream cheese balls can be stored for up to two weeks in the refrigerator.