Nachdem ich die Rubrik "Bärlauch" auf dem Blog bisher total vernachlässigt hatte, folgt nun innerhalb einer Woche das zweite Rezept. Muss ja irgendwie die verlorene Zeit aufholen, nech?
Ich liebe liebe liebe Klöße über alles. Mein Lieblingsgericht ist auch seit Kindheitsbeinen an Kloß mit Soß. Dabei ist selbstverständlich ein Kartoffelkloß gemeint, wobei mit einem Kloß komme ich nicht weit, eher 3. Außerdem muss es ein fränkischer Kartoffelkloß sein und zwar nicht zu klein. Ja, es gibt verschiedene Kriterien und ich bin kritisch! Es sind übrigens immer Klöße, nix Knödel!
Knödel dürfen nur Semmelknödel heißen. Liegt wahrscheinlich daran, dass das für mich nichts mit Heimat oder Franken zu tun hat. Aber auch Semmelknödel liebe ich heiß und innig. Egal ob klassisch oder mit Bärlauch, mit Pilzsauce oder zu Gulasch, ich liebe sie immer.
Und ich könnte jetzt noch tiefer in die Welt der Lieblingsklöße eintauchen: Grießklößchen(suppe), Leberknödel, Markklößchen, wahrscheinlich ließe sich ein Blog nur über Klöße schreiben.
Schön ist doch auch, dass man Klöße ganz wunderbar noch am nächsten Tag essen kann, entweder nochmal in heißem Wasser oder Sauce aufgewärmt oder in Scheiben rausgebacken. Sogar einfrieren kann man sie prima. Es ist einfach Kloßliebe!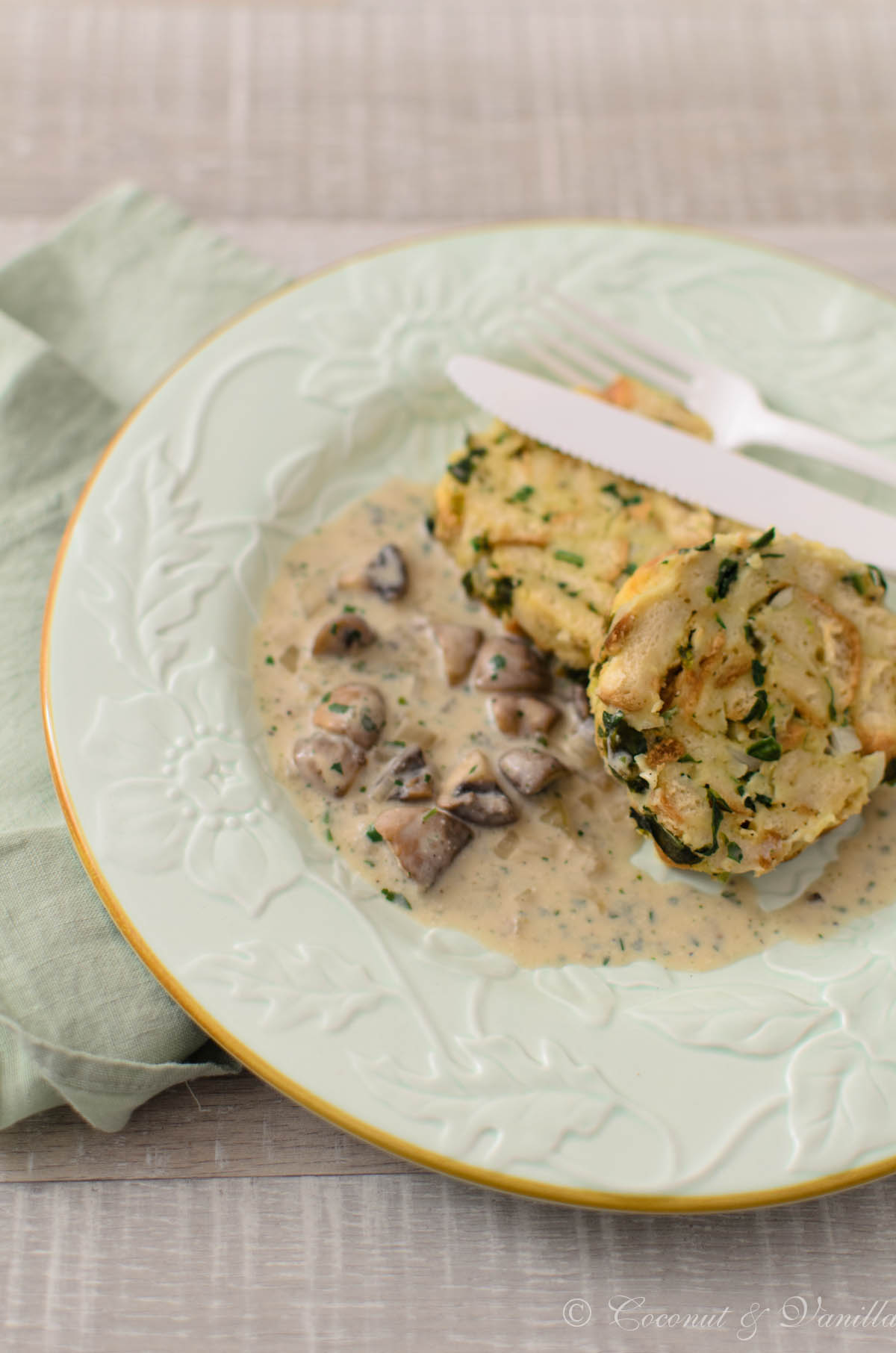 Vor einem Jahr: Rhabarber-Crumble mit Pekannuss-Vanille-Eiscreme
Vor zwei Jahren: Rhabarber-Streusel-Tarte
Vor drei Jahren: Rhabarber-Streusel-Kuchen
Bärlauch-Semmelknödel
für 4 Personen
Zutaten:
8 altbackene Brötchen
400 ml Milch
1 Bund Bärlauch (100 g)
1 Zwiebel
Salz, Pfeffer, Muskatnuss
3 Eier
Butter
Die Brötchen in dünne Scheiben und in eine große Schüssel legen.
Die Milch in einem Topf lauwarm werden lassen und über die Semmeln gießen. Die Semmeln mit einem Kochlöffel wenden, dann 15 Minuten stehen lassen bis die Milch aufgesogen ist.
Den Bärlauch waschen, trocknen und hacken. Die Zwiebel fein würfeln.
Bärlauch, Zwiebel, Eier, Salz, Pfeffer und Muskat zu den Semmeln geben und mit den Händen verkneten bis ein kompakter Teig entsteht (sollte der Teig zu flüssig sein kann man etwas Mehl oder Semmelbrösel dazugeben).
Ich gare die Semmelknödel in der Alufolie, so können die Knödel sich im Wasser nicht auflösen und bleiben schön kompakt. Man kann aber auch einfach mit den Händen Knödel formen und sie im Salzwasser 15-20 Minuten garen. Das Wasser darf dabei nur simmern.
Für die Alufolienmethode: Zwei Stücke Alufolie bereitlegen (etwa 40 cm breit) und großzügig mit Butter fetten. Es entstehen zwei Rollen, dabei darauf achten, dass man sie nicht breiter macht, als wie der Topfdurchmesser ist (sonst bekommt man sie nachher nämlich nicht in den Topf). Die Masse aufteilen auf die Folienstücke und eine längliche Rolle formen. Die Alufolie aufrollen und an den Seiten zusammenzwirbeln. Es entsteht ein großer Bonbon.
Einen großen Topf mit Wasser zum Kochen bringen.
Die Rollen in das Wasser legen und die Hitze runterdrehen, den Deckel auflegen (evtl. leicht schräg). Das Wasser muss nur köcheln. Die Semmelknödel 35 Minuten garen.
Die Bonbons aus dem Wasser nehmen, auswickeln und in Scheiben schneiden.
Tipp: Die Pilzsauce kann man auch prima zu Pasta oder Polenta essen.
Pilzsauce
Zutaten:
400 g Pilze
1 Zwiebel
1 EL Butterschmalz
50 ml Weißwein
250 ml Gemüsebrühe
150 ml Sahne
Salz, Pfeffer
1 TL Speisestärke
Die Pilze waschen und vierteln. Die Zwiebel fein hacken.
In einem Topf oder einer unbeschichteten Pfanne das Butterschmalz bei mittlerer Hitze schmelzen. Die Zwiebel darin andünsten, dann die Pilze dazugeben und anbraten. Die Pilze fangen nach einiger Zeit an Wasser zu verlieren, die Hitze hochdrehen und warten bis das Wasser verdunstet ist, dann mit dem Weißwein ablöschen und etwas einkochen lassen. Hitze wieder runterdrehen und mit der Gemüsebrühe und der Sahne auffüllen. 5 Minuten köcheln lassen.
Die Speisestärke in 2 EL Wasser auflösen und zum Andicken unter die Sauce rühren. Mit Salz und Pfeffer würzen.
Zu den Semmelknödeln (oder zu Pasta oder Polenta) servieren.
Since I didn't had any recipes with wild garlic on my blog since recently, I have another recipe within a week for you. I have to make up the lost time, right?
I love love love dumplings! My favourite dish since childhood are dumplings with sauce. Potato dumplings, of course. Although one is never enough, it should be more like three. Moreover it has to be a Franconian potato dumpling and not a little one, please. Yes, there are a few criteria and I am picky.
But I also love bread dumplings, no matter if they are made the classic way or with wild garlic, served with mushroom sauce or with goulash, I always love them.
I could dive deeper in the world of my beloved dumplings, like semolina dumplings, liver dumplings, bone marrow dumplings, I could probably write a blog completely entitled to dumplings ;).
Besides the wonderful taste the dumplings, I also like that you can eat the leftovers the other day. Either warmed up in hot water or sauce or pan fried in slices. You can also freeze them easily! Need I say more to let you fall in love with dumplings, too?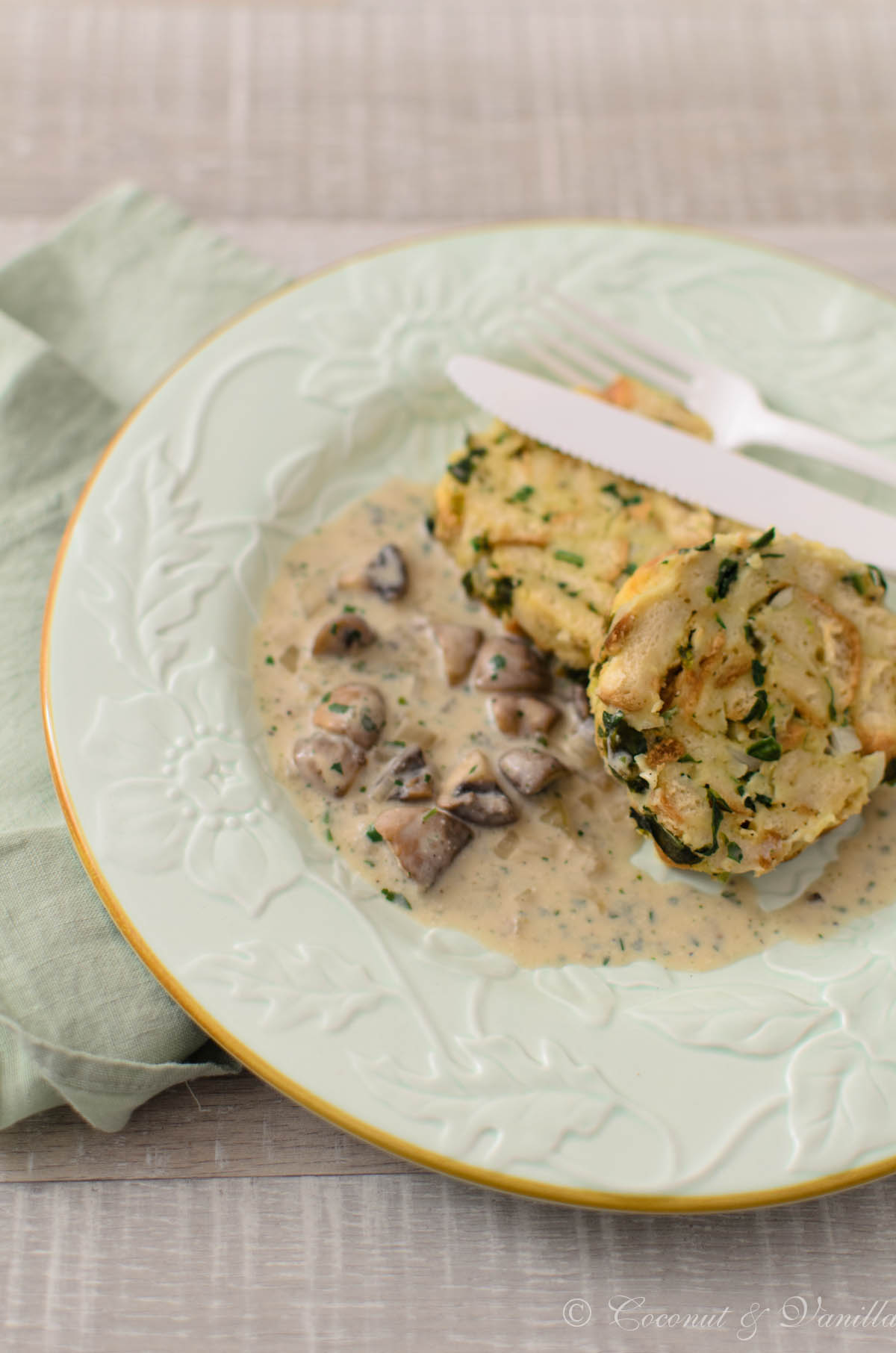 One year ago: rhubarb crumble with pecan vanilla ice cream
Two years ago: rhubarb streusel tart
Three years ago: rhubarb streusel cake
Bread Dumplings with Wild Garlic
for 4 people
Ingredients:
8 stale rolls
400 ml milk
100 g wild garlic
1 onion
salt, pepper, nutmeg
3 eggs
butter
Slice the rolls thinly and place them in a large bowl.
Warm the milk until lukewarm and pour over the rolls. Turn the rolls around with a wooden spoon and let it rest for about 15 minutes, until the rolls soaked up the milk.
Rinse, dry and chop the wild garlic. Peel and chop the onion finely.
Add the wild garlic, onion, eggs, salt, pepper and nutmeg to the rolls and knead with your hands until you have a tight dough (if the dough is too runny add some flour or breadcrumbs).
I use to cook the bread dumplings in aluminium foil to prevent them to dissolve in the water and to keep them together nicely. But you can also form dumplings with your hands and cook them in simmering salted water for 15-20 minutes.
For cooking the in aluminium foil. Place two pieces of foil (about 40 cm width each) on the counter and butter them generously (to prevent the dumplings from sticking to the foil afterwards). You are making two logs, keep in mind that the logs are shorter than the pot is broad in diameter (otherwise they won't fit into the pot). Part the dough into two and form two long logs onto the foil. Roll the log and twist the ends, so you end having two large bonbons. 
Bring a large pot with water to the boil.
Place the dumplings into the water and turn the heat down. Place a lid onto the pot. The water should just simmer. Cook the bread dumplings for 35 minutes.
Remove the bread dumplings from the water, unwrap and cut them in slices.
Tip: The mushroom sauce taste also fabulous with pasta or polenta.

Mushroom sauce

Ingredients:
400 g mushrooms
1 onion
1 Tbsp clarified butter
50 ml white wine
250 ml vegetable broth
150 ml cream
salt, pepper
1 tsp corn starch
Clean the mushrooms and cut them into quarters. Chop the onion finely.
Melt the butter in a saucepan or frying pan on middle heat. Braise the onion lightly, then add the mushrooms and roast them gently. When the mushrooms are losing water, turn up the heat and wait until the water has evaporated. Add the white wine and let it reduce. Turn the heat to middle-low and add the vegetable broth and cream. Let simmer for about 5 minutes.
Dissolve the corn starch in 2 Tbsp of water and stir in the sauce to thicken it. Season with salt and pepper.
Serve with the bread dumplings (or pasta or polenta or anything you want).