In Zukunft möchte ich Euch Gerichte vorstellen, die schnell und einfach sind und somit perfekt für das Abendessen nach der Arbeit geeignet sind. Auch in relativ kurzer Zeit lassen sich leckerer Gerichte zaubern. Es ist also nicht nötig auf Fertiggerichte und Co zurückzugreifen. Bei uns gibt es auch häufig ein schnelles Dinner und in Zukunft landen die hier auch auf dem Blog.
Für schnelle Essen aus dem Vorrat hilft es auch einen Vorrat zu besitzen. Es gibt Lebensmittel, die wir immer im Kühlschrank und in unserer "Vorratskammer" haben. Sachen die sich lange halten. So steht man nie vor dem leeren (Kühl-)Schrank und kann sich immer irgendwie aushelfen.
Habt ihr Interesse an einem Blick in meine Vorräte? Welche Lebensmittel sollte man daheim haben?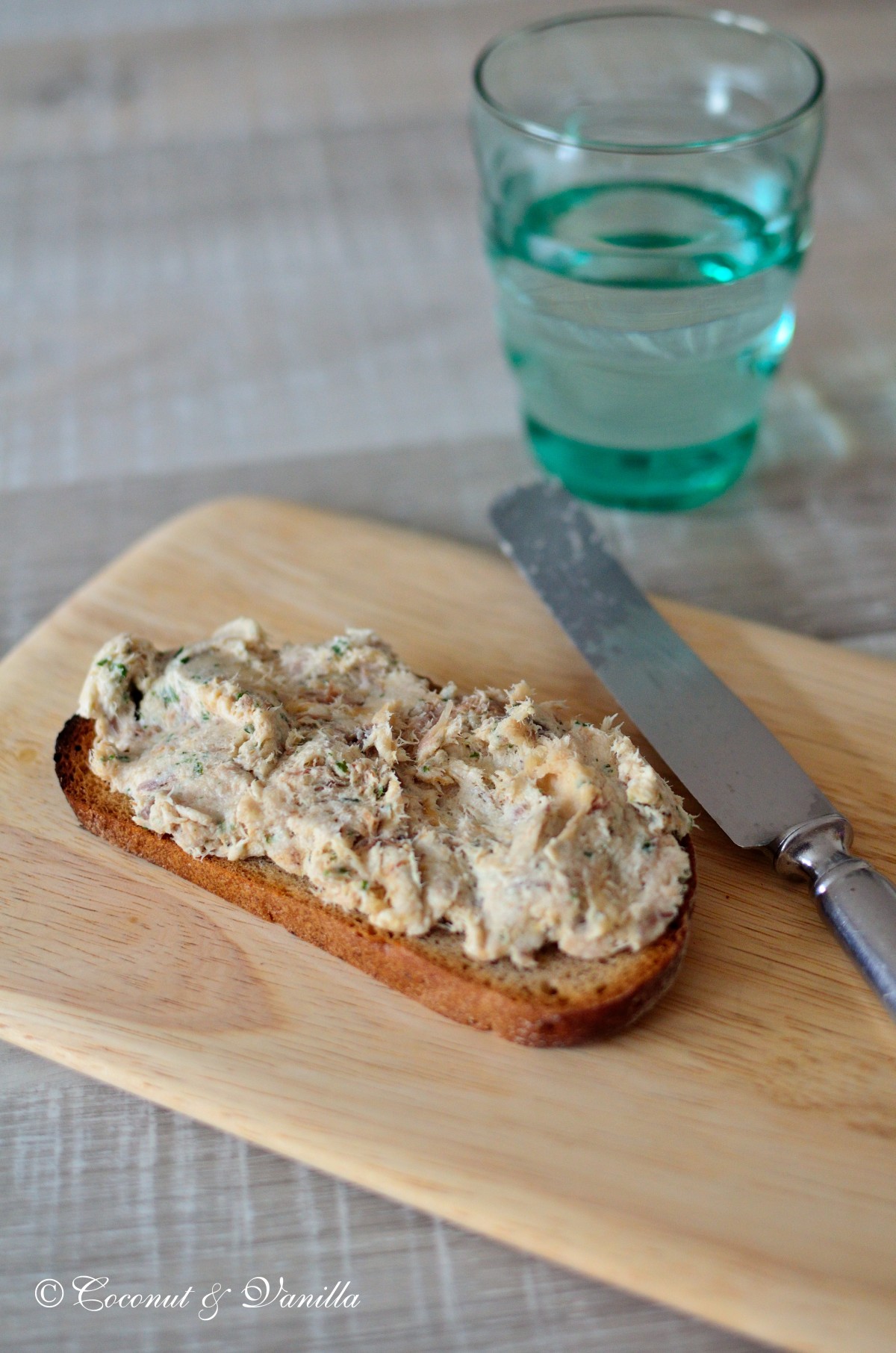 Das heutige Gericht klingt aufwendiger als es ist. Ist es nämlich gar nicht. Es dauert 5 Minuten alles zusammen zu rühren und währenddessen röstet das Brot im Toaster. Mit einem Salat als Beilage ein schnelles leckeres Essen. Der Salat kann nach Saison und Laune variiert werden: Feldsalat, grüner Salat, Tomate & Mozzarella oder rote Beete-Salat, der Fantasie sind keine Grenzen gesetzt. Und für die Pâté kann man natürlich auch einen anderen geräuchterten Fisch nehmen, z.B. Forelle (Lachs ist hier nicht geeignet).
Vor einem Jahr: Orangen-Vanille Stangen
Vor zwei Jahren: Weihnachtsplätzchen
Vor drei Jahren: Crème Brûlée mit Gewürzen
Pâté von der Räuchermakrele
für 2 Personen
Zutaten:
2 geräucherte Makrelenfilets (ca. 150 g)
125 g Frischkäse
1 EL fein gehackte Petersilie (evtl TK)
Saft einer halben Zitrone
Salz
Pfeffer
Brot
Die Makrelenfilets in Stücke zupfen, in eine Schüssel geben. Auf Gräten achten, eventuell entfernen! Den Frischkäse und die Petersilie dazugeben. Gut vermengen und mit dem Zitronensaft abschmecken. Lieber erstmal weniger dazugeben, mir hat es mit der vollen Menge Saft am besten geschmeckt. Mit Salz und Pfeffer würzen.
Brotscheiben toasten und großzügig mit der Pâté bestreichen.
Dazu passt grüner Salat, Tomate-Mozzarella oder ein anderer Salat deiner Wahl.
In the future I want to feature more dishes, that are made easy and quickly and are therefore perfect for an after work dinner. You can make scrumptious food in a short period of time, it's not necessary to draw on convenience and fast food. We have a lot of quick dinner dishes in our repertoire, too. And in the future you will see them here, too!
For a lot of dishes from the stock it's helpful to have a stock. There are groceries we always have in the fridge and others that are always stocked in the pantry. Food that can be stored over a long time. So you never stand in front of an empty fridge and you can always help yourself.
Are you interested in my pantry? What I have in stock and what is best to have at home?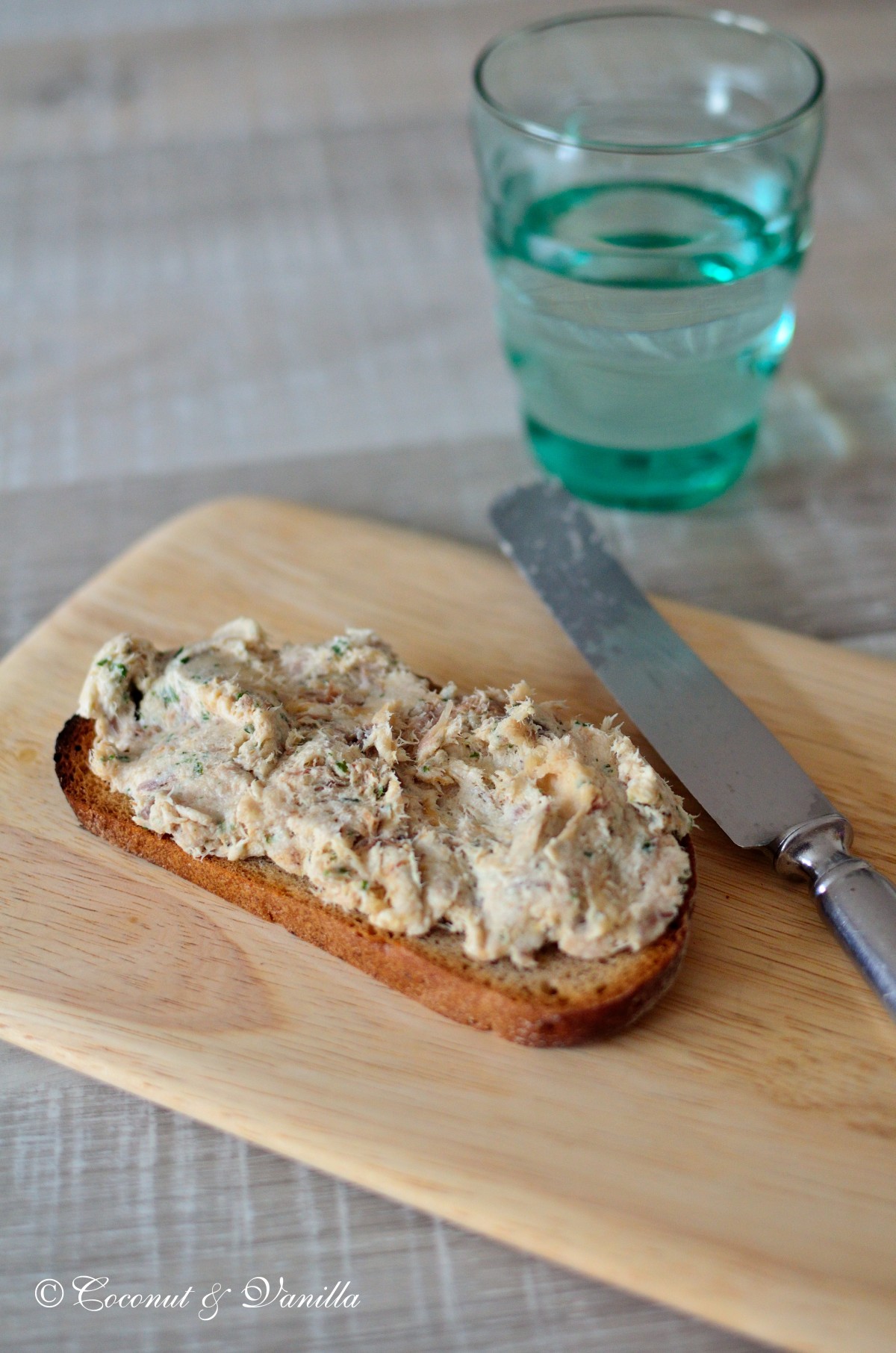 Today's dish sounds more elaborate than it is. Because it is not at all. It takes 5 minutes to stir everything together, while you toast the bread. Salad serves as a nice accompaniment here. Also the salad can be varied following seasons or your mood: lamb's lettuce, green salad, tomato & mozzarella or a beetroot salad, there are no limits to your imagination. The mackerel can also be substituted with another smoked fish, like trout (not salmon).
One year ago: orange-vanilla-sticks
Two years ago: christmas cookies
Three years ago: spiced crème brûlée
Smoked Mackerel Pâté
for 2 people
Ingredients:
2 fillets of smoked mackerel (about 150 g)
125 g cream cheese
1 Tbsp finely chopped parsley (frozen or fresh)
juice of half a lemon
salt
pepper
bread
Pluck the fillets into pieces, place them in a bowl. Watch out for fish bones, remove them eventually! Add the cream cheese and the parsley. Give it a good stir and add some of the lemon juice. Taste and add more if you like. I liked it best with all the juice. Season with salt and pepper.
Toast the slices of bread and slather with the pâté.
A green salad, tomato & mozzarella or a beetroot salad work great with the pâté.