Dienstag, 29. September 2009
Update: Nach unten scrollen für das deutsche Rezept!
Last week I've seen this wonderful recipe and photos of Tartelette's Vanilla, Salted Caramel and Chocolate Mousse and I knew immediately that I have to make it on my own. So last weekend I took the chance and followed her recipe.
It took me to the verge of despair at some points. The caramel wasn't not so easy for me, as there were some mysterious hard chunks formed, as I added the heavy cream and the butter. So I picked them out, as they didn't resolved after some stirring. But in the end the caramel mousse was the best of all! More problems came ahead, when making the chocolate mousse. Adding the heavy cream in the end made it an really hard chocolate "mousse". Cannot really speak about a mousse so. Quite hard to bring it in my glasses then, also because the density was much higher than the density of the other two mousses. I tried three versions of layering: chocolate mousse in the middle, chocolate mousse above, chocolate mousse at the bottom. The first two versions didn't work, because the chocolate mousse just settled down through the other layers. The third version worked, but unfortunately you couldn't see much the difference between the vanilla and the caramel layer.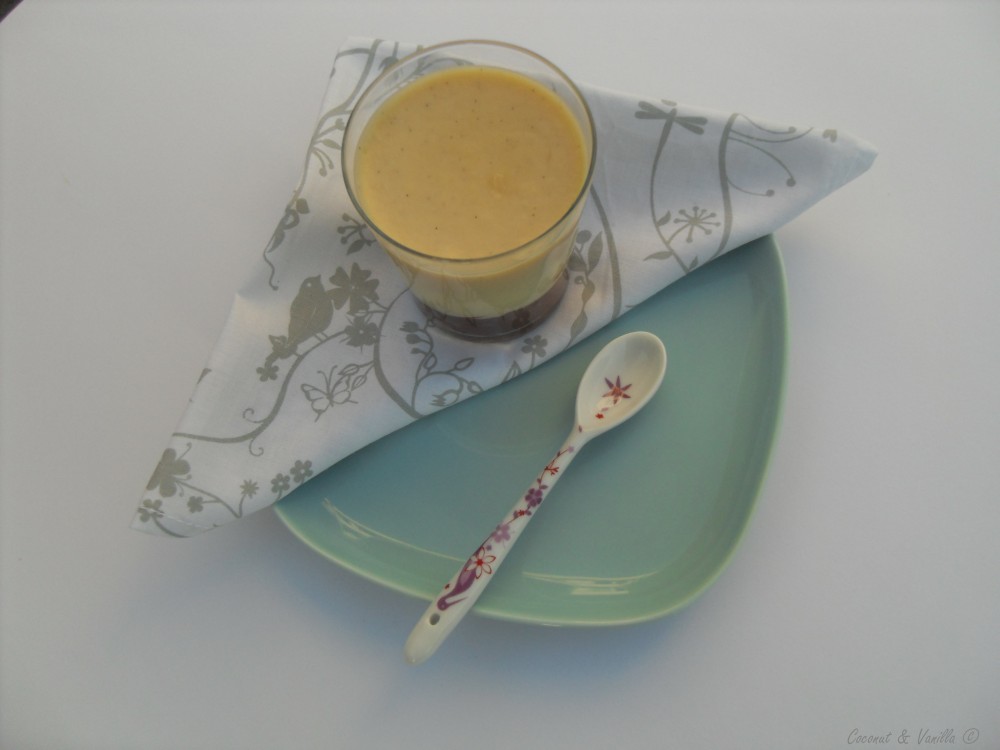 Problem no. 3 was the powdered gelatine. Since I never use that, I only had leaf gelatine. The conversion of powdered into leaf gelatine on the package said that it's enough to use a half leaf. But the mousse didn't get firm. So I added the other half. I think one leaf is just right, but I should have waited longer before layering, because after some chilling the texture was just right (excluding the chocolate mousse of course). So I don't know what (some of) the problems really were. Maybe it had something to do with the temperatures, when I added the ingredients. So next time I will more care about the ingredients having the same temperatures when mixing. And maybe less chocolate would also work for me. In the end it was worth all the drama! It just tasted and still tastes (because I still have some in the fridge) delicious! I especially like the salted caramel mousse. I will definitely give it another try some day. Another option is just cooking the caramel mousse…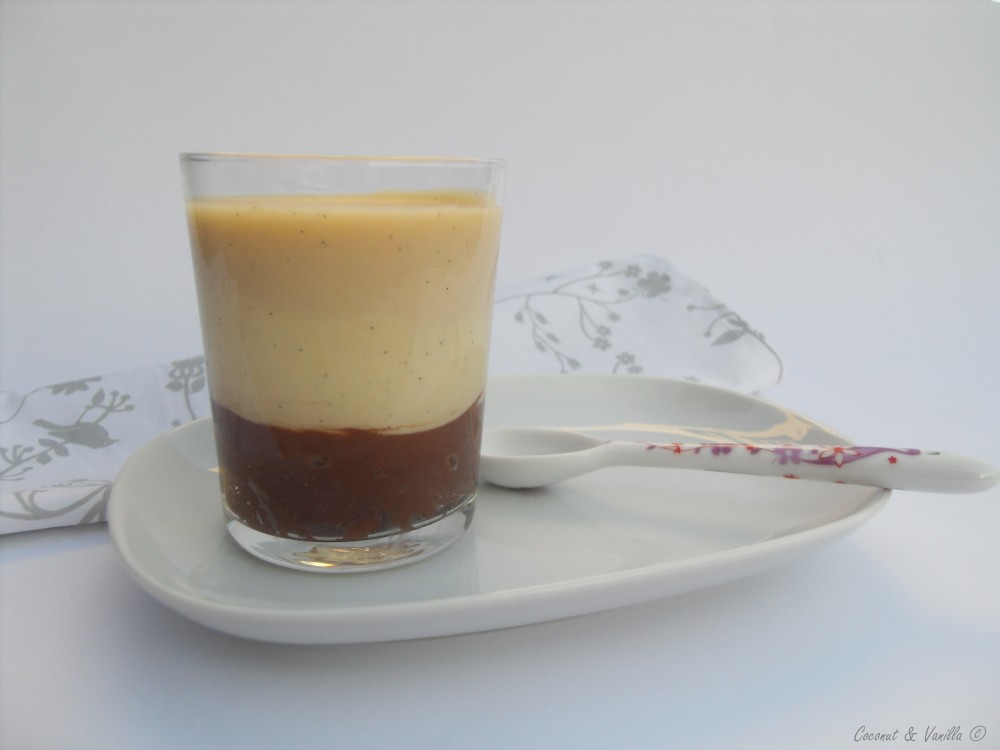 Triple Mousse
ergibt: 4 Portionen
Für die Karamellschicht:
100 g Zucker
30 ml Wasser
1/2 TL Fleur de sel oder feines Meersalz
60 ml Schlagsahne oder Crème double
10 g Butter
Für die Schokoladenschicht:
120 g Zartbitterschokolade
Für die Vanillebasis:
4 Eigelbe
50 g Zucker
250 ml Vollmilch
1/2 Vanilleschote, aufgeschlitzt und Vanille herausgekratzt
1 EL (7g) Gelatinepulver, in 3 EL Wasser aufgelöst oder 1 Blatt Gelatine
250 ml Schlagsahne
Für den Karamell: Zucker und Wasser in einen Topf geben und auf großer Hitze zum Kochen bringen. Kochen bis der Zucker karamellfarben ist. Vom Herd nehmen und Salz, Crème double und Butter hinzufügen. Verrühren, bis ein glatter Karamell enstanden ist. Abkühlen lassen.
Für die Schokoladenschicht: Die Schokolade im Wasserbad schmelzen. Abkühlen lassen.
Für die Basis: Die Eigelbe mit dem Zucker schlagen, bis sie hellgelb sind. Währenddessen die Milch mit der Vanilleschote und den Vanillesamen aufkochen. Die Vanilleschote entfernen und die Milch langsam in einem dünnen Strahl in die Eigelbe gießen, dabei immer weiterrühren. Die Eier-Milch wieder in den Topf geben und über niedriger Hitze erwärmen, bis die Creme eindickt. Die Gelatine dazugeben und verrühren. Auf Raumtemperatur abkühlen lassen.
Die Sahne steif schlagen und unter die abgekühlte Vanillemousse heben. Das Mousse in 3 gleichgroße Portionen aufteilen.
Zu einem Drittel Basismousse nach und nach die Karamellcreme geben, zu einem anderen Drittel die geschmolzene Schokolade. Gründlich unterheben.
Alle drei Cremes gleichmäßig in Förmchen aufeinander geben.
1 Stunde kalt stellen.