Ich freue mich den ganzen Winter und Frühling bis es wieder das langersehnte Sommergemüse gibt. Das Obst natürlich auch! Aber dann sind sie da die Zucchini. Was machen damit? Und jetzt haben wir auch zwei Zucchinipflanzen im Garten. Das heißt: die Zucchinischwemme beginnt!
Erster Tipp von mir an die unter Euch die auch Zucchinipflanzen haben: erntet die Zucchini so lange sie noch klein sind. Dann habt ihr auch nicht die Probleme diese Riesenzucchini verarbeiten zu müssen. Die jungen Zucchini schmecken auch viel besser. Sie enthalten keine bis kaum Kerne und weniger Wasser. Und sie sind schneller gegessen. Nachwachsen tun ja sowieso genug. Ich werde Euch also dieses Jahr noch mit dem ein oder anderen Rezept versorgen für Gemüse, von dem man sehr schnell sehr viel im Garten hat und nicht weiß wohin damit. Uns wird es dieses Jahr nicht anders gehen. Juhu, eigenes Gemüse! Ja, ich schüre noch etwas den Neid unter Euch ;).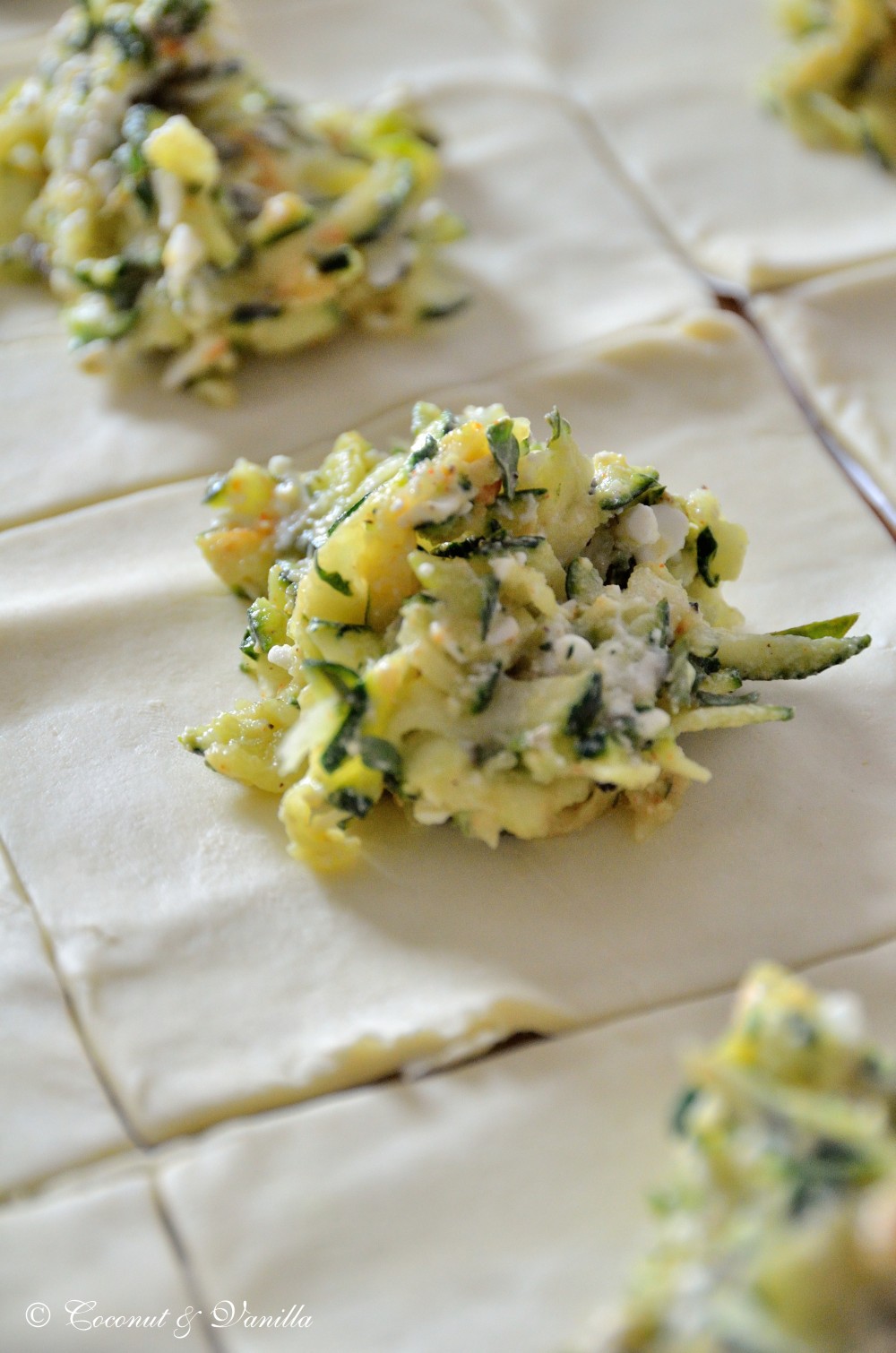 Diese Blätterteigtaschen sind eines Abends aus der Frage "was mache ich damit?" entstanden. Aus wenigen Zutaten, die man (ich 😉 ) immer zu Hause hat und ruckzuck war etwas Leckeres geboren. Geraspelte Zucchini vereint sich mit cremigem Feta und wird kräftig würzig durch Minze und Thymian. Eine Traummischung!
Die Taschen passen super zum Grillen, für's Picknick, für die nächste Party, als Mitbringsel oder abends zu etwas Brot und Salat. Ihr seht schon, es gibt keinerlei Ausreden diese Taschen nicht zu machen.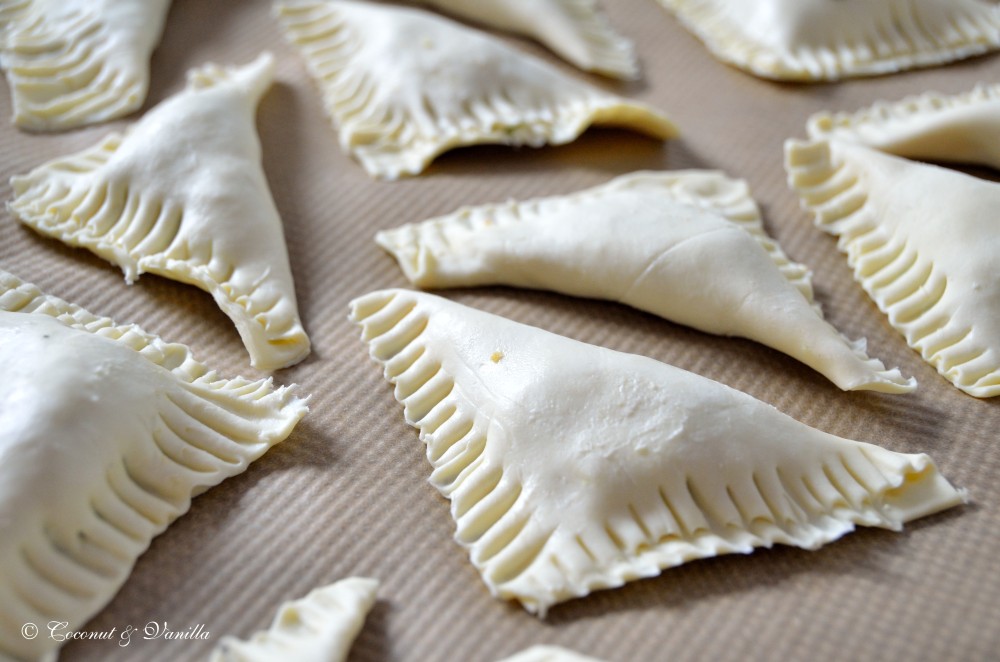 Blätterteigtaschen mit Zucchini und Feta
ergibt: etwa 15 Stück
Zutaten:
ca. 300 g Blätterteig (gefrorenen vorher auftauen), am besten den gerollten aus dem Kühlregal (ich friere den auf Vorrat immer ein)
1 mittleren Zucchino oder 2 sehr kleine Zucchini
100 g Feta
1/2 EL gehackte Minze
5 kleine Zweige Thymian, die Blätter abgerupft
Pfeffer, Salz
1/8 TL geräuchertes Paprikapulver (alternativ edelsüßes)
Die Zucchini waschen, Enden kappen und raspeln. Den Feta auch raspeln. Beides mischen. Die gehackte Minze und die Thymianblättchen unterrühren. Mit Pfeffer  und Paprikapulver abschmecken. Eventuell salzen (der Feta ist schon sehr salzig).
Den Blätterteig entrollen. In gleichmäßige relative kleine Quadrate (ca. 8 x 8 cm) schneiden. Ich hab so geschnitten, dass keine Reste übrig geblieben sind. Mittig auf jedes Quadrat circa 1 TL der Füllung legen. Einmal von Ecke zu Ecke überklappen und mit einer Gabel die Ränder verschließen.
Auf ein Blech legen und 20-25 Minuten bei 180° C backen.
Leicht abkühlen lassen (innen sehr heiß!) und genießen!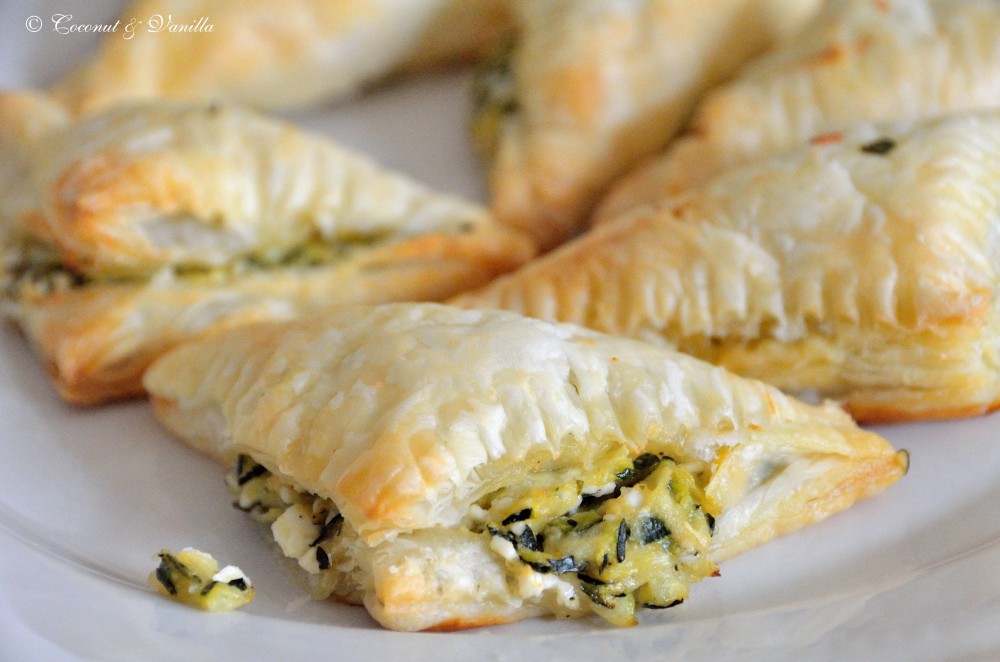 The whole winter and spring I'm looking forward to the summer vegetables, and fruit of course! But then they are there, zucchini. What to do with them? Additionally we have two plants on our patch this year. That means: the zucchini glut had begun! First tip for those of you having own zucchini plants, too: harvest the zucchini as long as they are small. So you avoid the problem of having to process giant zucchini. Also the young zucchini taste a lot better. They almost have no seeds or no seeds at all. And they are eaten a lot faster. There are a lot of them growing back, anyway. So this year I will blog some more recipes for vegetables, that are fast growing in the garden and yield a lot. So you know what to do with it. Because we want to know, too. Yeah, our own vegetables growing faster and faster!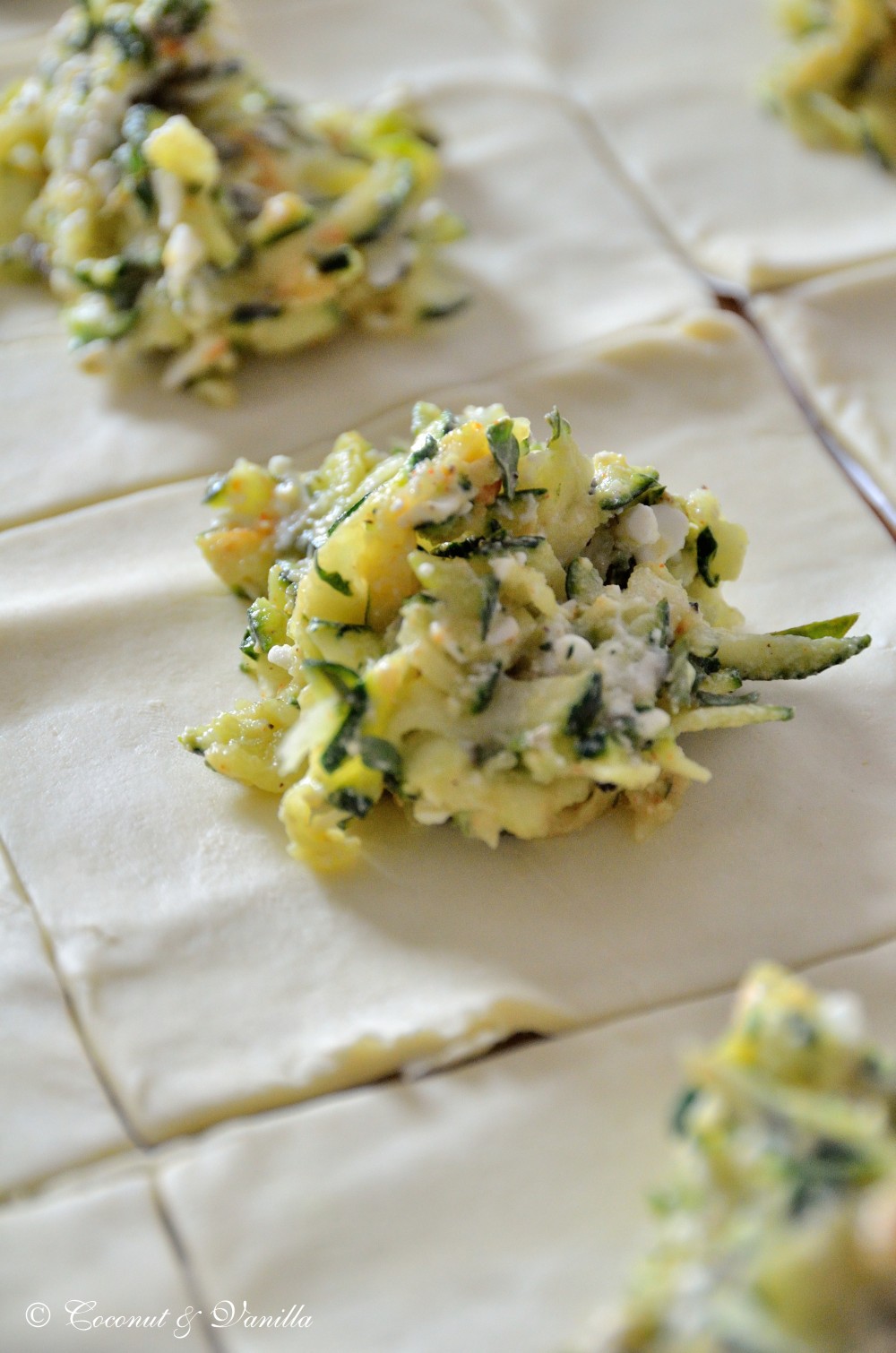 These puff pastry turnovers were the result from the question "what will I do with that?" one evening. Just few ingredients, which I always have at home and in no time these treats were born. Grated zucchini with creamy feta, seasoned with thyme and mint. A dream combination. The turnovers are perfect for a BBQ, for a picnic, the next party, as a gift or as a accompaniment for some bread and salad for dinner or lunch. You see, there is no excuse not no make these turnovers.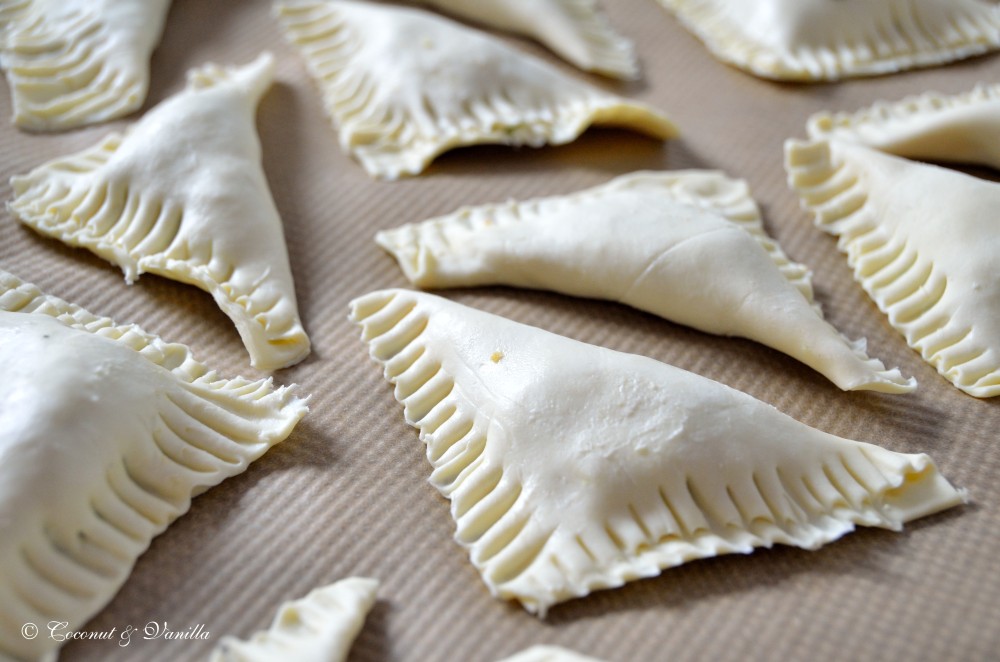 Puff Pastry Turnovers with Zucchini & Feta
yields: about 15 turnovers
Ingredients:
about 300 g puff pastry, I use the rolled one from the refrigerated shelf (if you use frozen, thawed)
1 middle-sized zucchino or 2 very small zucchini
100 g feta
1/2 Tbsp mint, finely chopped
5 small sprigs thyme, leaves removed
pepper, salt
1/8 tsp smoked paprika powder (use sweet paprika powder as an alternative)
Wash the zucchini, chop off the ends and grate them. Also grate the feta cheese. Mix both and stir in the mint and the thyme leaves. Season with pepper and paprika. Salt if you like (the feta is already very salty).
Unroll the puff pastry. Cut in small equal sized squares (about 8 x 8 cm). I cut them like that, so I had no leftovers.
Preheat the oven to 180° C. Place 1 tsp of the filling on each square. Fold over from corner to corner, so you get triangles. Seal the seams with a fork. Place on a sheet with parchment paper and bake for 20-25 minutes.
Let them cool slightly (they are very hot inside!) and enjoy!