Saturday, 6th April 2013
This recipe is from the great book "The Smitten Kitchen Cookbook" by Deb Perelman.
It evolved into one of my favourite dishes this winter, which is kind of a wonder, since I really dislike cauliflower! But this pesto makes a dish of the cauliflower, which is not just edible, but quite delicious. What a revelation! Furthermore, this dish is on the table in no time, doesn't need a ton of fresh produce and the over lefts can be frozen easily.
Generally, I like to make pesto of leftover vegetables and freeze it in small glasses or tupperware. Carrots, bell peppers, any leafy greens, I've tried already a lot. And on lazy or busy week nights I have dinner ready already. Because we can always eat pasta, right?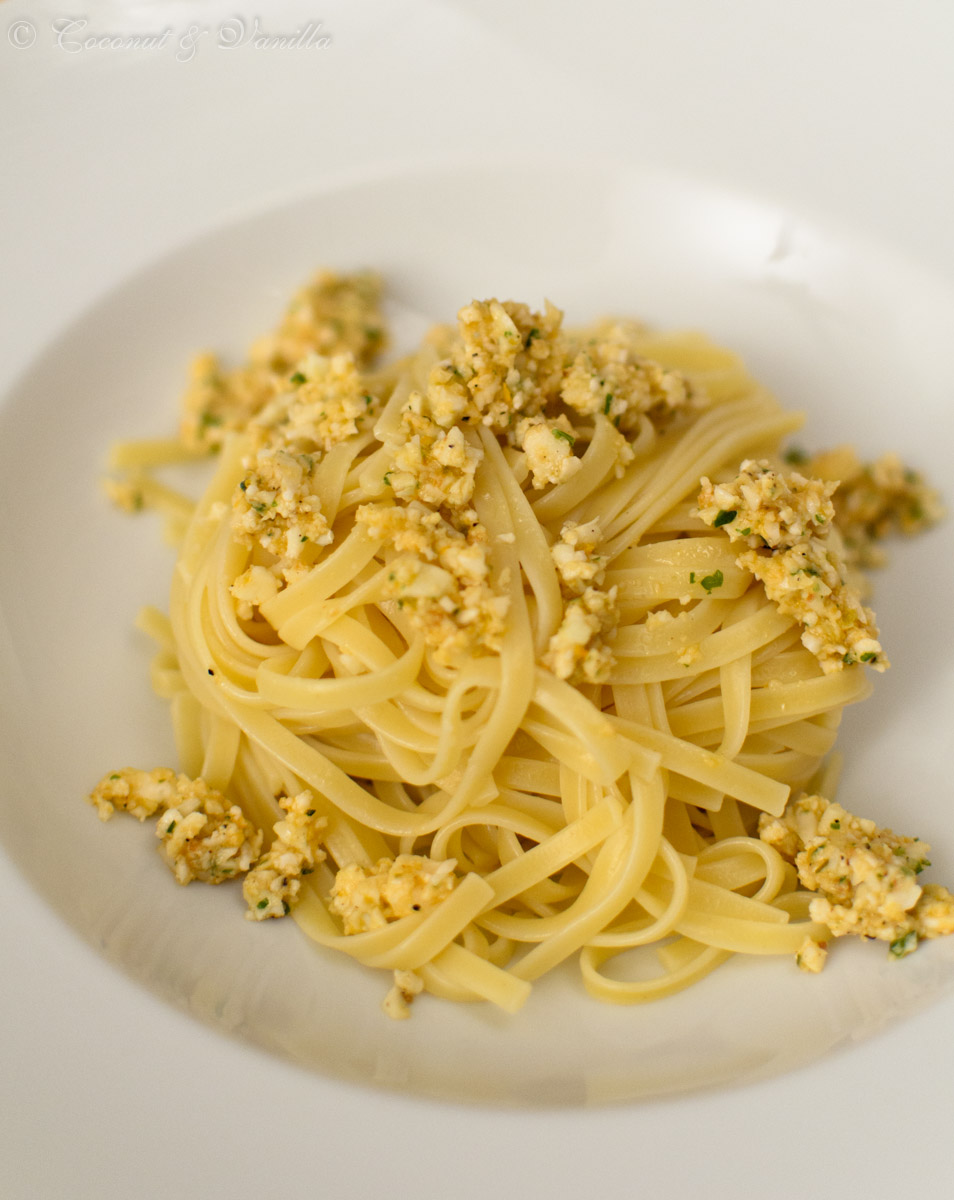 One year ago: eggnog cupcakes
Two years ago: rhubarb muffins
Linguine with cauliflower pesto
adapted from The Smitten Kitchen Cookbook by Deb Perelman
yields: 4 – 6 servings
Ingredients:
1/2 cauliflower (about 450 g), cut into florets and rinsed
1 garlic clove
1 pinch  of red pepper flakes or piment d'espelette (also good: smoked paprika powder)
70 g pine nuts, toasted
55 g parmesan, plus more for serving
4 dried tomatoes
1 Tbsp capers (can also be omitted, but rounds off the pesto nicely)
3 Tbsp (or more) parsley, finely chopped
80 ml olive oil
1/2 tsp sherry or white wine vinegar
salt, pepper
linguine (adapt how much you need; we take 300/2 persons, but we are hugh pasta lovers!)
In a large pot boil water for the pasta.
Chop the cauliflower in a food processor until it has the size of different sized couscous. Better make it in two batches. Pour the cauliflower into a bowl.
If the tomatoes are oil-packed, drain them under water and chop them.
Pulse garlic, pepper flakes, pine nuts, parmesan, tomatoes, capers and parsley in the food processor until it looks like breadcrumbs. If it gums up to a chewy dough because of oil/moisture add some cauliflower to loosen it again. Add everything to the bowl. Add the olive oil, vinegar and salt and stir until combined. Season with salt, pepper and vinegar.
Cook the linguine until al dente. Drain and reserve 250 ml of cooking water.
Toss the pasta with the pesto and half of the reserved cooking water. If the pesto is still too thick add some more water.
Serve with freshly grated parmesan.
Note: If you don't own a food processor simply chop everything by hand with a large knife.