Dieses Rezept stammt aus dem wundervollen Buch "The Smitten Kitchen Cookbook" von Deb, die auch auf dem gleichnamigen Blog bloggt.
Es ist diesen Winter zu einem meiner Lieblingsrezepte avanciert, was einem Wunder gleicht, schließlich finde ich Blumenkohl einfach nur zum Davonlaufen! Dieses Pesto ist aber ein Gericht, dass Blumenkohl nicht zu essbar, sondern lecker macht. Eine echte Offenbarung! Hinzu kommt, dass dieses Essen ruckzuck auf dem Tisch steht, nicht viele frische Zutaten benötigt und man Reste auch prima einfrieren kann.
Überhaupt verarbeite ich allerlei Gemüsereste gerne zu Pesto und friere diese dann in kleinen Gläschen oder Gefrierdosen ein. Möhren, Paprika, jegliches Blattgemüse, ich habe schon vieles ausprobiert. So habe ich an faulen oder stressigen Abenden immer ein schnelles Essen parat. Nudeln gehen schließlich immer, oder?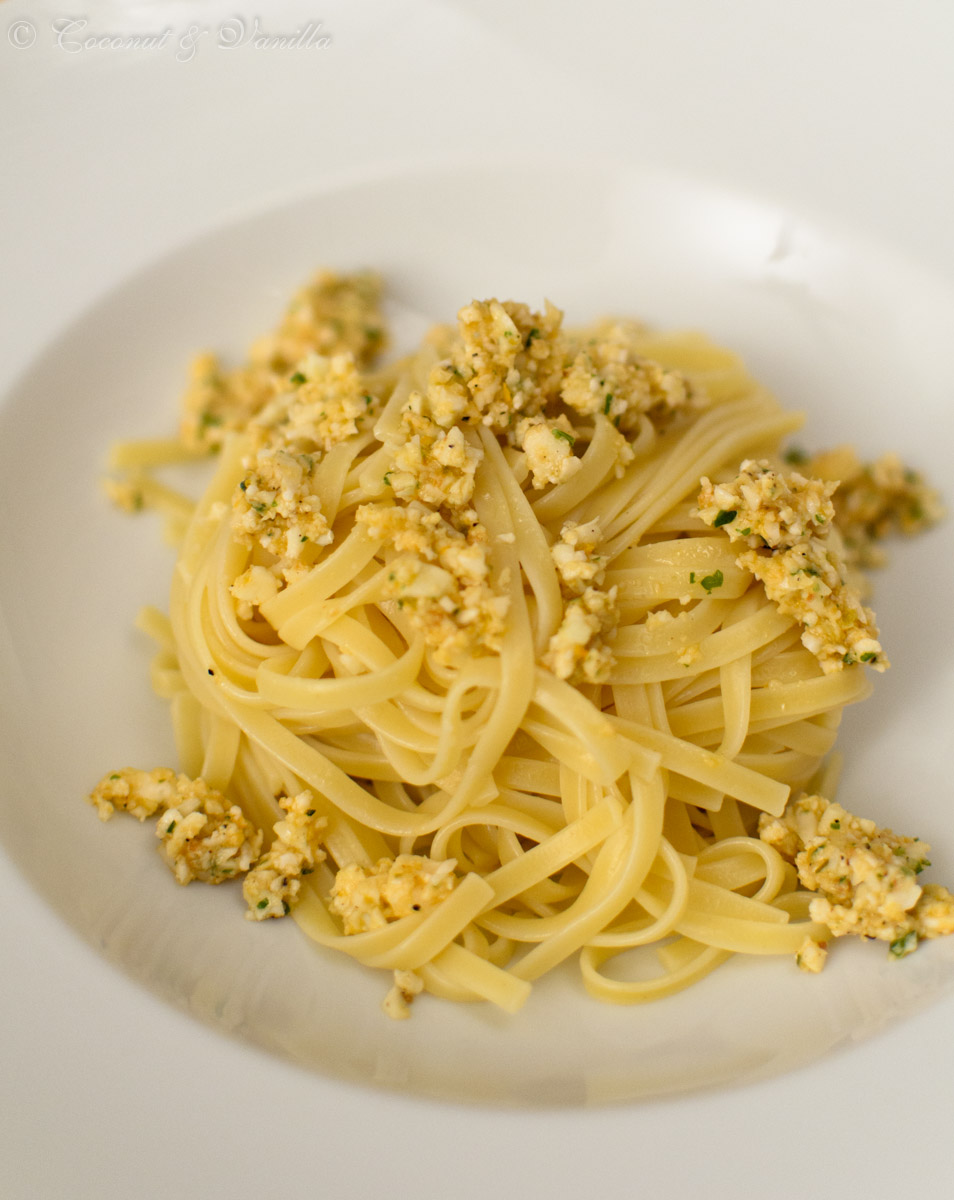 Vor einem Jahr: Eierlikör Cupcakes
Vor zwei Jahren: Rhabarber Muffins
Linguine mit Blumenkohlpesto
nach einem Rezept aus The Smitten Kitchen Cookbook von Deb Perelman
für 4 – 6 Personen
Zutaten:
1/2 Blumenkohl (etwa 450 g), in Röschen geteilt und gewaschen
1 Knoblauchzehe
1 Prise Paprikaflocken oder Piment d'Espelette (auch lecker: geräuchertes Paprikapulver)
70 g Pinienkerne, geröstet
55 g Parmesan, plus mehr zum Servieren
4 getrocknete Tomaten
1 EL Kapern (kann man auch weglassen, rundet das Pesto aber schön ab)
3 EL (oder mehr) Petersilie, fein gehackt
80 ml Olivenöl
1/2 TL Sherry- oder Weißweinessig
Salz, Pfeffer
Linguinemenge je nach Personenanzahl anpassen (wir machen 300g / 2 Personen, sind aber auch große Esser)
Wasser aufkochen für die Pasta.
Den Blumenkohl in einem Food Processor / Universalzerkleinerer hacken bis er so klein wie Couscous ist und etwas größer. Am besten auf zweimal machen. In eine Schüssel geben.
Sind die Tomaten in Öl eingelegt abwaschen und klein schneiden.
Knoblauch, Paprikaflocken, Pinienkerne, Parmesan, Tomaten, Kapern und Petersilie im Zerkleinerer hacken bis alles die Größe von Semmelbrösel hat. Wenn sich auf Grund von Öl/Feuchtigkeit alles zu einer zähen Masse verklebt, kann man etwas Blumenkohl dazugeben um es wieder aufzulockern. Die Zutaten zum Blumenkohl in die Schüssel geben. Olivenöl, Essig und etwas Salz dazugeben und verrühren. Mit Salz, Pfeffer und Essig abschmecken.
Die Linguine im kochenden Salzwasser garen bis sie al dente sind. Die Nudeln abgießen und 250 ml Kochwasser zurückbehalten.
Die Nudeln mit dem Pesto und der Hälfte des Kochwasser mischen. Ist das Pesto zu dickflüssig noch etwas Kochwasser dazugeben.
Mit frisch geriebenem Parmesan servieren.
PS: Wer keinen Zerkleinerer hat, kann auch alles mit einem großen Messer klein hacken.
This recipe is from the great book "The Smitten Kitchen Cookbook" by Deb Perelman.
It evolved into one of my favourite dishes this winter, which is kind of a wonder, since I really dislike cauliflower! But this pesto makes a dish of the cauliflower, which is not just edible, but quite delicious. What a revelation! Furthermore, this dish is on the table in no time, doesn't need a ton of fresh produce and the over lefts can be frozen easily.
Generally, I like to make pesto of leftover vegetables and freeze it in small glasses or tupperware. Carrots, bell peppers, any leafy greens, I've tried already a lot. And on lazy or busy week nights I have dinner ready already. Because we can always eat pasta, right?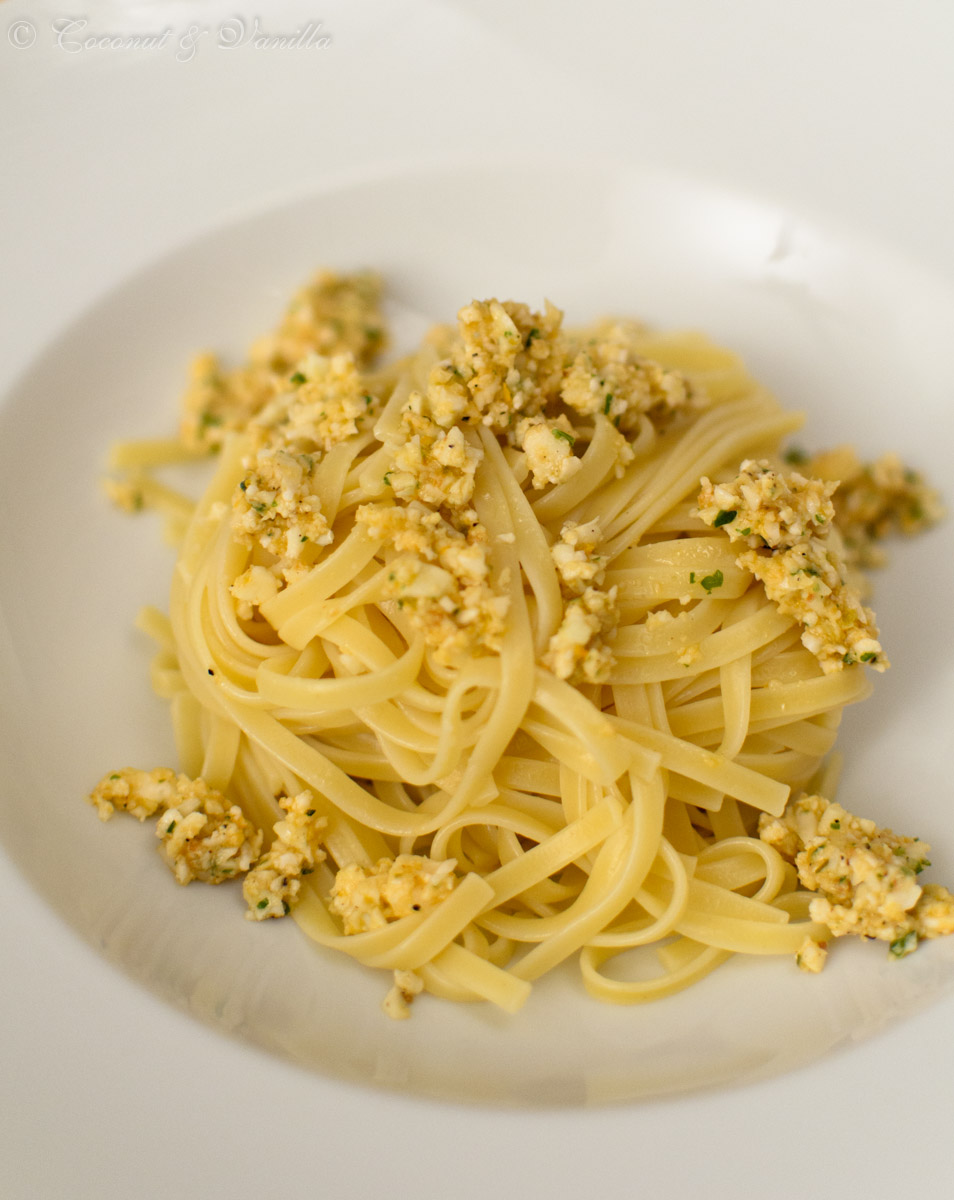 One year ago: eggnog cupcakes
Two years ago: rhubarb muffins
Linguine with cauliflower pesto
adapted from The Smitten Kitchen Cookbook by Deb Perelman
yields: 4 – 6 servings
Ingredients:
1/2 cauliflower (about 450 g), cut into florets and rinsed
1 garlic clove
1 pinch  of red pepper flakes or piment d'espelette (also good: smoked paprika powder)
70 g pine nuts, toasted
55 g parmesan, plus more for serving
4 dried tomatoes
1 Tbsp capers (can also be omitted, but rounds off the pesto nicely)
3 Tbsp (or more) parsley, finely chopped
80 ml olive oil
1/2 tsp sherry or white wine vinegar
salt, pepper
linguine (adapt how much you need; we take 300/2 persons, but we are hugh pasta lovers!)
In a large pot boil water for the pasta.
Chop the cauliflower in a food processor until it has the size of different sized couscous. Better make it in two batches. Pour the cauliflower into a bowl.
If the tomatoes are oil-packed, drain them under water and chop them.
Pulse garlic, pepper flakes, pine nuts, parmesan, tomatoes, capers and parsley in the food processor until it looks like breadcrumbs. If it gums up to a chewy dough because of oil/moisture add some cauliflower to loosen it again. Add everything to the bowl. Add the olive oil, vinegar and salt and stir until combined. Season with salt, pepper and vinegar.
Cook the linguine until al dente. Drain and reserve 250 ml of cooking water.
Toss the pasta with the pesto and half of the reserved cooking water. If the pesto is still too thick add some more water.
Serve with freshly grated parmesan.
Note: If you don't own a food processor simply chop everything by hand with a large knife.