Saturday, 17th March 2012
 Google is going to shut down Google Friend Connect. As a consequence I will remove the feature in the sidebar in the upcoming week.
Update: This wasn't correct. Google Friend Connect is just available anymore for users of the Google-owned platform Blogspot. Therefore I've decided to put the feature up again (some of you asked for it, too). You find it again in the side bar like before.
But there are a lot of other  possibilities for following my blog: the classic feed or the e-mail subscription, to which you can subscribe in the sidebar.
Of course I would be happy if you follow me on Facebook. There you'll find the newest information about the blog, as well chatting with me about recipes or what I'm doing in my kitchen.
If you would like to be independent from Facebook, but using a service as well, I recommend you Bloglovin'. There you can follow my blog, as well as many others, too.
I have still my twitter account, where I twitter about my newest blog posts, but not much more, since it's too time-consuming for me.
For some time you also find me on Pinterest and if you're interested you can follow my pins there.
The buttons in the sidebar will lead you to the corresponding services. Underneath every blog post it's possible to like it, twitter it and so on.
Now to my new "project". I've already showed you here where we buy what. For quite some time I thought about showing you what we purchase every Saturday on the market.  Today I just began. So you see how we buy seasonal and regional and what's available here.
Rarely I have a shopping list for the market. I buy what is available and what I like. With these things I cook the whole week, mostly without knowing on Saturday what too cook with it. That works really good, when you have some fantasy and a bit of flexibility.
I hope you like the new series and you will be inspired by it. I would be happy, if you feel animated to go to the market yourself, if you're not already doing that already and a nice market is available (I lived in areas myself, where the market was not recommendable).
Do you want to know what I make with a special product? Let me know, and maybe you see the recipe here soon!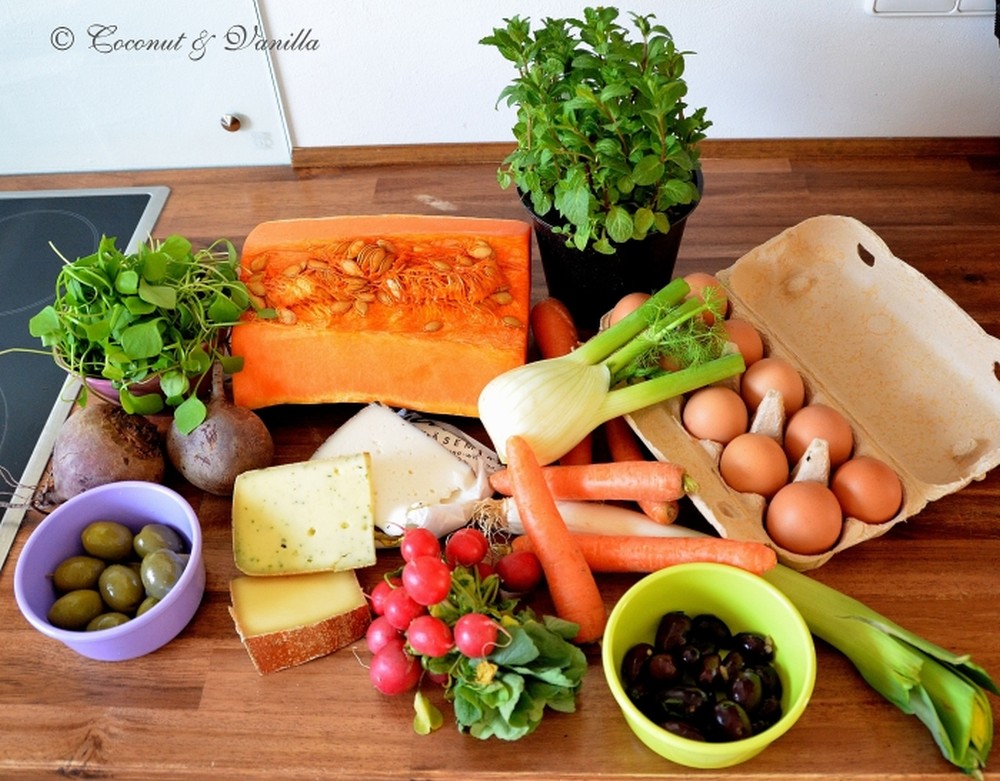 This week I bought that on the market: Purslane, a piece of pumpkin, red beets, mint, fennel, carrots, leek, eggs, radishes, cheese, green mammoth olives and black kalamata olives. I didn't bought any fruits today, since we still have some apples, pears, oranges and lemons at home.