Montag, 23. Mai 2011
Update: Für das deutsche Rezept nach unten scrollen.
Last week I visited my beloved hometown. One evening I was out in a restaurant, where I ordered a chai tea after dinner. On the plate with the tea, there it was: a cantucchini, also known as biscotti di Prato (to be correct: it's one biscotto and several biscotti). An Italian cookie specialty.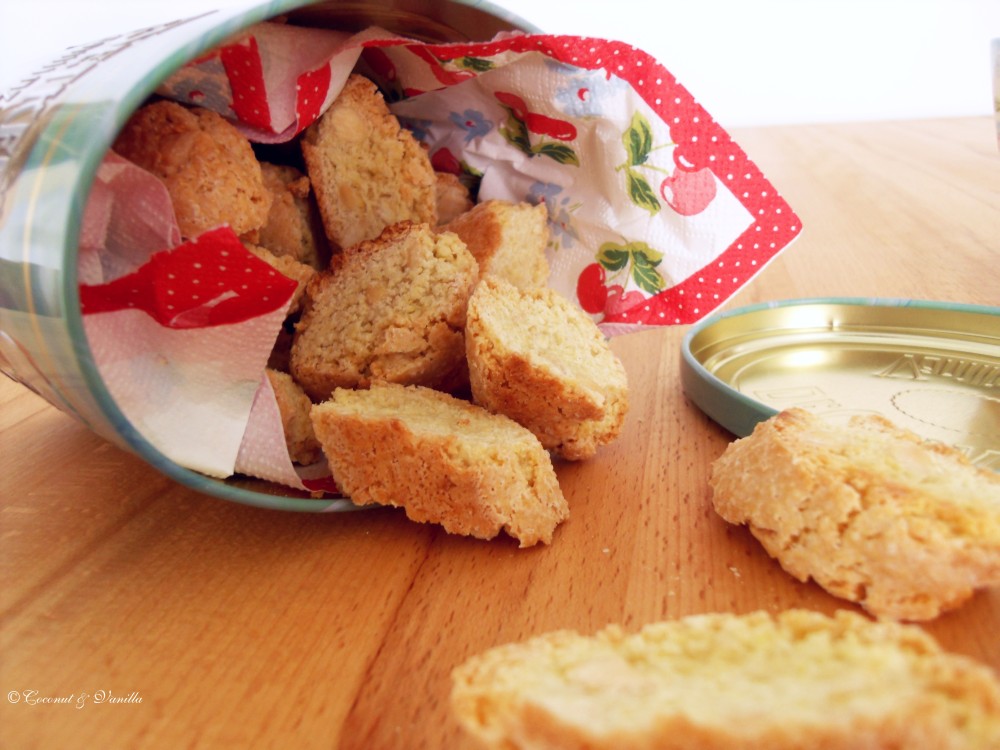 Something I've never liked. That's because every time, when I lied my hands on one of these, they were hard like a rock (literally). They were no fun to eat. And so they had no specific taste to me. Because how do you taste something, that doesn't dissolve in your mouth?
But of course, I took the cantucchini in my hand and gave it a try. I just can't say no to any cookie. And then it happened… it wasn't hard like a rock!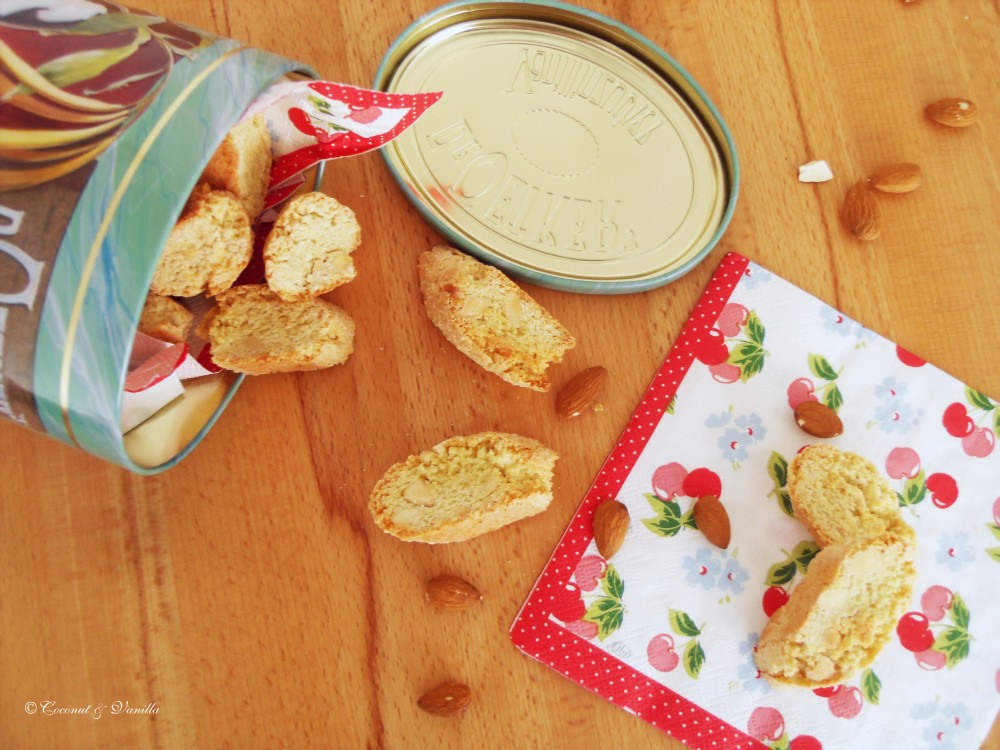 It was crisp, maybe a bit more than crisp, but that's ok, because it was slightly dense and chewy and not that hard in the middle. It was even tasty. I wondered where the rock-biscotti came from in the last 15 years and what the people had done with them.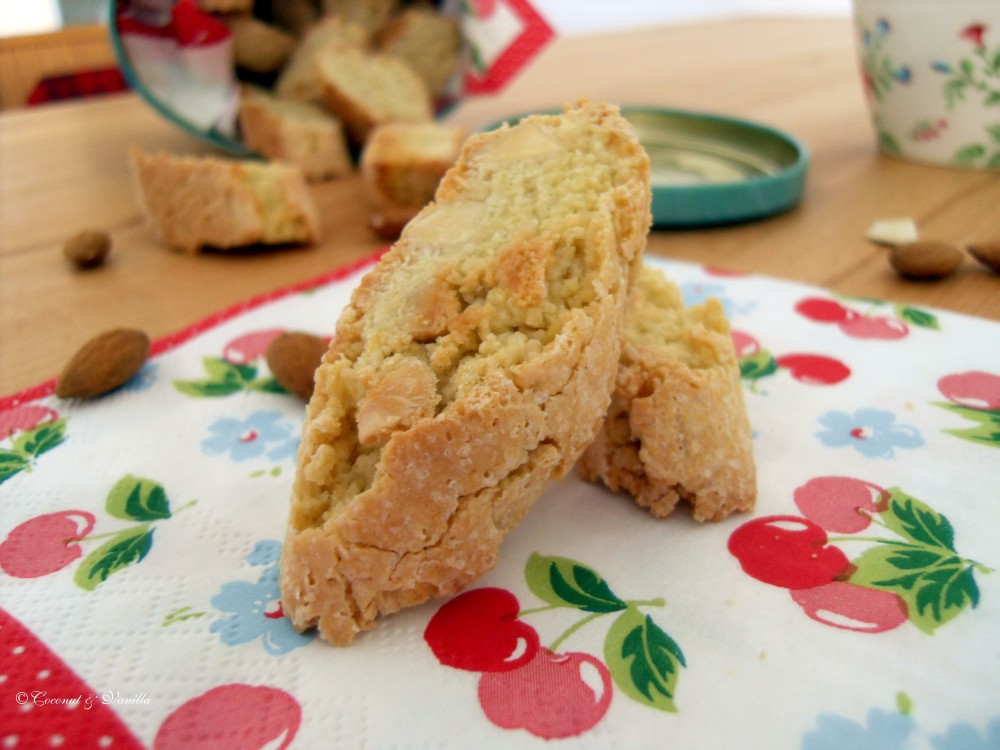 Later that week I was still thinking about that biscotto. I searched the internet and found a recipe, which I baked yesterday. And I really like them. They are firm and crisp outside, and dense and chewy and a bit soft inside. Slightly sweet and spiked with big almond pieces.
The cookies are baked twice, thus they get there hardness. These are very ancient cookies and baking them twice makes them storable for a long time. Of course, if you like them very hard bake them a bit longer.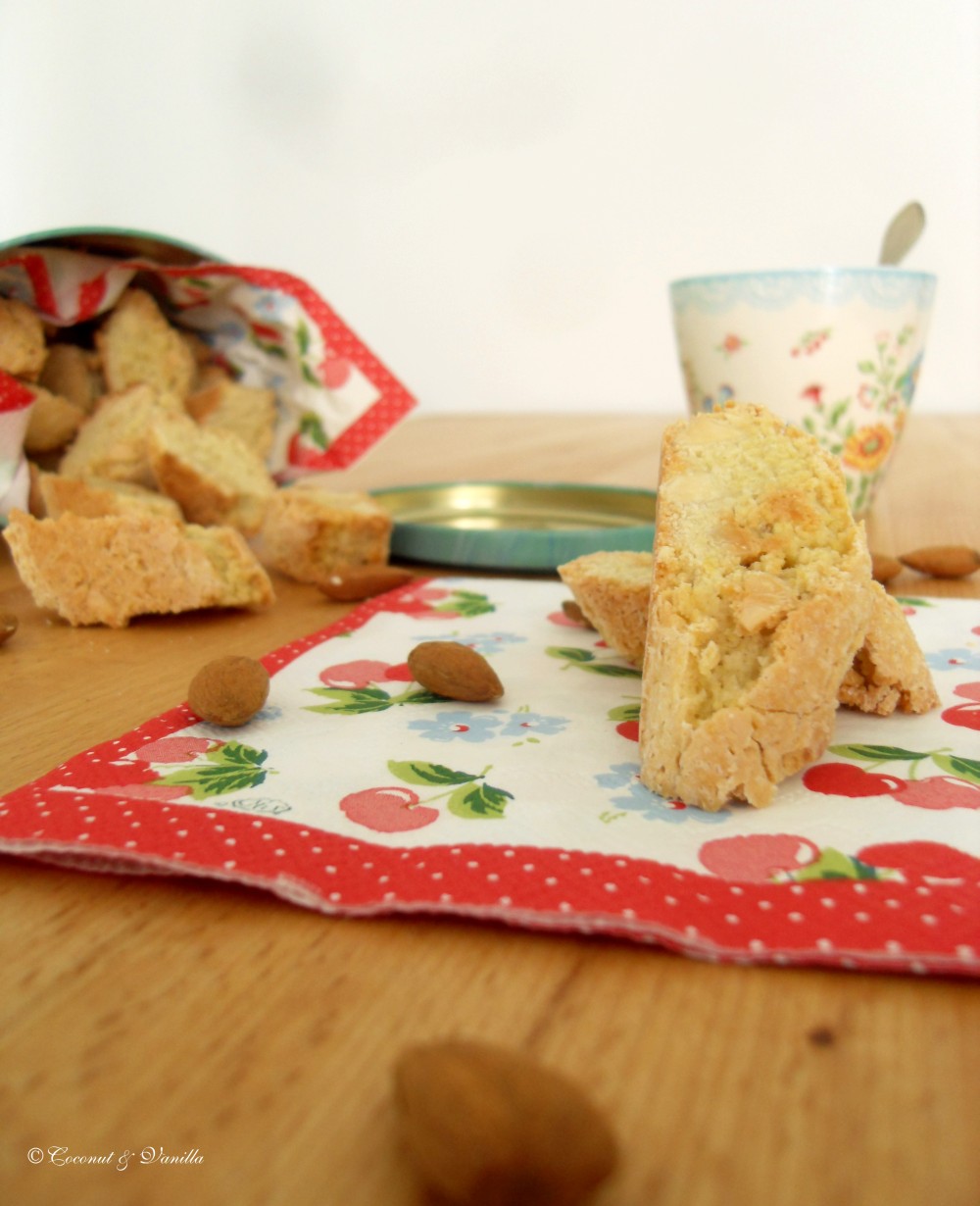 Cantucchini oder Biscotti di Prato
nach einem Rezept von Kleiner Kuriositätenladen
Zutaten:
100 g ganze Mandeln

300 g Weizenmehl

1 TL Backpulver

170 g Zucker

2 Eier

1 Eigelb

1 Prise Salz

50 g gemahlene Mandeln
Den Ofen auf 180° C vorheizen.
Die Mandeln in eine kleine Schüssel geben und mit kochendem Wasser übergießen bis sie bedeckt sind. 10-15 Minuten stehen lassen. Das Wasser abgießen und die Mandeln mit kaltem Wasser abspülen und abtropfen lassen. Jetzt kann die Haut einfach abgelöst werden (die Mandeln aus der Haut schnippen). Mit einem Geschirrtuch trocknen. Auf einem Backblech verteilen und für 10 Minuten bei 180° C trocknen.
Die Mandeln grob hacken.
Die restlichen Zutaten mischen und verknetet, bis sich ein Teig gebildet hat und alle Zutaten gut vermischt sind. Die gehackten Mandeln dazugeben und unterkneten.
Den Teig halbieren. Zu Rollen formen, die so lang sind wie das Backblech breit. Auf das Blech setzen und bei 180° C 20-25 Minuten backen, bis sie goldbraun sind.
Aus dem Ofen nehmen und etwas abkühlen lassen, aber nicht komplett! Die Rollen schräg in 2,5 cm dicke Scheiben schneiden. Die Scheiben auf das Blech stellen (nicht legen) und für 10 Minuten backen. Abkühlen lassen und luftdicht verstauen.