Letzter Teil und die letzten paar Stunden am 2. Tag beim Blogger Event in Frankfurt.
Eigentlich sollte der Tag mit Sport beginnen. Eigentlich! Zum Glück (!) durfte ich kein Sport machen und sonst hätte ich mich wohl drücken müssen, denn mein Lebensmotto ist seit jeher: "Sport ist Mord" ;). Ich hatte immerhin eine Ausrede, von den anderen schafften es aber gerade mal Torsten zum Sport! Respekt!
Danach trafen wir uns alle zum kleinen aber feinen Frühstück. Nicole hatte für uns bereits in einer Nachtaktion einen Rückblick und einen Ausblick auf den Tag auf Papier zusammengestellt. Schön gleich ein paar Bilder des vergangenen Tages anschauen zu können!
Anschließend gingen wir zu einem meiner persönlichen Highlights, wir durften auf das Dach des Sheraton Hotels und ein Mitarbeiter der Fraport AG erzählte uns viel interessantes über den Frankfurter Flughafen. Herr Spangenberg ist schon ziemlich lange bei der Fraport und weiß wirklich alles ;). Auf das Dach des Hotels darf man nämlich eigentlich nicht, da kommt ganz schnell die Flugsicherheit. Eine Anmeldung ist vorher Pflicht! Und wusstet ihr, dass um den Flughafen herum Mikrophone aufgestellt sind, die den Fluglärm jedes Flugzeugs messen und je nach dem wie laut es ist, muss die Fluggesellschaft draufzahlen oder bekommt Geld zurück. Womit verdient der Frankfurter Flughafen das meiste Geld? Warum wurde die Concorde eingestellt? Und welches Flugzeug fliegt da gerade über uns hinweg? Ja, auf all diese Fragen wusste Herr Spangenberg eine Antwort! Super!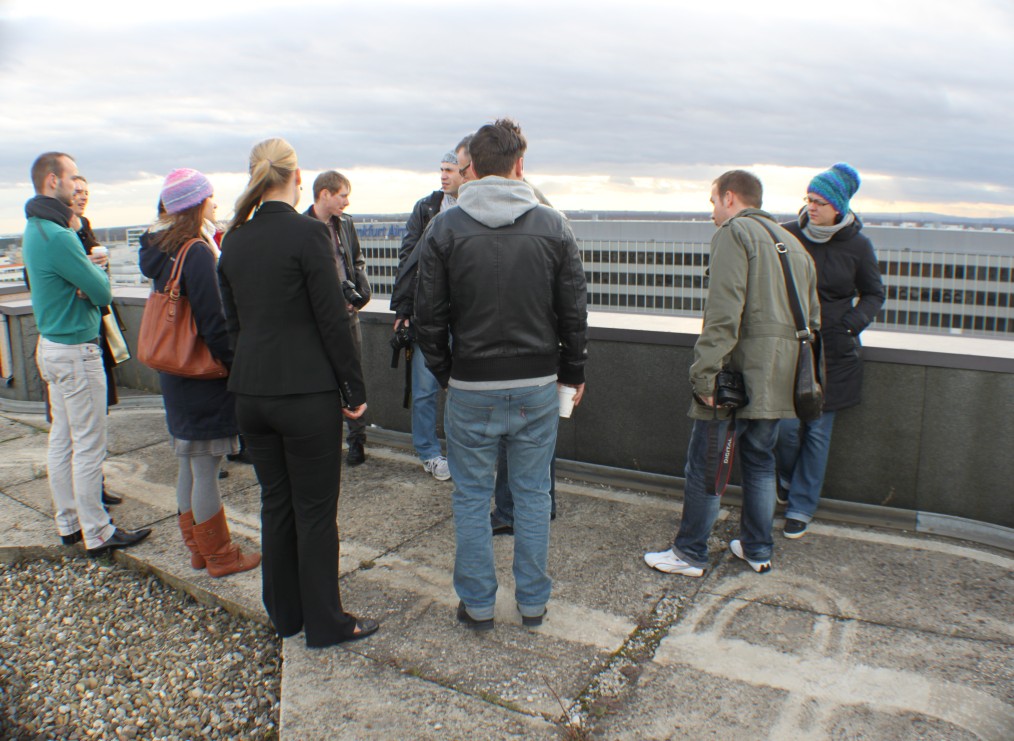 Dann gingen wir ein Stockwerk tiefer in ein "Vorzeigezimmer", wo uns die Hausdame eine Zimmerinspektion á la Sheraton erklärte. Ich war verblüfft, denn die Hausmädchen haben richtig viel Zeit für jedes Zimmer und nicht wie ich es schon in einigen anderen Hotels erlebt habe: "kurz rein, einmal Müll ausleeren und wieder raus". Außerdem wird jeder Wunsch berücksichtigt. Allergien sind kein Problem, wer härter schlafen möchte, bekommt ein Brett unter die Matratze geschoben und es wird ebenso vorgemerkt, dass wenn man eine Obstschale in seinem Zimmer hat und keine Äpfel mag, dass die das nächste Mal nicht mehr darin enthalten sein werden.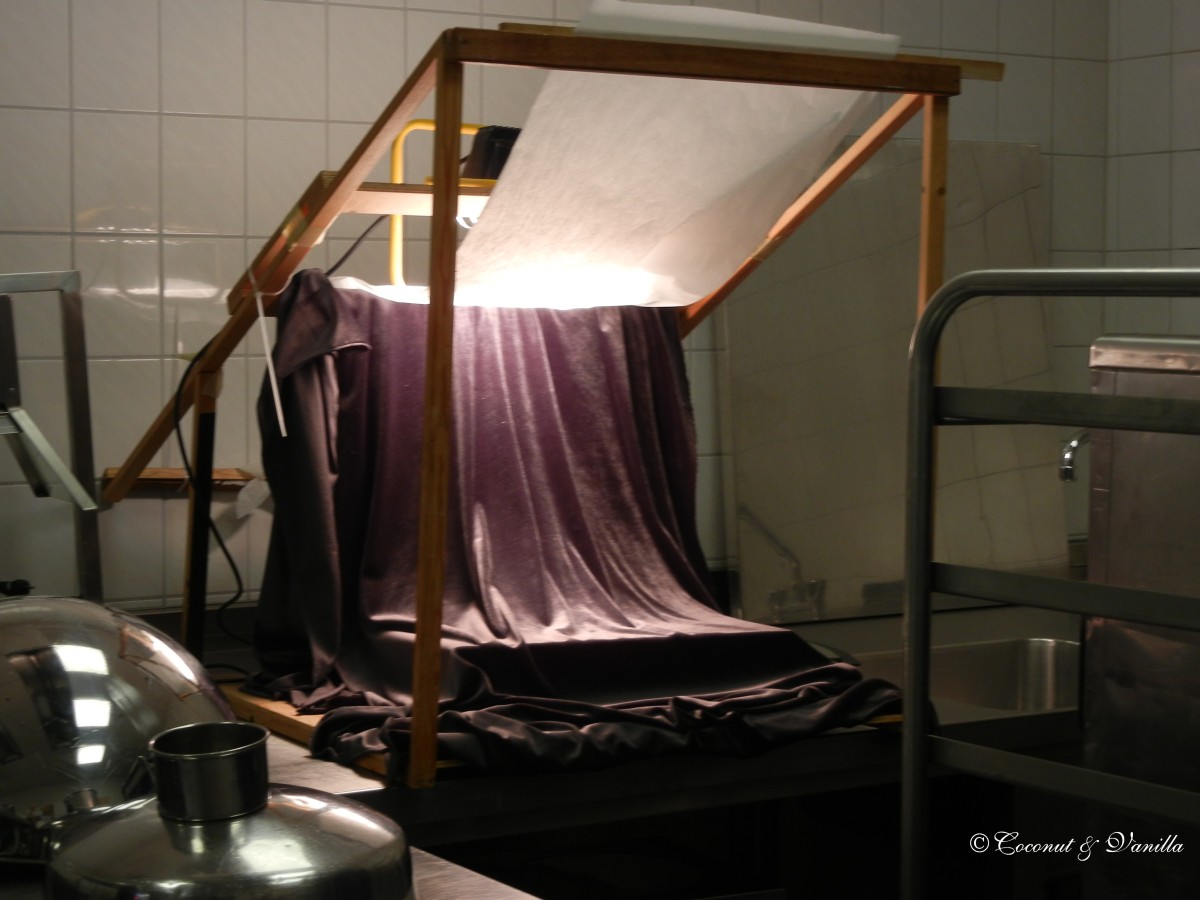 Ein weiteres Highlight folgte: auf großen Wunsch von uns, durften wir auf einen Rundgang durch die Hotelküche! Dabei warfen wir einen Blick auf die hauseigene Softbox, und sahen der hauseigenen thailändischen Gemüseschnitzerin zu wie sie kunstvoll Rosen in eine Wassermelone schnitzte. Wir waren bereits am Vortag beeindruckt, als wir ihre Werke auf dem Buffet sahen. Klaus Böhler ist stolz sie in seinem Team zu wissen, denn es ist schwierig so eine Künstlerin nach Deutschland zu bekommen. In Thailand gibt es Schulen für diese Kunst und die meisten Absolventen sind in Thailand hoch geschätzt und bleiben auch in Asien.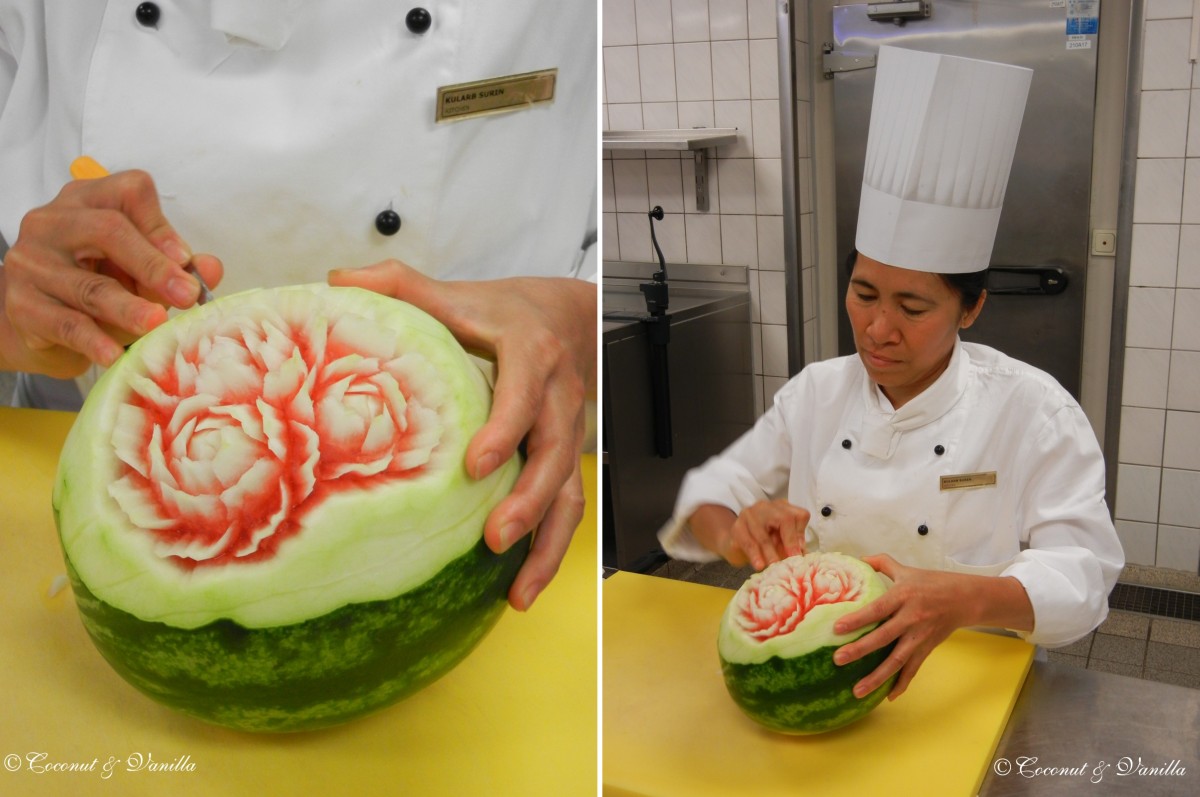 Wir sahen Gänge mit riesigen Sieben, Schüssel und schöne große Gasherde, ein Traum!

Anschließend durften wir in Beisein der Chef Patissier Petra Kirchmann unsere Lebkuchenhäuschen verzieren. Die Arbeiten der Patisserie konntet ihr schon auf einigen Bildern hier bestaunen (Twitter-Logo, Schoko-Schmetterlinge, etc.) und sind einfach nur toll! Eine gute Gelegenheit sich über diese Arbeiten zu unterhalten und anzustoßen, dass wir sowas auch gerne mal ausprobieren würden ;).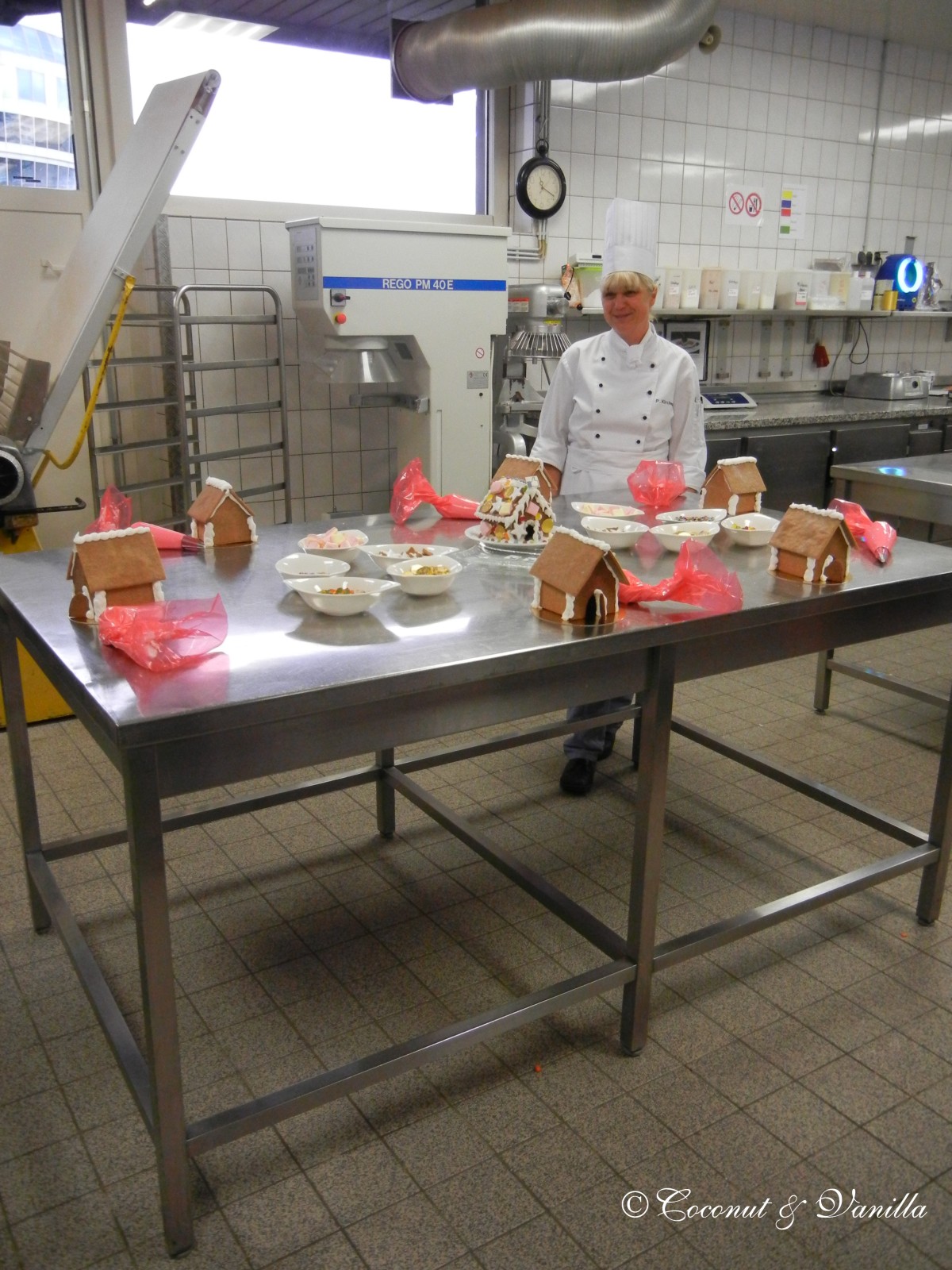 Anschließend dürfen wir mit Küchendirektor Klaus Böhler noch die "Showküche", die an das große Restaurant angeschlossen ist anschauen. Danach geht es in das Skyloft, wo wir zum Abschied wieder einmal viele Köstlichkeiten serviert bekommen und viele liebe Worte der uns umsorgenden Sheratoncrew.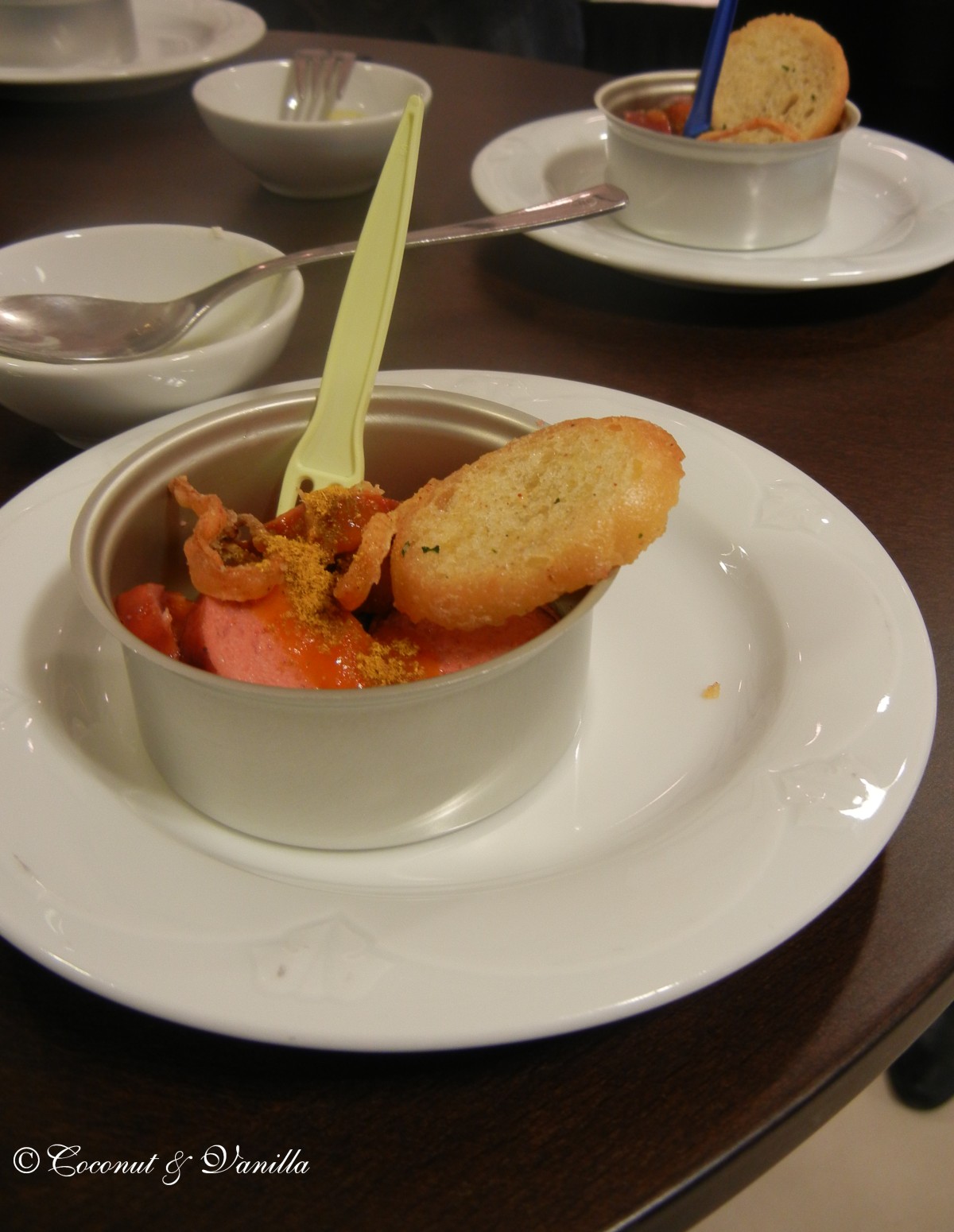 Mein Bericht liest sich wahrscheinlich sehr begeistert, aber das bin und war ich auch! Es gab an dem ganzen Event nichts auszusetzen und es hat einfach nur viel Spaß gemacht! Vielen herzlichen Dank nochmal an das Sheraton Airport Hotel in Frankfurt!
Mehr über dieses Event gibt es zu lesen bei:
Sabine von Hamburg kocht: Blick in die Küche, Blogger und Marken, Kochen im Restaurant Taverne, Social Hour mit dem Weingut Allendorf, Blick auf verschiedene Büffets, Cocktail-Kurs, Patisserie und Hexenhaus
Dirk von Cucina e passione: Preview Sheraton Blogger Event in Frankfurt
Adam von Travels of Adam: Hotel review Sheraton Frankfurt Airport Hotel
Torsten Maue: Blogger und Marken – wie man erfolgreich kooperieren kann, Sheraton Frankfurt Airport Hotel & Conference Center
The last part with the last few hours of the second day of the blogger event in Frankfurt.
The day should have began with sports. Should have! Since (luckily) I wasn't allowed to do any sports at this time, otherwise I would have weaseled out of it, since my mantra is ever since: "say no to sports!" ;). I had an excuse, but only Torsten made it to sports in the morning! Respect!
After that, we met for a small, but fine breakfast. In the night Nicole worked on a review and lookout paper for us. It was really nice to look at our pictures from the previous day!
We made it to one of my personal highlights, the rooftop of the Sheraton hotel, where an employee of the Fraport AG told us a lot of interesting stuff about the airport of Frankfurt. Mr Spangenberg is already working a long time at Fraport and he knows really everything ;). Normally you aren't allowed to go on the roof top, since the flight security would be there immediately, so the application is compulsory. Did you know there are microphones all around the airport to record the noise the planes are making and depending how loud they are, the payments for the flights are adjusted? With what does the airport of Frankfurt earn the most money? Why did they shut down the Concorde? And which airplane (and which type) is flying just above our heads? Yes, to every of those questions Mr Spangenberg had an answer! It was amazing!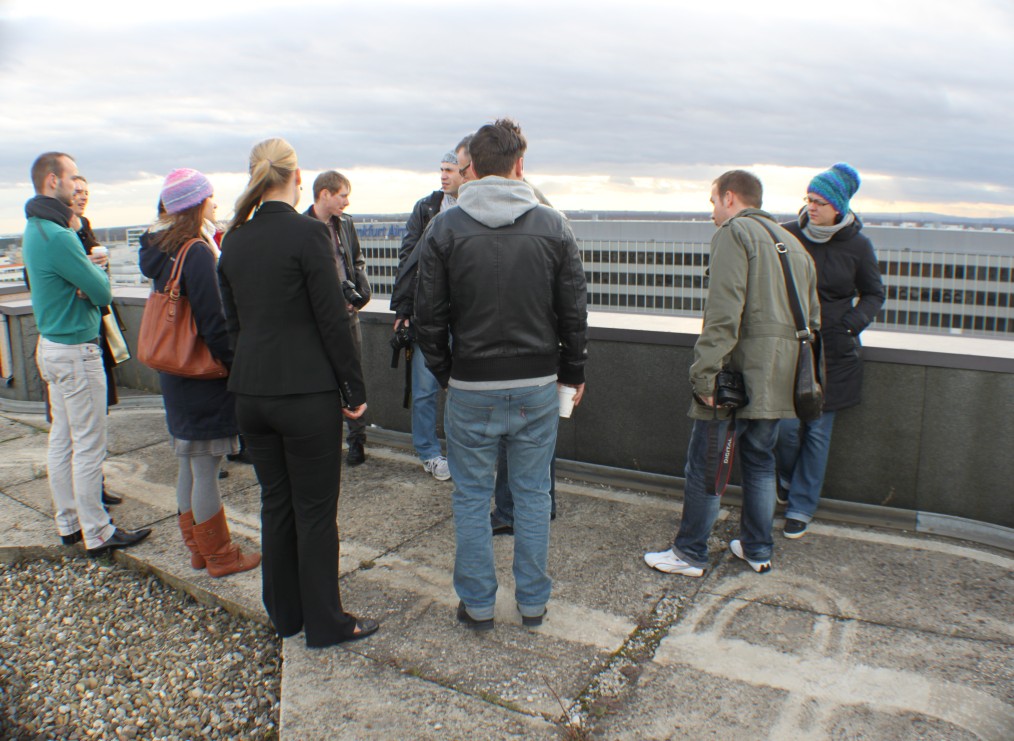 Then we went again in a warm hotel room, to be precise in a "show room", where the executive housekeeper explained a room cleaning routine á la Sheraton to us. I was amazed, since they have a lot of time for each room and not like in some other hotels like I already experienced: "come in, take out the garbage and leave the room". Every wish will be taken care of. Allergies are not a problem, if you prefer to sleep harder, you get an extra board under your mattress and if you don't like apples, you won't get apples again in the fruit basket in your room.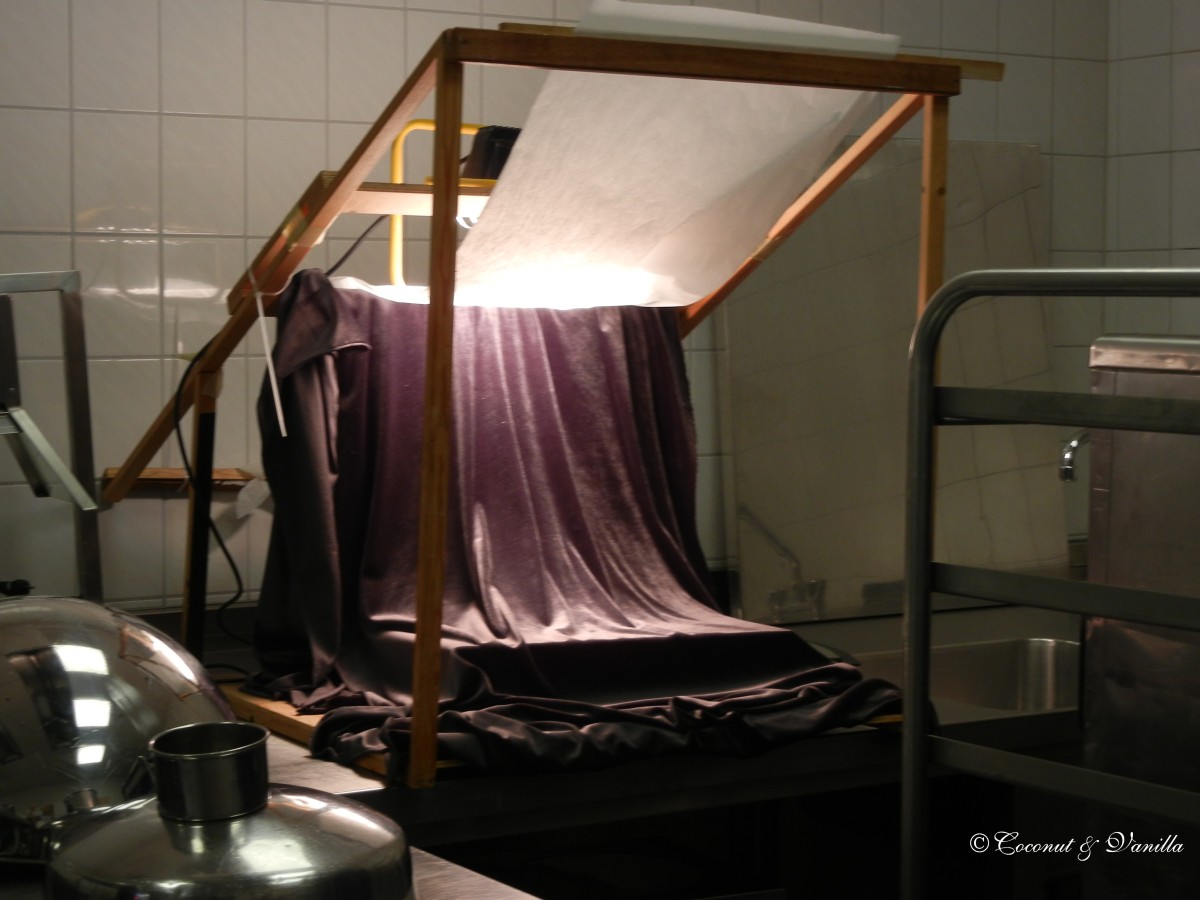 Another highlight followed up: on our wish we were granted a tour via the hotel kitchen! We were able to take a glimpse at the in-house softbox and admired their thai vegetable carver, while she carved artistically roses in a watermelon! We were already impressed by her work on the buffet the day before. Klaus Böhler is very proud to have her in his team, since it isn't easy to get someone like her in Germany. There are schools for artists like her and most graduates are appreciated a lot in Thailand and stay in Asia, then.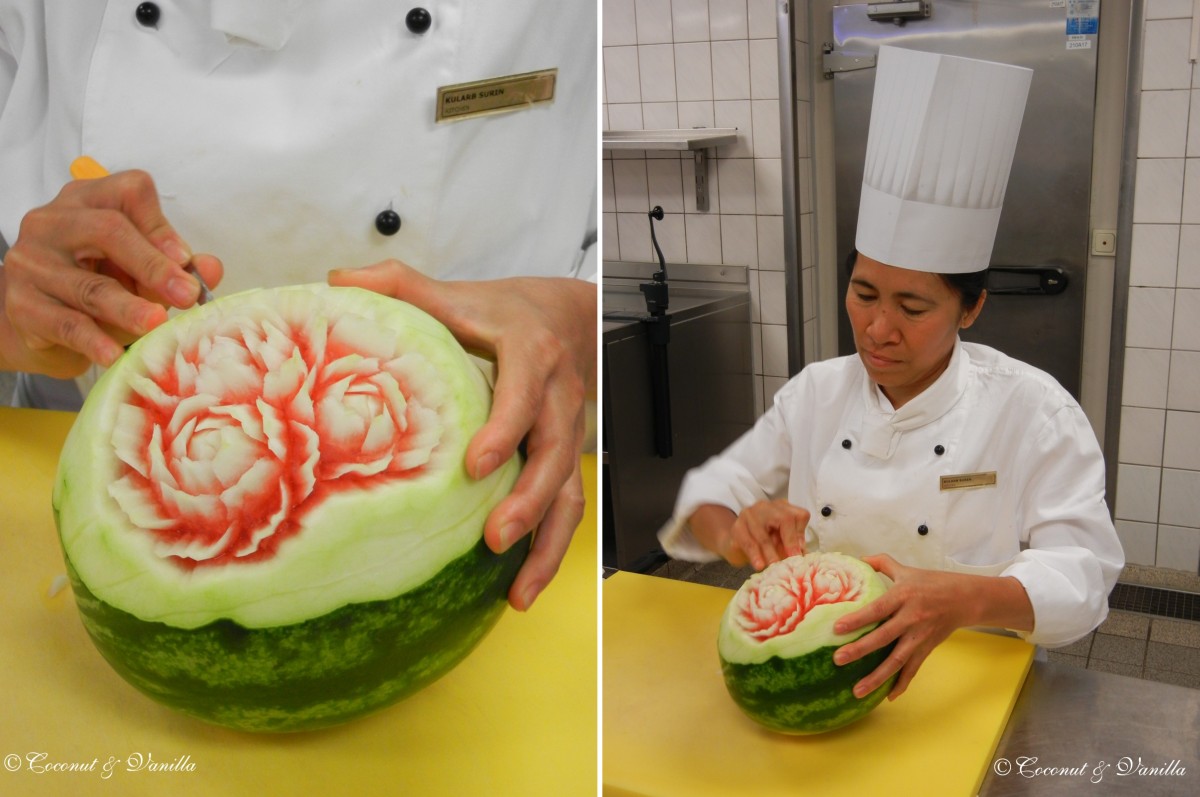 We saw alleys with gigantic sieves, bowls and gas stoves. A dream!

After that, we were able to decorate our gingerbread houses, while we chat with the chef patissier Petra Kirchmann. You could see the work of the patisserie on some pictures here (the twitter emblem, chocolate butterflies, etc.) and they are just amazing!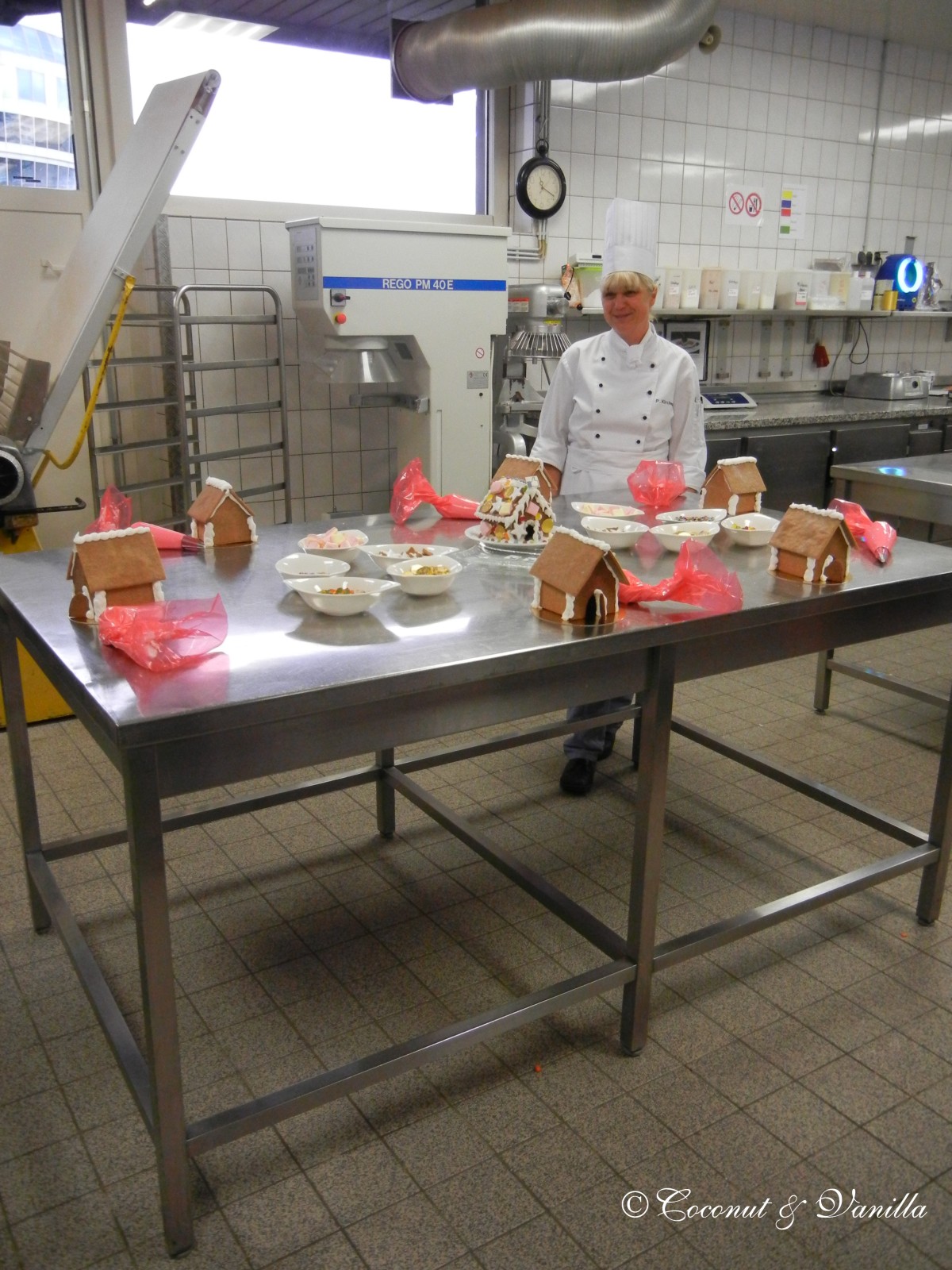 Director of kitchen Klaus Böhler showed us the "show kitchen" next to the large restaurant and in the end we are served many small treats in the Skyloft and where the Sheraton crew says goodbye to us.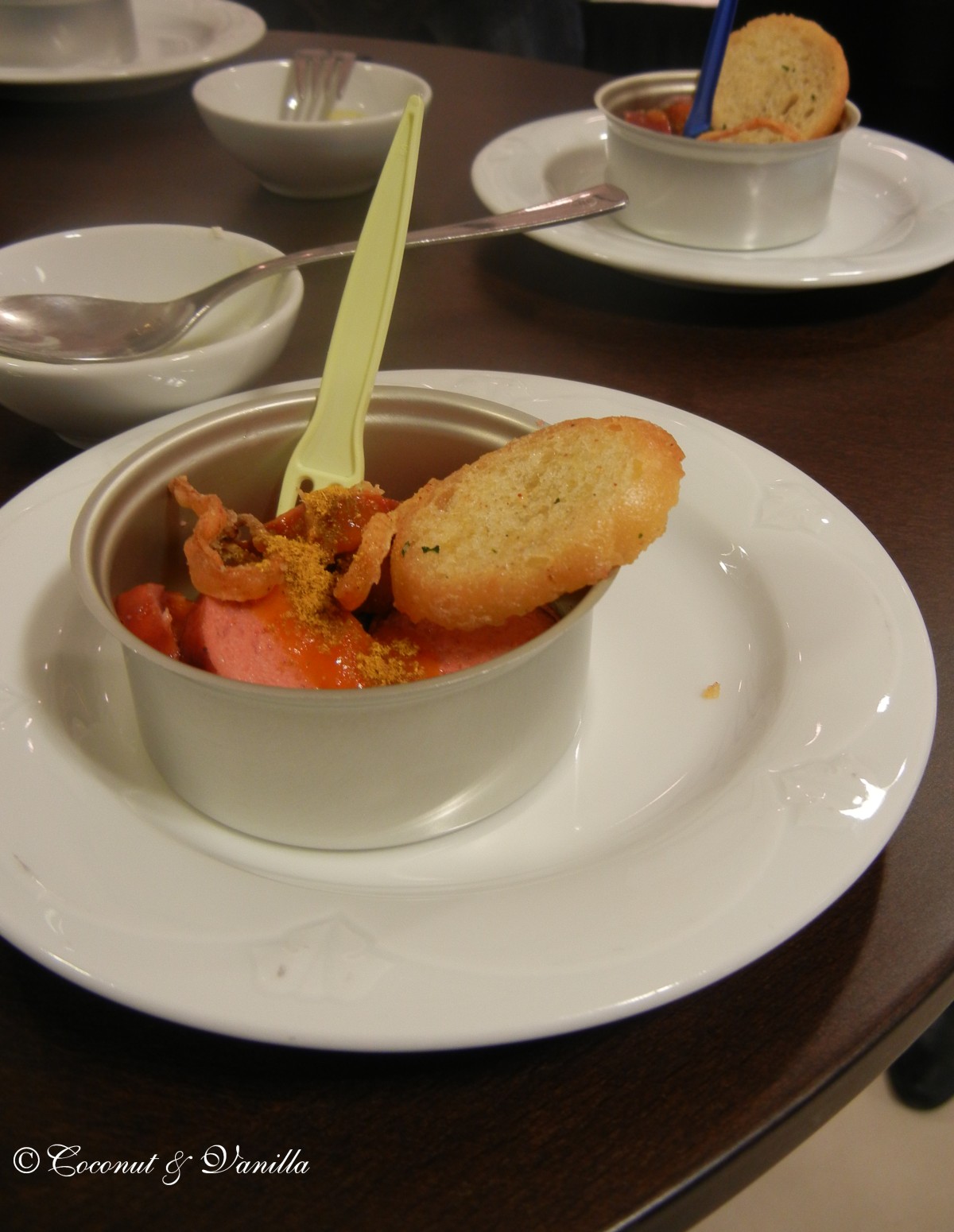 Maybe you think my posts are very enthuastic, but I was and still am! There wasn't one single thing I didn't liked about the event and it was just a whole lot of fun! Thanks a lot again, Sheraton Airport Hotel in Frankfurt!
You can read more about the event on:
Sabine of Hamburg kocht: Blick in die Küche, Blogger und Marken, Kochen im Restaurant Taverne, Social Hour mit dem Weingut Allendorf, Blick auf verschiedene Büffets, Cocktail-Kurs, Patisserie und Hexenhaus
Dirk of Cucina e passione: Preview Sheraton Blogger Event in Frankfurt
Adam of Travels of Adam: Hotel review Sheraton Frankfurt Airport Hotel (in english)
Torsten Maue: Blogger und Marken – wie man erfolgreich kooperieren kann, Sheraton Frankfurt Airport Hotel & Conference Center