Ich habe eine große Sammlung an Rezepten. In Büchern, online und ganz oldschool abgeheftet in einem Rezepteordner. Ich lege dort ausgedruckte Rezepte ab, die mir gefallen haben. Sortiert habe ich das ganze auch nach Kuchen, Geflügel, Pasta etc. So finde ich alles einfach wieder. Dieser Ordner begleitet mich schon mehrere Jahre und ist seit mehreren Jahren nur hässlich. Ein einfacher schwarz-grauer Ordner, in dem andere ihre Steuer abheften. Dabei sind mir schöne Dinge ja schon wichtig. Ich mag ja auch schöne Möbel und schöne Kleidung und schönes Geschirr (und schöne Papeterie, ach hören wir besser auf mit diesem endlosen Thema 😉 ).
Eine Freundin meiner Mutter hat eine ganz tollen Onlineshop mit schönen Dingen. Praktischerweise wohnt sie gegenüber von ihr, man muss also nur mal rüberspringen um sich die schönsten neuen Dinge anzuschauen. Ich habe selbst schon einige tolle Sachen von ihr bekommen, z.B. ganz wunderbare filigran gestrickte Stulpen. Es gibt dort also kein 0815 Zeugs, sondern wirklich ausgewählte tolle Sachen für Frauen von Frauen.
Und als ich kürzlich bei ihr war, zeigte sie mir diese tollen Geschenkpapiere aus Italien mit Blumen und Früchten. Die drückte sie mir in die Hand und meinte nur "mach was schönes draus". Also hab ich was schönes damit gemacht.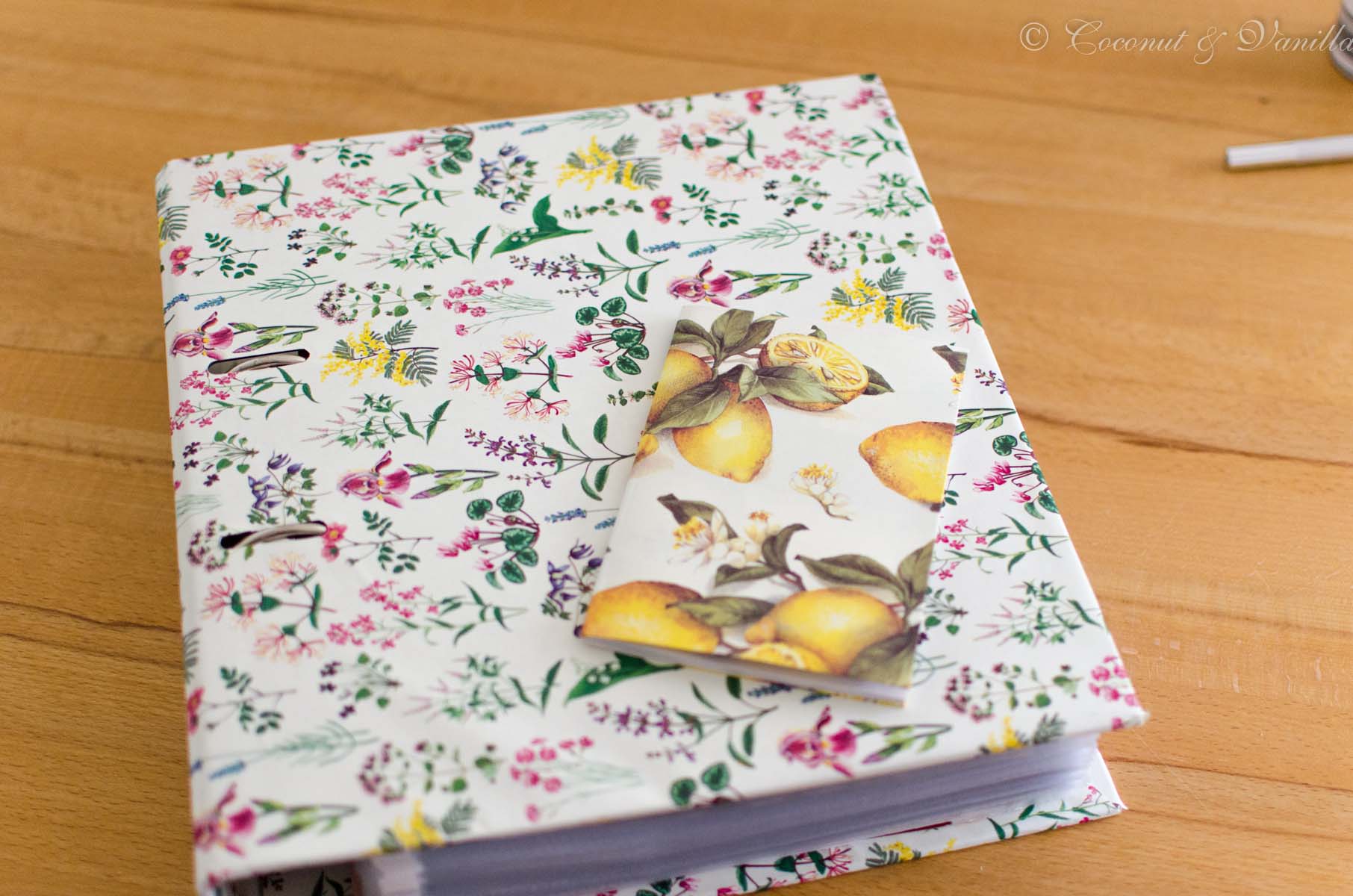 Meine erste Idee war meinen hässlichen Rezepteordner zu verschönern und es ist unglaublich was so ein bisschen Bastelarbeit ausmacht! Ich nehme den Ordner jetzt viel lieber in die Hand und wenn er mal ein paar Tage rumliegt ist es auch kein Schandfleck mehr.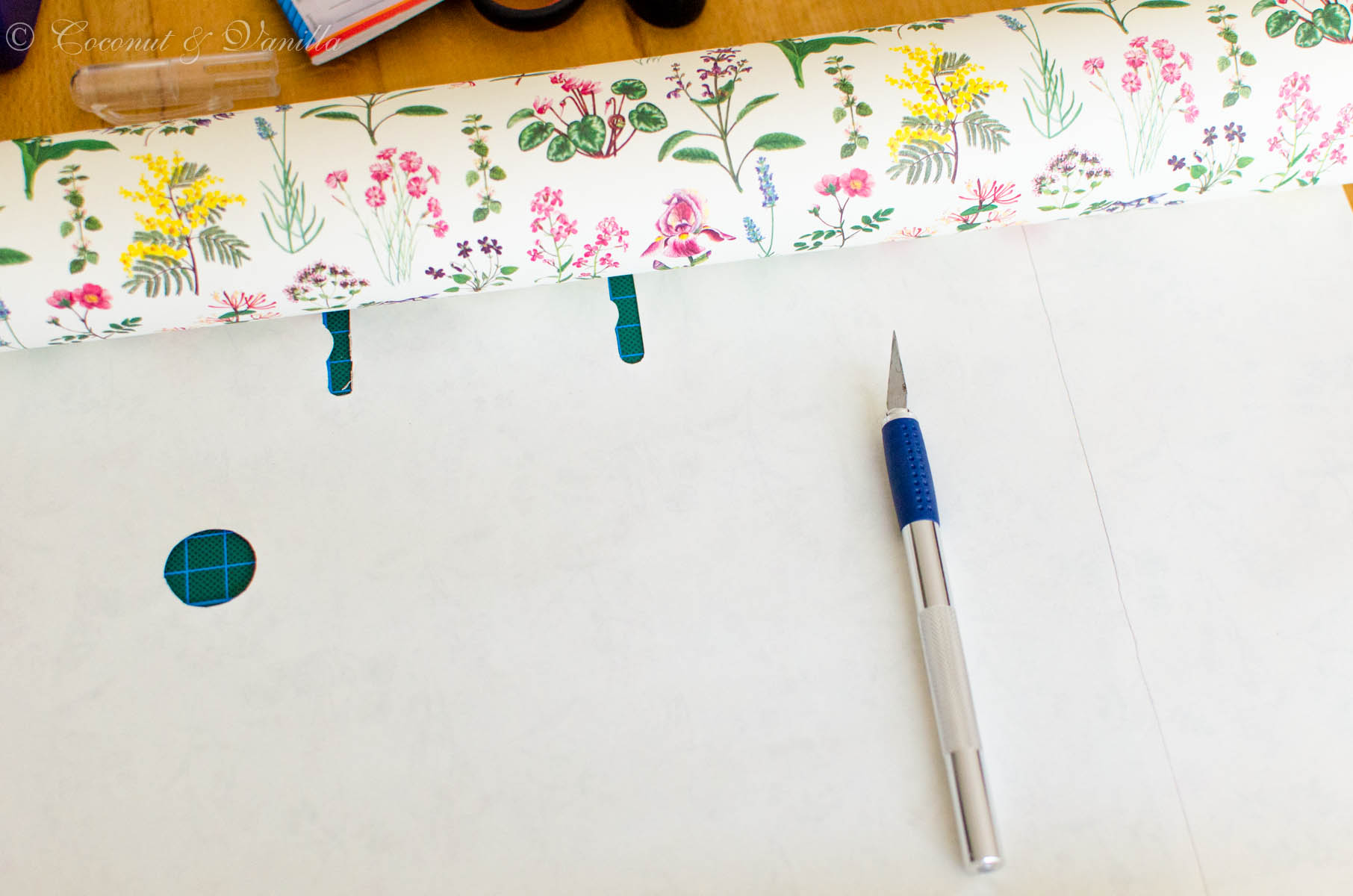 Im gleichen Zug habe ich mir ein kleines Notizbüchlein gestaltet. Darin notiere ich mir jetzt meine Koch- und Backideen, was ich bald mal bloggen möchte und im Urlaub hab ich mir im Sternerestaurant die Menüs notiert. Alles so Sachen, die ich sonst schwupp, wieder vergesse. Man könnte auch das Smartphone dafür benutzen, aber das ist mir irgendwie zu umständlich. Und so ein kleines Heft hat auch viel mehr Flair ;). Aber seht selbst wie schön meine Projekte geworden sind.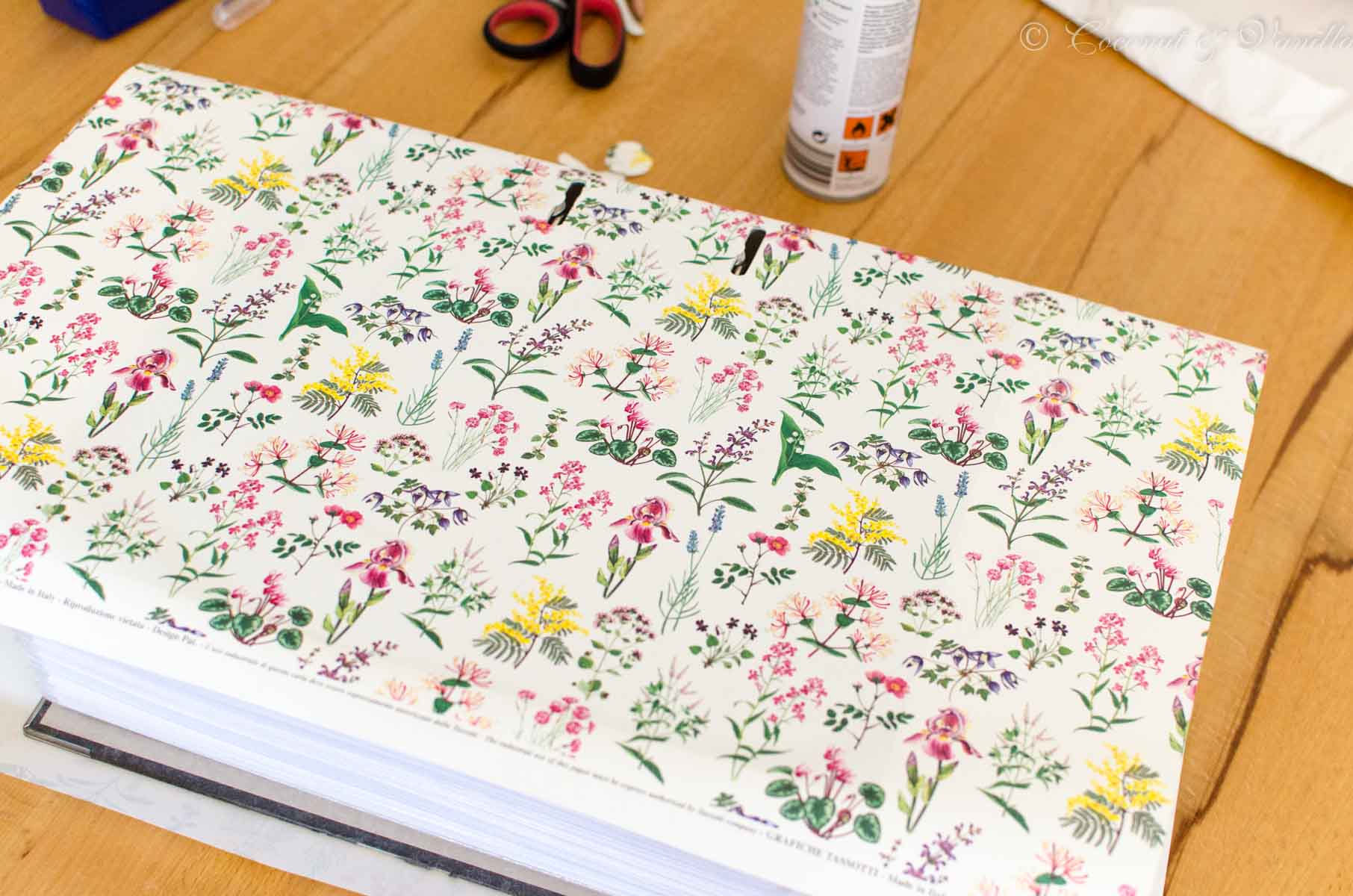 Ich habe für die großen Flächen übrigens Sprühkleber verwendet, ein Klebestift geht aber natürlich auch. Für die Innenseiten habe ich dann nur den Klebestift verwendet. Auf den Bildern sieht man wie ich das Papier zugeschnitten habe. Am schönsten sieht es natürlich aus, wenn die umgeschlagenen Kanten auf der Innenseite aufeinandertreffen. Um kleine Unebenheiten und Patzer zu verschleiern (mir ist nämlich auch erst nach der Vorderseite aufgefallen, wie es am schönsten aussehen würde) habe ich die Kanten mit passenden Masking Tape überklebt.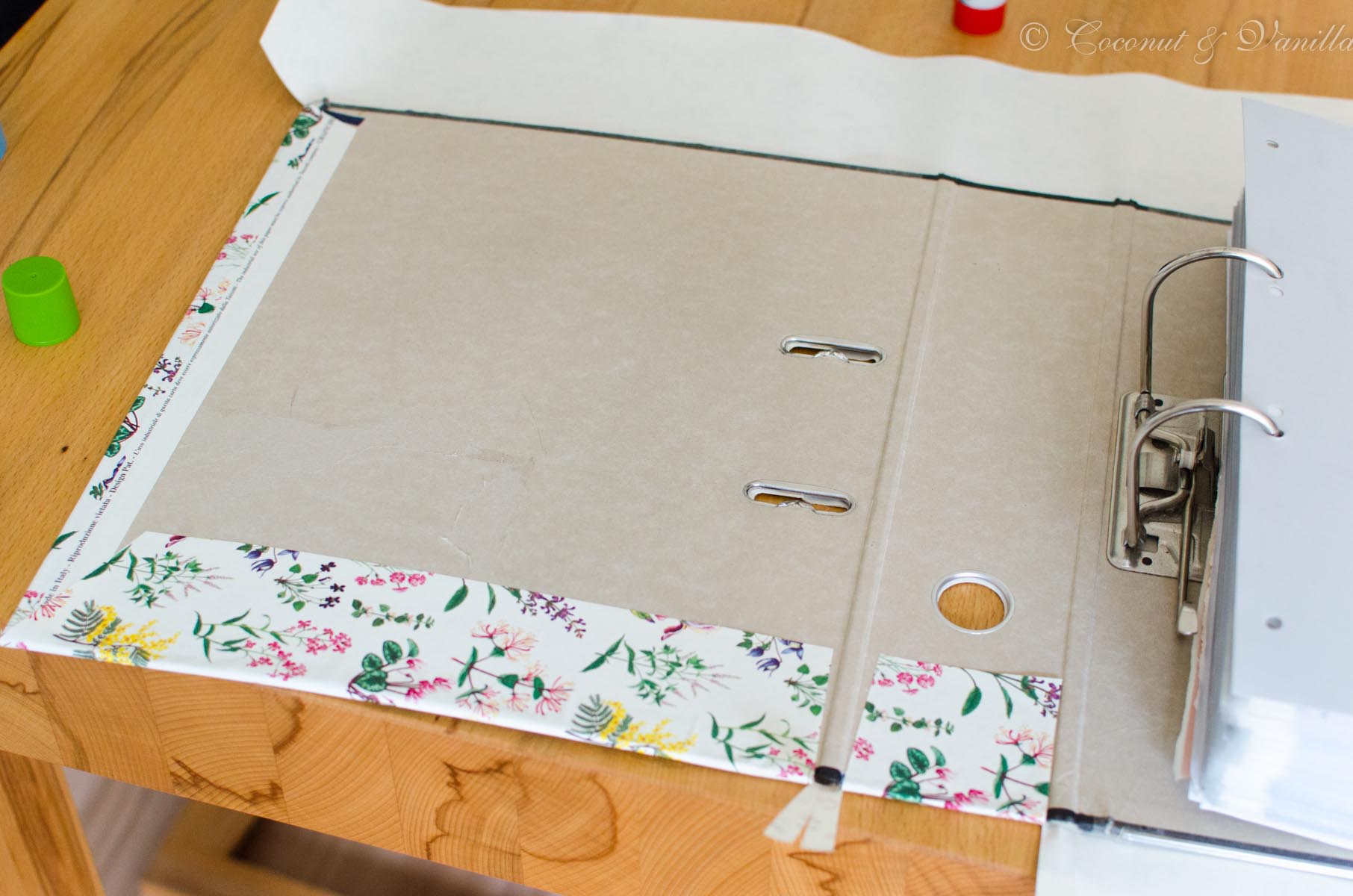 Sieht doch richtig professionell aus, oder?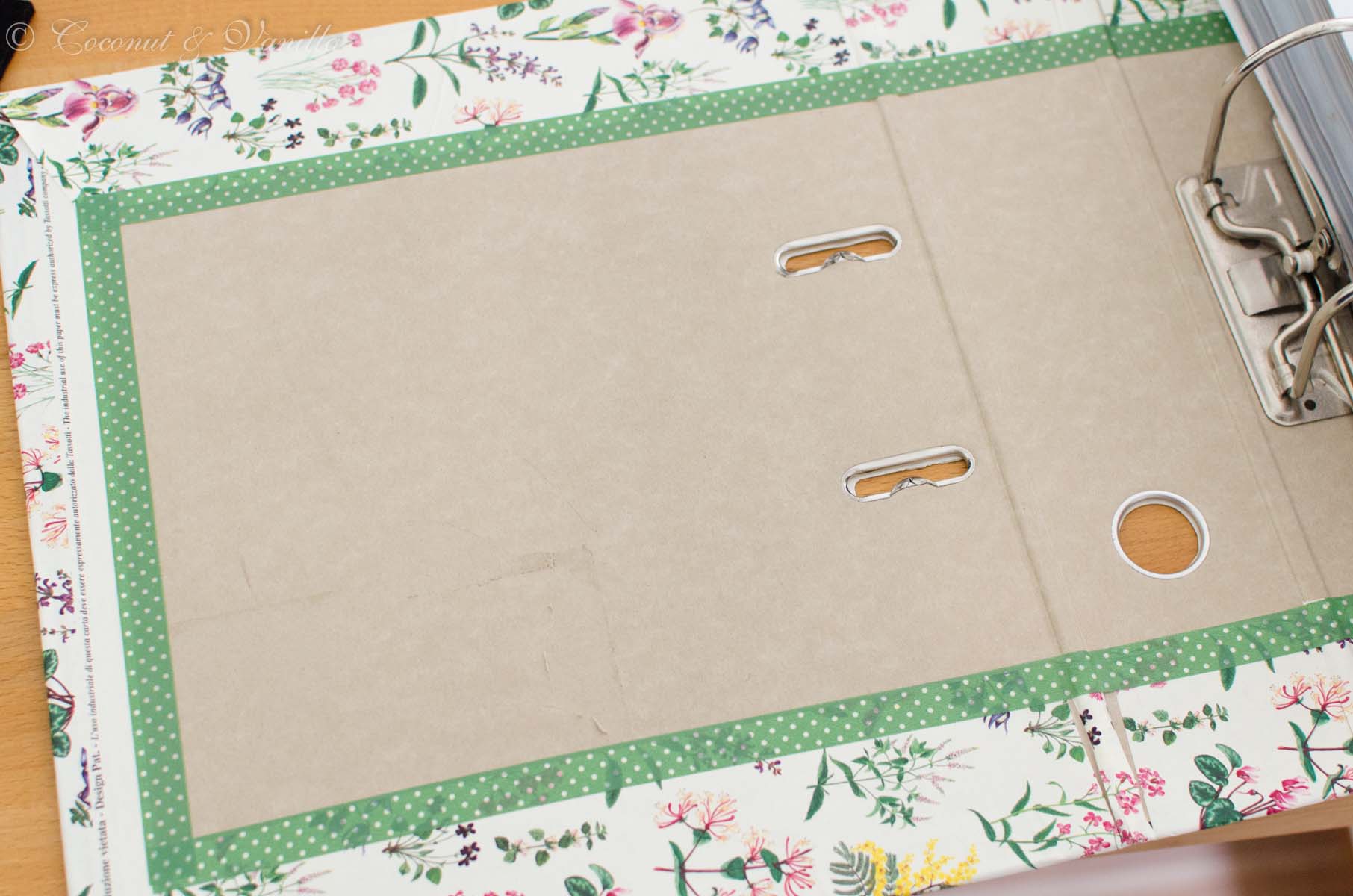 Ganz viel tolle Papetiere und mehr wunderschöne Dinge gibt es bei da sempre.
I have a huge collection of recipes. In cookbooks, online and totally old school filed in a folder. I file recipes there I printed, tried and approved. I also sort them by cakes, pasta, poultry etc, therefore I find them again easily. This folder accompanies me already many years and since many years it's just ugly. An ugly black-grey folder, which others use to file there taxes. An yet I love beautiful things. I love nice furniture and adorable clothes and lovely dishes (and beautiful paper stuff, and… well we should better stop talking about this never endling topic 😉 ).
A friend of my mother has a really great online shop for beautiful things. Conveniently she lives across the street from her, so one can just hop over in a second to take a look at the latest stuff. I also got some really pretty gifts from her, like a pair of delicate knitted wrist warmers. You see, she has not the standard stuff, but really selected neat things for women by women.
And as I recently visited here, she showed me this pretty wrapping paper from Italy imprinted with flowers and fruits. She gave me some sheets and just said "makes something nice with it". So I did.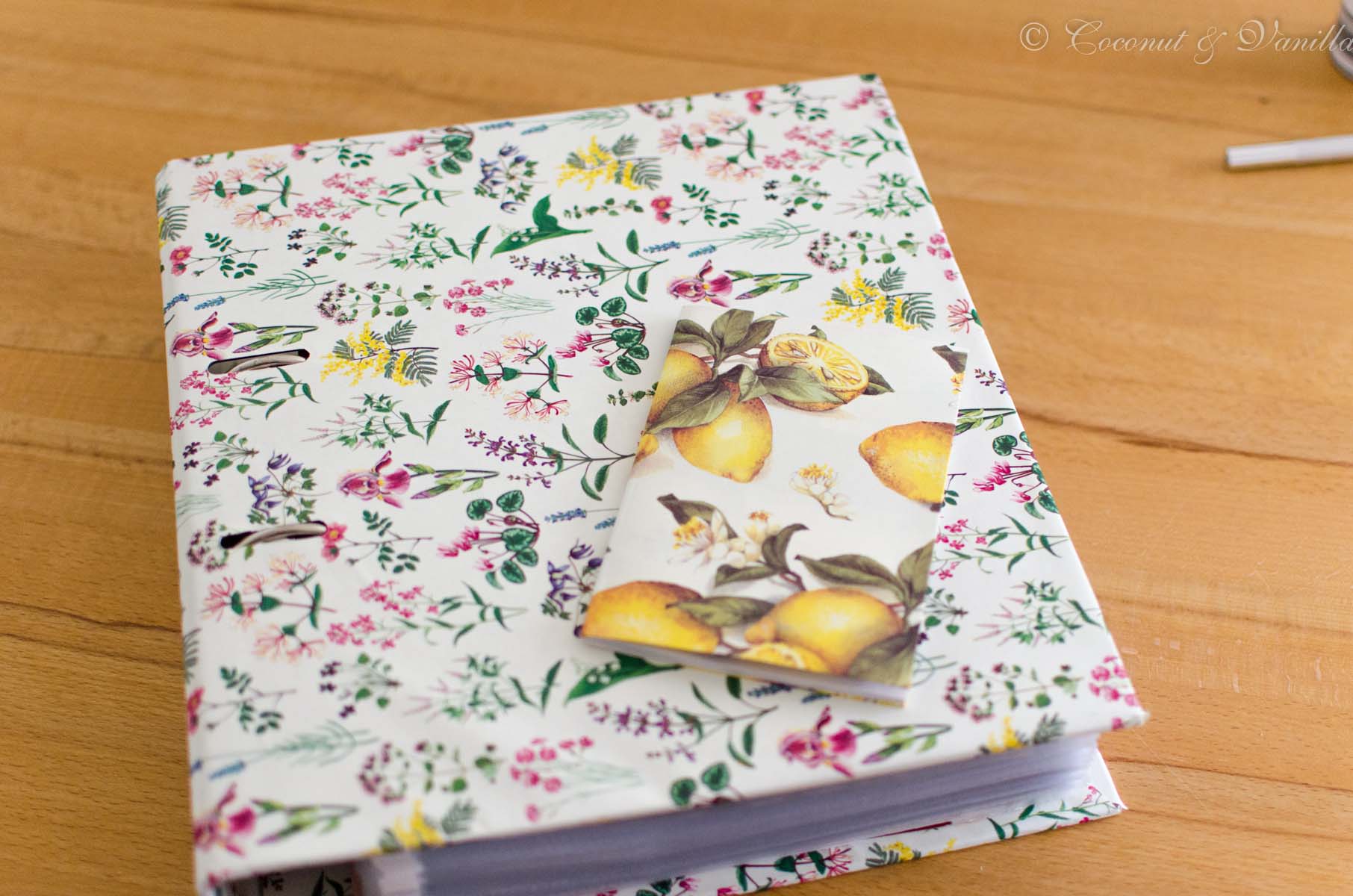 My first idea was to posh up my recipe folder. And it's unbelievable how a bit of crafting makes the difference! I now love to open my folder and if it's lying around for a few days it's not an eyesore anymore.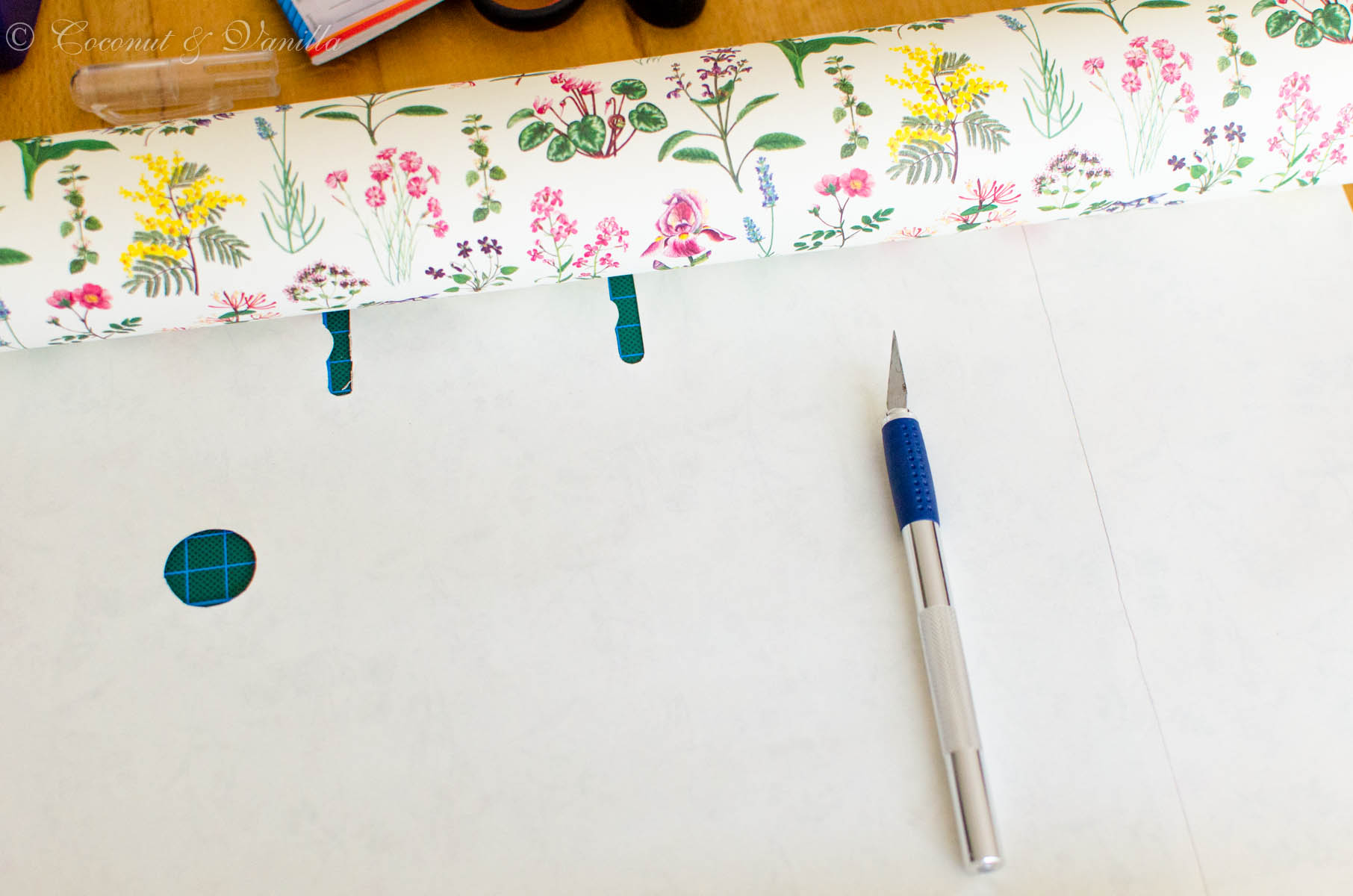 Simultanously I created a small notebook, which I use for my cooking and baking ideas, what I want to blog soon and as we where on vacation I used it to take notices of the food in the restaurant. All kinds of stuff I tend to forget easily. I could also use my smartphone, but that's too inconvenient for me. And that cute little notebook has much more flair ;). But look how beautiful my projects turned out!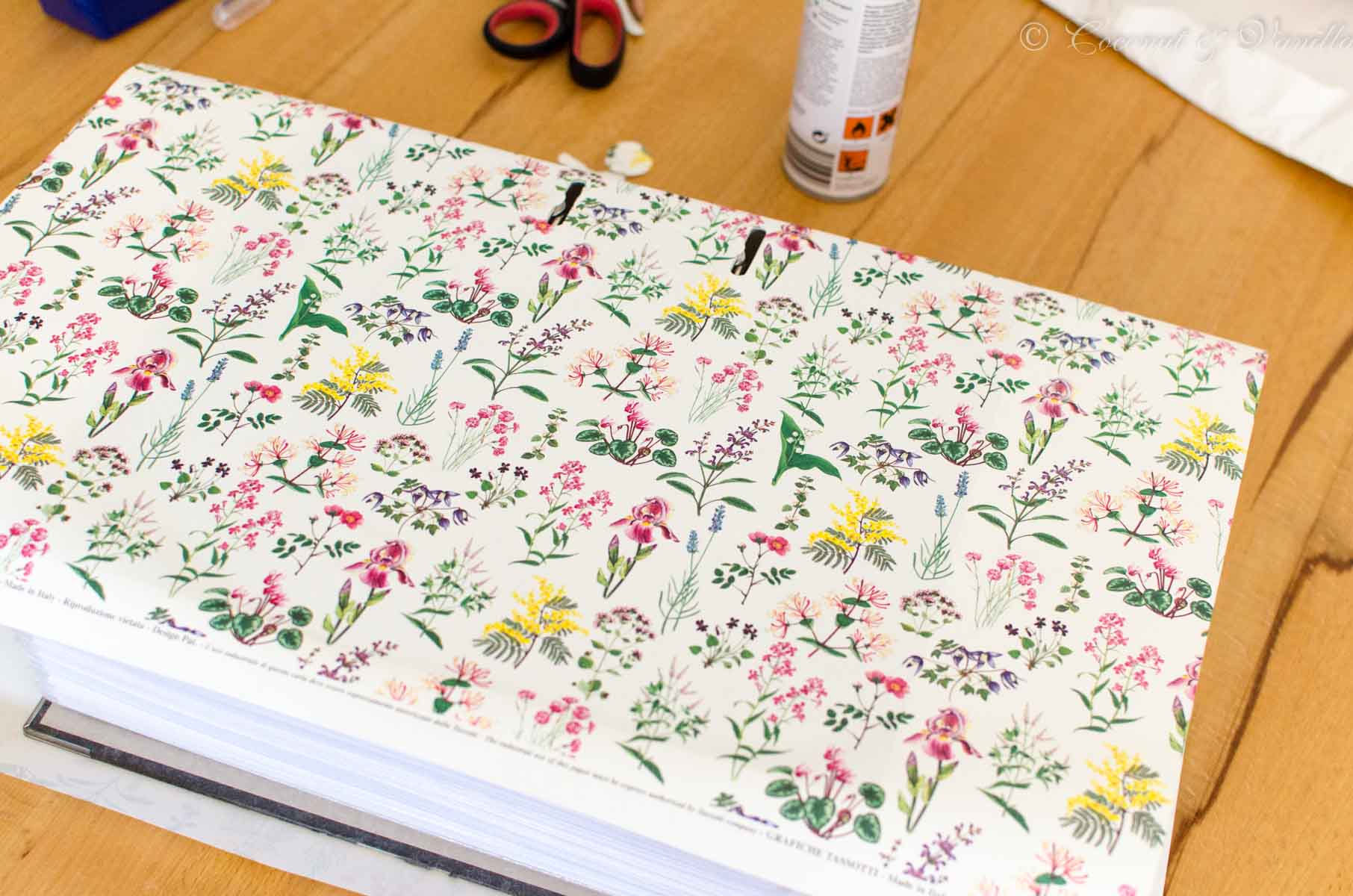 I used spray adhesive for larger areas, but a glue stick would also work. For the inner sides I just used the glue stick. You can see how I cut the paper on the photos. It looks best, when the folded edges meet on the inner side. To cover small imperfections I used some masking tape on the edges.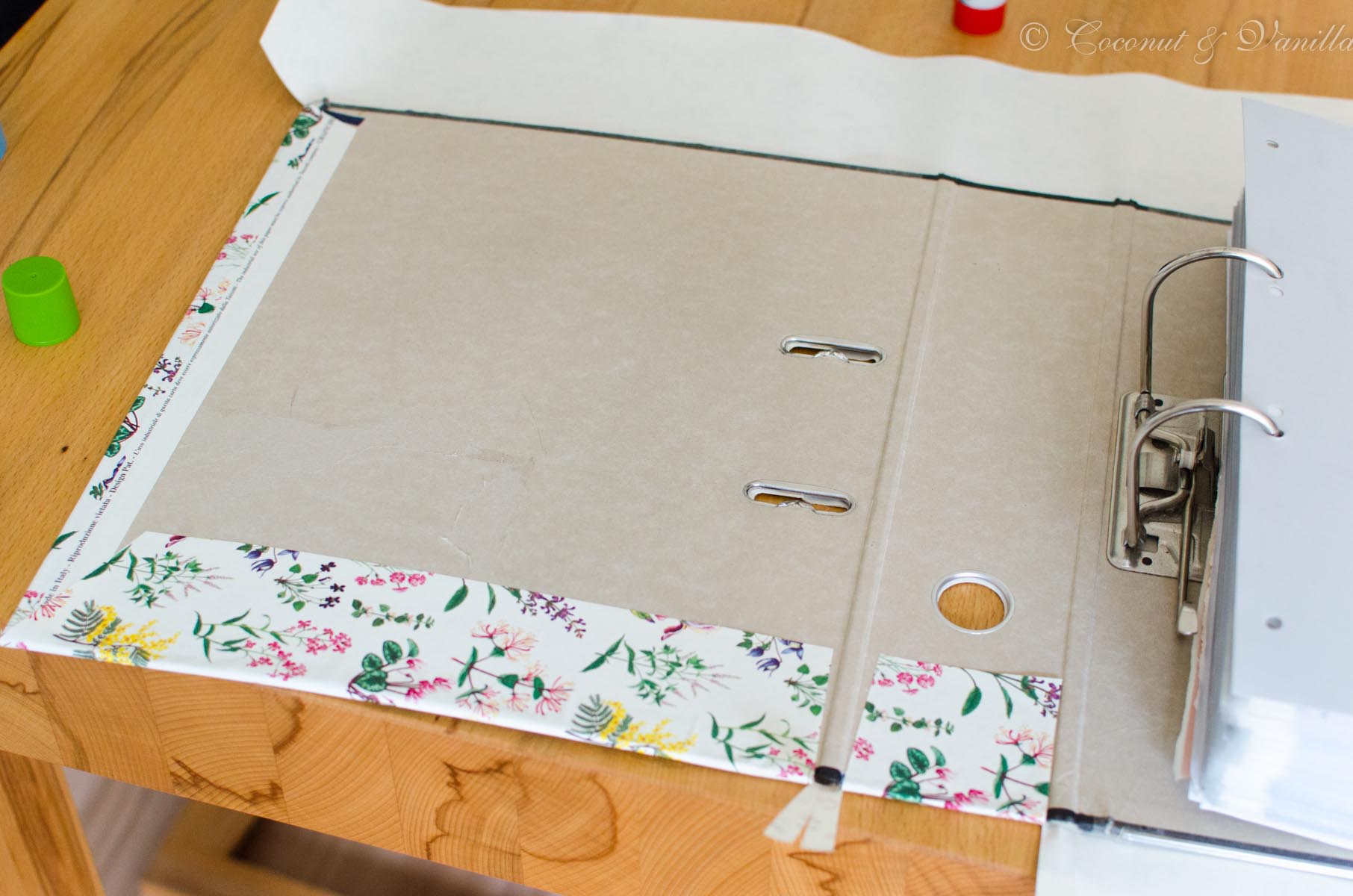 Looks quite professional, doesn't it?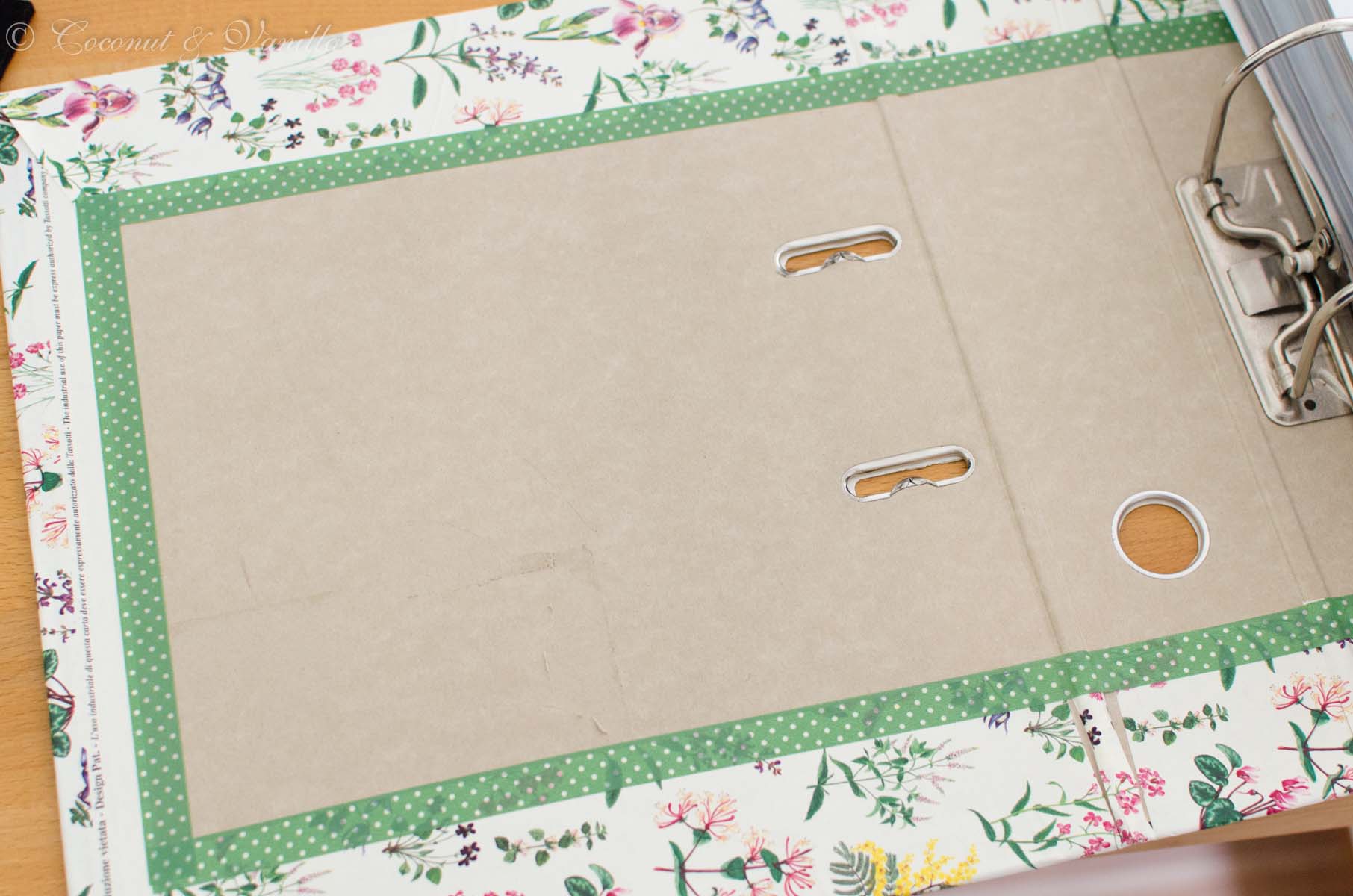 Fancy papers and more beautiful pieces are available at da sempre.