Tuesday, 22nd July 2014
It's time for a small guide to Berlin! In the last half year I visited Berlin two times and ate myself through half of the town! Ok, I admit I have some pertinent neighbourhoods and my favourite one is Prenzlauer Berg. But there are also nice parts of Kreuzberg and I have the most eating destinations there. My list is never ending and keeps on growing, so future visits are inescapable.
Since I'm living in a small town without any larger town in sight (45 minutes the next one and it isn't even that large!), I have a huge longing to the big city and that has to be compensated somehow. A Berlin trip is the ultimate contrast!
Of course there are the typical sightseeing spots, if you've never been to Berlin before, but I won't refer to that. Every travel guide will help you with that. I take you to my favourite shops and tell you where to grab some phenomenal food. And if I discover some nice museum, exhibition or tour, I'll tell you, too. After my next Berlin visits I'll share my new experiences with you here and continue this series.
Alone seen from the culinary side you have to visit Berlin! I could only eat there constantly, because there is such a diversity!
Kreuzberg:
Kimchi Princess: Skalitzer Str. 36
Kimchi Princess offers great korean food in stylish atmosphere! Near by (Oranienstr. 16) is their korean takeaway Angry Chicken where they offer interesting korean fried chicken with some special sauces. I wasn't there yet, but it's on top of my bucket list!
Streetfood Thursday in the Markthalle Neun: Eisenbahnstr. 42 (there's another entry at Pücklerstraße)
Every thursday there ist streetfood thursday in Markthalle Neun. A lot of small stalls are selling delicious bits from all over the world! Mostly you pay around 5 Euro per snack. It's a must to try the pulled pork sandwich, it's what we liked best, too! Also very interesting was the stand where an asian man was making noodles himself, which were then shortly cooked and then added to a broth (unfortunately I can't remember how the soup was called, neither which nationality the dish was). But you can watch him make noodles there in no time! Mogg & Melzer makes his famous Reuben and Pastrami sandwiches there. I didn't visit their shop in Mitte, yet, but that's also on my bucket list! We tried the Reuben, but as it contains sauerkraut it wasn't my favourite thing. Next time I try the Pastrami. For dessert I indulged in an (bit overpriced) ice cream sandwich, which was very good nevertheless! Next time I try the mexican paletas instead!
Friday and sunday is also farmers market, which is great for all of you who want to buy regional products!
If possible I will come back as often as I can, since the offering is phenomenal and there's so much to try, yet. It's best to go as a group, than you can share different snacks and therefore try more. Moreover some can search for a place to sit and keep it occupied while the others gather some food. Unfortunately seats are rare.
A.Horn: Carl-Herz-Ufer 9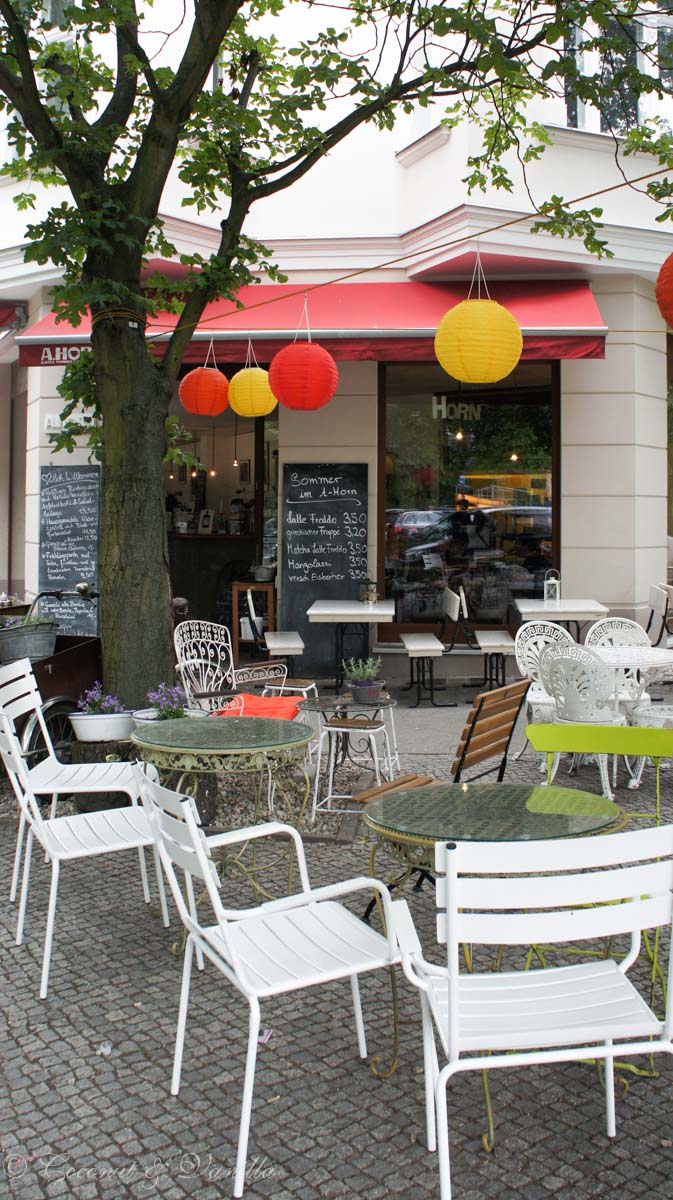 The cafe A.Horn is a wonderful place on the nice side of Kreuzberg placed directly at the Landwehrkanal. You can sit outside underneath a maple tree (ahorn means maple tree in German). The cafe is beautifully furnished (kinda mix of old, modern, just sweet) and cozy, you meet every kind of age and type there. Through a large window in the wall you can look in the attached bike store. Love! The staff was very kind and friendly!
Bols & Hansen Bio-Marmeladenmanufaktur: Obentrautstr. 64
A tiny shop in Kreuzberg by two women making homemade organic jams. They have some extraordinary sorts like fig or pumpkin. My favourite is pear with thyme, very delicious!
Prinzessinnengarten: Prinzenstr. 35-38/Prinzessinnenstr. 15 (at Moritzplatz)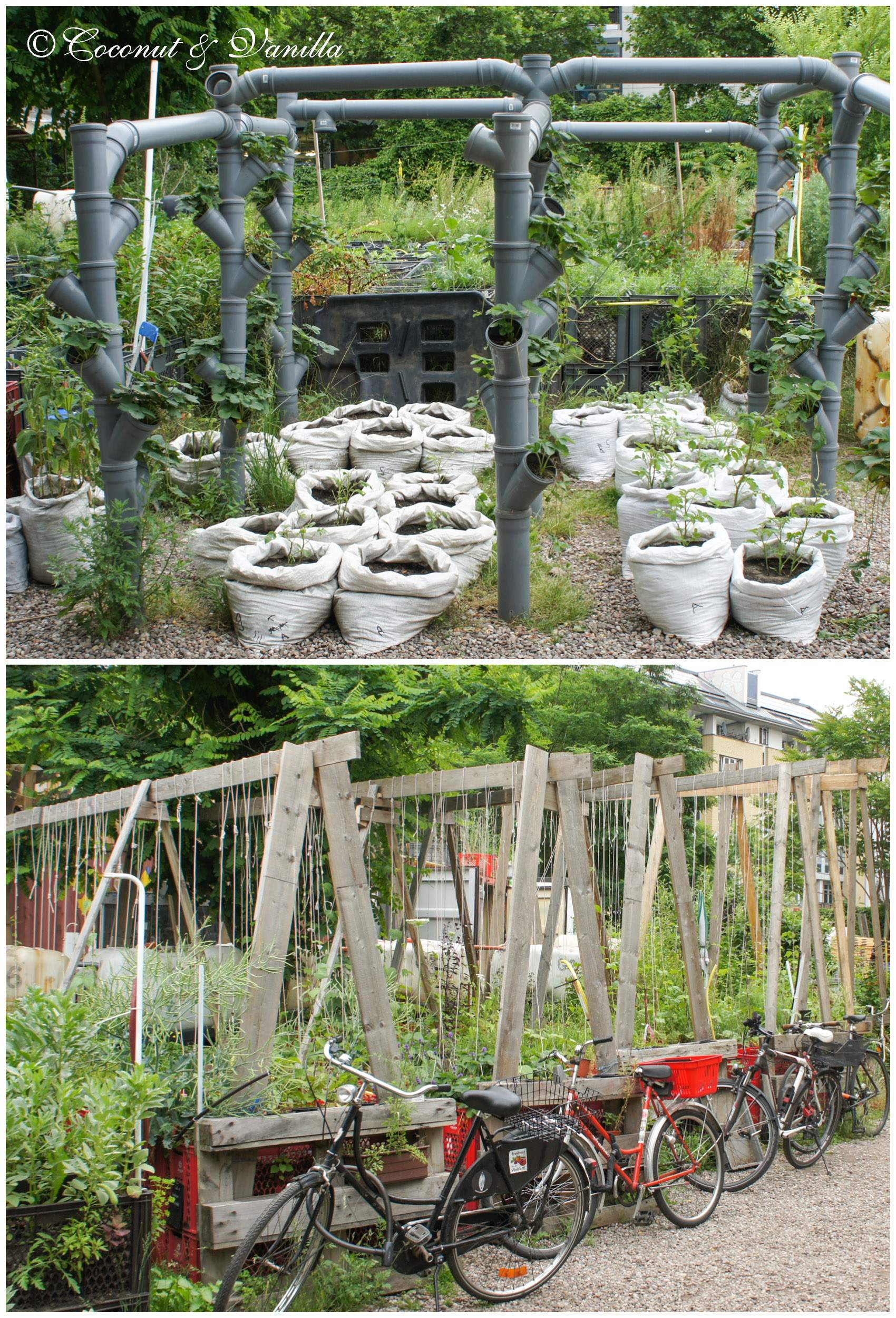 An urban gardening project in the middle of the big city at the busy Moritzplatz. Therefore it's amazing how quiet is in the Prinzessinnengarten (= garden of princesses). Besides this interesting project they have an integrated beer garden unterneath the trees where you also can eat something. One dish is always made from their own vegetables!
Kreuzkölln:
Katies Blue Cat: Friedelstr. 31
This little cafe in Kreuzkölln is a real gem! First they offer an amazing chai latte! Last time I drank a chai latte that good was long time ago in the US in Santa Barbara.They make it with excellent tea and not like mostly our days with syrup. And then they have those amazing pies and cakes! The New York Cheesecake is perfect and the Chocolate Peanutbutter Pie was a revelation! Also very good was the Lemon Lavender Shortbread. It's very American and they talk all english there. As a German that's a bit strange, but the food is that good, you'll have forgotten that in a minute. Great place, I will come back!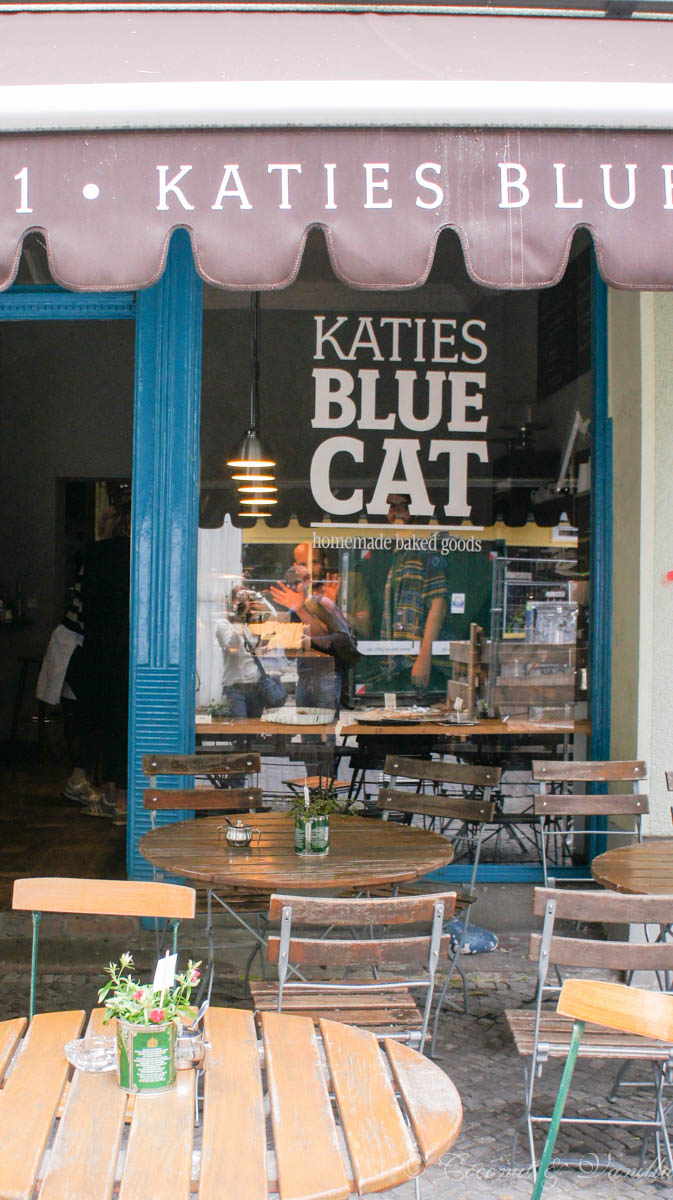 Jean et Lili: Dieffenbachstr. 38
This sweet shop is full of beautiful pieces! They have dishes, jewelery, clothes, decoration and paper stuff and much more. They also have a "men corner". Huge recommendation!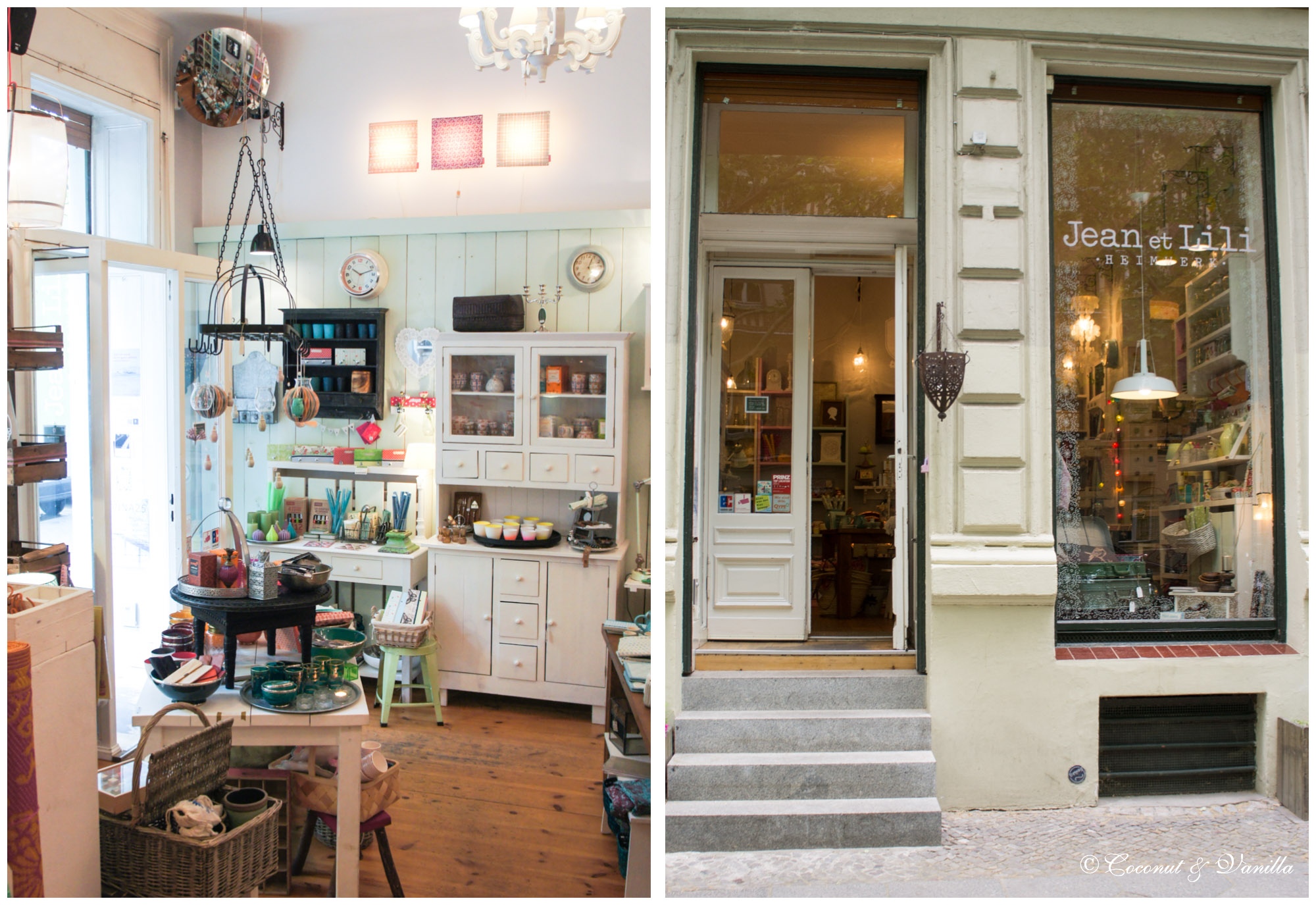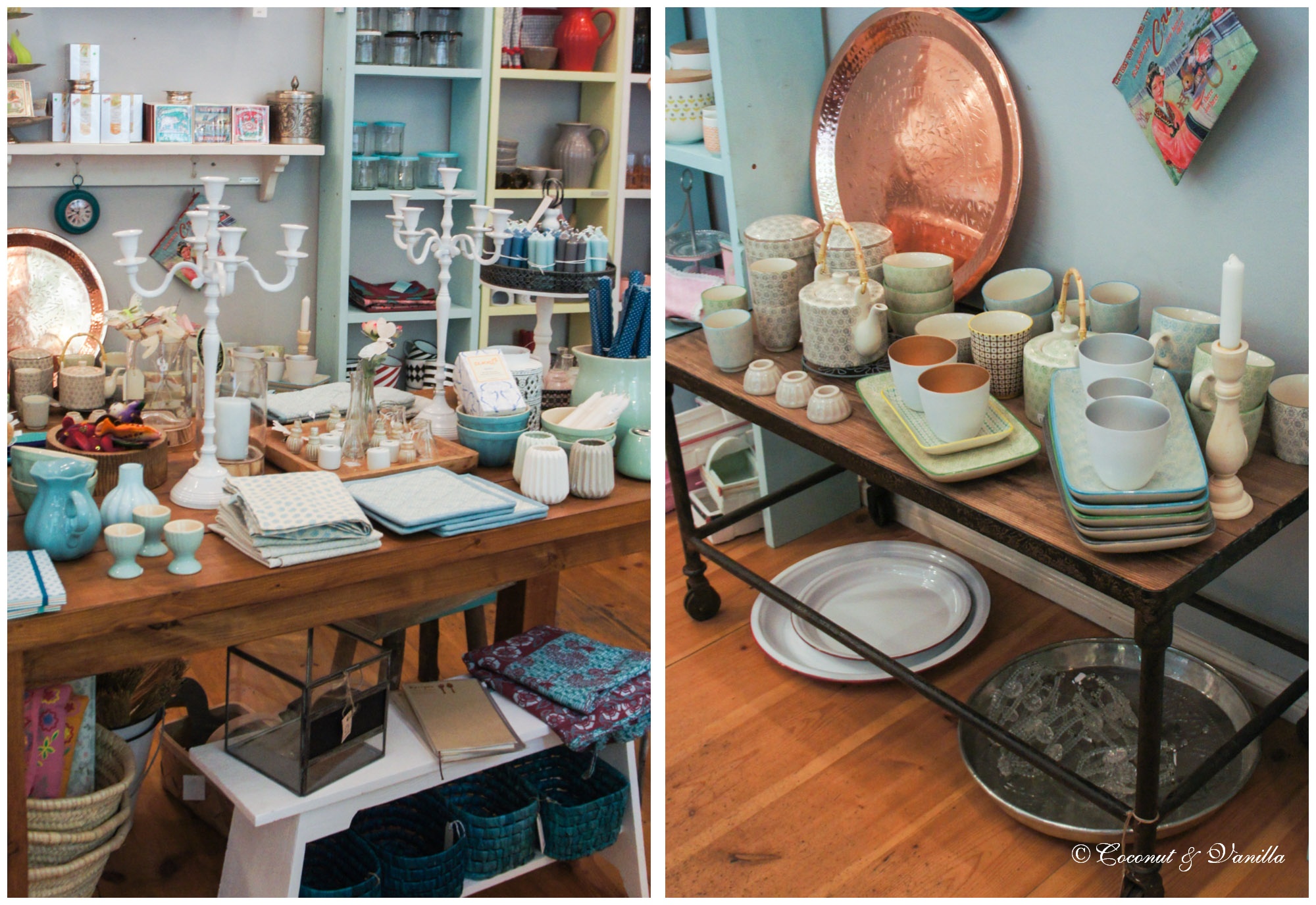 I found these beautiful dish towels and this awesome leather handbag here: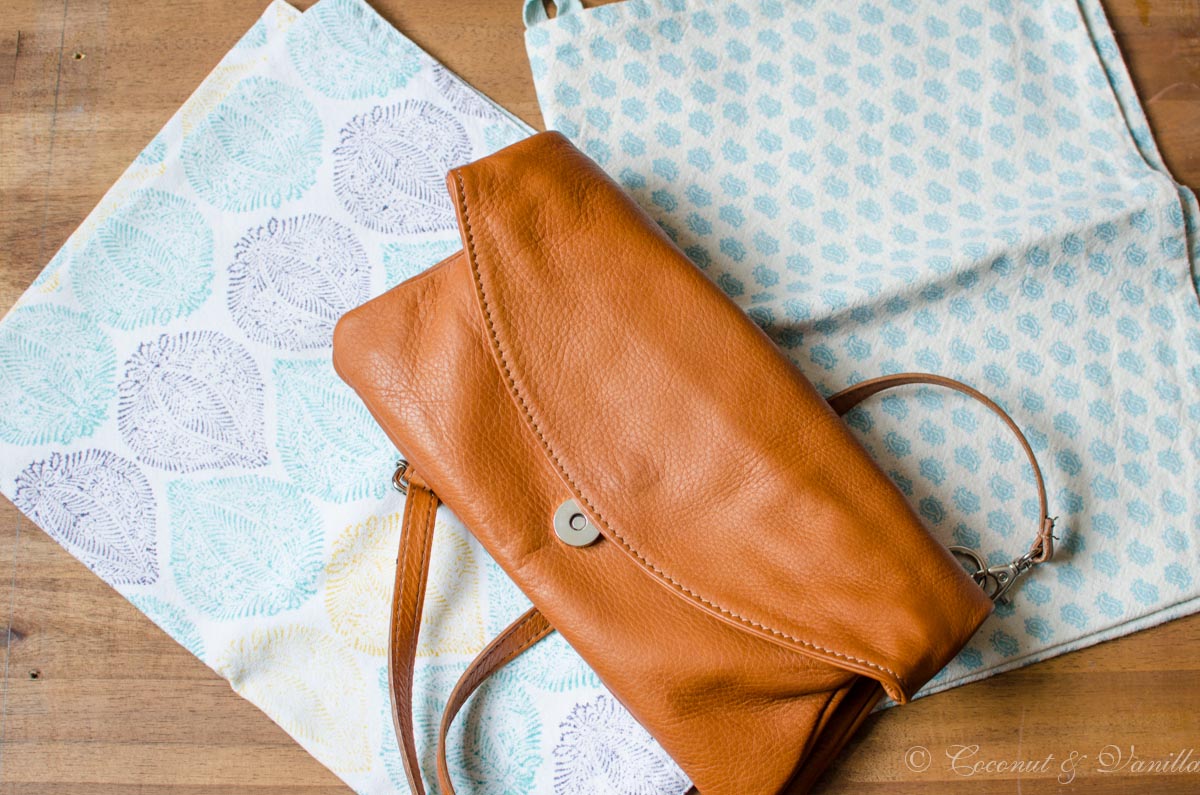 Friedrichshain-Kreuzberg:
Salut Backwaren: Schlesische Straße 1 (directly at Schlesischen Tor)
Small turkish bakery, with a large choice of delicious cookies, the baklava is also to recommend. I always have to go there! They also have non-turkish pastries, like cake and muffins and also good savoury baked goods.
Freischwimmer: (actually already in Alt-Treptow, but you can hop over the bridge from Friedrichshain) Vor dem Schlessichen Tor 2a, go through a "gate" at the petrol station and follow the path
Located directly at the Landwehrkanal it's a nice place to sit and to enjoy a drink (I didn't ate anything here, so I can't tell you anything about the food). The atmosphere is magical no matter on the inside or ouside.
Prenzlauer Berg:
Café Anna Blume: Kollwitzstr. 83
Café Anna Blume offers breakfast for a reasonable price, which is served on étagères. They have a good choice, also in the drinks section. It's most beautiful to sit outside on the terrace. Unfortunately they do not reserve tables, so you have to be lucky or get up early. After 10 am it get's crowded, but it depends on the weather. In my case it was cold and rainy, so we had to sit inside, but they have less tables inside.
Zuckerfee: Greifenhagener Str. 15
This café is a dream come true in Prenzlauer Berg. Near S-Bahn Schönhauser Allee you can sit outside or inside and enjoy a great breakfast. If you order a large breakfast you also get it served on an étagère (although it's not as pretty as at Anna Blume). The prices for breakfast are a bit high, but it's worth it and well, who doesn't want to lash out a bit ;). Zuckerfee also offers some dishes for lunch, if your not in breakfast mood, but nonetheless want to enjoy this adorable place!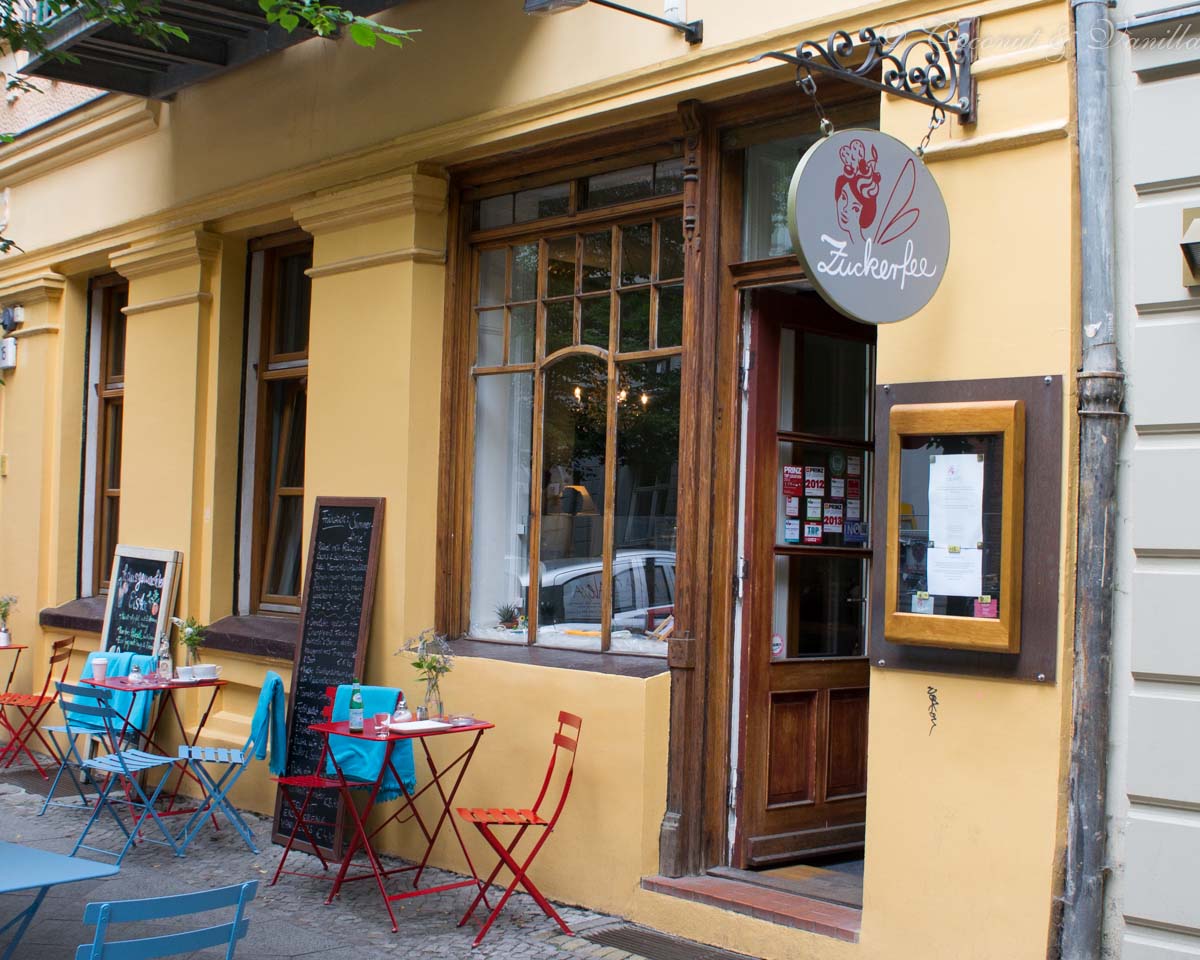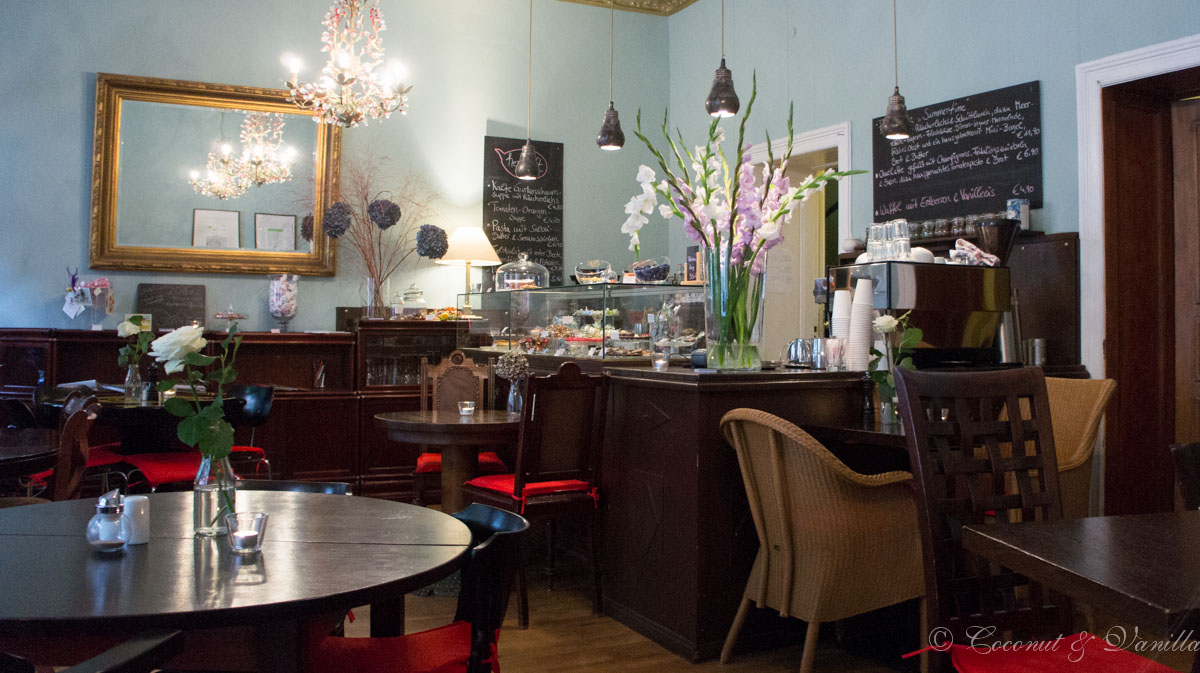 Eispatisserie Hokey Pokey: Stargarder Str. 73
Best ice cream ever! I don't want to hear that their ice cream is sooooo expensive! Yes, a large "scoop" costs 1,40 Euro, but you pay the same in similar ice cream joints in Berlin. But the ice cream is really really awesome and their kinds are very fancy. So the price is fine for me. If I would live there I wouldn't enjoy two scoops every time I stop by so I can try as much as possible, but only one ;).
I compared Hokey Pokey to Fräulein Frost and the Eismanufaktur Berlin, but none could convince me like Hokey Pokey. I was even disappointed by Fräulein Frost and they charge also 1,40 Euro per scoop. Eismanufaktur Berlin was a bit cheaper, the ice cream was good, but nothing special.
Ting: Rykestr. 41
My favourite store! Small but mighty could be Tings theme. The shop is small, but has a lot of different stuff and everything is so lovely! They have lamps, clothes, cushions, jewelery, vases, hair jewelery, paper stuff and much more. I bought some gorgeous pieces and I could have bought more! Huge recommendation!
I bought these wonderful pieces: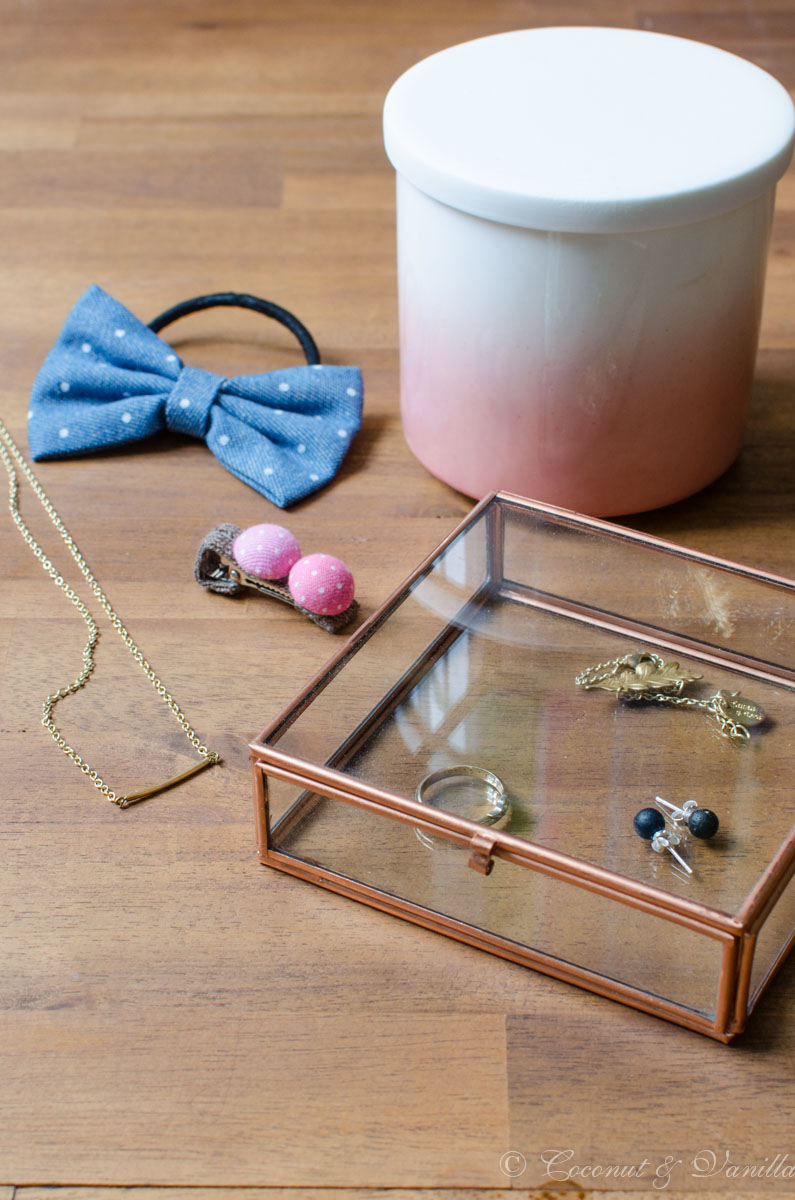 Mittte Meer: Gotlandstr. 6
A spanish supermarket with everything you need. I love to go there to stock up with de cecco pasta, which I don't get here in the country (and it's also cheaper at Mitte Meer).They also have a lot of cheese and italian sausages and prosciutto, as well as olive oil and vinegars. Moreover they have a large fish counter (which of course I didn't try). They have a lot of different wine, but you should know a bit about italian wine. In my opinion, the store in Schöneberg (Kolonnenstr. 30) has more fresh fruit, vegetables and a larger fish counter to offer, but then it's in Schöneberg ;).
Mitte:
Barcomis Deli: Sophienstr. 21, Sophie-Gips-Höfe (you have to go through a house arc, it's in a backyard)
Barcomi's Deli in Mitte is a trendy café since years by the famous baker and cookbook author Cynthia Barcomi. Although it's that trendy and always crowded (you'll meet a lot of American people here) it's definitely worth a visit. The bagles, cakes and cookies are just divine! In doubt take something for to go (or make a reservation)!
District Mot: Rosenthaler Str. 62
In District Mot they offer Saigon Street Food and the matching atmosphere. They offer a lot of delicious sounding dishes and many snacks. You can make you own summer rolls and enjoy frog legs, chicken feet and fried silkworms. The frog legs were very good, the silkworms were starchy, but quite tasteless (but I think that's how silkworms taste). I couldn't touch the chickenfeet. The atmosphere is quite vietnamese, as you are sitting on small plastic stools and on the table are plastic dispenser for the "napkins" (aka toilet paper). Also it's quite noisy. The ony thing missing is the smell of Saigon, luckily. The food is very interesting and good, too. The atmosphere is fitting and you need to like it. I'm not a friend of stools for eating, I prefer more space to sit when eating. Nonetheless District Mot is worth a visit!
Cô Cô Bánh mì deli: Rosentaler Str. 2
As the name telles you Cô Cô  sells vietnamese Bánh mì sandwiches, which are inspired by french baguette sandwiches and filled with pickled vegetables and vietnamese spiced meat/tofu. Herbs, mayo, liver paté and different sauces are added. So if you are too full for a big vietnamese dinner or lunch you can pick up a touch of Vietnam here. You can eat in the deli. Báhn mìs are worth the experience, although I missed the wow effect the first time. So I have to go there another time!
Langer Blomqvist: Reinhardtstr. 17
This book store offers returns and remaindered books for good prices. The interesting part ist the cookbook corner, where you can make some good bargains! Langer Blomqvist has really good cookbooks and always gets new ones.
Charlottenburg:
Saigon Green: Kantstr. 23
This Vietnamese in Charlottenburg near Savignyplatz doesn't stand out from the outside (but it's clean and modern). But the outstanding thing is the food and the cool ice tea and smoothie creations. They have some reasonable dishes of the day, but you should order some of the small dishes. The small dishes fit two people perfectly, but if you are more than two you can order even more of them and you need to share in smaller pieces ;). The food is very good and the green papaya salad and the lotus stem salad are very authentic and therefore spicy. Very delicious!
Tempelhof: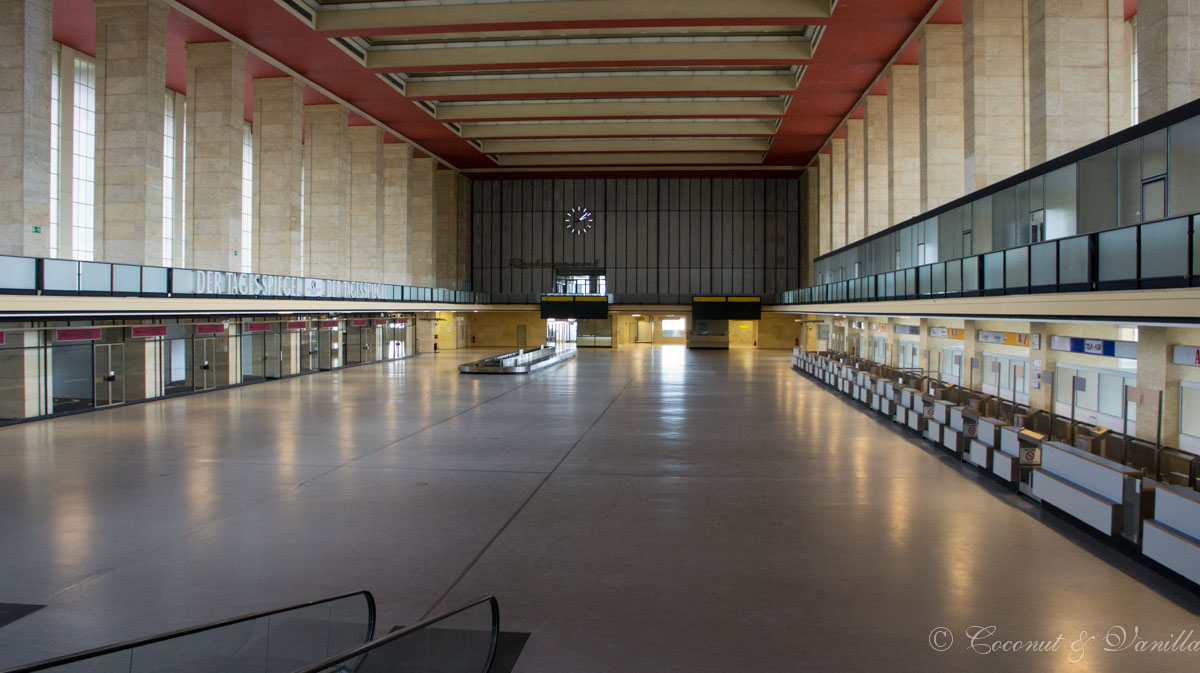 I heartly recommend a tour about the "myth of Tempelhof". It's fascinating to wander through an empty airport. Also you can see areas that you wouldn't have seen before, as the Tempelhof airport has a very long history. So you see the bunker from the second world war and the sports rooms from the Americans, who took over the airport after WWII and established the famous airlift. The tours take 2 hours and are done by experts. Fantastic tour and afterwards you can visit the Tempelhofer Feld!
At the Tempelhofer Feld you can also visit an urban gardening project from Neukölln!