Monday, 9th September 2013
For the quesadillas with zucchini and fresh corn I just made the tortillas from scratch. It's totally easy and you need only 6 common ingredients! I evacuated the tortillas in batches and froze them. So it's convenient to make some more.
And with this tortilla supply many mexican dinners are about to happen here! I'm already looking forward to more quesadillas, tacos, burritos and wraps.
I have the recipe for the tortillas from the great book The Homemade Pantry: 101 Foods You Can Stop Buying and Start Making by Alana Chernila. Everything I made from the book turned out great and it's also full of tips and beautiful short stories. I can only recommend this book thourougly, if you are also in making basic staples from scratch or want to start with it.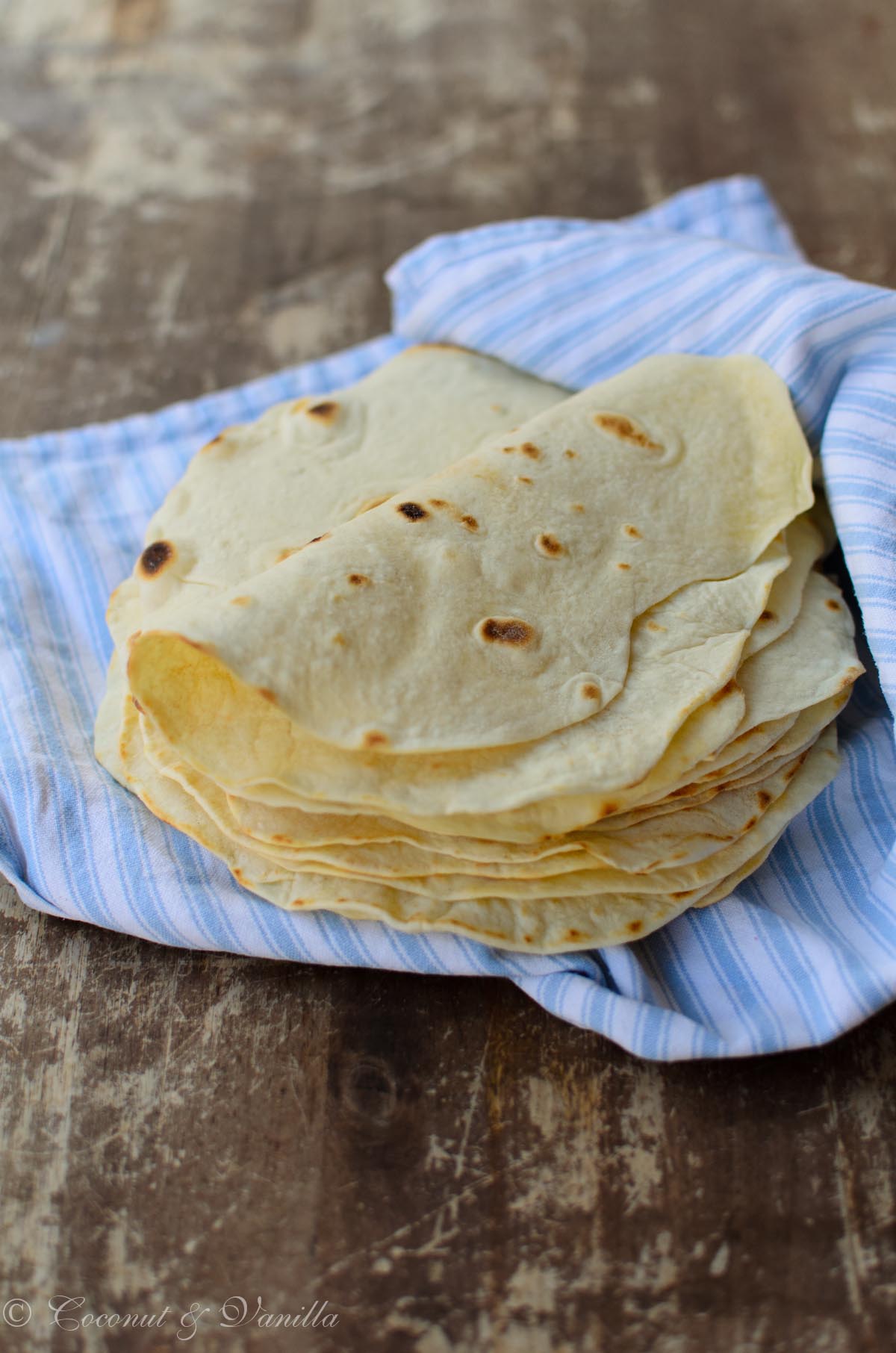 One year ago: blackberry chocolate pie
Three years ago: tomato sauce and apple compote
Wheat Flour Tortillas
adapted from The Homemade Pantry: 101 Foods You Can Stop Buying and Start Making by Alana Chernila
yields: 16 tortillas
Ingredients:
570 g wheat flour
2 tsp salt
1 tsp baking powder
85 g butter, diced
330 ml water
Mix flour, salt and baking powder. Add the butter and knead until it's only pea sized. Add the water gradually and knead until you got a slightly sticky dough. I used my stand mixer for that purpose, by the way ;).
Cover with plastic foil and rest for 10 minutes.
Divide the dough into 16 pieces and form into balls on a floured surface. Again cover with foil or a damp cloth and rest for another 5 minutes.
Heat a skillet (or better two) on medium-high heat.
Roll out the dough balls into even circles with about 20 cm in diameter. Bake the tortillas from both sides until they begin to brown and bubble. This happens quite quick.
Serve them immediatley or keep them warm in a preheated oven.
Let them cool completely for freezing and evacuate them in portions. If you don't own an evacuater freeze them alltogether and remove only the amount you need. Let them defrost and warm them up in a skillet.