Tuesday, 6th November 2012
Today I picked up my dm Leckerbissen box.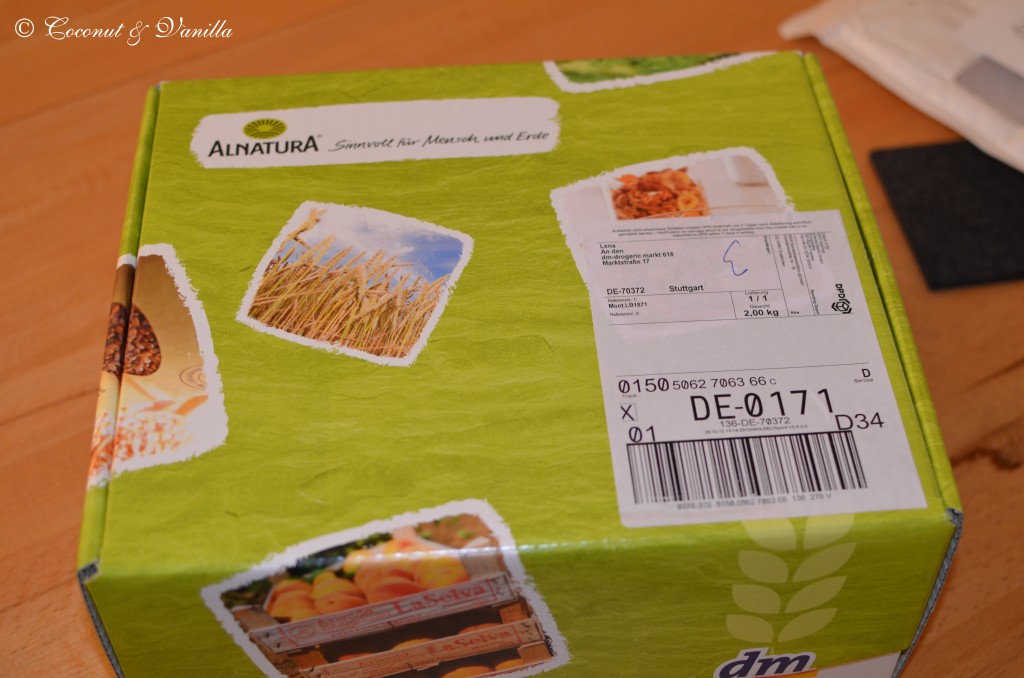 Some of you might ask what this is and why someone needs to have it. A while ago you could order a subscription of these boxes at dm (a German drugstore chain). They were limited to 2500 and after a short time out of stock. One subscription lasts 3 months, so you get 3 boxes.
For 5 Euro per box you get a selection of Alnatura (a German whole food chain) products.
As we buy regularly at Alnatura and I'm always interested in different products, but mostly I'm not buying them (benefit, price, etc), I thought 5 Euro were a good investment.
I was quite surprised as I picked up the box today, as it was quite heavy. Luckily no five milk cartons were in there ;).
In my box was: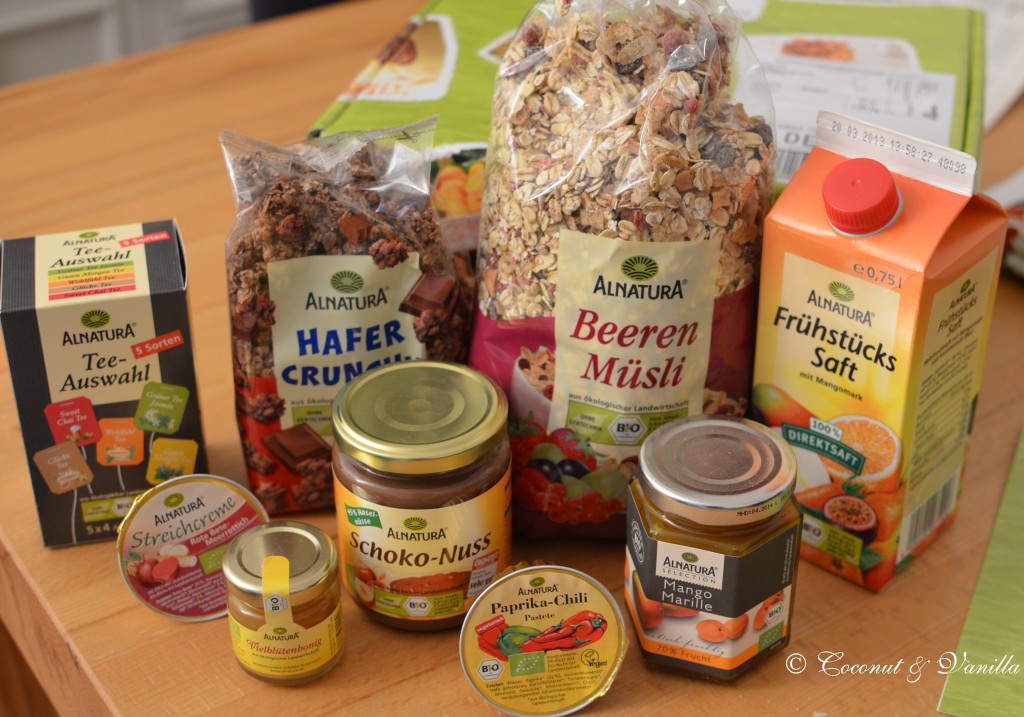 A selection of teas, two different granolas, a mix of juices, one jam (mango-apricot), a hazelnut-praline-spread, a small sample of honey and two spreads (beetroot-horseradish and bell pepper-chili).
These products were selected for the theme breakfast, which I found a nice idea.
The products are a good choice, suitable for the masses.
I do like the jam, since I never buy jam (I always make our own), I would have never tasted it. Mango with apricots sounds delicious.
I'm also happy about the spreads, since it's always good to have some options and of course it's better to taste them for less money (the last spread we bought was just mediocre).
I'm looking forward to the hazelnut-praline-spread. I wouldn't have bought it, since we only buy fair trade ones anymore. Unfortunately this one is not fair trade (shame on you, Alnatura).There's a very good fair trade hazelnut-praline-spread by Gepa named Bio-Cocoba, by the way.
We will drink the tea for sure, although we wouldn't buy it, since we have our standard varieties and we like to drink loose tea.
I'm also looking forward to the juice (a mix of apple, orange, carrot, passion fruit and mango), which we also wouldn't have bought, since it's quite expensive (1,95€) and we don't drink mixed juices. But exactly because of that I'm delighted to taste it.
So the granolas… one variety would have been enough for me. And especially the large package with the berries is a total no-go for me, because there are berries and most horrifying raisins in there! Moreover I don't like the rolled oats in there, which turn into mush mixed with milk. Yuck! I prefer it crispy and crunchy like the chocolate granola. We wouldn't have bought them, since I make our granolas myself.
Finally the small honey sample: this is unnecessary for me. I understand that it suits the breakfast theme, but in my opinion those little glasses are a waste. Moreover we all should buy local honey (which we have a lot in Germany) and the honey from Alnatura is not from here (this one is not even from the EU).
All things considered, I like the box very much. Except for the berry granola, I will consume all the products ;). Just because I wouldn't have bought most of the products, doesn't mean I wouldn't love to taste them. For 5 Euro you get products worth17,45 Euros and except for the honey all were original sizes.
I'm looking forward to the next box and I hope it will be all about Christmas ;).
PS: I bought this box out of conviction and with my own money.