Wednesday, 8th September 2010
Summer ending and autumn beginning. That is what tomatoes and apples are standing for, right now. That is how I feel. I'm yearning for the warm summer air and long nights, but I also like when it rains all day and the sky is cloudy. It's a good excuse to cozy up and eat meals, that warm from inside. And it's a good excuse to drink glühwein, yet. Yeah, I already had my first some days ago…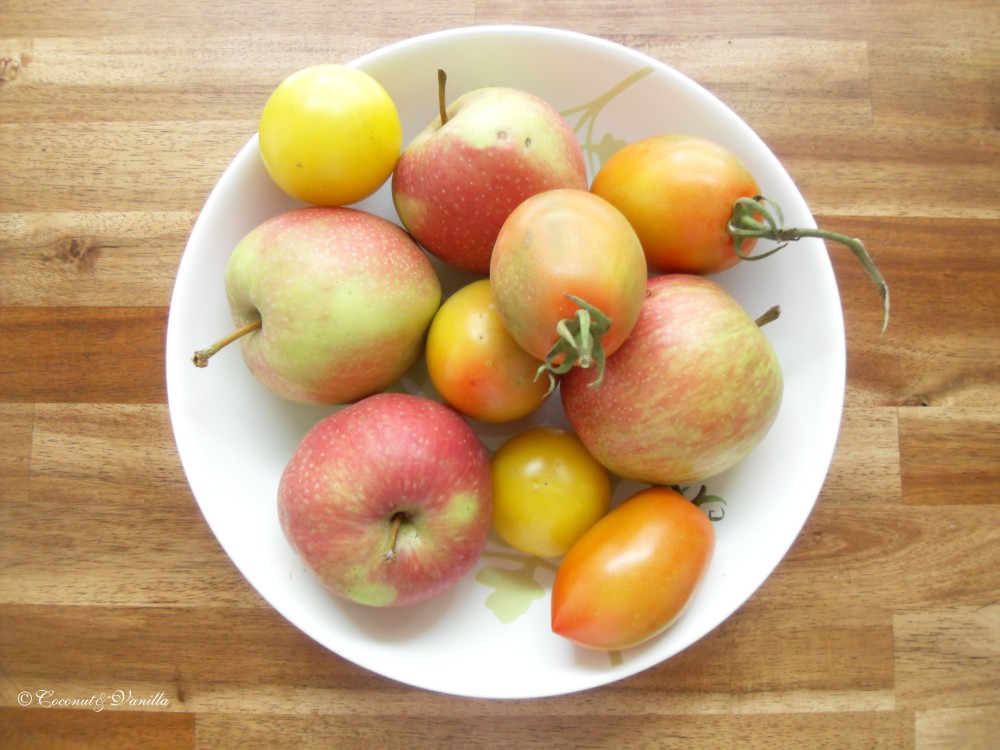 For enjoying the last summer bits and preserving it until autumn and winter, make some good old homemade pasta/pizza sauce and can it. It's a bit of work chopping all the tomatoes, but the rest is just easy going. And there's definitely no need to peel the skin off them! I made sauce of 2 kilos of tomatoes and it looked a lot in the pot. But afterwards it ended in 5 jars. That's good, don't get me wrong. But if you have access to a lot tomatoes, don't be shy or scared of the amount, you will be rewarded with a lot of yummy pasta sauce, that will bring you through the summer-less seasons.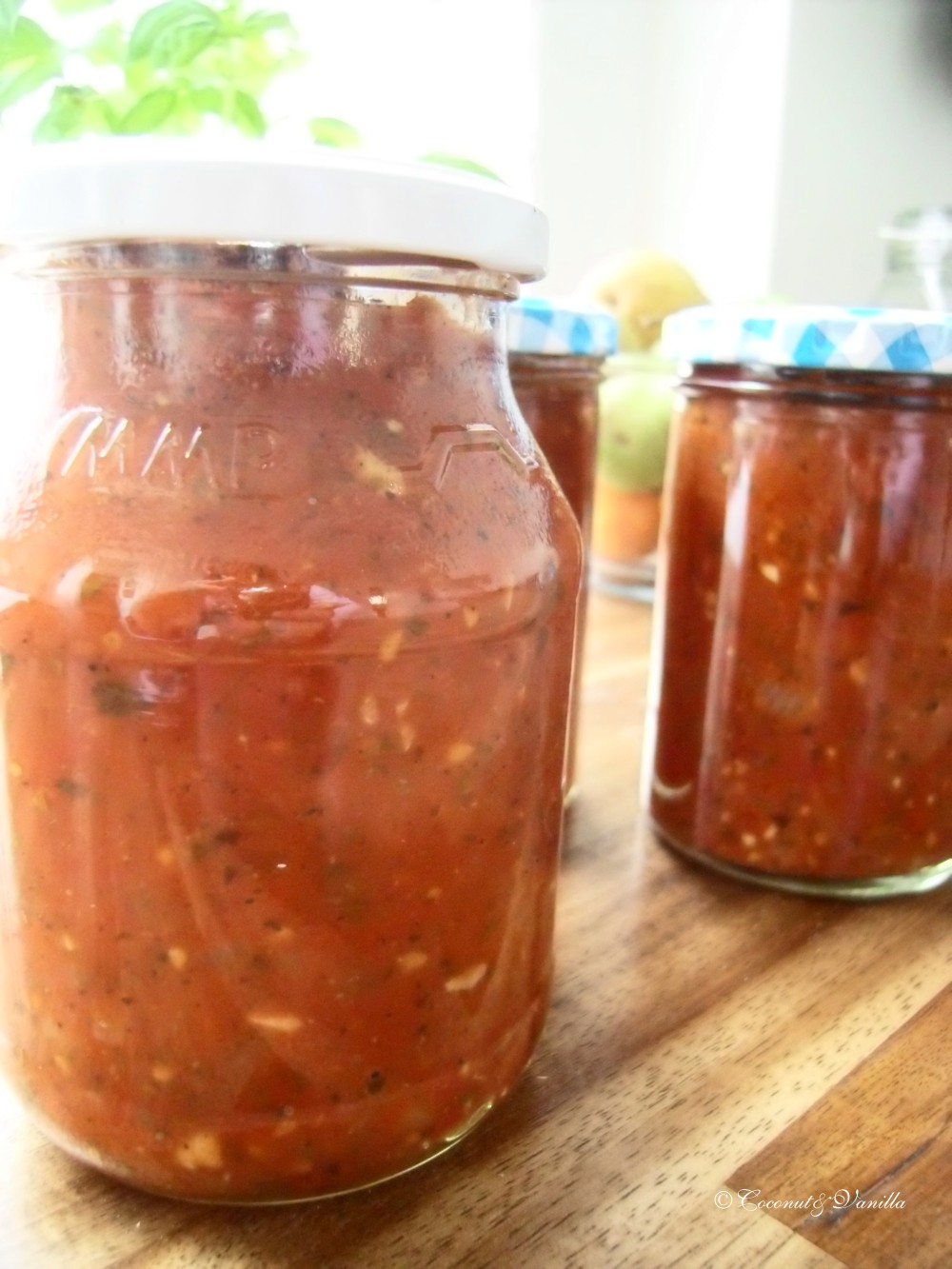 For enjoying the first autumn bits, I give you a simple apple compote on the way, which can be spiced up with your favourite spices or made with additionally pears. This compote is just perfect as a topping on arroz con leche, creams or the flan tart, I will post next time. It can also used as a filling for a sweet snack made of puff pastry or enjoyed with pancakes. Make a lot, it disappears fast!
Note: That is just a guideline. Feel free to add and leave things, how you prefer it.
If you want to can the pasta sauce, you need clean jars with lids, that you've sterilized before. Here's a really good and also funny video about sterilizing jars and canning whole tomatoes from The Bitten Word. They put it in a nutshell.
Homemade Pasta Sauce
2 kilos ripe tomatoes, unpeeled washed and chopped

5 medium onions, chopped

3 garlic cloves, chopped finely

salt, pepper

herbs, such like basil, thyme, oregano, sage, mint, rosemary; preferably fresh, otherwise dried

olive oil
In large pot heat a good splash of olive oil and add the onions and garlic. Cook a minute or two, but don't let it brown. Add all the chopped tomatoes. Cook until tender and everything gets mushy. That takes about 20-30 minutes. Meanwhile chop your fresh herbs.
If you want to can your pasta sauce, prepare now the jars and lids. Place them on a dish towel.
After that, add the herbs to the sauce and season it with salt and pepper.
Now as the pasta sauce is still hot, fill your jars with the sauce. Make sure that the rims of the jars are clean, when you seal them with the lids. Let them cool.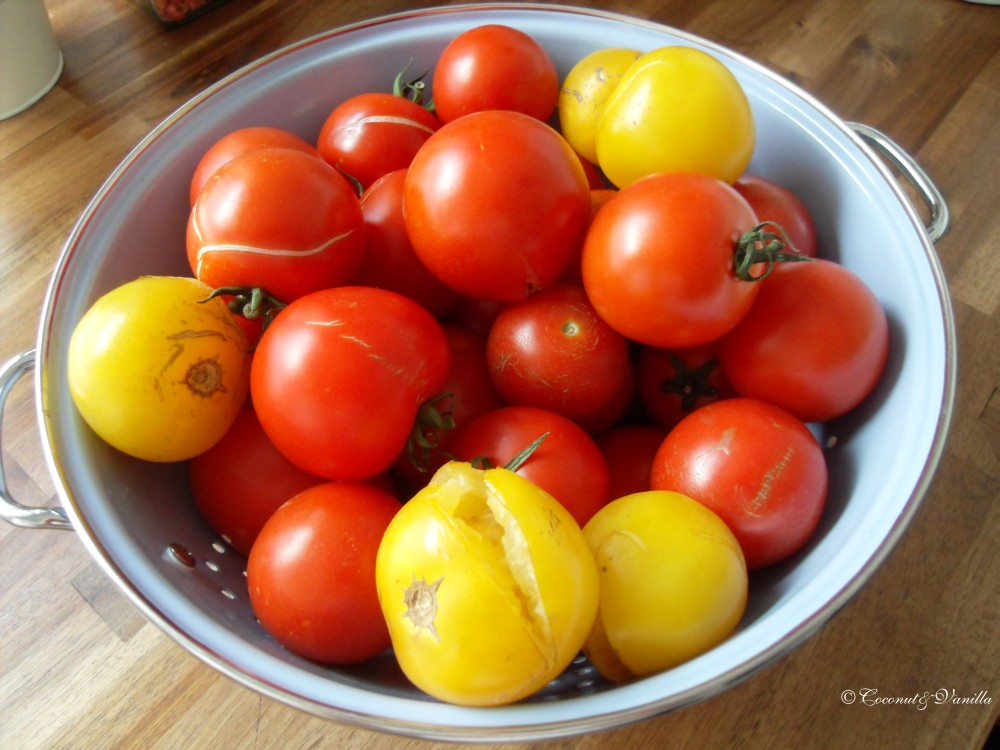 Apple Compote
4 acidic apples
one vanilla bean, split open and seeds scraped
one small star anise
50 ml water
50 g sugar
Core the apples and cut them into small cubes (0,5×0,5cm). Heat a small saucepan. Add apples, sugar, vanilla bean and seeds, star anise and water. Let it simmer, until mushy or until you can mash the apples with your spoon easily. It takes about 10-15 minutes. Remove the spices, eat immediately or store in the fridge for 2-3 days.