Friday, 3rd September 2010
I made those a while ago, but I never made it to post them. Now before the summer is all over again and plums are still in season I have to give it out to you. The galettes are easy to make. Only dough, plums and sugar, that's it!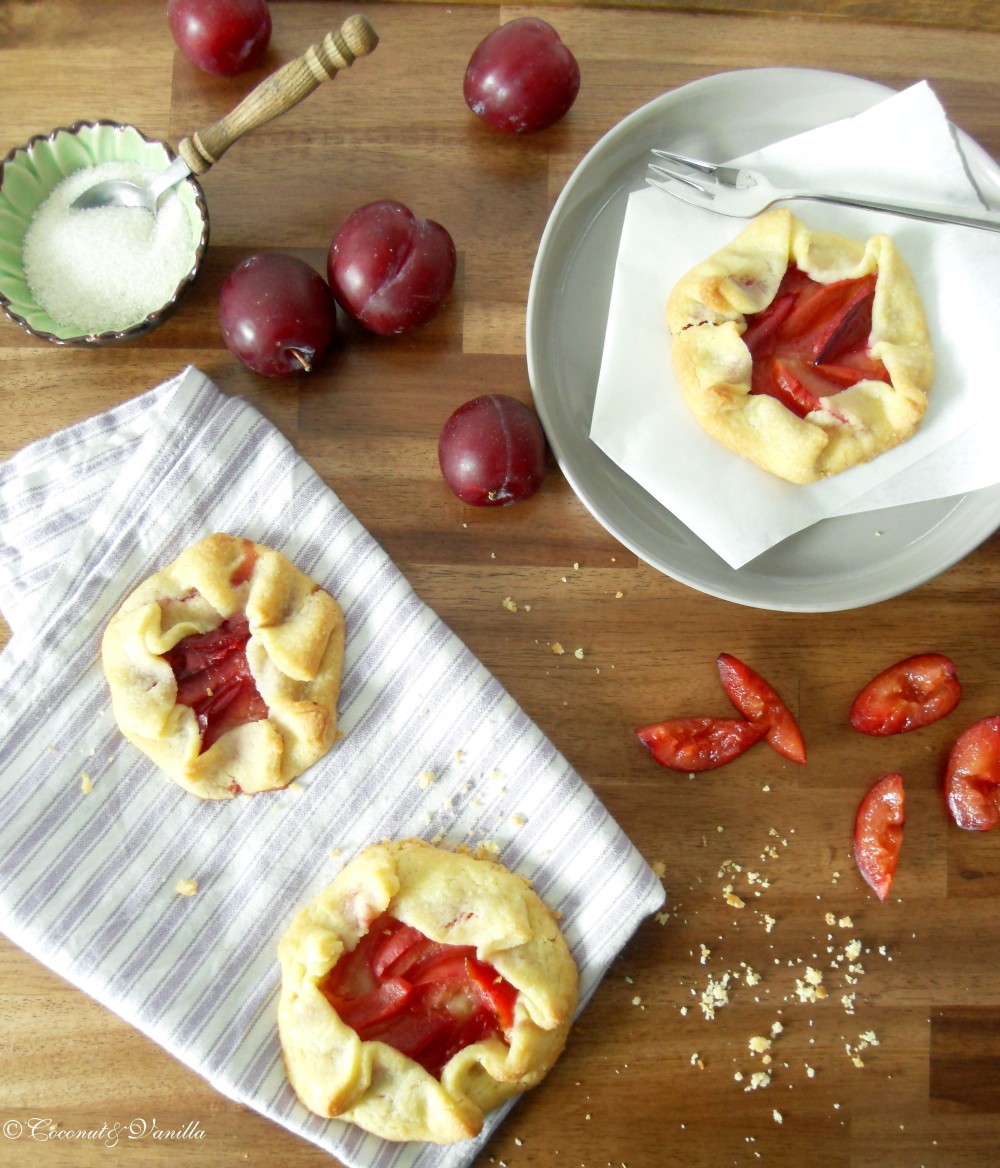 I'm looking forward to autumn, but I also want to catch the last summer fruit, before there will be a long cold time without those delicious enjoyments. So tomorrow I want to get some pumpkins and apples at the market as well as some peaches (if I'm lucky). Stuck between summer and autumn is a really good time for yummy food. So preserve the summer and enjoy the upcoming autumn. Make ice cream with summer fruit, freeze fruit puree for the winter, can tomatoes or as I've done it recently: make your own pasta sauce and can it! There will be a post about that soon! I hope I got you a bit inspired. I need that inspiration too. Autumn food is so tempting.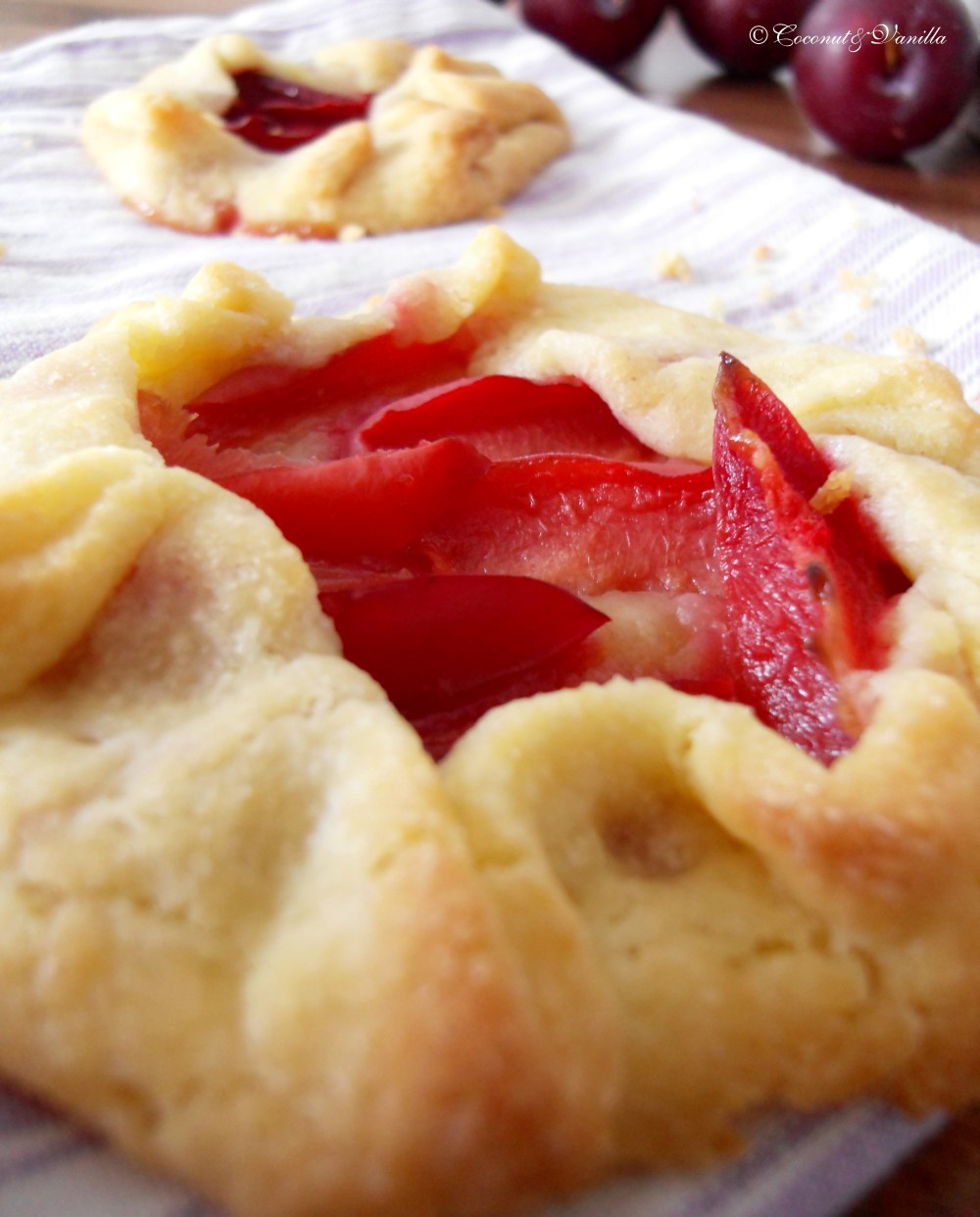 So make the dough, then go buy some plums. When you're back the dough is chilled and ready for rolling out. Assemble the galettes and bake. Enjoy them warm with a scoop of ice cream or cooled down every time you are passing by. I know what I'm talking about. They didn't survived the day after baking!
Rustic Plum Galettes
Yield: 8
Ingredients:
8 plums

250 g flour

200 g butter at room temperature

100 g sugar

pinch of salt

2 egg yolks

flour for rolling the dough

brown sugar for sprinkling
Whisk together the butter, sugar and the salt with the paddle attachment of your stand mixer. Add the egg yolks and whisk again. Add the flour by degrees, until it is all incorporated and you have a homogeneous dough. Form the dough into a ball, wrap in plastic foil and chill at least for an hour or until ready to use.
Wash the plums, remove the pits and cut them into slices.
Roll out the dough on a floured surface. Cut out circles with a cookie cutter or use a glass or small bowl for that. Mine was 13cm in diameter. I do not recommend using diameters that are a lot smaller, because then it will be difficult to assemble the galettes.
Preheat the oven to 180°C. Preheating is important here.
Place the plum slices on the circles, as you see in the picture above. Sprinkle with sugar depending on the sweet- or sourness of your plums. Fold the edges towards the middle of the circles, you want to have a rustic rim. Look at the picture below how mine looked. There is no need to be perfect here.
Transfer them to baking sheets lined with parchment paper. Bake the galettes for about 20-25 minutes, until golden brown.
 Tip: The bottom of my galettes turned out a bit soggy, due to the juicy plums and the baking sheets. I baked mine 10 minutes after baking again on the rack only from underneath. Next time I will bake them right away on the rack with some parchment paper in between. Or you try to transfer them after 15 minutes of baking to the rack and bake them there the rest of the time. But maybe you are lucky and not having "problems" like this. After all they taste grate.