Freitag, 3. September 2010
Update: Für das deutsche Rezept nach unten scrollen!
I made those a while ago, but I never made it to post them. Now before the summer is all over again and plums are still in season I have to give it out to you. The galettes are easy to make. Only dough, plums and sugar, that's it!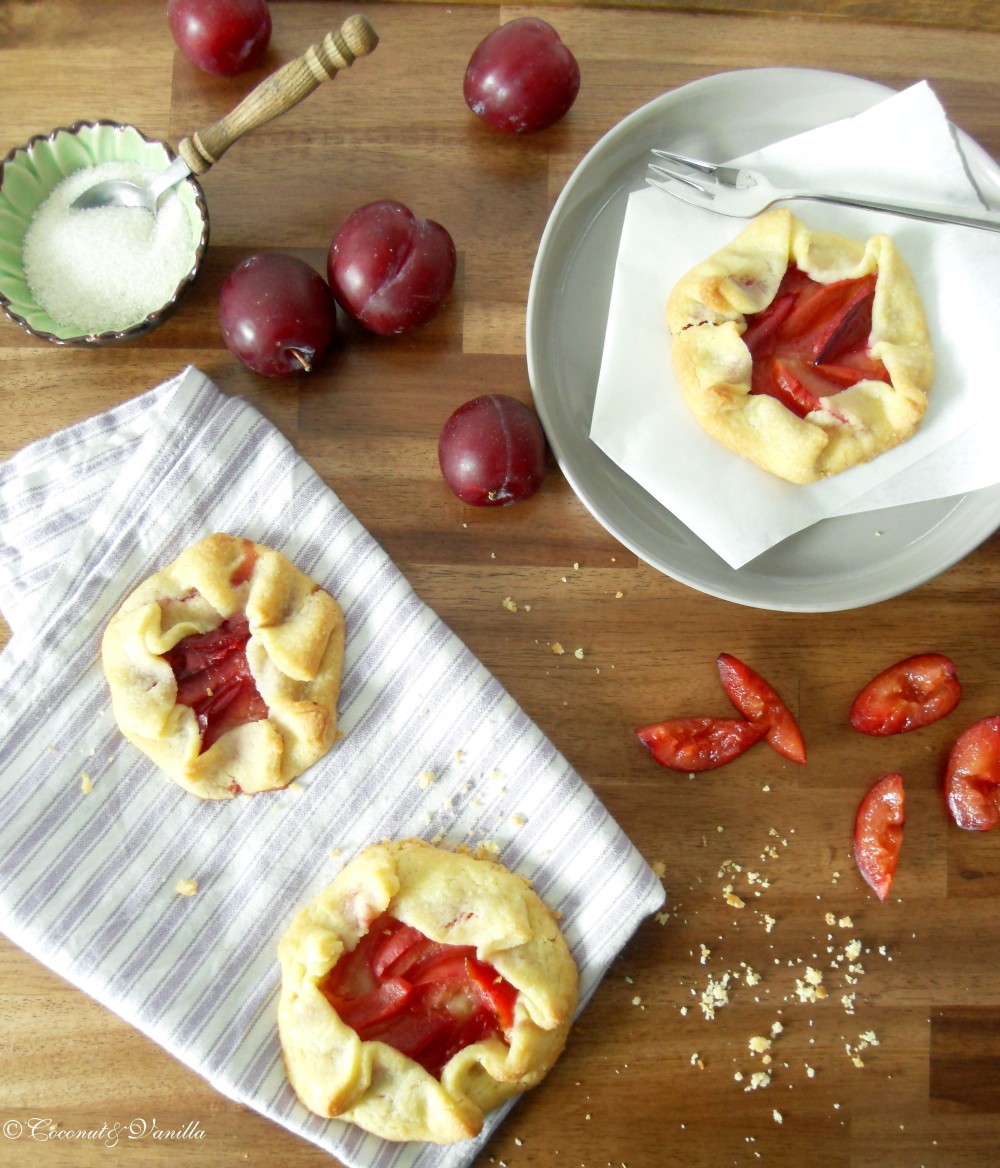 I'm looking forward to autumn, but I also want to catch the last summer fruit, before there will be a long cold time without those delicious enjoyments. So tomorrow I want to get some pumpkins and apples at the market as well as some peaches (if I'm lucky). Stuck between summer and autumn is a really good time for yummy food. So preserve the summer and enjoy the upcoming autumn. Make ice cream with summer fruit, freeze fruit puree for the winter, can tomatoes or as I've done it recently: make your own pasta sauce and can it! There will be a post about that soon! I hope I got you a bit inspired. I need that inspiration too. Autumn food is so tempting.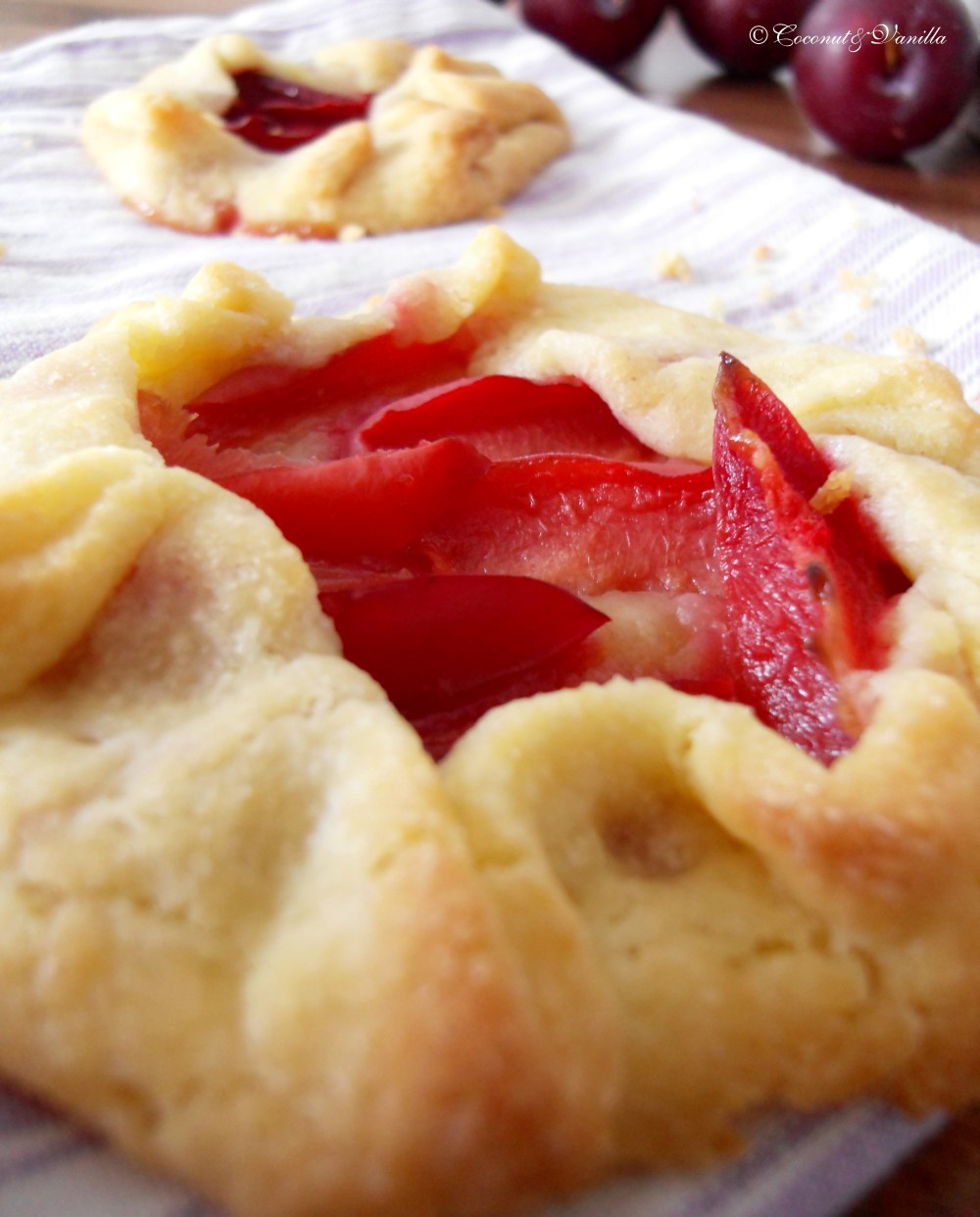 So make the dough, then go buy some plums. When you're back the dough is chilled and ready for rolling out. Assemble the galettes and bake. Enjoy them warm with a scoop of ice cream or cooled down every time you are passing by. I know what I'm talking about. They didn't survived the day after baking!
Pflaumen Galettes
ergibt: 8 Stück
Zutaten
8 Pflaumen

250 g Mehl

200 g Butter, raumwarm

100 g Zucker

1 Prise Salz

2 Eigelb

Mehl zum Ausrollen

braunen Zucker zum Bestreuen
Butter, Salz und Zucker verrühren. Die Eigelbe dazugeben und unterrühren. Das Mehl nach und nach dazugeben und unterrühren, bis ein glatter Teig entsteht. Zu einer Scheibe formen und in Frischhaltefolie mindestens 1 Stunde kalt stellen.
Die Pflaumen waschen, die Kerne entfernen und in Schnitze schneiden.
Den Teig ausrollen und mit einem Glas, Ausstecher oder einer Schale runde Kreise ausstechen. Meine waren 13 cm im Durchmesser. Ich würde die Kreise nicht kleiner machen, da es sonst sehr schwierig wird, die Galettes zu formen.
Den Ofen auf jeden Fall vorheizen! Auf 180° C.
Die Pflaumen in die Mitte der Teigkreise auslegen, wie abgebildet. Mit Zucker bestreuen, Menge je nach Süße/Säure der Pflaumen. Den Rand nach innen falten, es muss nicht perfekt sein.
Auf Backbleche mit Backpapier legen. Die Galettes 20-25 Minuten backen, bis sie goldbraun sind.
Tipp: Meine Galettes sind am Boden, wegen der Pflaumen etwas durchgeweicht. Ich habe sie dann nochmal 10 Minuten auf einem Gitter nur von unten gebacken. Nächstes Mal würde ich sie gleich auf einem Gitter mit Backpapier backen. Eine andere Möglichkeit wäre sie nach 15 Minuten der Backzeit vom Backblech auf ein Gitter zu transferieren. Nichtsdestotrotz waren sie äußerst lecker.