Heute gibt es einen geliebten Klassiker! Rote Beete Salat, in diesem Fall mit gelber Beete zubereitet – ist aber geschmacklich gleich – nach fränkischer Art. Das heißt er schmeckt ähnlich wie der Salat aus dem Glas (den ich schon seit meiner Kindheit liebe!), nur frischer. Das ist mir immer noch der liebste Salat mit Roter Beete, da er sauer ist, gut gewürzt und leicht. Mich erinnert er vom Dressing her etwas an Kartoffelsalat. Kartoffelsalat natürlich auch mit einem Essig-Brühe-Dressing, klassisch süddeutsch. In Nürnberg wird er übrigens liebevoll "Roude Ruum" Salat genannt.
Bis vor kurzem kannte ich kaum Arten Rote Beete zuzubereiten, aber dieser Salat war immer eine. Aber ein eigener Garten lässt einen zum Glück erfinderisch werden! Das wird also nicht das letzte Rezept mit meiner geliebte Beete bleiben!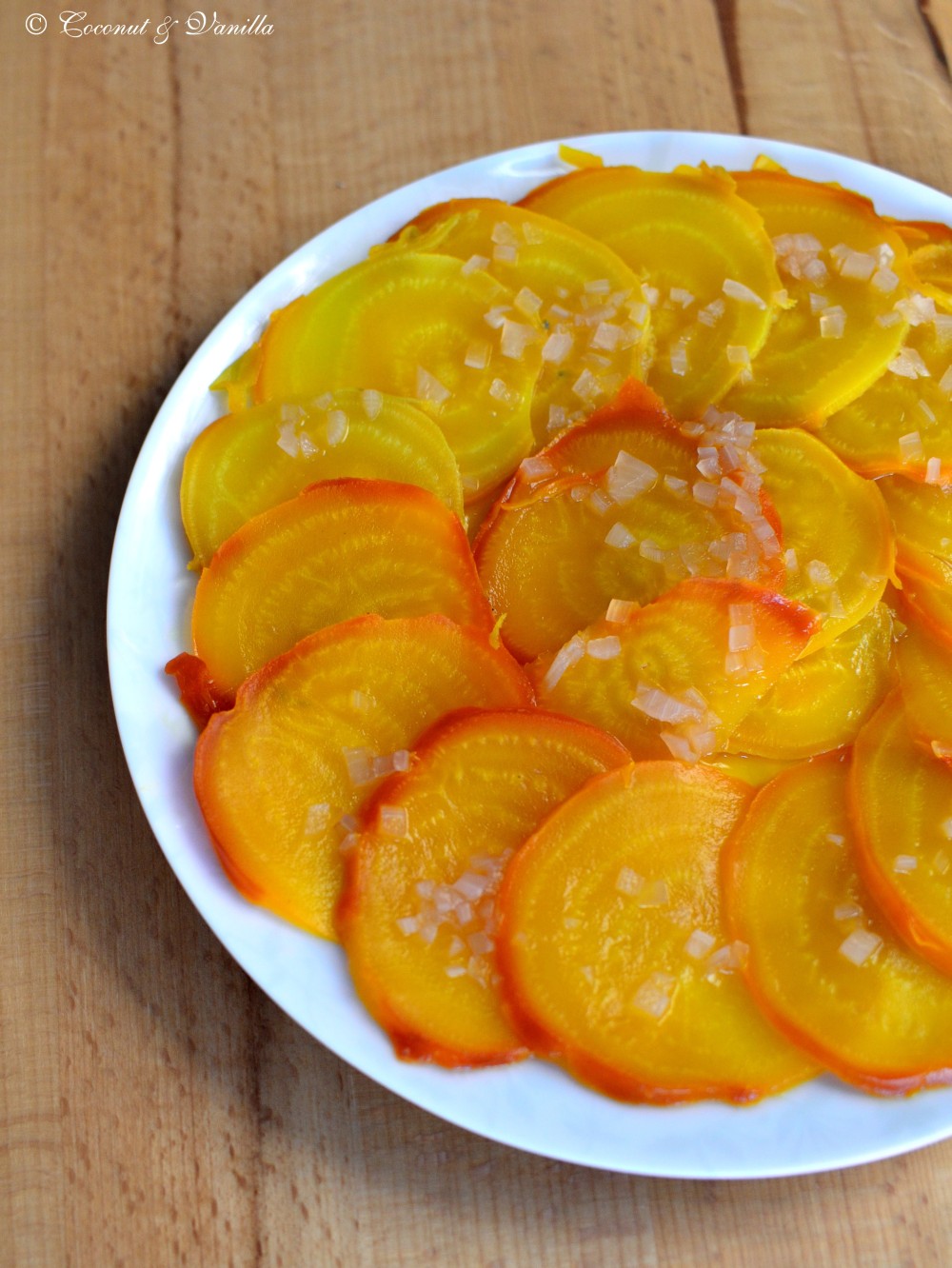 Vor einem Jahr: Frozen Joghurt mit Zitrone
Vor zwei Jahren: glutenfreie Butterkekse
Vor drei Jahren: Triple Mousse
fränkischer Gelbe Beete-Salat
für 2 Personen
leicht abgewandelt aus dem wundervollen Kochbuch Sadd und Dsufriedn Das Neue Nürnberger Kochbuch
Zutaten:
2-3 rote/gelbe Beete, ca 500 g

60 ml Rotweinessig

125 ml Wasser

Salz

Pfeffer

1/2 TL Zucker

1 kleine Zwiebel

1 Nelke

1 Lorbeerblatt
Die rote Beete in Salzwasser gar kochen oder dämpfen. Abgießen, abschrecken und kurz auskühlen lassen. Die Haut mit einem kleinen Messer abziehen.
Die Wurzeln in Scheiben schneiden oder hobeln. Ob dickere oder dünne Scheiben, bestimmt ihr.
Die Zwiebel fein würfeln und mit den anderen Zutaten (außer der Beete) in einem kleinen Topf aufkochen und 15 Minuten kochen lassen.
Die Marinade heiß über die Beete geben. Am besten einige Stunden durchziehen lassen, optimal wären 24 Stunden. Aber auch bereits nach 30-60 Minuten schmeckt der Salat sehr lecker!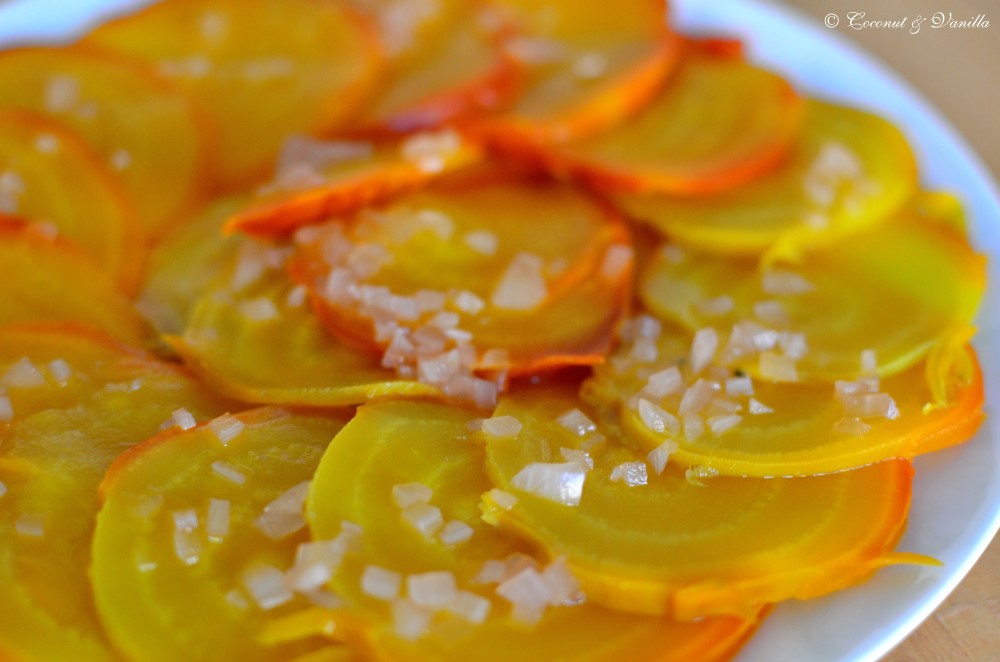 Today I have a classic for you! Beetroot Salad, in this case with yellow beetroot – which changes nothing in the flavour – made Franconian style. In Germany you can buy preserved beetroot salad, which tastes quite similar. I love this salad since childhood, but homemade is always best. The salad tastes fresher and you can adapt the firmness of the beets to your likes.
This is still my favourite salad made of beetroots, because it has a perfect acidity, is perfectly spiced and a light meal. The dressing reminds me of a potato salad from southern Germany, mainly made of vinegar and broth.
Just some time ago I didn't know a lot of ways to prepare beetroots, but this salad was always one. Luckily a garden makes me imaginative! So this won't be the last recipe with beetroots, for sure!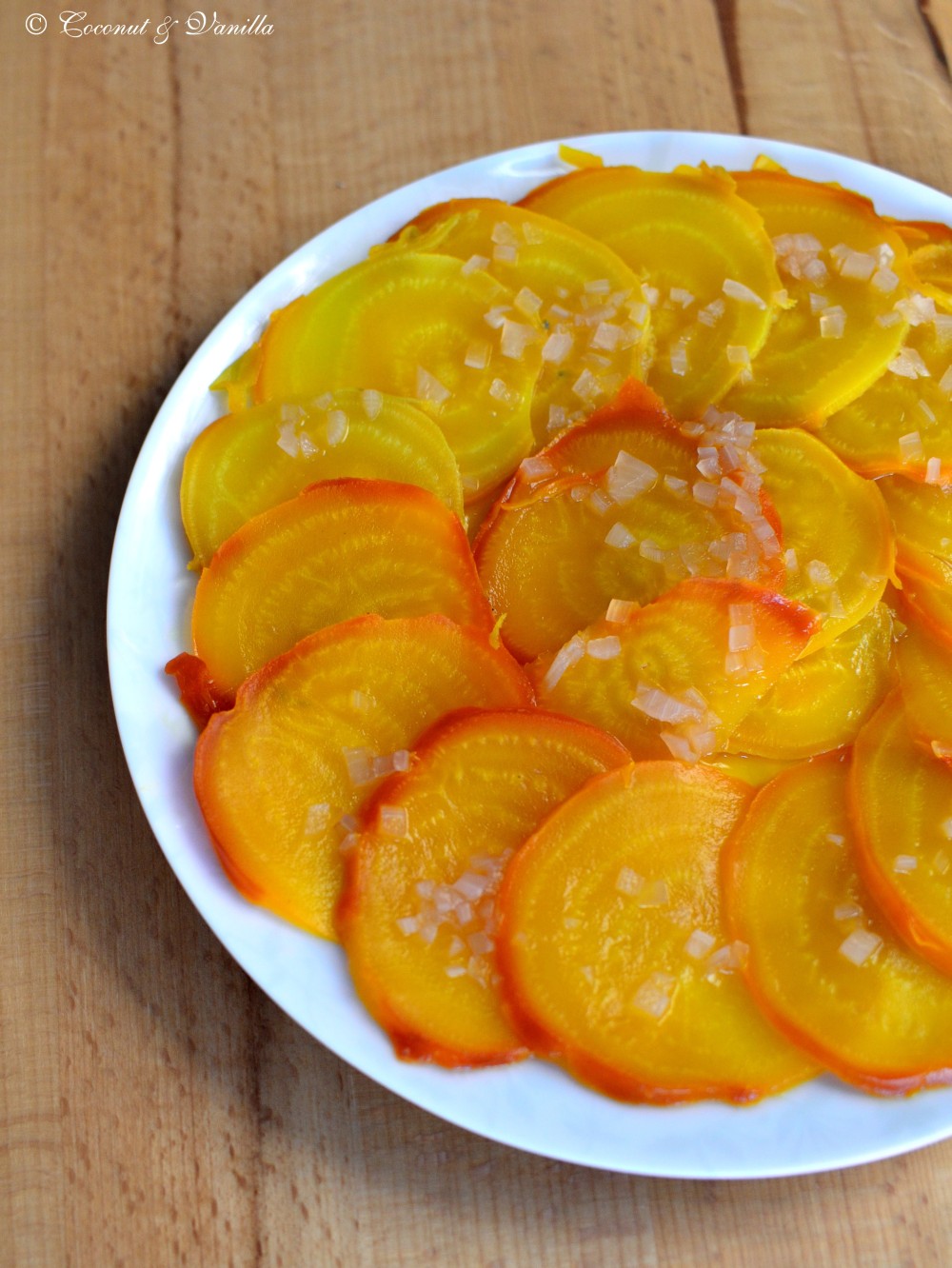 One year ago: Frozen Yogurt with Lemon
Two years ago: gluten-free Sugar Cookies
Three years ago: Triple Mousse
Franconian yellow Beetroot Salad
for 2 persons
slightly adapted from the great cookbook Sadd und Dsufriedn Das Neue Nürnberger Kochbuch 
Ingredients:
2-3 beetroots, about 500 g

60 ml red wine vinegar

125 ml water

salt

pepper

1/2 tsp sugar

1 small onion

1 clove

1 bay leaf
Cook the beetroots in salted water. Strain, rinse with cold water and let it cool down shortly. Peel of the skin with a small knife.
Cut the beetroots into slices or slice with a mandoline. It's your choice, how thick you like them.
Finely dice the onion and mix with the other ingredients (except the beets) in a small saucepan. Bring to the boil and cook for 15 minutes.
Pour steaming hot over the beetroot. Let it steep for a couple of hours, best for 24 hours! But the salad tastes already divine after 30-60 minutes!