[:de]
Der Lebensmitteleinkauf ist erledigt und denn geht ihr nach Hause und schneidet das Gemüse und das Fleisch auf einem Plastikbrettchen, das wahrscheinlich schon ziemlich viele Einschnitte hat. Hier lösen sich bei jedem Schneiden viele Plastikpartikel, die dann am Lebensmittel haften bleiben und mitgegessen werden. Erscheint euch das gesund?
Klar ein Plastikbrett lässt sich in der Spülmaschine leicht reinigen, aber heiße Temperaturen und Detergenzien (wie Spülmittel) können weitere Partikel aus dem Kunststoff lösen (wie ich darauf komme lest ihr hier).
Die Lösung: Holzschneidebretter! Vom Bambus würde ich eher abraten, da es sehr hart ist und die Messer daher schneller stumpf werden. Das Schneidegefühl ist auch komplett anders, da Bambus nicht so nachgibt wie Holz. Bitte auch nicht auf Stein oder Glas oder Schiefer schneiden, das ist der Tod für jedes scharfe Messer!
Laut einer Studie sind Holzschneidebretter übrigens hygienischer als Plastikbretter!
Und sind Holzbretter nicht sowieso viel schöner? Auf Handwerksmärkten habe ich schon ganz tolle gefunden und erst letztens habe ich bei TK Maxx ein riesiges Akazienbrett gefunden (das seht ihr auf dem Foto).
Holzbretter reinigt man am besser unter sehr heißen Wasser mit einem Tropfen Spüli oder Essig zur Desinfektion und einer Spülbürste (am besten aus Holz mit einem langen Stiel, so dass man sich nicht die Finger verbrennt). Danach aufrecht hinstellen und an der Luft trocknen lassen. Das geht ganz fix! Die Bretter nie in Wasser einweichen, denn dadurch zieht das Holz Wasser und die Bretter bekommen Risse!
Holzbretter benötigen hin und wieder etwas Pflege. Versorgt sie mit Holzbutter, dann sind sie schöner als neu!
Die Holzbutter könnt ihr ganz einfach selbstmachen und ist durch und durch natürlich. Dani und Michael von Flowers on my plate haben es vorgemacht und ich habe die Menge an Kokosöl ein klitzekleines bisschen erhöht, da dann das Bienenwachs williger war zu schmelzen. Probiert es einfach aus!
Die Holzbutter wird bei Körperkontakt cremig. Ich massiere sie dann am liebsten mit der Hand ins Holz. Erst eine Seite, ein paar Stunden einwirken lassen und dann die andere Seite.
Übrigens kann man Holzbrettchen einfach wieder erneuern indem man sie mit feinem Schleifpapier abschleift. Auch raue Brettchen werden dadurch zu echten Schönheiten! Danach wieder einbuttern ;).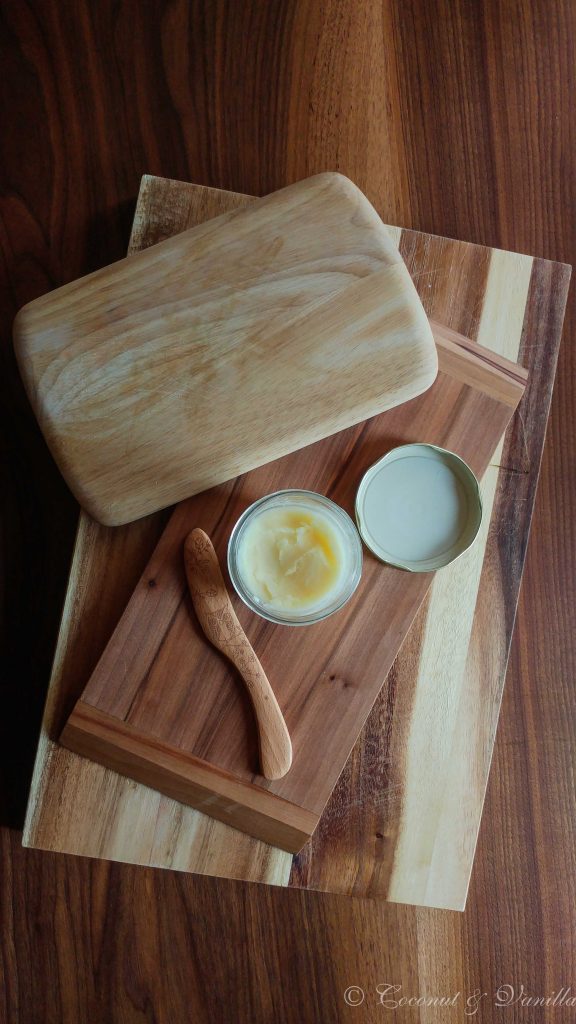 Holzbutter
nach flowers on my plate
ergibt: 1 Glas
Zutaten:
100 g Kokosöl + evtl 1 EL (am besten bio und fair)
30 g Bienenwachs (am besten bio, eure Bienenwachskerzenreste könnt ihr hierzu auch verwenden!)
Das Bienenwachs klein hacken oder reiben.
Kokosöl und Bienenwachs in einen kleinen Topf auf kleinster Stufe auf dem Induktionsherd erwärmen bis es schmilzt. Bei einem Ceran- oder Gaskochfeld ein Wasserbad verwenden. Ich habe noch etwa 1 EL Kokosöl zusätzlich dazugeben, danach schmolz mein Bienenwachs leichter.
Das flüssige Öl in ein Glas füllen und fest werden lassen. Dann erst verschließen.
Mit einem Löffel oder Messer etwas Butter aus dem Glas entnehmen. Etwa 1 TL pro Holzbrett und Seite. Die Butter mit den Händen in das Brett einmassieren, die Seiten nicht vergessen. Einige Stunden oder über Nacht einwirken lassen. Am nächsten Tag mit einem Tuch einreiben und die Überreste abnehmen. Dafür eignen sich gut alte Socken, die schon ein Loch haben 😉 (natürlich gewaschen).
Das Brett wenden und genauso wie zuvor verfahren.
Tipp: Raue und abgenutzte Brettchen lassen sich mit feinem Schleifpapier wieder aufwerten! Danach abwaschen, trocknen lassen und einbuttern!
[:en]
Shopping groceries is done, you arrive at home and cut the vegetables and the meat on a plastic cutting board, which already might have a lot of cuts. With every cut plastic particles are coming off, which then stick to the food and are eaten. By you. Does this sound healthy to you?
You might say that a plastic cutting board can be easily cleaned in the dishwasher. True. But high temperatures and detergents can dissolce more particles from the plastic (Why am I talking of this? You can read here.).
The solution: wooden cutting boards! I would not recommend bamboo, because it is very hard and therefore knifes will dull even quicker. Also the feeling of cutting is a lot different, because bamboo isn't as elasic as wood. Do never ever cut on stone, glass or slate, it's death for every sharpe knife! According to a study wooden cutting boards are even more hygienic that plastic cutting boards!
And aren't wooden cutting boards more beautiful, anyway? I found great ones on handicraft markets (I LOVE handicraft markets!) and I found a huge acacia wooden board at TK Maxx recently (which you see on the photo).
Wooden boards should be cleaned under hot water with a drop of detergent or vinegar for desinfection and a brush (with a long handle so you won't burn your hands and best made of wood). Place them upright to dry at the air. Like this it doesn't take long.
Do never soak the wooden boards in water, because they soak full of water and the boards will crack!
Wooden boards need a bit of care every now and then. Use wood butter, then they are better than new!
You can easily make the wood butter yourself and it is completely natural. Dani and Michael of flowers on my plate picked up the idea first. I only increased the amount of coconut oil a bit, because like this the bees wax was more likely to melt. Just give it a try!
The wood butter becomes creamy when you touch it. I like to massage it into the wood by hand. First one side, then let it rest and then the other side.
By the way, you can renew your wooden boards by using some fine sand paper. Also abrasive boards will become beautiful and shiny again! After that, butter it ;)!
Wood butter

adapted from flowers on my plate
yields: 1 small jar
Ingredients
100 g coconut oil + optional 1 Tbsp (best organic and fairtrade)
30 g bees wax (best organic, you can also use your leftover bees wax candles)
Finely chop or grate the bees wax.
Melt the coconut oil and the bees wax on the lowest level on an induction hob or in a water bath, if you use a radiant or gas hob. I added an additional Tbsp of coconut oil, after that the bees wax was more likely to melt.
Pour the liquid oil in a jar and let it cool completely. Close it with a lid.
Use a spoon or knife to remove some of the wood butter. Use about 1 tsp per cutting board side. Massage the butter with your hands into the cutting board, don't forget the rims. Let it infuse for a few hours or overnight. On the next day use a cloth to rub the board and to remove the leftovers of the butter. I like to use old socks with holes for that (of course laundered 😉 ).
Continue with the other side of the cutting board in the same way.
Tip: Abrasive and used boards can easily be upvalued again with some fine sanding paper! After sanding, wash, dry and butter the boards again!
[:]