Einen Monat musstet ihr tatsächlich auf den zweiten Teil warten! Weihnachtliche Posts kamen dazwischen und dann habe ich auch eine 2-wöchige Blogpause über Weihnachten und Silvester eingelegt (wir waren auf Familientour).
Der ersten Teil meiner Erfahrungen während des Sheraton Blogger Events endeten mit einer Segway Tour. Ihr könnt Euch nicht mehr dran erinnern oder habt es noch gar nicht gelesen? Hier könnt ihr alles nochmal nachlesen:
Sheraton Blogger Event in Frankfurt Teil 1
Nach der Segway Tour wurden wir in eine Suite zum Workshop "Blogger und Marken – zwei Seiten einer Medaille" geladen. Dort tauschten wir uns mit dem PR- und Social Media Team von Fleishman-Hillard und Sheraton aus. Der Workshop war so interessant, dass wir Gefahr liefen zu überziehen. Ich fand es eine große Bereicherung, dass ich mich sowohl mit Profis, als auch mit Bloggern ganz anderer Sparten auseinandersetzen konnte. Es hat mir zu vielen neuen Erkenntissen verholfen!
Dank perfekter Planung überzogen wir nur kurz und zogen dann gemeinsam in die hauseigene "Lemons & Lime" Bar zur Weinverkostung mit Max Schönleber vom Weingut Allendorf. Zwei Tische waren dort für uns reserviert und bereits mit Häppchen eingedeckt. Die Bar fand ich ungemein stimmungsvoll (gerade für eine Hotelbar!) und ich war ganz begeistert von den tollen Lampen dort (wie auch andere weibliche Bloggerinen bei diesem Treffen; ich hörte da sogar etwas von Selbermachen 😉 ). Wir bekamen einige tolle Weißweine vom Weingut Allendorf kredenzt. Die Rotweine waren nicht mein Fall, aber ich mag auch keine trockenen Weine und Rotweine sind ein noch schwierigeres Feld bei mir. Ich hörte aber viel Begeisterung um mich herum! Ich musste mich langsam etwas zurücknehmen, schließlich stand anschließend noch ein Abendessen und Cocktailmixen auf dem Programm. Ich bin ja ein großer Fan von Weinverkostungen, besonders wenn man sie wie bei diesem Event mit so netten Leuten begeht und einem ein so sympathischer und kompetenter Kellermeister zu Seite steht!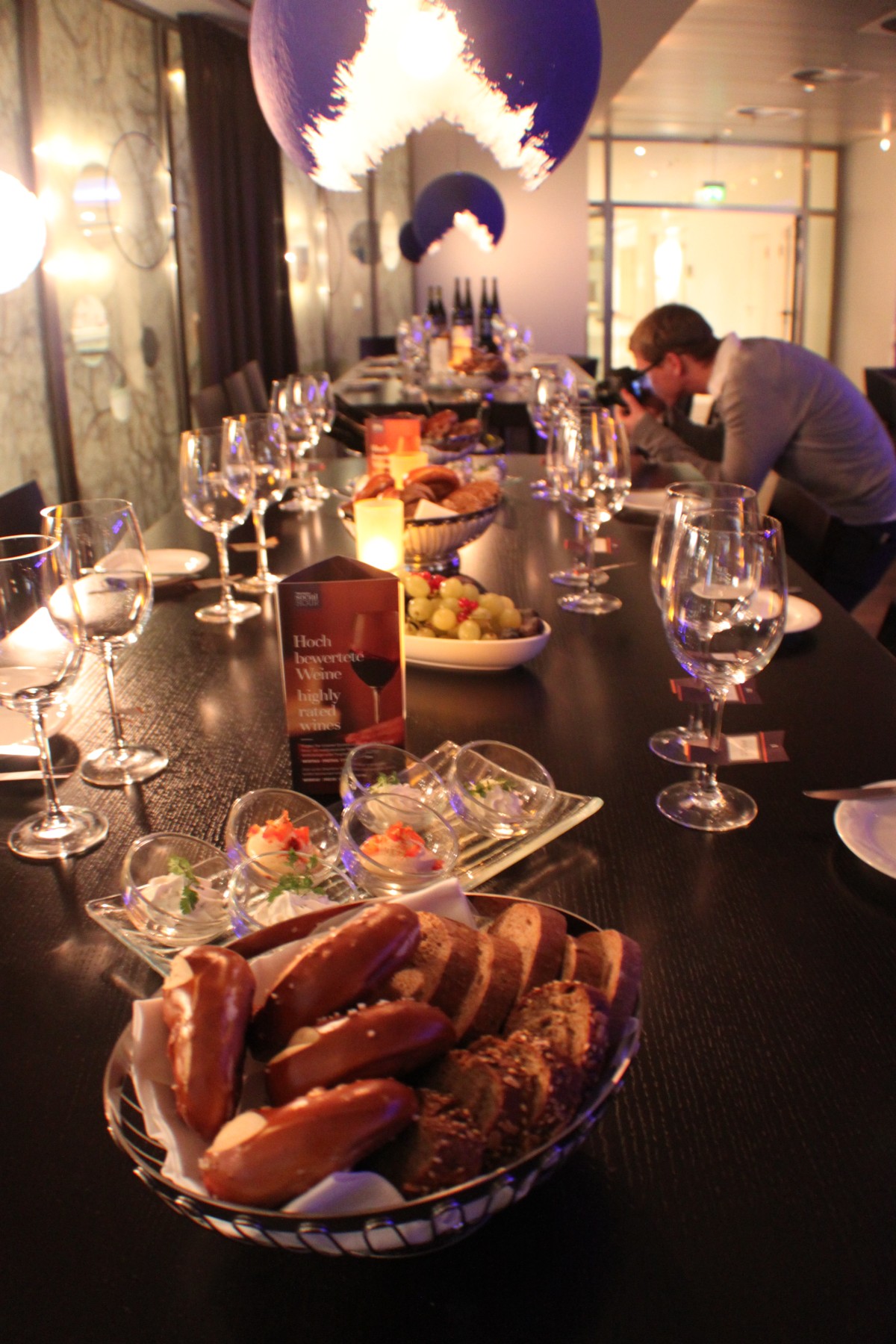 Sabine und ich schlichen uns noch für ein paar Minuten zurück auf's Zimmer, Frau möchte ja schließlich gut aussehen für ein exklusives Abendessen mit Küchendirektor Klaus Böhler!
So fanden wir uns im Restaurant "Taverne" ein, dass eigens für uns reserviert war. Was ziemlich beeindruckend war ;). Beeindruckend waren auch der Küchendirektor und seine zwei (oder drei) "Helfer", die sich von uns in der Küche über die Schulter schauen ließen, während sie uns erzählten wie genau sie unser Essen zubereitet hatten und mit welchen Zutaten (und woher diese kommen). Ja, da waren die Foodies wieder in ihrem Element!
Zu Beginn gab es natürlich (!) erstmal einen Aperitif, einen Äppelwoi-Martini, der ganz köstlich war. Dann wurde uns der erste Gang serviert: Taubenbrüstchen auf Kürbisrisotto.
Den nächsten Gang durften wir dann teilweise selbst zubereiten: Tunfischtatar an Vitello Tonnato. Das Vitello Tonnato war schon fertig, das Tunfischtatar durften wir aus einem ungehörig großen Stück Tunfisch zubereiten, das wir nicht mal ganz aufbrauchten. Da blutete mir schon etwas das Herz, schließlich weiß ich, dass der Tunfisch"rest" danach weggeschmissen wird und außerdem ist Tunfisch natürlich überfischt und die meisten Sorten kann man mit gutem Gewissen nicht mehr essen. Es machte viel Spaß das Essen zuzubereiten und es nachher professionell anzurichten, so richtig mit geschnitztem Gemüse und essbaren Veilchen!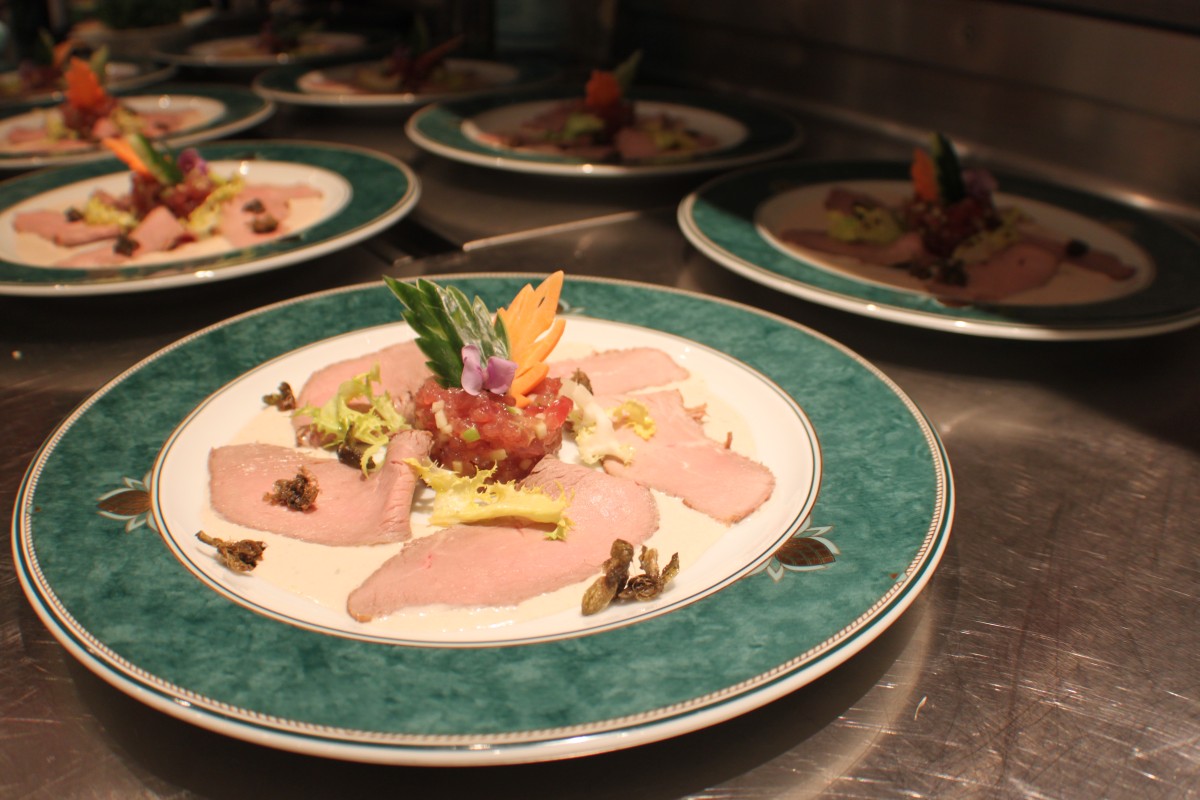 Beim Hauptgang standen wir den Köchen dann ein bisschen zwischen den Füßen, da wir überall reinschauen mussten ;). Ich schaltete dann aber auch mal einen Gang zurück, da ich mein Essen auch gerne mal nur genieße, ohne jedes Detail der Zubereitung zu wissen :). Der Hauptgang war bombastisch, vor allem das Fleisch! Es gab Rinderlende im Kräutermantel mit Pfifferlingen, Gemüse und Kartoffelblumen. Ich weiß gar nicht, ob ich schon mal so ein großes Stück Fleisch auf dem Teller hatte, dass dazu noch so zart und lecker war! Leider fing ich bereits an zu schwächeln und gab Torsten ein Teil meines Rinds ab, wäre ja schade drum gewesen. Und ich wusste ja, dass das Dessert noch folgen würde!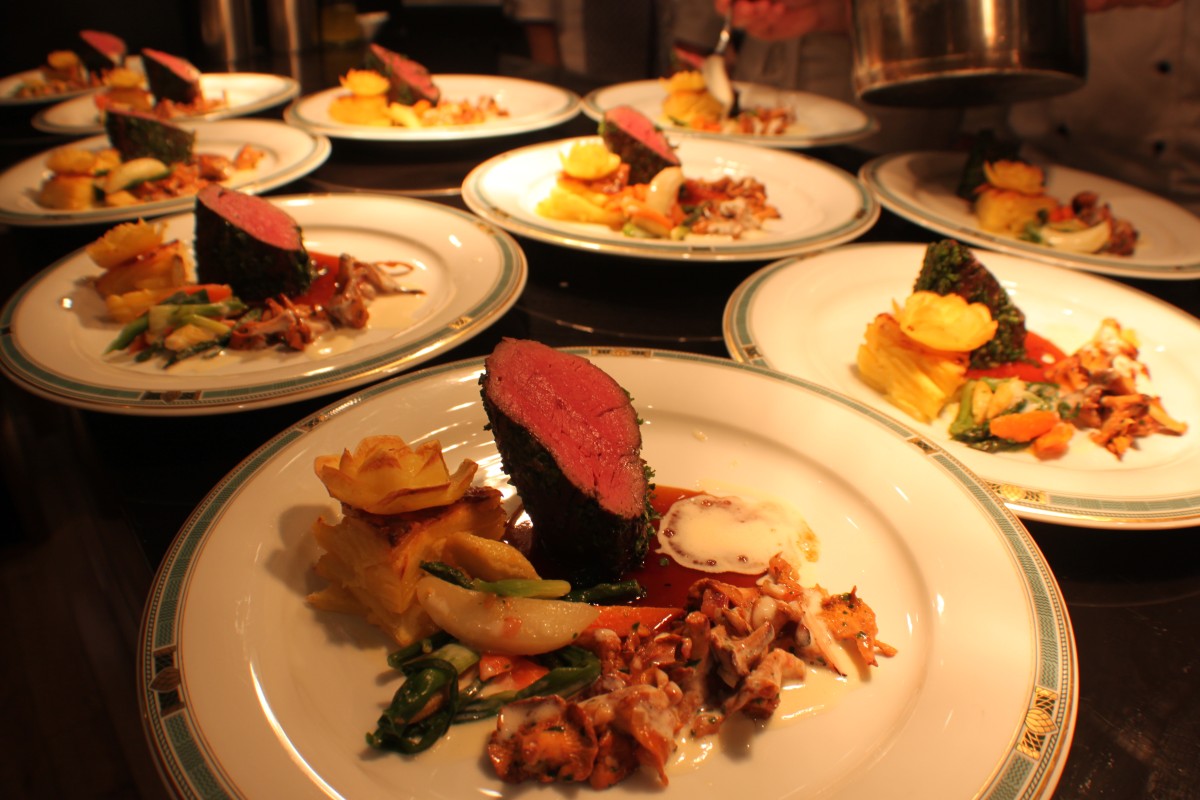 Das Dessert ließ dann auch keine Wünsche offen! Es gab Crème Brûlée, Schokoladentarte und Pistazieneis und dazu die schönsten hausgemachten Dekorationen, die ich je auf dem Teller hatte, ich sage nur Schoko-Schmetterlinge!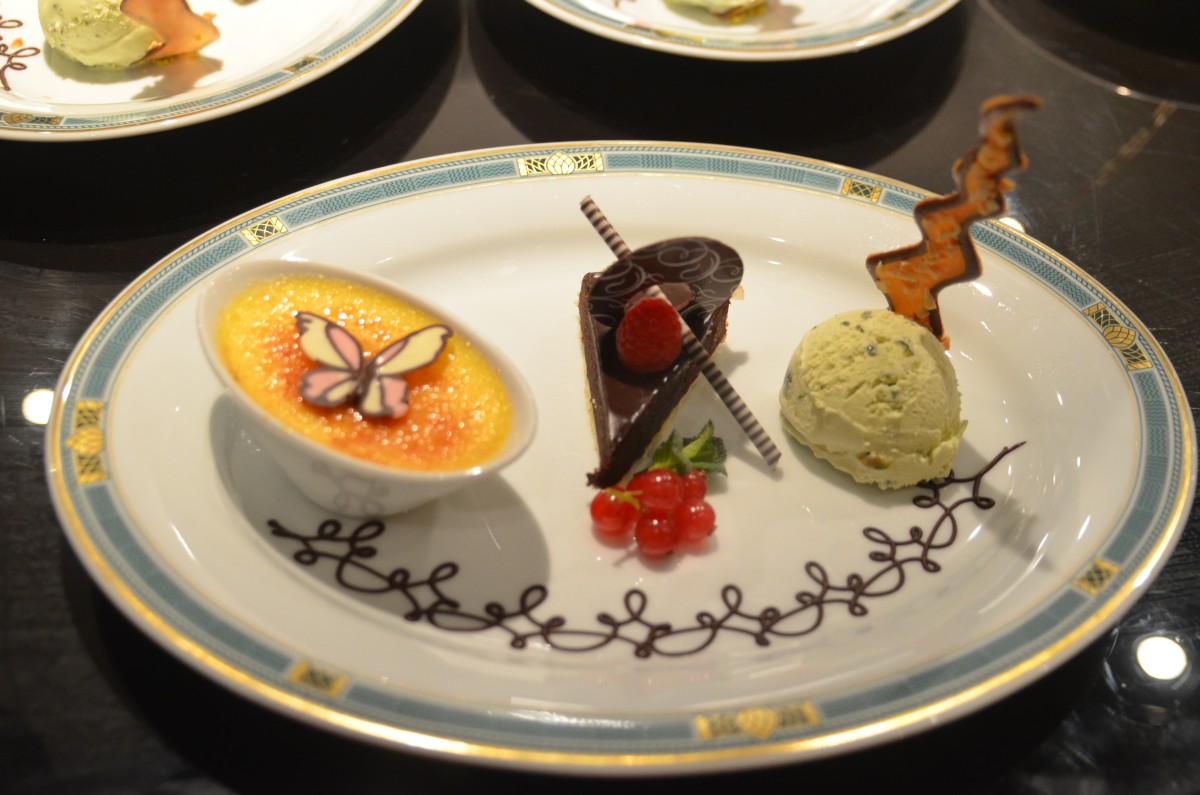 Hatte ich noch erwähnt, dass es zu jedem Gang den passenden Wein gab?! Nein, na dann wird es aber höchste Zeit. Übrigens auch wieder alle vom Weingut Allendorf. Ich hatte gar nicht die Zeit den ganzen Wein zu trinken ;). Dafür habe ich dann den Dessertwein um so mehr genießen können, der war nämlich mein absolutes Highlight und ging runter wie flüssiges Gold.
Man merkt am Wein (und am Essen) wurde nicht gespart und deswegen gingen wir nach diesem gemütlichen Essen wieder zurück in die "Lemons & Lime" Bar und noch ein paar Cocktails zu kippen! Andere tranken noch mehr als das, aber ich verrate keine Namen. Aber es ging ja nicht nur um das Trinken der Cocktails, sondern auch um die Zubereitung. So traute ich mich gleich mal hinter die Bar und ließ mich vom Barmann einweisen. Aufgrund meiner eigenen häuslichen Cocktailmixerfahrung ging mir das leicht von der Hand – was auch der Barmann eingestehen musste – nur die Haltung des Shakers war mir neu.
Es hat großen Spaß gemacht mal hinter der Bar zu stehen, zu sehen wie es da aussieht, was in den Schubladen ist usw. Nach und nach trauten sich auch die anderen hinter die Bar und es war eine richtig lustige Runde. Da ich nicht wie ein Zombie zum Frühstück erscheinen wollte, genoss ich noch einen alkoholfreien Cocktail und machte es Sabine nach: ich ging ins Bett.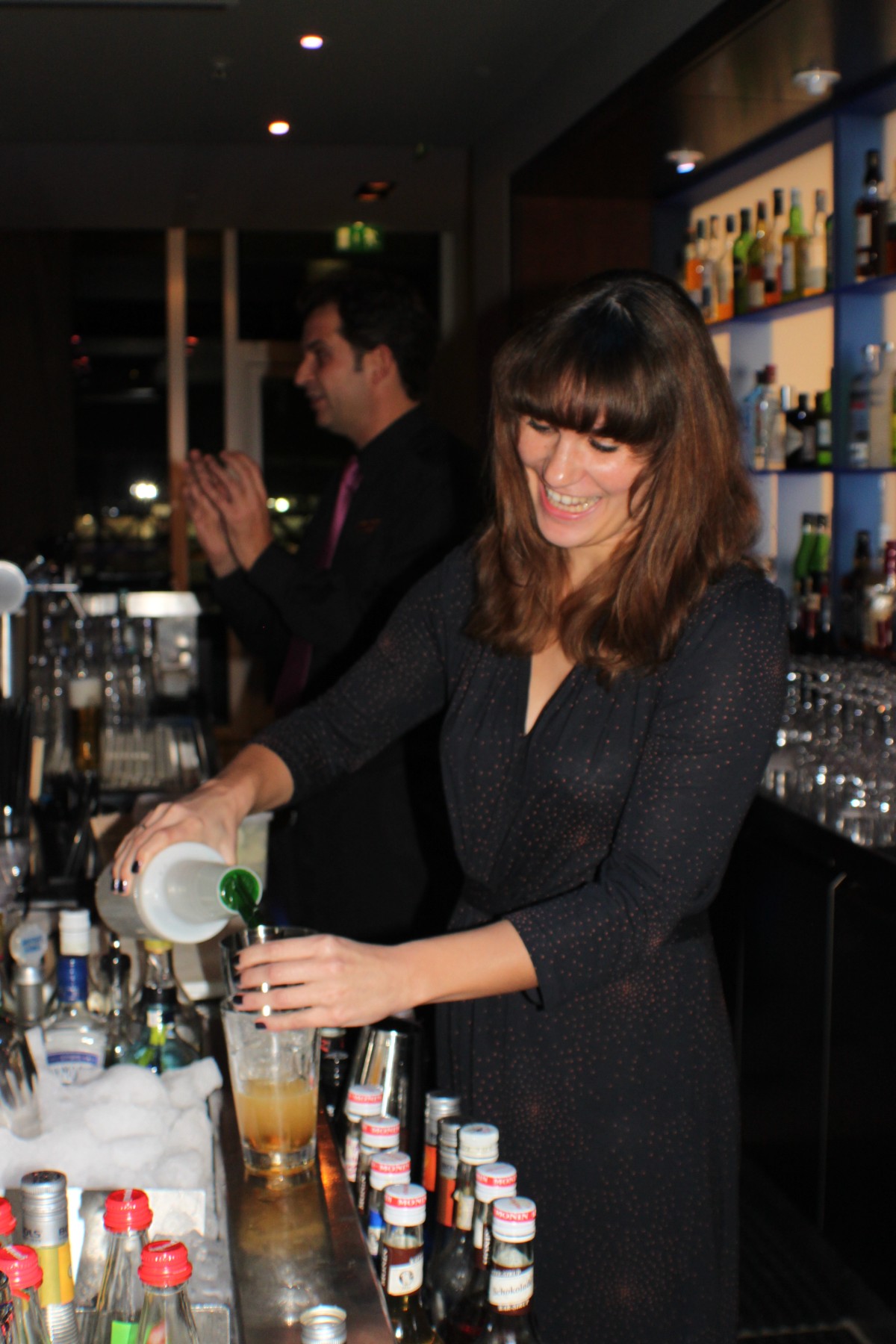 Damit dieser Post nicht zu lang wird, schreibe ich auch noch einen dritten Teil, aber keine Angst diesmal dauert es keinen Monat bis ihr ihn lesen dürft!
You had to wait 1 month to read the second part! Christmas posts made in the way and I also made a 2 week rest on the blog over Christmas and New Years Eve.
The first part of my experiences on the Sheraton Blogger Event ended with a Segway Tour. You can't remember that or you didn't even read it? Then you can read about it here:
Sheraton Blogger Event in Frankfurt part 1
After the Segway Tour, Sheraton invited us in one of it's suites to the workshop "bloggers and brands – two sides of a medal". There we exchanged views with the PR and Social Media Team of Fleishman-Hillard and Sheraton. The workshop was very interesting. It was a huge enrichement to talk with pros as well as bloggers professionally.
Thanks to a perfect time management we moved on to the in-house bar "Lemons & Lime" for the wine tasting with Max Schönleber of the vineyeard Allendorf. Two tables were already waiting for us with nibbles. The bar was full of atmosphere (especially for a hotel bar!) and I was impressed by their lamps (like some other femal bloggers, too; I also heard something about DIY 😉 ). I liked the white wines of the vineyard very much, red wines are just not my kind of thing, especially the dry ones. But I heard a lot of excitement about the red wines from other bloggers! I took back a bit, since we still had dinner and cocktails on the programm. I'm really enjoying wine tastings, especially when you're surrounded by great people and your introduced perfectly to the wines.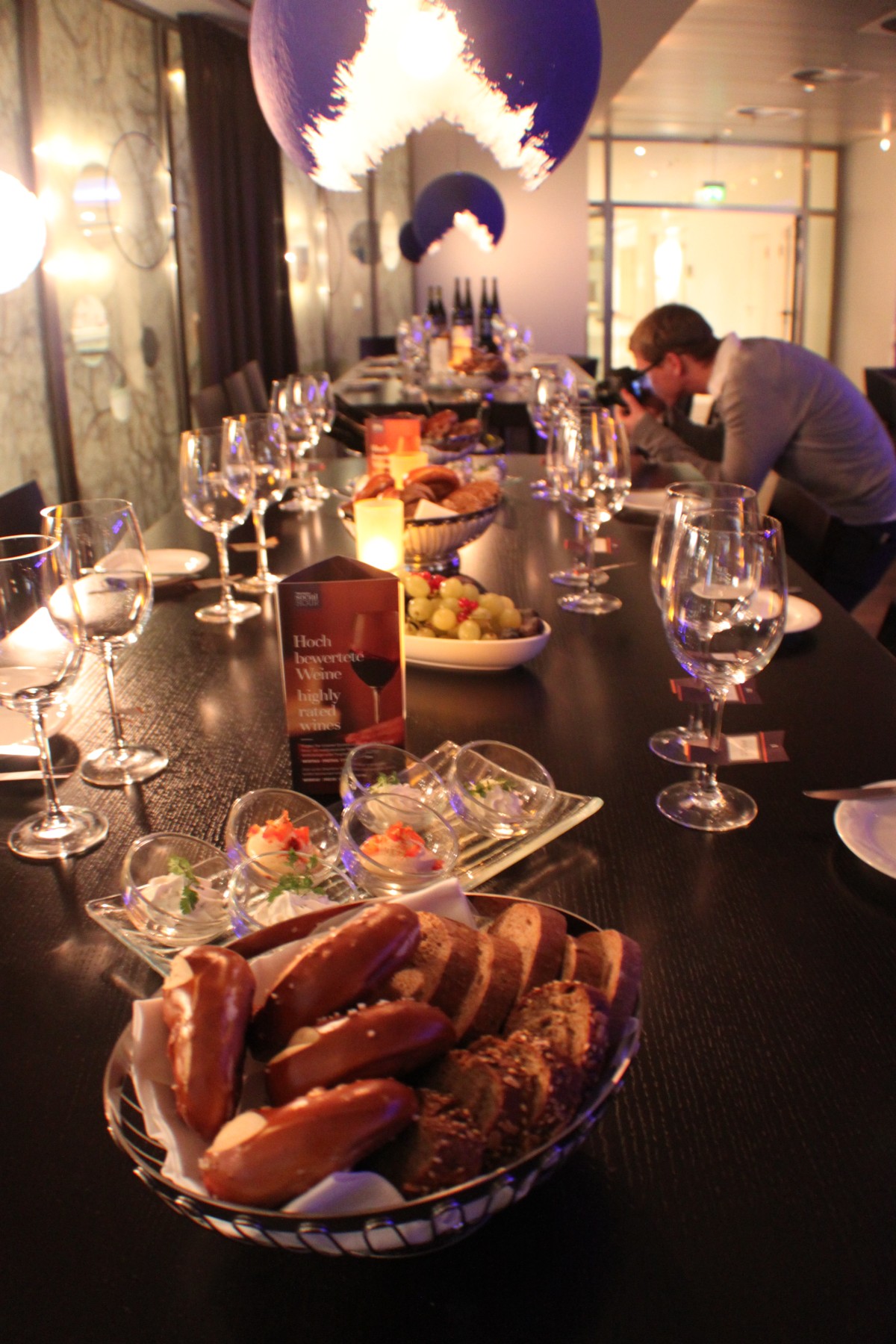 Sabine and I went back to our rooms to change, at least we wanted to look good for a dinner with the director of kitchen Klaus Böhler!
We met again at the Restaurant "Taverne", which was reserved only for us this evening, which was pretty impressive ;). Also impressive were the director of kitchen and his "helpers", who let us peek over their shoulders, while they talked about the food and the ingredients.
Of course (!) we began the dinner with an aperitif, an äppelwoi-martini (äppelwoi is kind of a cider from the region of Frankfurt), which was delicious. We were served the first course: pigeon breasts on pumpkin risotto.
We were able to make a part of the second course on our own: tuna tatar with vitello tonnato. The vitello tonnato was already made by the chefs, but we were able to make the tatar from a large piece of tuna, which we didn't even used up.It was a bit of hard for me, since I know the tuna rests are thrown away and moreover tuna is overfished and you cannot eat most sorts of tuna with good conscience. But I had a lot of fun preparing the food and to arrange it professionally with carved vegetables and eatable flowers!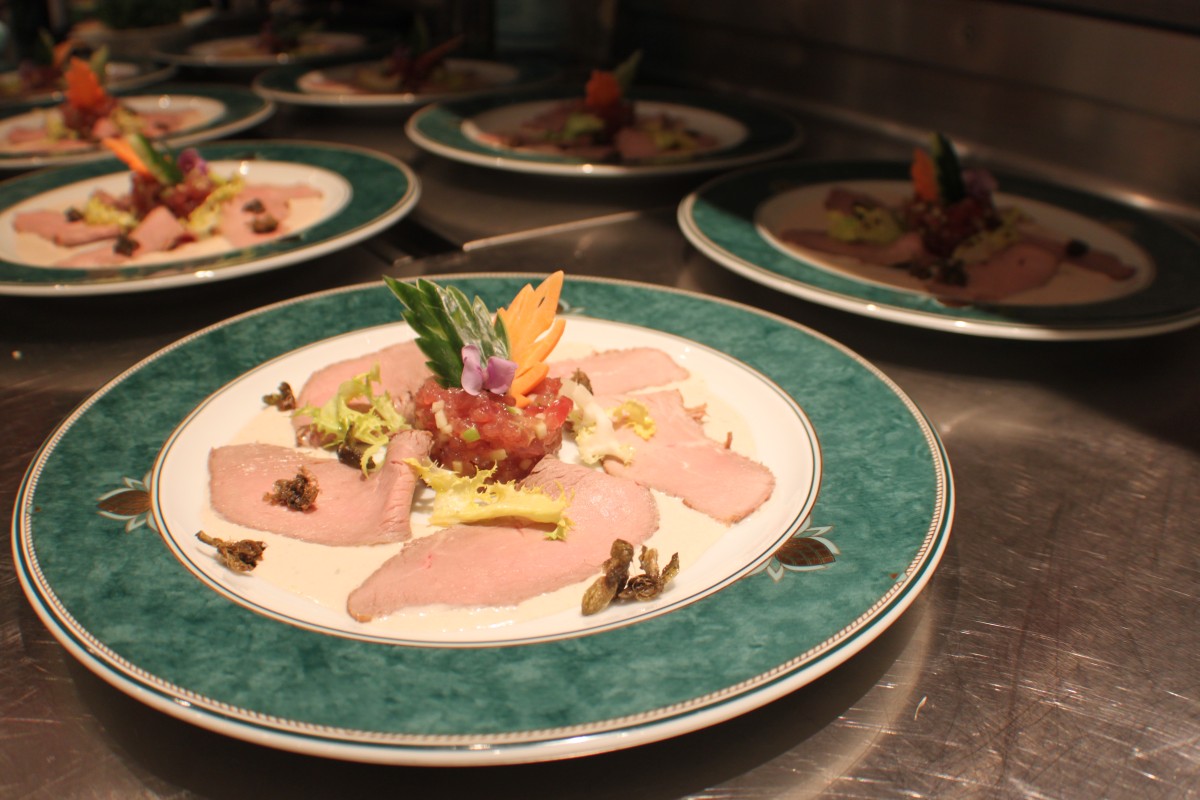 While preparing the main course, the chefs let us peek in their pots and pans. After a while I just stood a bit back, since sometimes it's just nice to enjoy a meal without knowing every step of its preparation ;). The main course was bombastic, especially the beef! They made beef sirloin in herbs with chanterelles, vegetables and potato flowers. I suppose I never had a larger chunk of meat on my plate than this one and it was so tender and tasty! Unfortunately I began to weaken and I gave some of my sirloin to Torsten. I was already quite full, and dessert was still to come!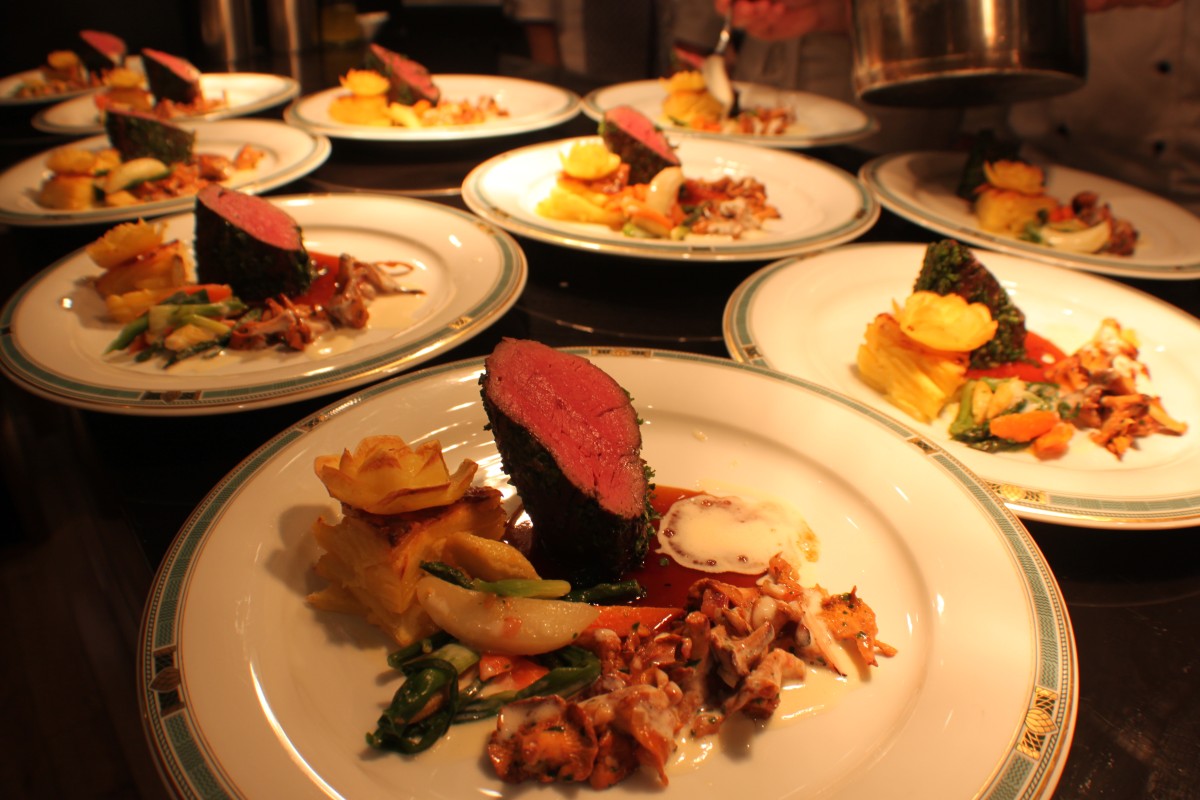 We couldn't have wished for more for dessert, since we had crème brûlée, chocolade tart and pistachio ice cream. With that came the most beautiful eatable homemade decorations, I've ever seen, I just say: chocolate butterflies!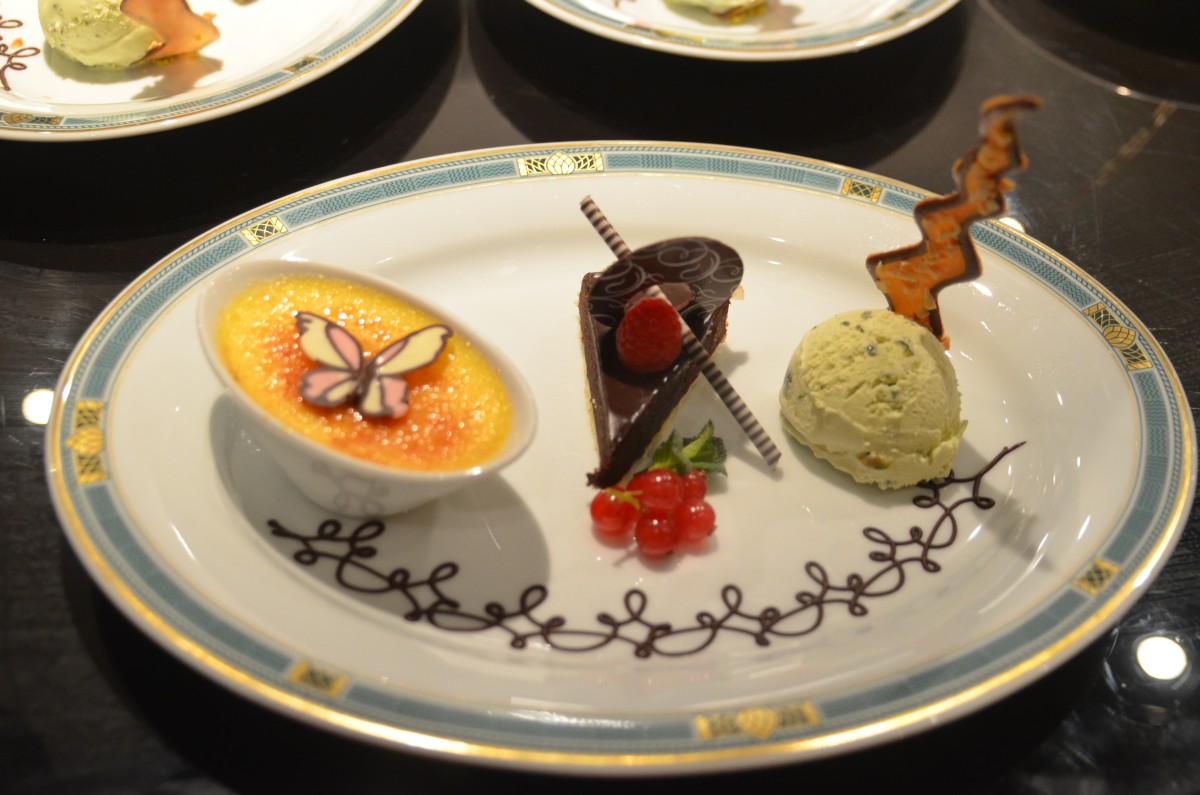 Did I mentioned, that they provided the corresponding wine to every dish?! No, well then it's time. All of them from the vineyard Allendorf again, by the way. I didn't had enough time to enjoy every wine, but I really enjoyed the last one, the dessert wine, which was my highlight!
You see they didn't spare on the wine (or the food), so after dinner we went to the "Lemons & Lime" bar again to drink some cocktails! Others drank some more than that, but I will tell no names. But it wasn't just about drinking cocktails, but about mixing them, too. So I went behind the bar, and let it show me from the barman. Since I already have some cocktail mixing experience (from home mixing 😉 ) it went pretty well, just holding the shaker totally different was new to me.
I enjoyed standing on the other side of the bar, looking in their drawers and everything. One after the other went behind the bar,  and made their own cocktail. It was a really funny night, but since I didn't wanted to look like a zombie for breakfast, I drank another alcohol-free cocktail and went to bed.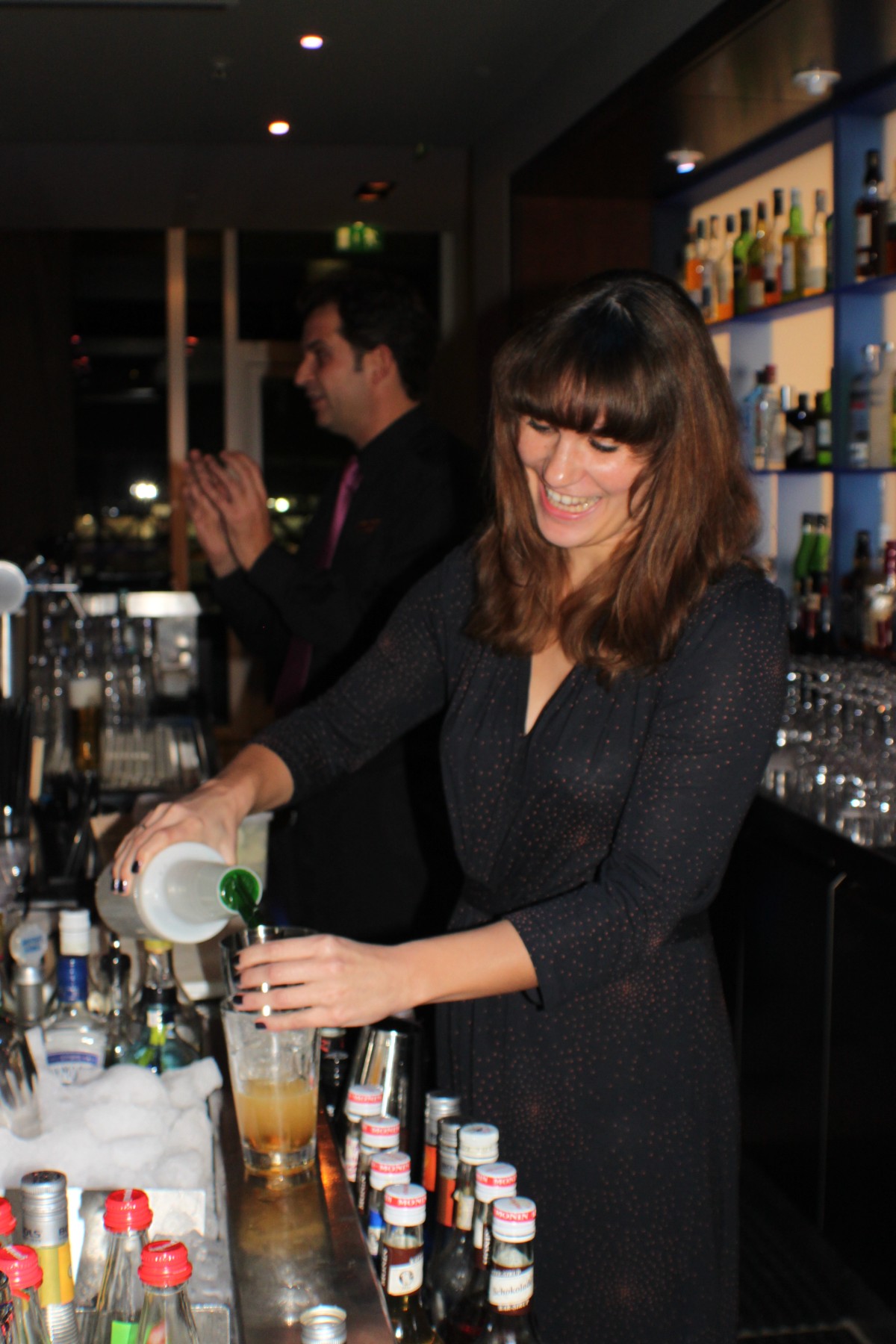 Since this post is getting quite long already, I'll make a third part, too. But don't be afraid this time it won't take months!