Dieses Mal haben Ina und ich das Rucola-Risotto mit Basilikum und Zitrone (S. 202) gekocht.
Leider ist mir dabei das erste Mal das Risotto nicht schlotzig geworden. Ich hab keine Ahnung wieso. Kein neuer Reis und die Methode ist auch die gleiche. Ich habe keine Ahnung, aber das soll nicht in die Bewertung einfließen.
Ansonsten war das Risotto in Ordnung, aber ich würde es nicht nochmal machen. Ich hab einfach schon bessere gegessen. Es schmeckt nach Rucola, leider überhaupt nicht mehr nach Zitrone, obwohl ich mich darauf sehr gefreut hatte.
Ich muss gestehen, ich habe den Rucola und die Kräuter nicht blanchiert, sondern roh gehackt in das Risotto gegeben. Mir war das abends zu viel Aufwand und ich sah auch keinen tieferen Sinn darin. Außerdem habe ich die 3 EL Mascarpone durch Crème fraîche ersetzt, da ich für so eine kleine Menge keine Mascarpone kaufe, die ich sonst nie verwende. Für mich hätte auch mehr Weißwein in das Risotto gekonnt, aber das ist meine Vorliebe: viel Wein.
Ich finde die Idee des Risottos gut, aber nur Zitrone und Basilikum würde mir besser gefallen. Außerdem können einem nicht alle Rezepte in einem Kochbuch zusagen, oder?
Habt ihr das Buch auch zu Hause? Wenn ja, was habt ihr daraus schon nachgekocht?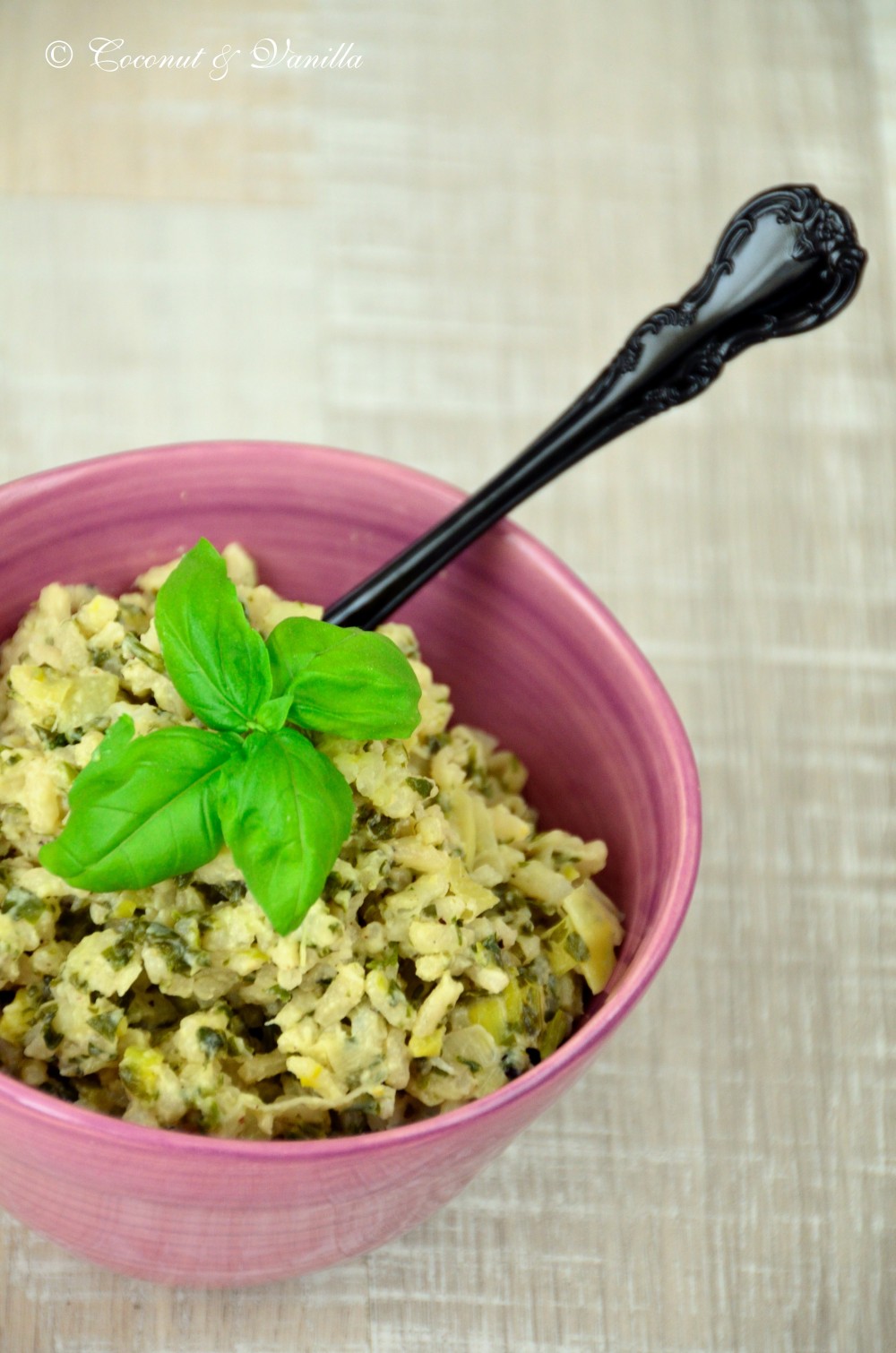 This time Ina and I cooked the arugula risotto with basil and lemon (p. 202).
This time I didn't managed to make the risotto creamy. It was the first time ever and I have no clue why. I didn't used another rice and the same method as ever. I don't know, but that doesn't mean the risotto get's bad notes.
Apart from that the risotto was okay, but I wouldn't make it again. Sorry I've already ate better ones. It tasted like arugula, but not a bit like lemon, which I really looked forward to.
I have to confess I didn't blanched the arugula or the herbs, just chopped them raw and add them to the risotto. That was too much effort for me that night and I also didn't see a deeper sense in it. I also replaced the 3 Tbsp mascarpone with crème fraîche, since I won't buy Mascarpone for that small quantity, Also I don't use mascarpone anywhere else. I also would have liked more white wine in the risotto, but that is just my personal preference: a lot of wine.
I like the idea behind the risotto, but I would prefer just basil and lemon. But you just can't like every recipe in a cookbook, right?
Do you have the book, too? If yes, did you already cooked some recipes?