Wednesday, 9th January 2013
You had to wait 1 month to read the second part! Christmas posts made in the way and I also made a 2 week rest on the blog over Christmas and New Years Eve.
The first part of my experiences on the Sheraton Blogger Event ended with a Segway Tour. You can't remember that or you didn't even read it? Then you can read about it here:
Sheraton Blogger Event in Frankfurt part 1
After the Segway Tour, Sheraton invited us in one of it's suites to the workshop "bloggers and brands – two sides of a medal". There we exchanged views with the PR and Social Media Team of Fleishman-Hillard and Sheraton. The workshop was very interesting. It was a huge enrichement to talk with pros as well as bloggers professionally.
Thanks to a perfect time management we moved on to the in-house bar "Lemons & Lime" for the wine tasting with Max Schönleber of the vineyeard Allendorf. Two tables were already waiting for us with nibbles. The bar was full of atmosphere (especially for a hotel bar!) and I was impressed by their lamps (like some other femal bloggers, too; I also heard something about DIY 😉 ). I liked the white wines of the vineyard very much, red wines are just not my kind of thing, especially the dry ones. But I heard a lot of excitement about the red wines from other bloggers! I took back a bit, since we still had dinner and cocktails on the programm. I'm really enjoying wine tastings, especially when you're surrounded by great people and your introduced perfectly to the wines.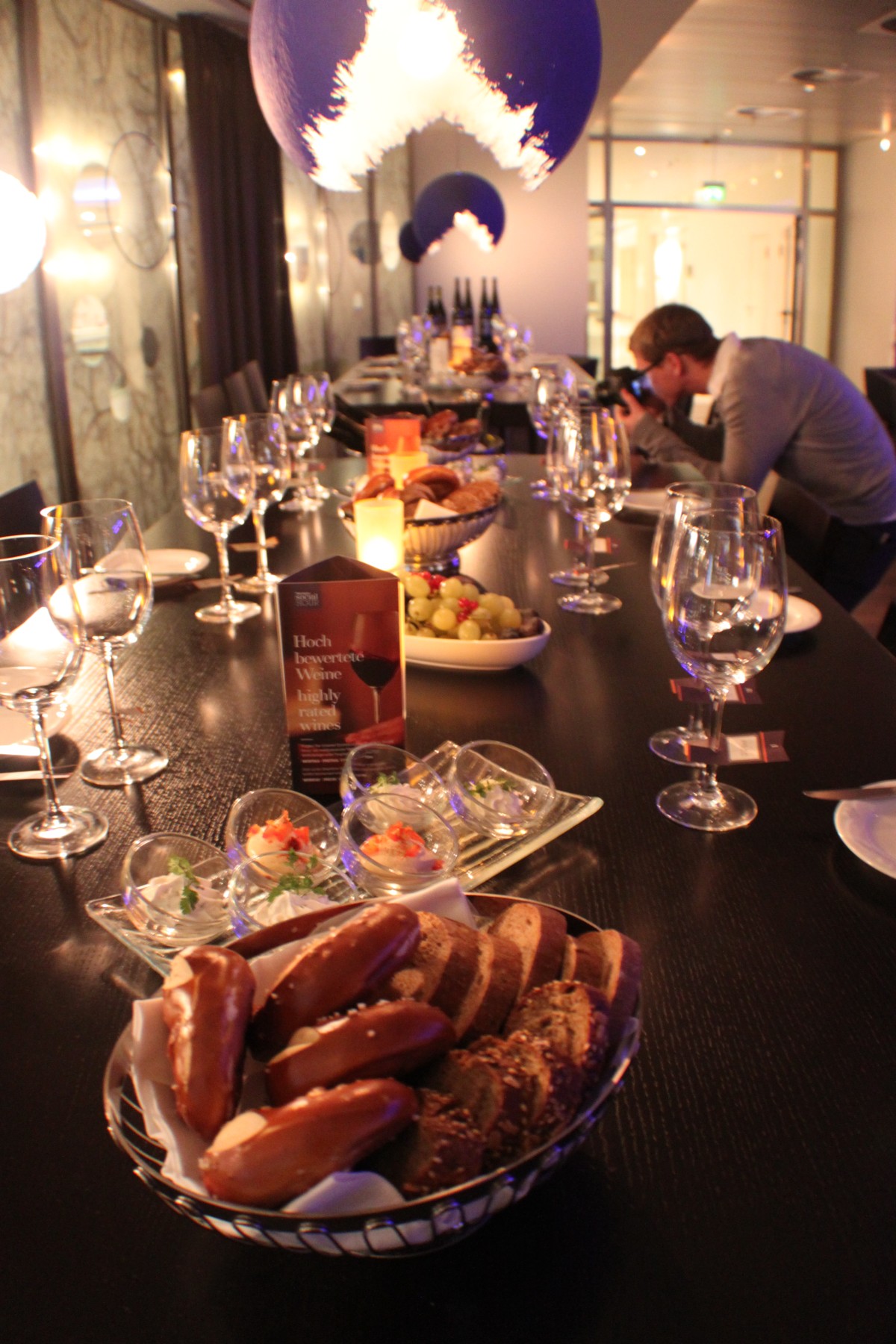 Sabine and I went back to our rooms to change, at least we wanted to look good for a dinner with the director of kitchen Klaus Böhler!
We met again at the Restaurant "Taverne", which was reserved only for us this evening, which was pretty impressive ;). Also impressive were the director of kitchen and his "helpers", who let us peek over their shoulders, while they talked about the food and the ingredients.
Of course (!) we began the dinner with an aperitif, an äppelwoi-martini (äppelwoi is kind of a cider from the region of Frankfurt), which was delicious. We were served the first course: pigeon breasts on pumpkin risotto.
We were able to make a part of the second course on our own: tuna tatar with vitello tonnato. The vitello tonnato was already made by the chefs, but we were able to make the tatar from a large piece of tuna, which we didn't even used up.It was a bit of hard for me, since I know the tuna rests are thrown away and moreover tuna is overfished and you cannot eat most sorts of tuna with good conscience. But I had a lot of fun preparing the food and to arrange it professionally with carved vegetables and eatable flowers!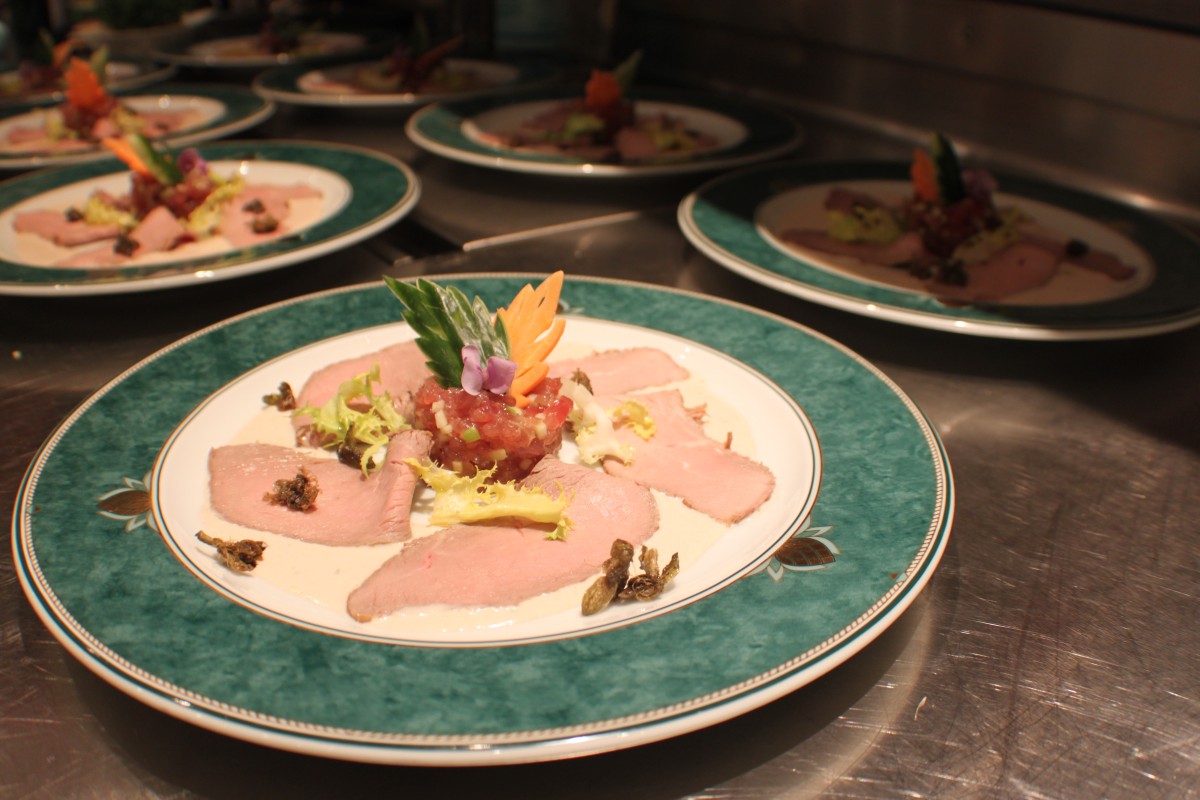 While preparing the main course, the chefs let us peek in their pots and pans. After a while I just stood a bit back, since sometimes it's just nice to enjoy a meal without knowing every step of its preparation ;). The main course was bombastic, especially the beef! They made beef sirloin in herbs with chanterelles, vegetables and potato flowers. I suppose I never had a larger chunk of meat on my plate than this one and it was so tender and tasty! Unfortunately I began to weaken and I gave some of my sirloin to Torsten. I was already quite full, and dessert was still to come!
We couldn't have wished for more for dessert, since we had crème brûlée, chocolade tart and pistachio ice cream. With that came the most beautiful eatable homemade decorations, I've ever seen, I just say: chocolate butterflies!
Did I mentioned, that they provided the corresponding wine to every dish?! No, well then it's time. All of them from the vineyard Allendorf again, by the way. I didn't had enough time to enjoy every wine, but I really enjoyed the last one, the dessert wine, which was my highlight!
You see they didn't spare on the wine (or the food), so after dinner we went to the "Lemons & Lime" bar again to drink some cocktails! Others drank some more than that, but I will tell no names. But it wasn't just about drinking cocktails, but about mixing them, too. So I went behind the bar, and let it show me from the barman. Since I already have some cocktail mixing experience (from home mixing 😉 ) it went pretty well, just holding the shaker totally different was new to me.
I enjoyed standing on the other side of the bar, looking in their drawers and everything. One after the other went behind the bar,  and made their own cocktail. It was a really funny night, but since I didn't wanted to look like a zombie for breakfast, I drank another alcohol-free cocktail and went to bed.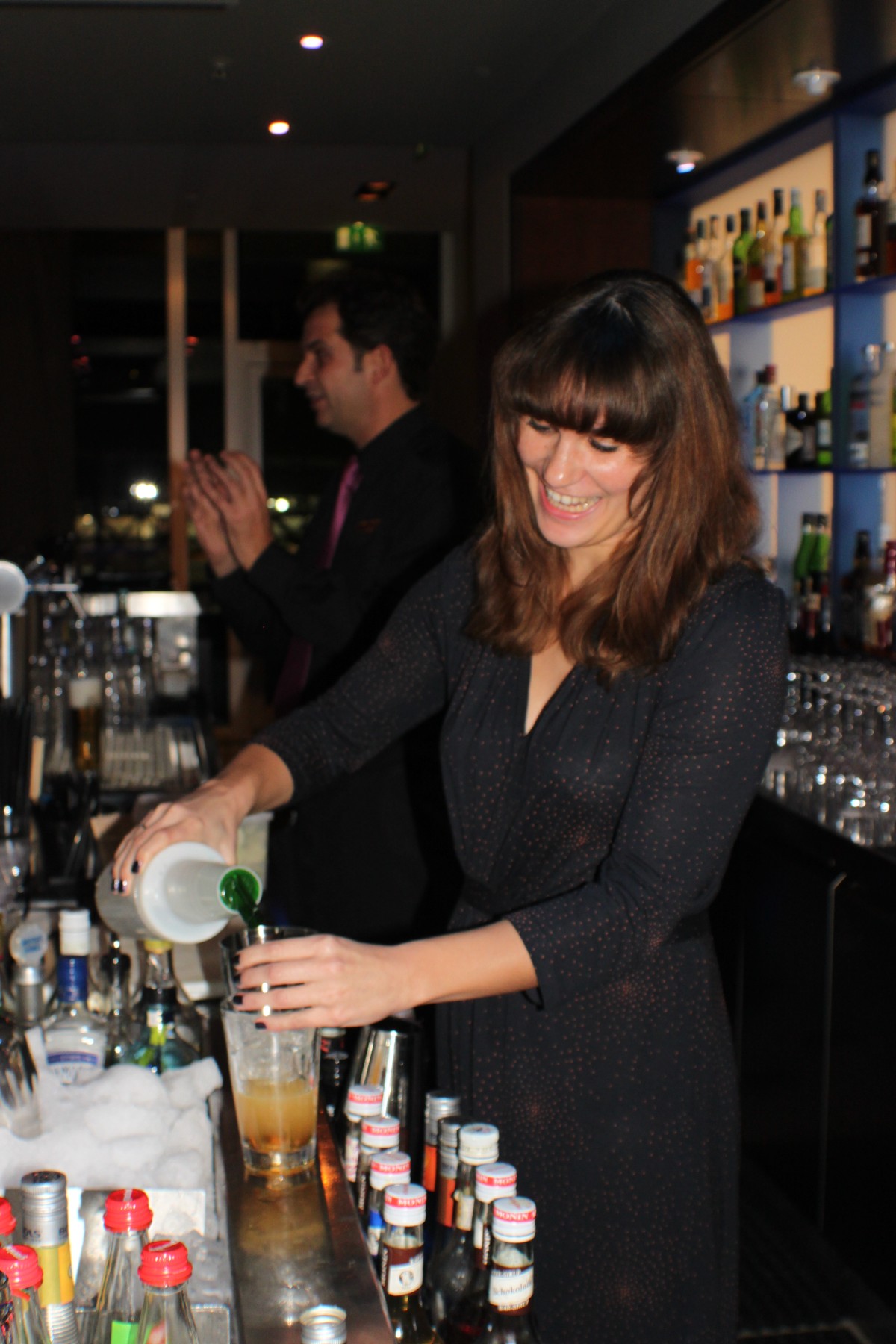 Since this post is getting quite long already, I'll make a third part, too. But don't be afraid this time it won't take months!