Thursday, 4th February 2010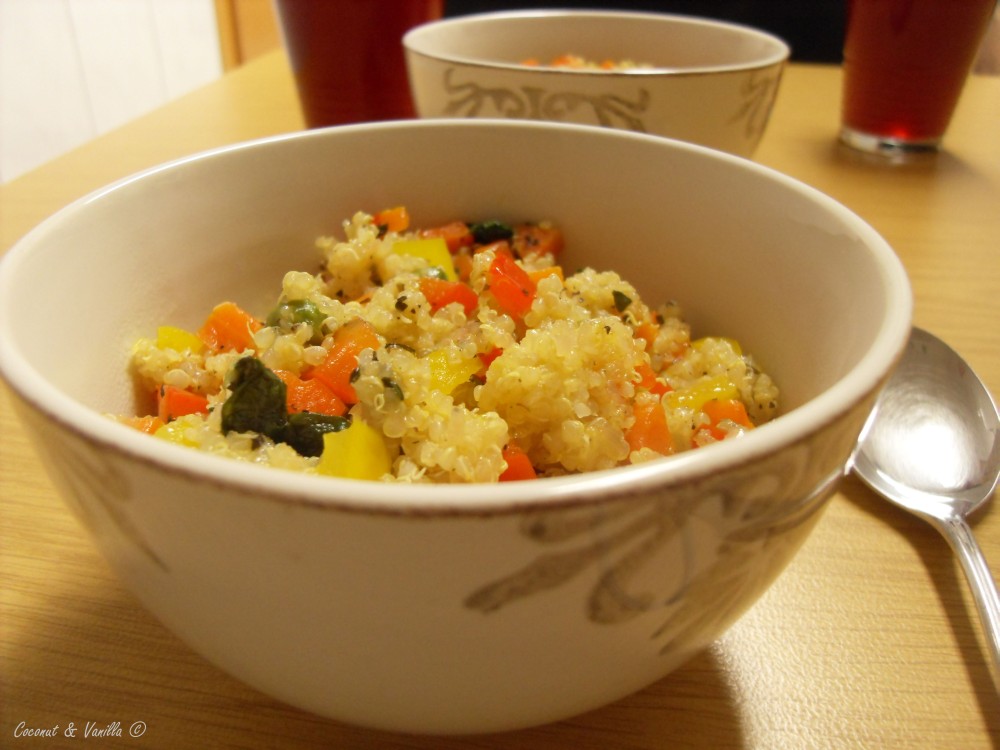 Feeling like spring is coming over. Unfortunately winter in Germany is not thinking the same. We had a lot of problems with the masses of snow in Germany, up to the icebound island of Hiddensee. I'm sick of winter and snow and the cold!
Since I cannot do anything about that, I make myself a little bit warmer with food feeling like spring. Less meat, more vegetables.
And I'm juggling with trying new things, like quinoa. So it occurs, that this dish is gluten-free. Just another coincidence. If you do not have quinoa, you can also make some rice, maybe some wild rice? But I recommend you the quinoa. It gives you another flavour. A slightly flavour of nuts. Also it's kinda lighter. I can't describe it really, you have to taste!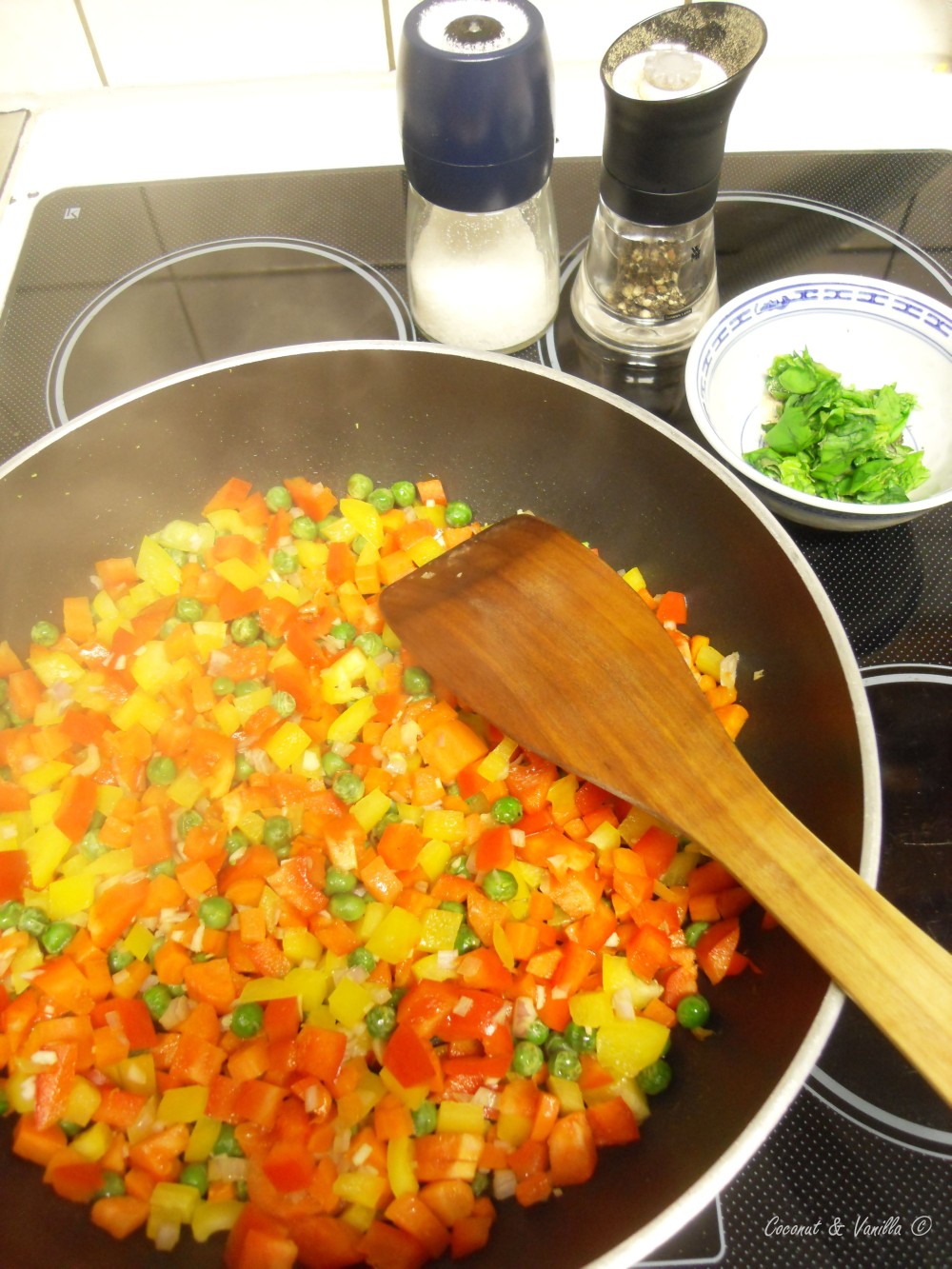 For making the quinoa I used my rice cooker, which worked perfect. But if you don't have one, you can just make it in a saucepan on the stove.
You can vary the vegetables you use. Also available and fitting now are mushrooms, fennel or some squash for example. In summer you can use zucchini, tomatoes or cucumber and you can eat it cold as a salad with some fruit vinegar like quince vinegar. See, I'm already dreaming of summer!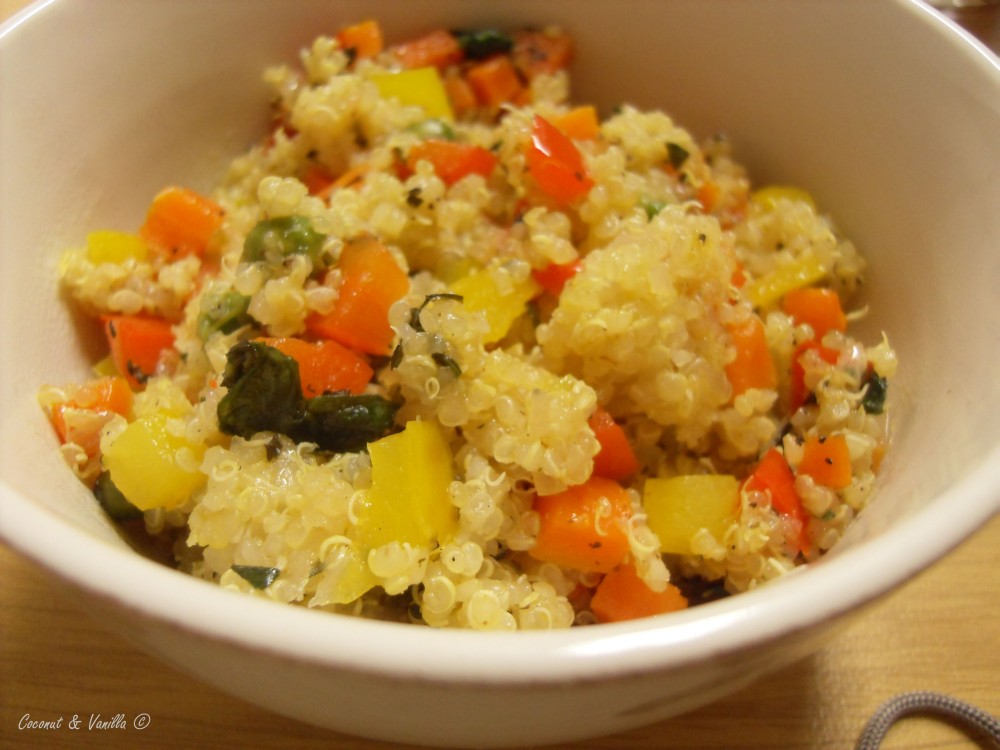 Vegetables with Quinoa
Ingredients:
180g (1 cup) quinoa
vegetable broth
olive oil
2 cloves garlic, finely chopped
1 yellow bell pepper, finely diced
1 red or orange bell pepper, finely diced
one handful of peas (frozen)
2 carrots, finely diced
2 shalotts or a small mild onion, finely diced
sea salt, ground pepper, to taste
fresh chopped parsley, to taste
squeeze of lemon or lime juice
some lemon zest
fresh basil, about 10 large leaves
fresh oregano
mint to taste (fresh or dried)
Rinse the quinoa in a fine sieve in cold water. Put the rinsed quinoa in your rice cooker and add the double amount (up to 2,5) of water. (If you put one cup quinoa in the cooker, you add 2- 2,5 cups water.) If you like, you can add some vegetable broth, too. Turn on the rice cooker.
If you don't have a rice cooker, cook the quinoa in a saucepan on the stove, just like rice.
While cooking the quinoa, heat a splash of olive oil in large skillet over medium heat. Add the shallots, garlic, carrots and peas and stir until slightly softened. Add the bell pepper and stir again. Season with salt and pepper to taste. Add the lemon juice, to taste, as well as the herbs and the lemon zest.
Add the quinoa, when ready and give it stir. Add more olive oil to your taste. I added a good splash, until it got more loose and the quinoa had a light coating of the olive oil.