Sonntag, 3. Januar 2010
Update: Nach unten scrollen für das deutsche Rezept!
Happy new year everybody!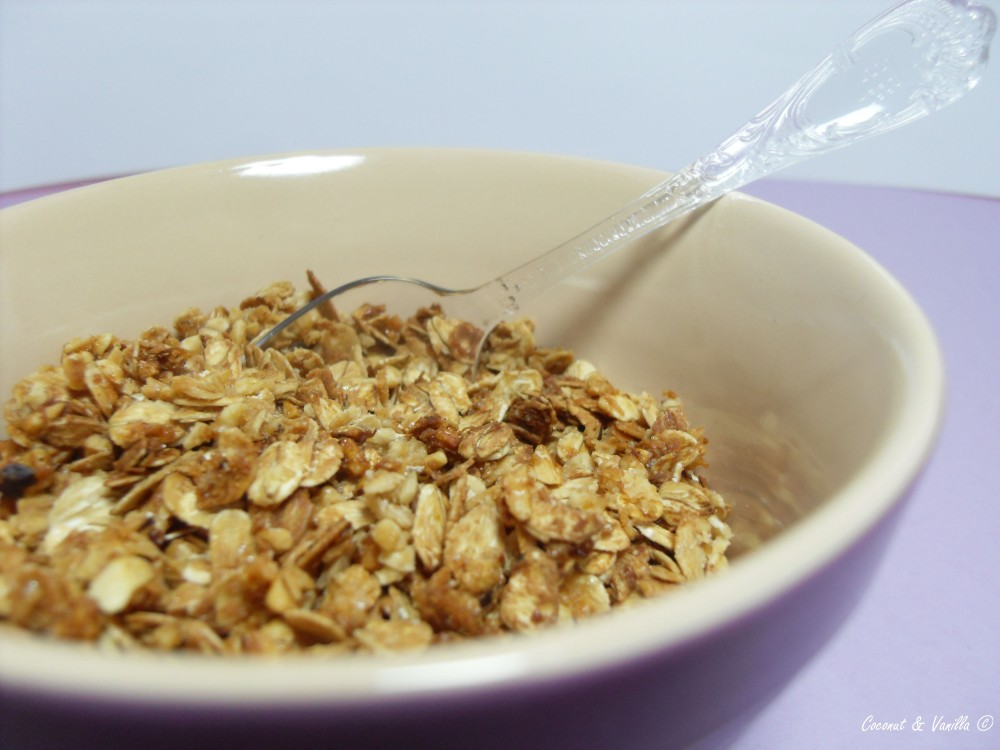 Thank you for your visits and supports in my first months of blogging! I'm always afraid and happy, when I read your comments. I'm always pleased to return the favour and visit your blogs! Some of them have already found their way in my daily reading list.
I hope you enjoyed my new blog last year. I will do my very best this year, too.
I want to start this year with some homemade muesli. I already produced it in the end-terms of last year, but I first tasted it this morning for breakfast. As I thought of eating this muesli for breakfast, I remembered, that some photos of the making are waiting to be blogged. So I took these photos this morning.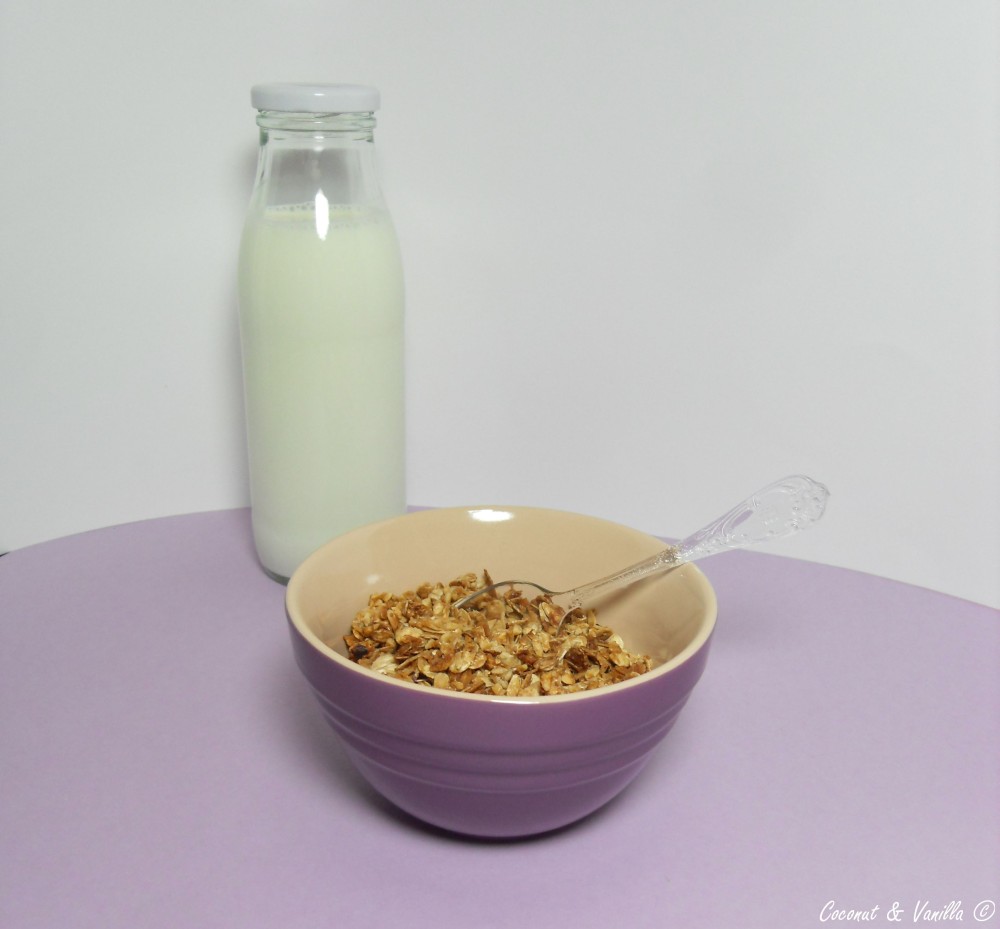 I like the idea of selfmade granola. I'm not a fan of bought one's. For me, they are not crispy enough or too crispy, full of raisins, which I don't like or dried fruits, which I do not like, too. I've only once seen a muesli, with freeze-dried fruits and that was tasty. Neither I like that cheap chocolate pieces in bought muesli.
The benefits of an selfmade muesli are – amongst others – , that you can put in what you like: favourite nuts, favourite fruits, favourite chocolate, favourite cereals. And everytime you can try another combination!
Don't be scared of making your own granola! It's fun, very easy and doesn't take a lot of time.
Over- and underneath you see the granola on a baking sheet, after combining the ingredients. Underneath I put some anti-stick coated aluminium foil from Toppits® . If something like that is not available you can also use normal baking paper or grease the baking sheet lightly. But I admit that this aluminium foil is very handy.
The recipe is enough for about 10 smaller portions (like on my photos). So if you are a muesli-fancier, consider doubling the recipe. One recipe is suitable for one baking sheet.
I like to use whole nuts, peel them, roast them in a pan and chop them then. But feel free to use already chopped nuts.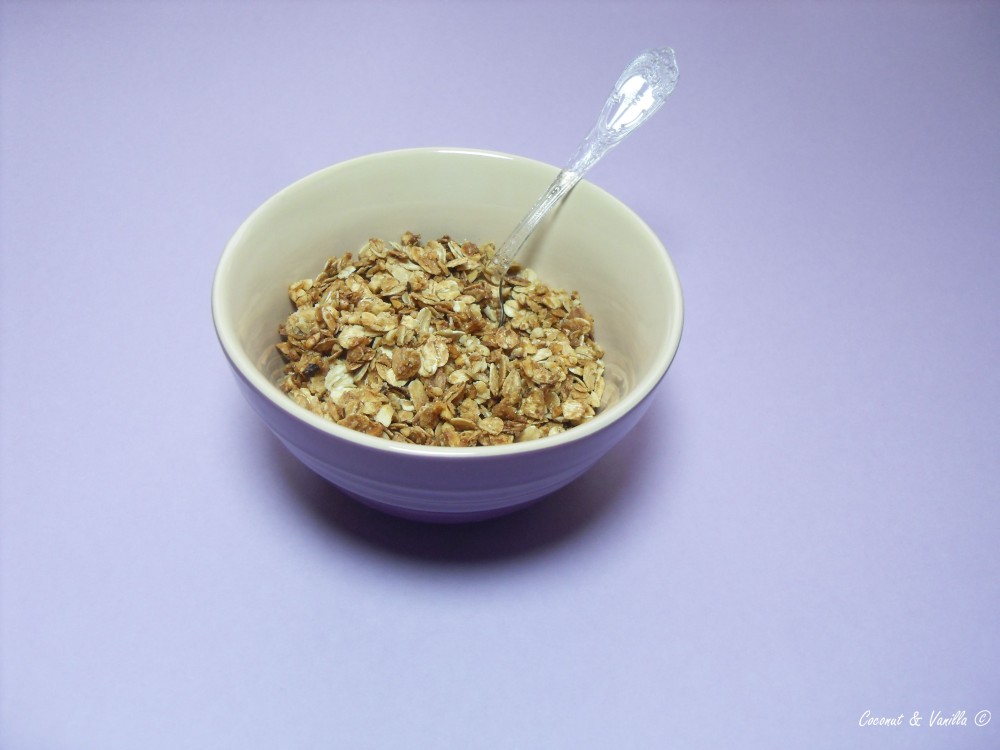 Selbstgemachtes Müsli

Zutaten:
280 g kernige Haferflocke
100 g gehackte Nüsse
40 g Kokosflocken
2 EL brauner Zucker
1 Prise Salz
6 EL Honig
2 EL Sonnenblumenöl
optional: gehackte Schokolade oder Trockenfrüchte
Den Ofen auf 150° C vorheizen.
Die Nüsse in einer großen Pfanne bei mittlerer Hitze rösten, bis anfangen zu duften. Aufpassen, dass sie nicht verbrennen!
In einer großen Schüssel die Haferflocken mit den Nüssen, Kokosflocken, Zucker und Salz mischen.
In einem kleinen Topf den Honig mit dem Öl auf niedriger Hitze erwärmen, bis sich der Honig verflüssigt hat. Über die anderen Zutaten gießen und gut vermischen.
Alles auf ein Backblech geben und gut verteilen.
20-30 Minuten backen, bis alles goldbraun ist. Zwischendrin mal umrühren.
Komplett auskühlen lassen, dann in eine große verschließbare Tüte oder Dose geben. Das Müsli klebt etwas zusammen, löst sich aber wenn man es entweder umrührt oder die Dose schüttelt.
Gehackte Schokolade oder Trockenfrüchte erst jetzt zugeben.