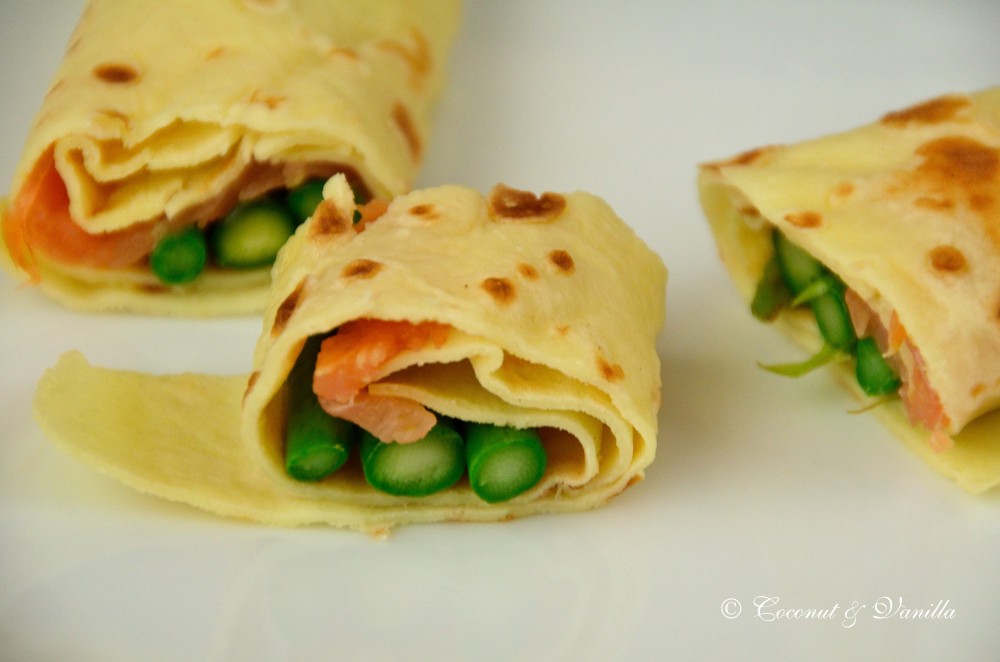 Endlich gibt's hier mal wieder was herzhaftes. Und das erste Spargelrezept auf dem Blog! Wir mögen ja grünen Spargel viel lieber, als den weißen. Dieses schön Frische und Knackige. Außerdem finde ich ihn vielseitiger. Demnächst gebe ich dem weißen aber nochmal eine Chance, ich habe nämlich gehört, dass er im Bratschlauch am besten wird und von denen fliegt hier noch eine ganze Packung rum. Das schlimmste was einem Spargel passieren kann ist, dass er von beiden Seiten der Gabel hängt, sprich er ist total lätschig. Igitt. Das fördert auch eine gewisse Abneigung, auch wenn ich Spargel so natürlich niemals kaputt kochen würde.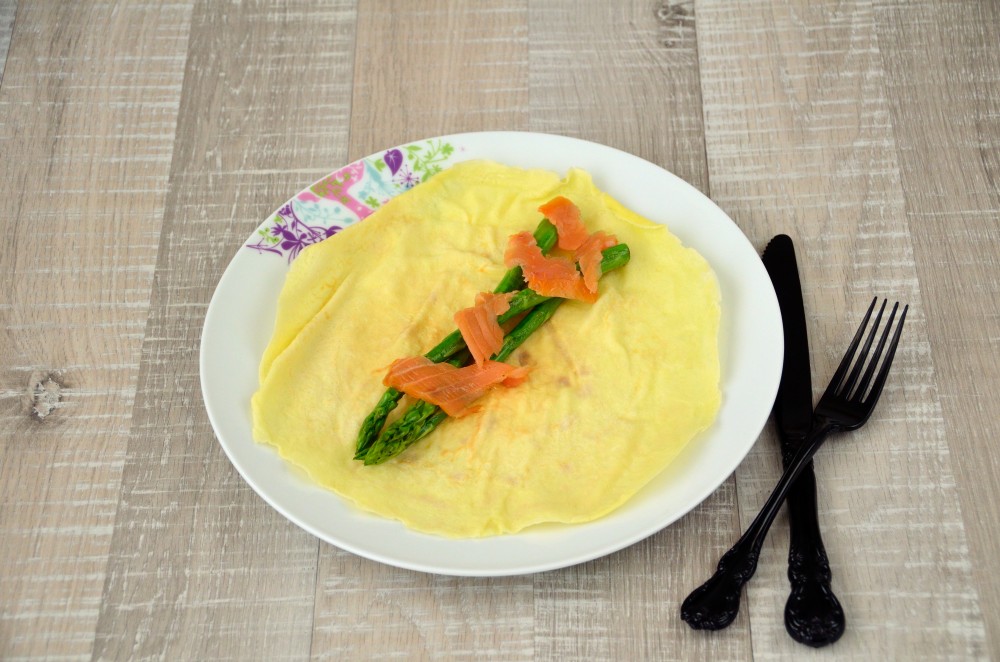 Bei diesem Rezept wird der grüne Spargel kurz bissfest angebraten und dann in einer Vinaigrette mariniert. Und währenddessen brät die bessere Hälfte die Crêpes raus, die kann das nämlich viel besser. Mit Räucherlachs vermählt wird der Spargel dann in die Crêpes gewickelt.
Ein schnelles sommerliches Mahl, das trotzdem besonders ist. Man sollte nur beachten den Teig schon vorher anzurühren, er sollte 1 Stunde ruhen.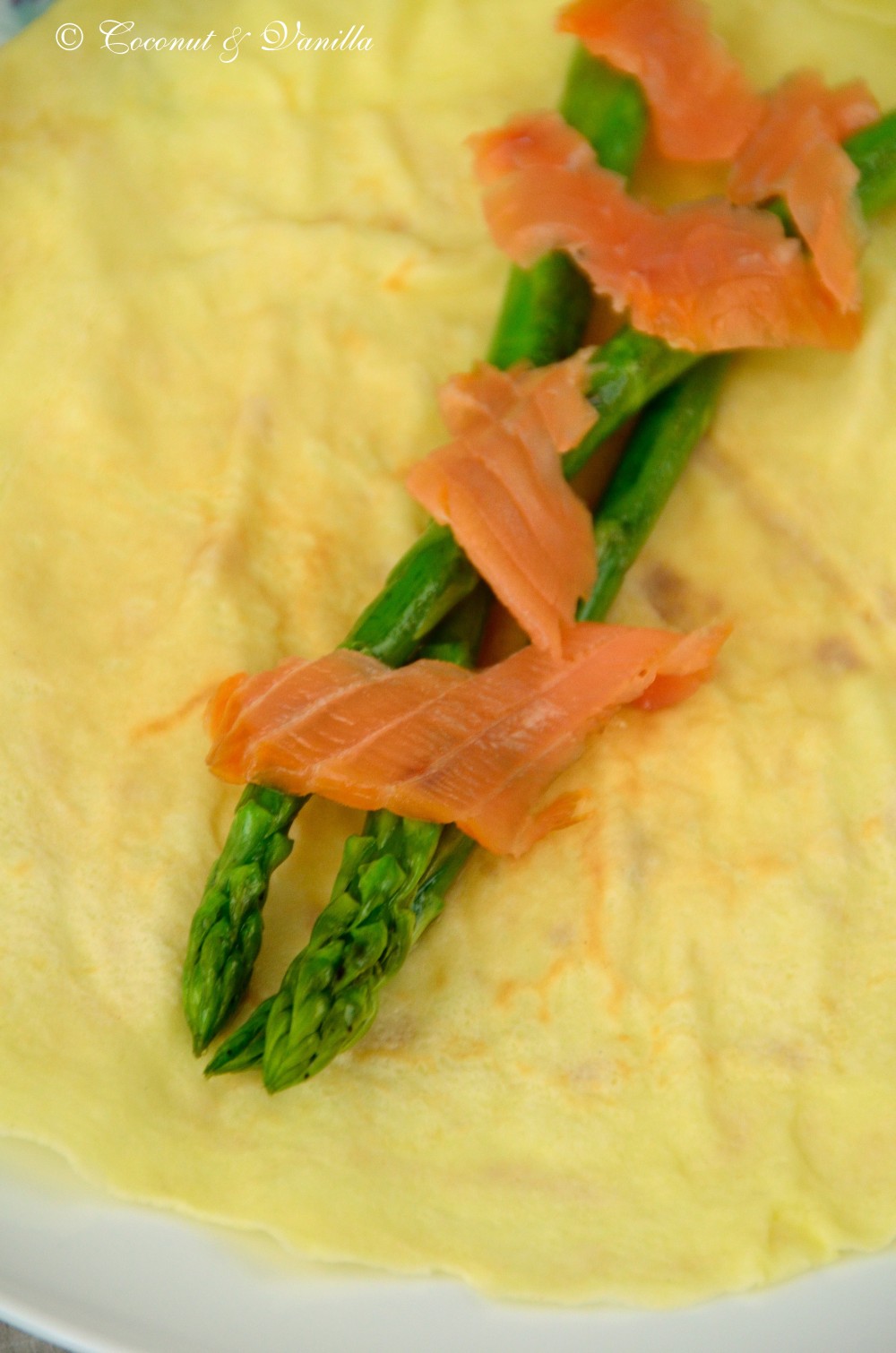 Vor einem Jahr: Cantucchini
Crêpes mit mariniertem grünem Spargel und Räucherlachs
für 4 Personen
(beachte die Ruhezeit des Crêpeteigs!)
Zutaten:
Für die Crêpes:
4 EL Butter

4 Eier

1 Prise Salz

250 ml Mineralwasser

250 ml Milch

200 g Mehl

100 g Speisestärke
Für den Spargel:
1 kg grüner Spargel

2 EL Pistazienöl (Olivenöl oder ein anderes leckeres Öl geht auch)

1 EL Olivenöl

1,5 EL Cider Essig (oder Weißweinessig)

Salz, Pfeffer

1/2 TL Zucker

Olivenöl zum Anbraten

frisch geriebene Orangenschale (wer mag)
Außerdem:
Butterschmalz zum Backen der Crêpes

300 g Räucherlachs (alternativ gekochten Schinken)
Die Butter schmelzen. Die Eier mit dem Wasser, der Milch und dem Salz verquirlen. Die Butter dazugeben und schaumig schlagen. Mehl und Speisestärke darüber sieben und darunter schlagen. Den Teig 1 Stunde ruhen lassen.
Den Spargel waschen und die Enden entweder großzügig abschneiden oder einfach abbrechen. Dazu einfach die Spargelstangen biegen, sie brechen dann an der richtigen Stelle durch. Die Enden entsorgen oder aufheben (TK!) für Spargelbrühe, Suppe oder für die nächste Gemüsebrühe.
Eine große Pfanne erhitzen (Stufe 6-7 von 9 bei mir). Etwa 1 EL Olivenöl hineingeben. Den Spargel von allen Seiten anschwitzen. Der Spargel soll noch knackig sein und Biss haben. Leicht salzen und pfeffern. Die dünnen Stangen sind nach 5-6 Minuten fertig, die dickeren nach 7-8 Minuten, richtig dicke Stangen werden 9-10 Minuten brauchen. Den Spargel auf einen großen Teller oder eine rechteckige Platte legen. Den Spargel 5 Minuten abkühlen lassen.
Die Crêpes rausbacken und im Ofen warmhalten (ich stelle den Ofen dazu auf 75° C). Die Teller dazustellen.
Öl, Essig und Zucker in ein kleines Schraubglas geben. Einen Esslöffel Wasser dazu, mit Salz und Pfeffer würzen. Glas verschließen und durchschütteln. Die Marinade gleichmäßig über den Spargel verteilen. Orangeschale über den Spargel reiben.
Ziehen lassen bis die Crêpes fertig sind. Bei mir waren das 10-15 Minuten.
Den Räucherlachs in Stücke reißen und zu den Crêpes und dem Spargel reichen.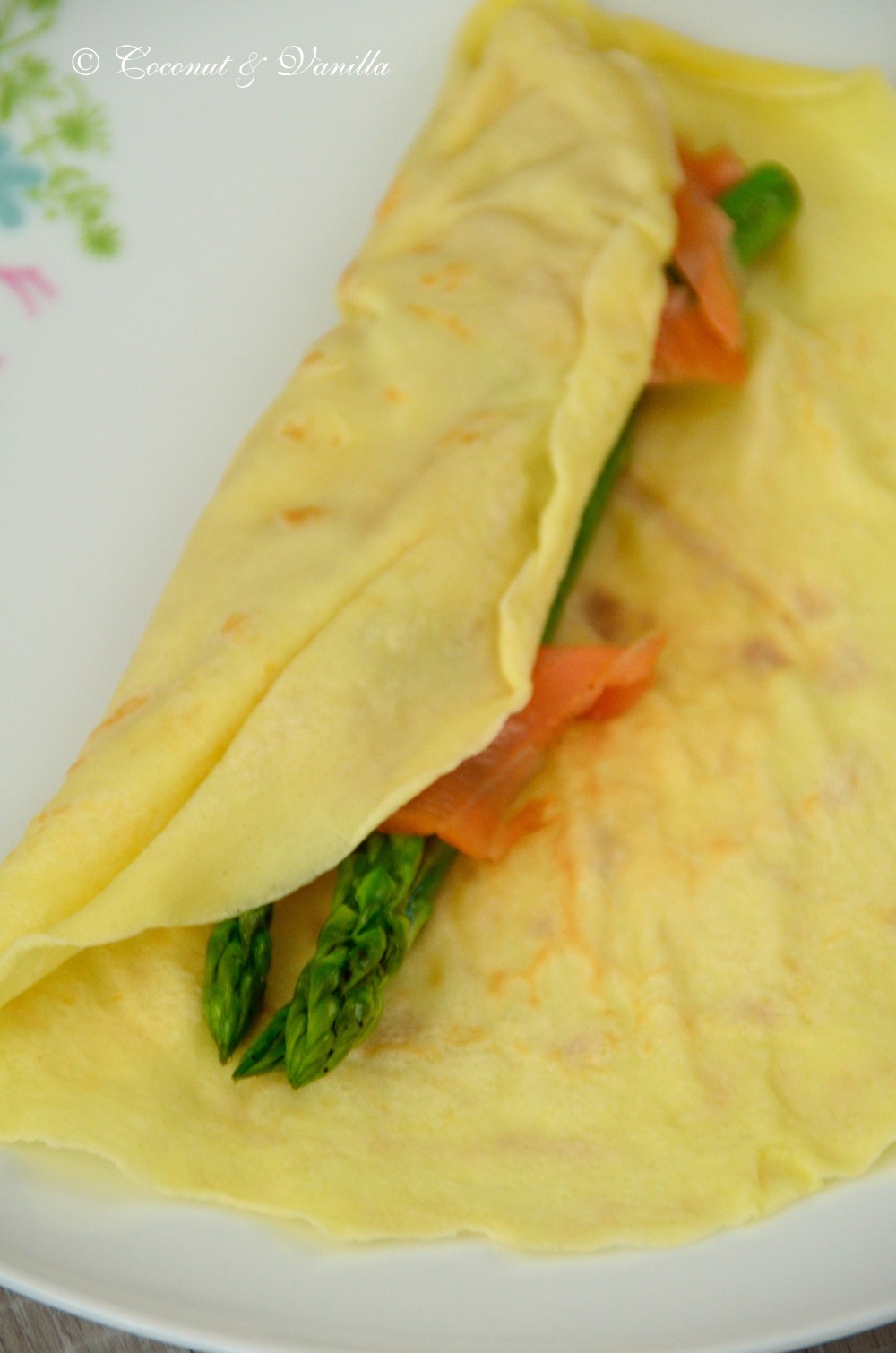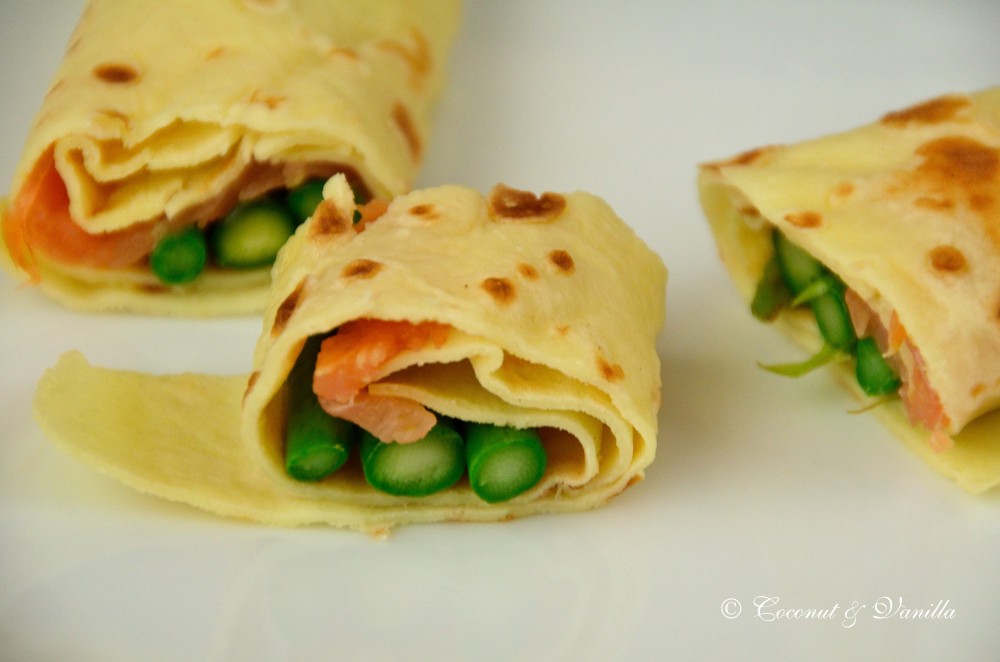 Finally I present you a hearty meal again here. And the first asparagus recipe on the blog! We prefer the green asparagus over the white one. The green one is so juicy and crunchy and more versatile in my opinion. We just love it! But I will give the white one another chance soon, as I want to prepare it in a oven bag. I just read that it is best made that way and a whole package of these oven bags is floating around here anyhow.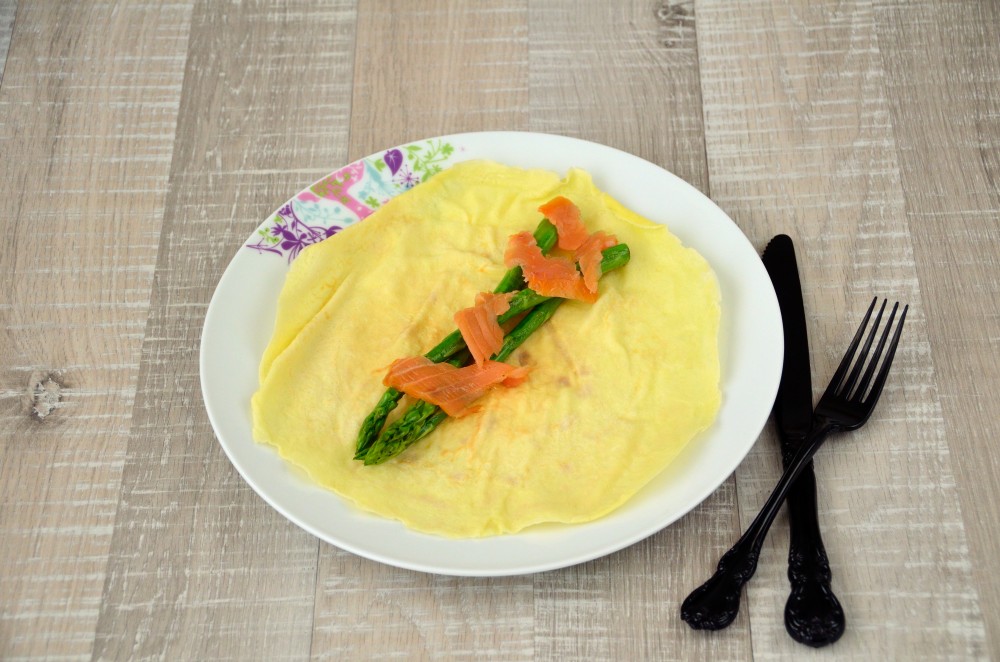 Worst thing that can happen to white asparagus is hanging down from the fork on both sides, means totally squashy. Gross! That promotes a certain aversion, of course I would never cook asparagus to death like that myself.
In this recipe the green asparagus is sautéed shortly, so it's still al dente and than it's marinated in a vinaigrette. Whilst the better half bakes the crêpes, who does that a lot better than me. Paired with smoked salmon the asparagus is wrapped in the crêpes.
A fast summery meal , which is nonetheless special.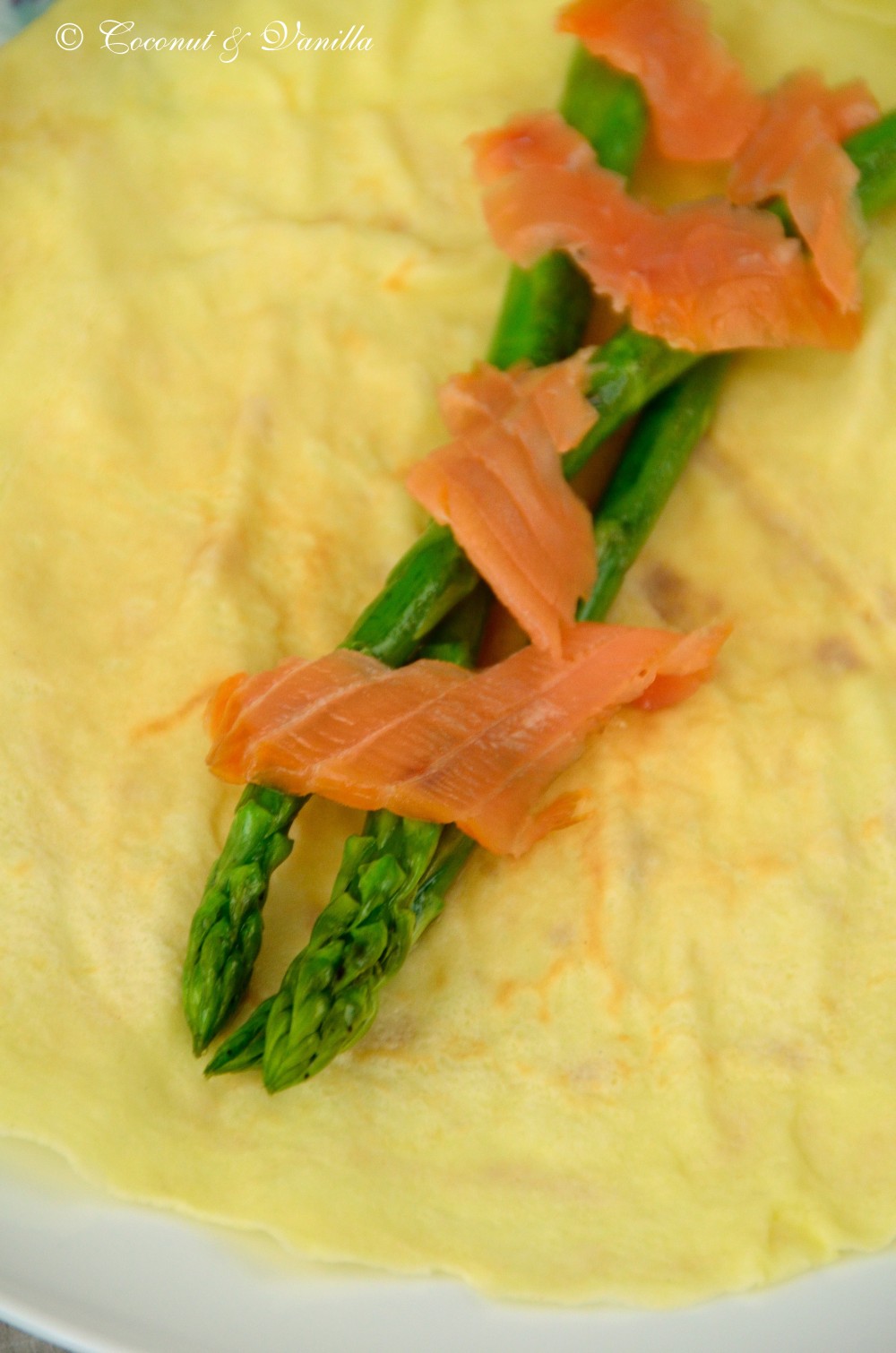 One year ago: Cantucchini
Crêpes with marinated green asparagus and smoked salmon
for 4 persons
(please note the rest time for the batter for the crêpes)
Ingredients:
For the crêpes:
4 Tbsp butter

4 eggs

1 pinch of salt

250 ml sparkling water

250 ml milk

200 g flour

100 g corn starch
For the asparagus:
1 kg green asparagus

2 Tbsp pistachio oil (or olive oil

1 Tbsp olive oil

1,5 Tbsp cider vinegar (or white whine vinegar)

salt, pepper

1/2 tsp sugar

olive oil for the pan

freshly grated orange zest (optional)
Additionally
clarified butter for baking the crêpes

300 g smoked salmon (ham as an alternative)
Melt the butter. Whisk together the eggs, water, milk and the salt. Add the butter and beat until foamy. Sieve the flour and the corn starch on top and whisk again. Let the batter rest for 1 hour. Rinse the asparagus and cut off the ends generously or simply break them off. Therefore bend the stalks, they break naturally on the right spot. Discard the trims or put them aside for broths, soups or stocks. Heat a large pan (notch 6-7 from 9 on my stove). Add about 1 Tbsp olive oil. Sautee the asparagus from all sides. It should be still crunchy and firm to the bite. Season lightly with salt and pepper. The thin stalks are ready after 5-6 minutes, the medium ones after 7-8 minutes and the real thick ones after 9-10 minutes. Place the asparagus on a large plate. Let cool for 5 minutes. Bake the crêpes and keep them warm in the oven (I heat the oven to 75° C therefore). Place the dinner plates in the oven, too.
Use a screw top jar for making the vinaigrette. Add oil, vinegar, sugar and 1 Tbsp water. Season with salt and pepper. Close the jar and shake. Spread the vinaigrette evenly on the asparagus, as well as the orange zest.
Let it marinate until the crêpes are done. When I made it that was about 10-15 minutes.
Tear the smoked in salmon in pieces and pass with the crêpes and the asparagus.