Thursday, 19th May 2016
No time and you are not up to cooking? Hey, I get you! But a balanced diet is everything, right?
These harissa carrots with fresh goats cheese, poached egg and lettuce on buttered toast is so easy and quick to whip together! And it's just delish! Especially this combination of all the ingredients yields in a perfect mixture of aromas and textures.
This dish is also great for using up any leftovers! Old bread? No problem, toast it! The leftover greens in your crisper drawer are good here: lettuce, baby spinach, baby swiss chard or wild herbs. I love fresh goats cheese and have always some at home, but mozzarella, feta or something else you prefer is fine, too.
I steamed the carrots first in the oven, then cooked the normally with top/bottom heat. But you can also just bake them with top/bottom only.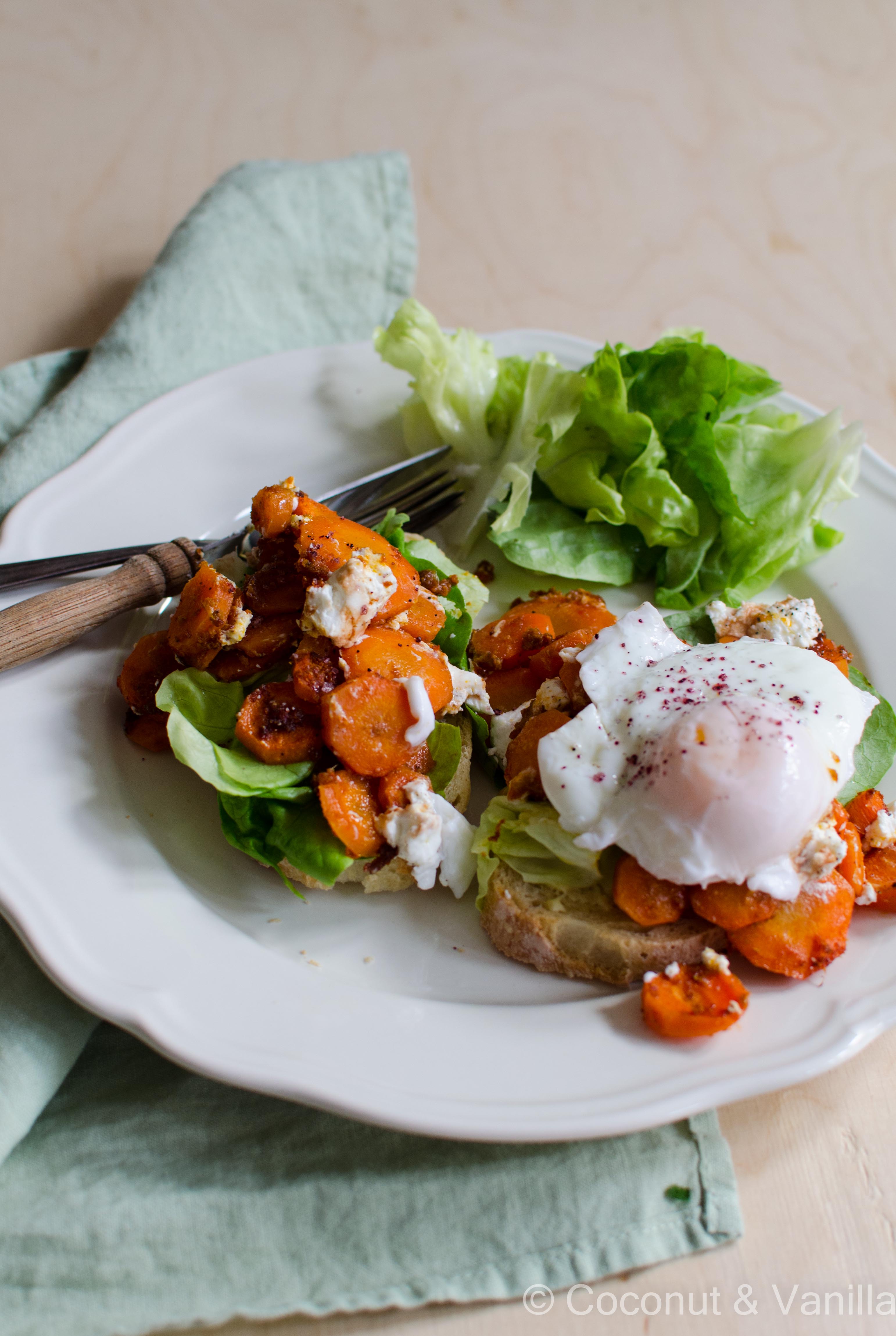 One year ago: the most fruity strawberry jam on the planet
Three years ago: luscious yeast waffles
Four years ago: crêpe with marinated green asparagus and smoked salmon
Five years ago: cantucchini
Harrisa Carrots with goats cheese, poached egg and lettuce on buttered toast
adapted from Naturally Ella
yields: 1 portion
Ingredients:
4 carrots
2 Tbsp harissa
1 – 2 slices bread of your choice (I used homemade white bread)
butter
3 – 4 leaves of lettuce (or a small handfull of baby spinach or baby swiss chard or wild herbs etc), washed, rinsed and spinned dry
25 g fresh goats cheese
1 Tbsp olive oil
1 tsp lemon juice or an aromatic fruity balsamico (I used a good orange balsamico)
fine sea salt
black pepper, freshly ground
1 egg
Peel and trim the carrots, slice in 1/2 cm coins. Mix with the harissa in a baking dish. Bake at 200° C top/bottom heat for 20 – 30 minutes until they are done, but still firm to the bite.
Optional: 25% steam and 180° C hot air for 20 minutes, then turn to 200° C top/bottom heat for 10 minutes.
In the meanwhile:
Toast the bread and smear with butter.
Add the lettuce on the bread.
Poach the egg in a shallow pot. Be aware: the water should not boil when putting the egg into the water.
Crumble the goats cheese and mix with the olive oil, lemon juice/balsamico and the carrots. Season with salt and pepper.
Put the carrots on the lettuce and the egg on top. Season with salt and pepper and serve in an instant!