Thursday, 12th May 2016
This pasta with wild garlic, fresh goats cheese and pine nuts is one of my favourites and I wanted to blog this recipe for eternity! I make it every year, when there is wild garlic season and not only once!
Not only, that I adore fresh goats cheese and pine nuts, but everything tastes good with it. The pasta is ready in no time and tastes just delicious! Seasonal soulfood at its best!
Therefore, I stop talking now and give you the recipe: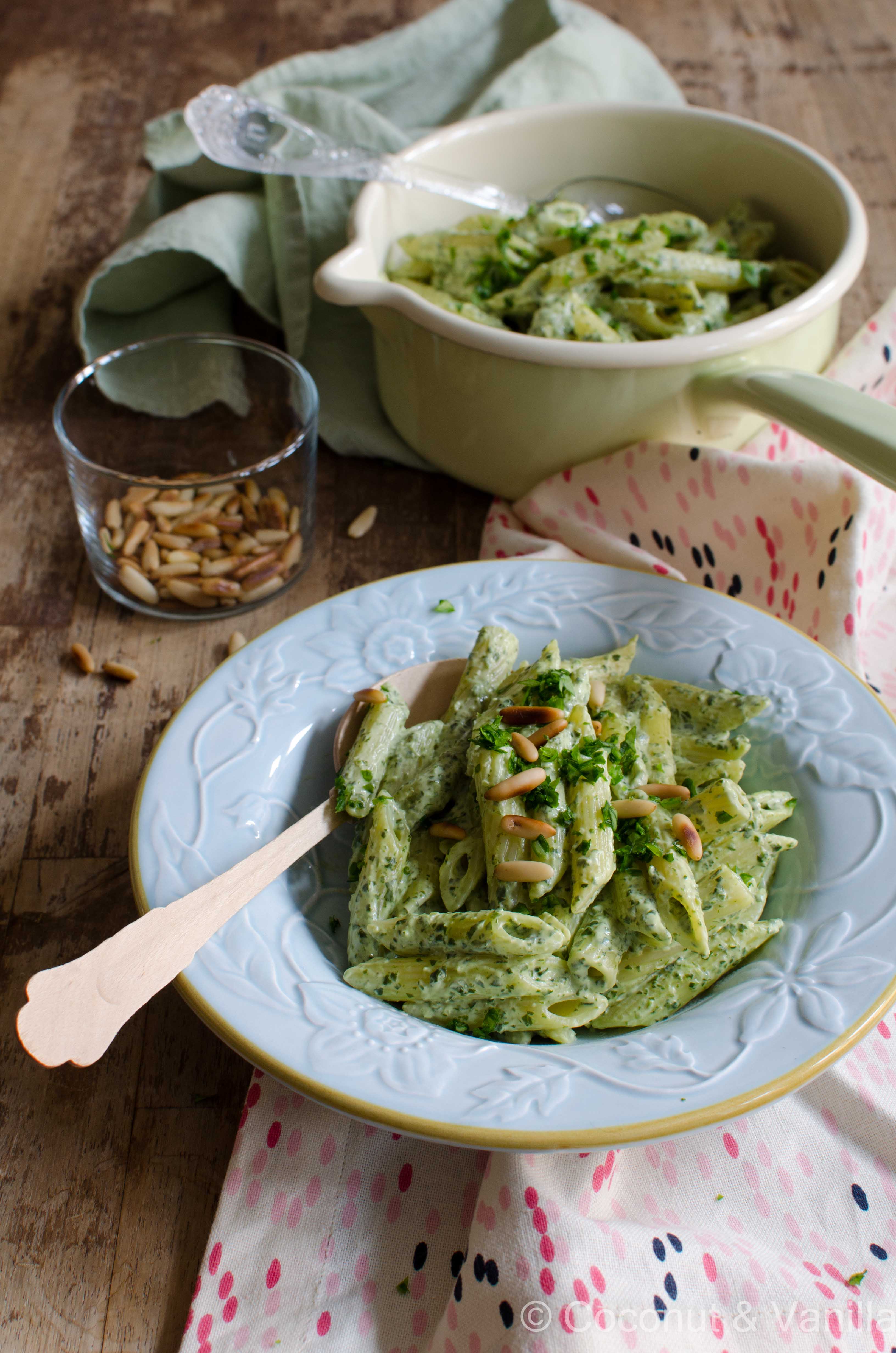 One year ago: raw chocolate brownies
Two years ago: rhubarb jelly
Three years ago: wild garlic ravioli with lemon butter
Four years ago: rhubarb syrup
Five years ago: rhubarb streusel tart
Wild garlic pasta with fresh goats cheese and pine nuts
adapted from Schöner Tag noch!
yields: two portions
Ingredients:
250 g pasta
50 g wild garlic, rinsed and spin dry
1 Tbsp pine nuts
1 tsp clarified butter
1 small onion or shallot, finely diced
50 ml dry white wine
100 g fresh goats cheese
100 ml organic cream
sea salt
black pepper, freshly ground
Cook the pasta in boiling salted water until al dente.
In the meanwhile slice the wild garlic in thin stripes. Roast the pine nuts in a pan at medium heat until golden.
Heat the clarified butter in a small saucepan and sauté the onions at small heat until golden. Add the white wine and a glug of pasta water and bring to a boil. Let it cook for 1 – 2 minutes, then add the goats cheese, the cream and 2/3 of the sliced wild garlic. Keep the sauce warm and stir until everything comes together. Purée with the immersion blender until you have a smooth sauce. Add the rest of the wild garlic and season with salt and pepper, if necessary. If the sauce is too thick add more pasta water to thin it out until you like the texture.
Drain the pasta.
Add the sauce to the drained pasta and combine everything. Sprinkle the pasta with the pine nuts and serve immediately!