Thursday, 14th April 2016
Fats and oils do not sound very attractive, right? But without fats taste is limited and you need fats for some vitamins to be taken in from the body.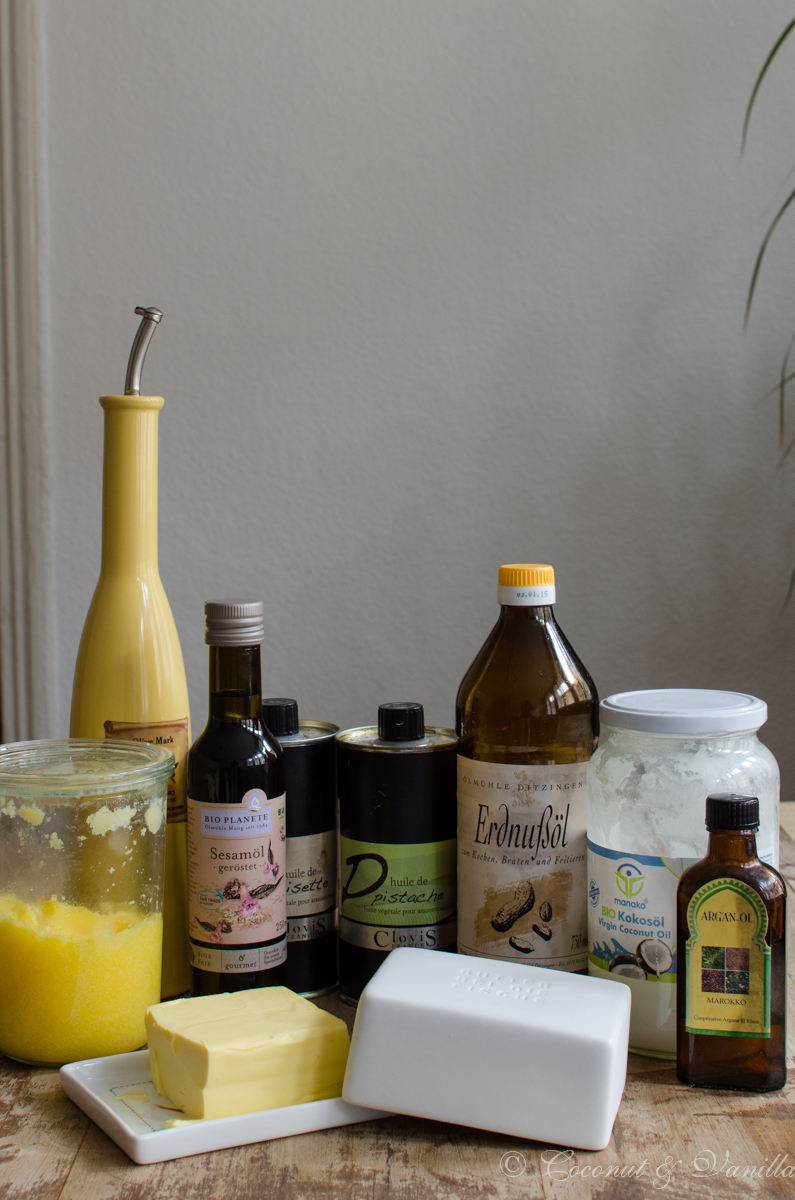 Clarified butter

My number one fat! I am THE largest supporter of clarified butter! My grandma always did say, that the food will be only really good, if you use clarified butter. And she was right!
I am making my clarified butter myself regularly from organic butter. This is really easy! Clarified butter contains almost no water (just tiny amounts) and therefore doesn't burn at high temperatures like butter. But it still has the amazing good taste of butter! Of course, butter is healthy, as it is a completely natural product, that consists completely without any (artificial) additions, in contrary to margarine, industrial vegetable fat and so on.
Butter
is spread on my bread and nothing else. I prefer Kerrygold. I would like to support local creamery, but I haven't found a comparable product here. As Kerrygold is not evil (no Nestlé, Unilever or demonized brand), I can reconcile that with my conscience.
Sunflower Oil

A good sunflower oil should be in every kitchen! I cannot recommend an organic one, unless you like the penetrant flavour of sunflower seeds (as from dennree or Rapunzel). For me sunflower oil needs to be neutral and preferably made locally. The best one so far is the one from the Ölmühle Ditzingen. This one is also available organic, which is also good and neutral in flavour.
Sunflower oil can be heated at high temperatures and is therefore perfect for searing and sautéing. I also prefer it for homemade mayonnaise (this or peanut oil).
Peanut Oil

Peanut oil is also a great neutral oil, that can be heated at high temperatures and is often used in asian cuisine. It can be used interchangable with sunflower oil. I also love the peanut oil of the Ölmühle Ditzingen.
Rapeseed Oil

Rapeseed oil should be neutral in flavour. Often it has a very yellow colour. It shouldn't taste like rapeseeds, if it would it isn't edible, anymore. It's perfect for dressings, pestos, but also for searing and baking. Ölmühle Ditzingen again has a great one available!
Olive oil, native extra

Cold-pressed olive oil shouldn't be used for searing, otherwise it will burn. But it can be used for dressings and pestos. I mostly use olive oil for searing mediterranean dishes and if it fits to the dish. You find special olive oil for searing on the market, which can be heated at high temperatures.
It is important to note, that the oil should be native extra or extra vergine. It depends on your taste, if the oil is more fruity or bitter.
We should face the truth that Italy uses more Italian olive oil, than it produces and it still exports olive oil! So be aware what you buy, especially cheap supermarket brands (but there are also expensive oils that you cannot be certain of its origin). It makes a lot of sense to buy directly from the producer or via a co-op, like Artefakten.
Hazelnut oil

Hazelnut oil is so very delicuious, especially for salad dressings! A good oil tastes just like hazelnuts. I am very satisfied with this one. It's good for a very long time (the air- and lightproof packaging in a can makes just sense) and has a great taste!
Pistachio oil

Pistachio oil is just as great as hazelnut oil! I bought it from the same brand as the hazelnut oil and I am very satisfied with it.
Coconut Oil

Coconut Oil is so wonderful, as it melts at body temperature and is solid under 20° C. It is suitable for searing asian dishes, but also for baking. I can recommend it as a hair mask for your lenghts, it is a natural miracle! Also it smells and tastes truly like coconut!
I bought my coconut oil from Manako via Amazon and I am happy with it. Be sure to choose an organic oil, also fairtrade coconut oil is already available (such as from the Kokosnuss Kampagne)! Meanwhile a lot more brands are available and you also find it in organic supermarkets.
If you like a neutral in flavour coconut oil, which you can use even for frying, try organic coconut fat, such as Dr. Goerg!
Argan oil

The gold amongst the oils is especially delicate and healthy! 100 ml cost around 10 Euros and this is justified, because you cannot produce it in mass production. But why should you? You wouldn't appreciate it anymore. Argan oil must be present in its flavour, when used. Some drops on tomato mozzarella salad or on your breakfast egg… It tastes beautifully nutty. Argan oil is also great for your skin!
I buy my organic argan oil from the Hansa-Apotheke in Leipzig, which purchases it directly from the El Kheir womens co-op in Marocco.
Roasted sesame oil

I love roasted sesame oil! I first used it in the asian cuisine, but now I use it everywhere! It tastes just like freshly roasted sesame, but without the annoying seeds between your teeth!
I use the oil from Bio Planét, because I didn't find another brand, but I am very happy with it. But I also liked my non-organic one before.
FYI: Normal sesame oil is not made of roasted sesame and therefore tastes completely neutral. It can be used interchangably with peanut and sunflower oil.