Sunday, 25th October 2015
For a very long time I wanted to show you my "kitchen essentials". My groceries, which I always have on hand. I do not only mean salt. I also tell you which kind of salt I prefer and why.
This would be way too much information for one post, therefore I decided on a new series!
I start today with the topic of seasoning. This is a very broad topic, but I refer to seasoning on the stove and table here. I do not refer to the abundance of my spice drawers. I tell you the basics of making a dish well-rounded and to reveal you my tips apart from salt and pepper.
Spices are quite subjective and my spice cupboard is not very representative for sure. I bought some spices myself, which I've never used to this day. But safe is safe, I could need them some day soon ;).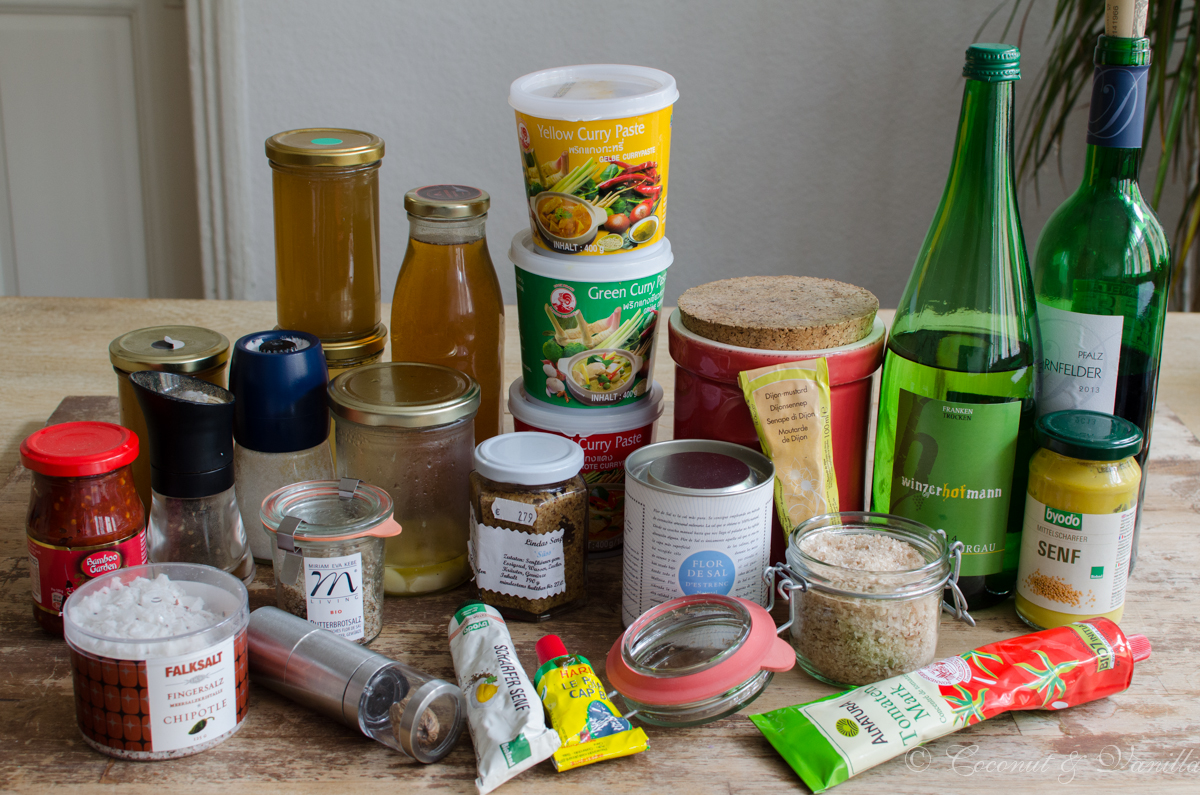 sea salt

I only buy sea salt without any additives. I recommend to avoid industrial salt, because no one (and no salt) needs anticaking agents, fluorine and iodine. Even if some people might need the iodine, others don't want it because of health issues and there comes the predicament. People you would profit from the iodine in salt are taking iodine pills, anyway, so there is no need to help them (I can judge from own experience).
Salt is basically pure and comes from the sea. I prefer salt from Europe, no need to ship it across the whole globe.
I store it in a large jar beneath the stove. It's used for pasta water and seasoning the food while cooking. I buy the home brand of Alnatura.
coarse sea salt

Used for the salt mill on the table and if I need larger amounts (for stocks or preserving). I like the salt of the Guerande in  France. The coarse salt is quite cheap, too and a bag keeps a long time.
fleur de sel
I love fleur de sel, it should be in every kitchen. But you need to be aware of its distinctivness. There is no benefit of throwing a lot of it in pasta water, but a frugal use is also not necessary (the box doesn't need to last ages!). Fleur de sel (or fior de sal or similar names, depending from which country it comes) are the flowers that grow on the salt and are harvested by hand. This results in a higher price.
Fleur de sel has a more delicate flavour. I like to use it in vegetable salads, breads/tartines and to finish off dishes. I like to use the famous fleur de sel from Mallorca, but that's because I get this as a gift. There are also cheaper ones on the market, just give it a try!
smoked sea salt
Fleur de sel is also smoked available (i.e. from cornish sea salt) and is extra delicate! It's perfect for vegetarians as it adds a touch of smokiness (bacon!) to vegetarian dishes and balances them. Also wonderful for egg dishes! I also have a coarse smoked sea salt, which is great if I need larger amounts.
pyramid salt

I won some salts by Falksalt. The swedish company sells only pyramid salt from Cyprus. This salt grows naturally in pyramid-shaped salz crystals. Stunning! This salt is available in different types. I like the chipotle one. The salt is not a must of course and more for the advances salt lover (anyone here?), but it's worth mentioning.
butter bread salt

Yes, this is very special.
This salt by Eva Miriam Kebe Living is refined with herbs (onion, marjoram, parsley, pepper, thyme, coriander, bay leaf) and I use it a lot on egg dishes and buttered bread.
fresh black pepper

1.Hands off of grounded pepper! Grounded pepper looses its flavour very quickly and tastes also very strange!
2. Get a pepper mill and ground your peppercorns yourself freshly!
I like to buy tellicherry pepper at my spice dealer. I thought for a long time that every black pepper tastes the sime and in a seasoned dish you won't notice the difference. But on vegetable salads (like caprese) or bread the difference is noticeable. In a raw pepper tasting at home I noticed that the tellicherry pepper is more delicate and fruity.
But sometimes I also buy malabar pepper
Moreover I own long pepper, white pepper, szechuan pepper (not a real pepper) and pink peppercorns (also not real pepper), all whole peppercorns, but I use them all very seldomly.
nutmeg
I only use fresh whole nutmeg and own a dedicated "mill*" for that, because I rather not have finger tips in my food.
wine
I always have a bottle of white and red wine beneath the stove, which is only used for cooking. Both are dry, because I like add the taste to the dish not extra sweetness. I favour the taste of white wine in food a lot, so a sip here and there is just fine. I use reasonable (but not cheap) and local wine. If you have a winery nearby you can grab a bottle for 3 – 4 Euro. Otherwise Aldi has some reasonable wines that do the deed.
lemon juice

A dash of lemon juice can be vital for a lot of dishes, especially when you think the dish is a bit flat. It gives the food dimension. Give it a try!
I always have a bottle in the fridge, because I don't want to use a whole lemon for a little splash of juice. I recommend buying organic, because the lemons are squeezed by machines and pesticides and wax from the skin will migrate in the juice. The acid of the lemon helps this job, too. Afterwards you have all this in the juice. I only buy organic citrus fruits, so I can use the skin without worrying.
Think about this, when making capirinha the next time (no organic fruits, pesticides/wax on the skin and you are pesting them! Ugh!)!
tomato paste

For dark sauces, stews and everything cooked with tomatoes. As organic is only a bit more expensive, I like to buy organic tomato paste.
harissa
I always have harissa on hand, as I like to cook oriental. The spicyness can also be very good adjusted with te paste. I like the paste from the tube, which is availabe in turkish/oriental delis.
sambal oelek
For the same reason as harissa I like to have sambal oelek on hand, which is necessary for some asian and indonesian dishes.
curry paste (red, yellow, green, massaman, …)

Yes, I own them all ;). I love to cook asian resp. thai food and therefore these curry pastes are a must. I have the typical brand, which works without any additives. Even without storing them in the fridges these pastes are good for forever.
Indispensable for vinaigrettes and everything that isn't cooked, but is spiced with garlic. The pungent garlic odour is omitted, but you are gifted with a nice garlic flavour.
mustard
I use mustard sometimes for sauces and a lot for vinaigrettes.
I have spicy, medium spicy, sweet and dijon mustard in the fridge. After studying the ingredient lists of mustards I was quite shocked and decided for organic since then. I prefer the products of Byodo or home brands of some supermarkets. When I use more I choose the mustards in jars, otherwise tubes.
stocks and fonds

I preserve vegetable, chicken, beef and game stock in 250 ml and 500 ml jars. As fresh fish isn't very common in South Germany I never missed fish stock.
* Amazon affiliate link (If you buy something after clicking on this link on amazon, I earn a small amount of money, which I reinvest in this blog. Thank you!)