Tuesday, 14th July 2015
Recently I like to bake rolls with a cold overnight proofing in the fridge, so that we have fresh rolls on the weekend. The rolls from the bakery are always the same so we yearned for something else and also baking your own rolls is much cheaper, especially if you like some fancier rolls.
These rustic rolls are substantial, but still fluffy. With a part rye flour they are perfect and when they tear up in the oven they are just beautiful to look at! Like a roll has to look.
I do  not bake the rolls on the pizza stone, but on a patisserie tray, which is non stick and full of holes. But a normal baking tray is also working, of course. But then use baking paper.
The recipe is from Brotbackbuch Nr. 1*.Lutz likes smaller rolls of 8. I don't like small rolls, so in my opinion 6 pieces are perfect, but if I want to use them for sandwiches I make just 4 of them. When rolling them in cylindric shape, make sure you don't roll them too long, otherwise they will be a bit too slim.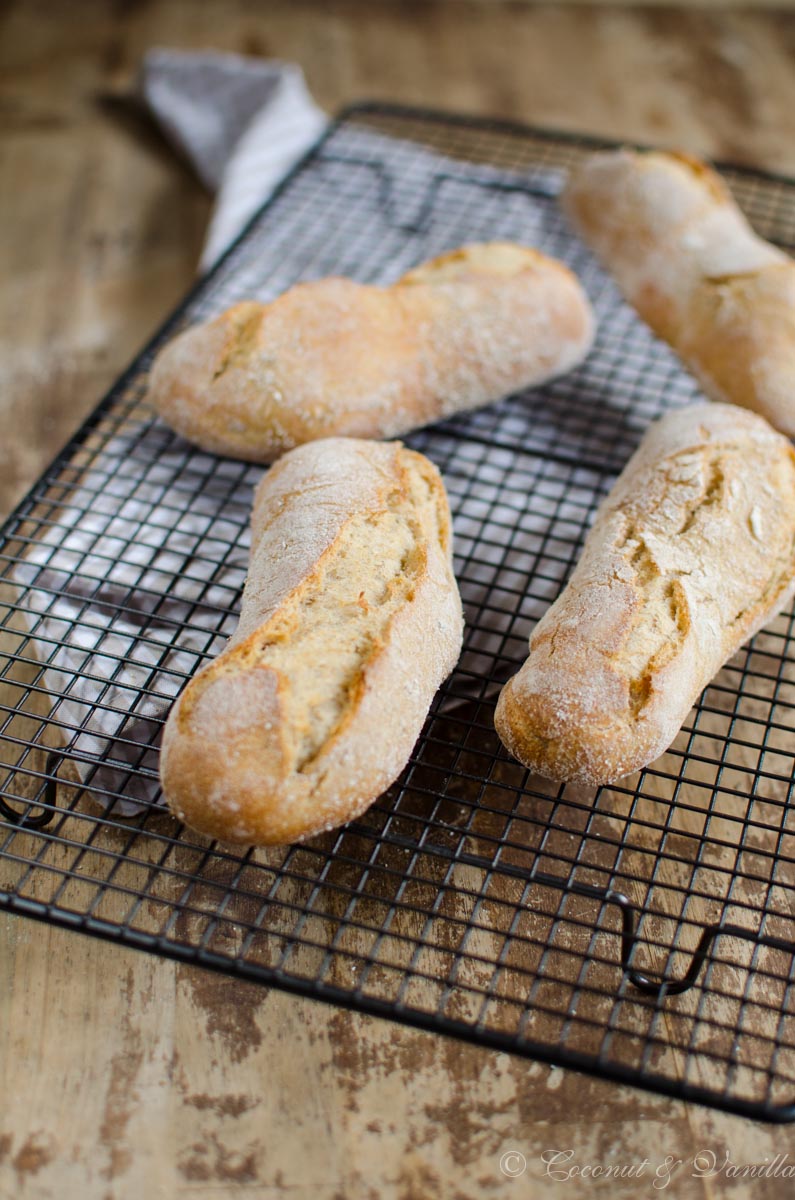 One year ago: goats cheese ice cream with strawberry swirls
Two years ago: swiss chard pesto
Three years ago: iced coffee ice cream
Four years ago: blueberry lemon tart
Five years ago: melon ice cream
Rustic Rolls

adapted from Brotbackbuch Nr. 1* by Lutz Geißler
yields: 6 normal sized rolls or 4 large rolls
Ingredients:
180 g all-purpose wheat flour (type 550)
100 g durum wheat semolina
110 g medium rye flour (type 1150)
150 g water
150 g milk
4 g fresh yeast
8 g salt
8 g olive oil
whole rye flour for tossing
Knead all ingredients in a stand mixer for 10 minutes on lowest level and 5 minutes on the second lowest level. The dough is a bit sticky and almost pulls away completely from the bowl.
Cover with plastic foil and let it rest for 12 hours in the fridge (overnight).
On the next day place the dough on a floured surface and divide the dough into 6 or 4 pieces (weigh it). Roll it into cylindric shapes. Be careful that the rolls won't get too long and thin. Look at this video by Lutz, if you don't know how to do it.
Place the rolls with the seamside down on a bakers linen (or baking paper) and let it rest for 45 minutes at 22° C.
Tip: I like to use the dough proofing function of my steamer, which is 40° C by default. That is (always!) too hot! So I preheat shortly, switch off the oven, open it and let escape most of the steam and the heat. Then I insert the baking tray and let the rolls proof. Therefore I don't need any plastic foil, because the rolls won't dry out.
Preheat the oven to 230° C (I prefer hot air).
Place the rolls seamside up on a (patisserie) tray with baking paper and insert the tray in the oven. Toss two ice cubes on the oven bottom to create steam.
After 10 minutes open the door widely to remove the steam and dial down the temperature to 200° C. Bake for another 5 minutes, then open the door ajar and bake for another 10 minutes. If the rolls are too dark before that, remove them from the oven early!
Take the rolls out of the oven and let them cool completely on a wire rack.
* Amazon affiliate link (If you buy something after clicking on this link on amazon, I earn a small amount of money, which I reinvest in this blog. Thank you!)