Tuesday, 14th April 2015
Recently I was in Italy and of course I shopped a lot of groceries there ;). I discovered some italian specialties , like cima di rapa. When I see something special like this I have to buy it! What I will do with, I'll figure out at home. In this case I made an easy, but very delicious pasta dish, which features the cima di rapa perfectly!
Cima di Rapa is broccoli rabe, which was also more known in Germany in older days. Cima di rapa are long stalks with a lot of leaves and some little florets, like of broccoli. It tastes also similar to broccoli, sometimes a bit bitter, but mine was mild, maybe because it was very young. Very large leaves and thick stems should be removed and discarded, because they are especially bitter. The thick stems are also not tender anymore. 
A very interesting vegetable, especially because it has a good mixture of leaves and stems. The stems are tender and crunchy and as those of broccoli very scrumptious!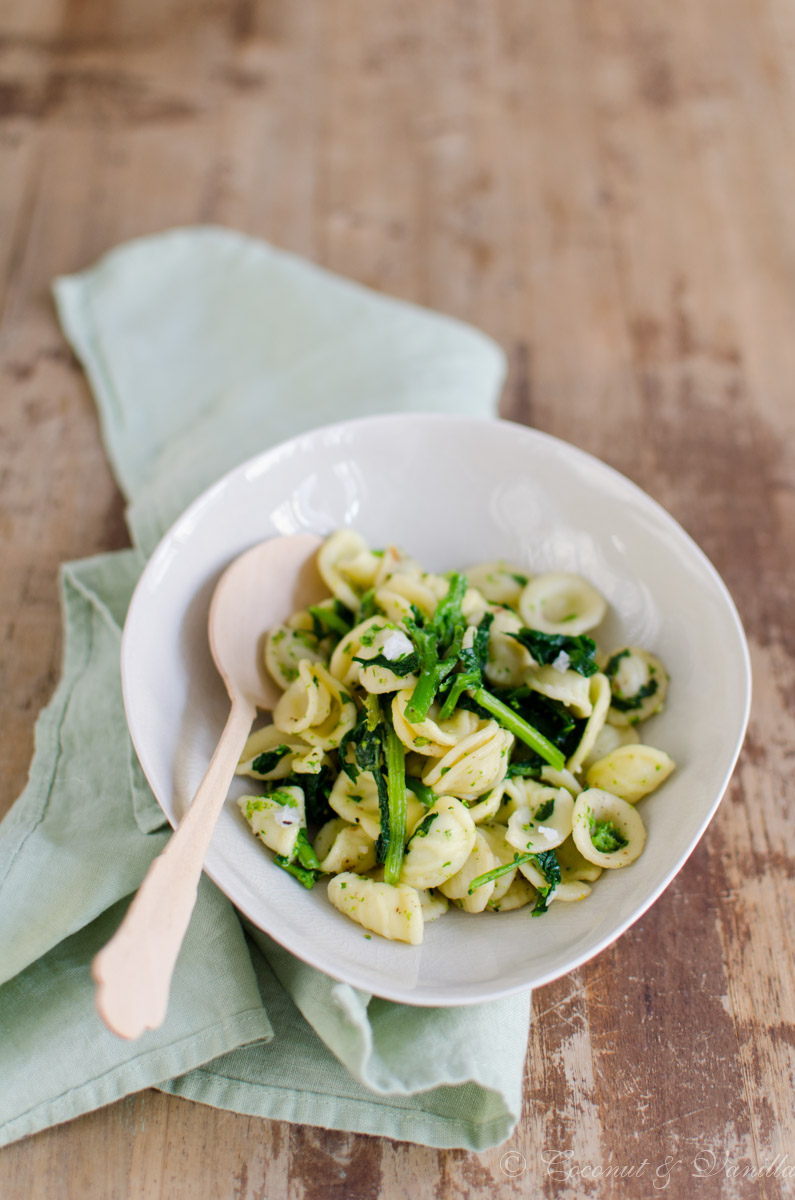 One year ago: potato quiche with wild garlic
Two years ago: linguine with cauliflower pesto
Three years ago: orange pasta with prosciutto
Four years ago: rhubarb muffins
Orecchiette with cima di rapa
yields: 4 portions
Ingredients:
500 – 600 g cima di rapa (broccoli rabe) (1 bunch)
500 g orecchiette
sea salt
1 clove of garlic, finely chopped
2 anchovy fillets
1 small chili, finely chopped
olive oil
black pepper, freshly ground
parmesan or pecorino, freshly grated
Remove and discard large leaves and thick stems of the cima di rapa. Chop coarsely. 
Cook the orecchiette in a large pot with salted water. 4 minutes before the end of the cooking time of the pasta add the cima di rapa. When the orecchiette are al dente, drain all. 
Heat some olive oil in the same pot on middle heat. Sauté the garlic, anchovies and chili, until the anchovies are melting. Add the pasta and cima di rapa, stir in, then remove from the heat. Season with salt and pepper. 
Serve with freshly grated parmesan.