Thursday, 19th February 2015
Sometimes two great coincidences happen at the same time: I was able to pick up some organic limes and Deb of smitten kitchen blogged a recipe for key lime pie! I had to bake this pie immediately, since I love limes and pie!
The only thing missing for the perfect pie is a pie dish in the right size! But it would have taken too long to buy one first.
Key lime pie is originally made of real key limes, which are very small limes from Florida, that have their name of the Key West Isles, of course. The key limes are meant to be more sour and also a bit bitter. Of course they are not available in Germany. But mostly I'm very happy when I can get some organic limes, which do not cost a fortune. But I would love to have some meyer lemons here! Ok, this is a totally different topic there ;).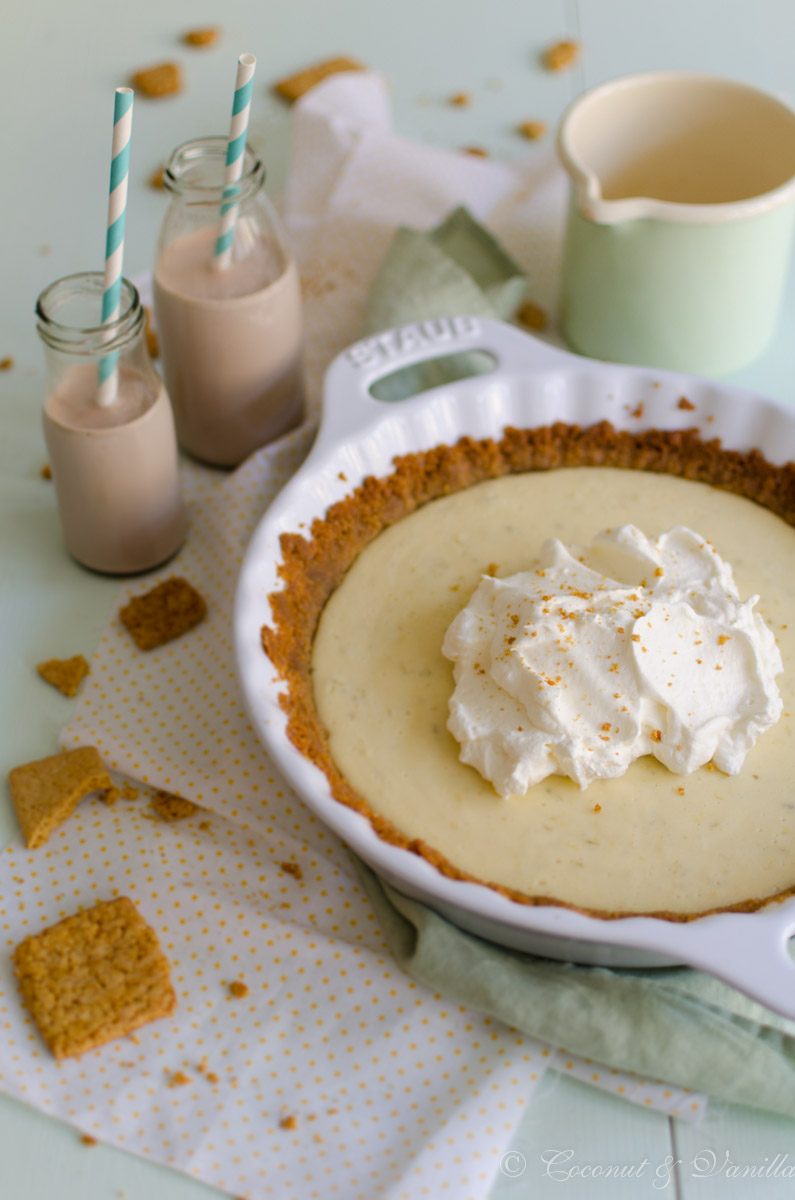 This lime pie is very easy and you need just a few ingredients. Again I made a graham cracker crust, which Deb also recommends, just her amounts are crazy. Way too much butter and also you can skip the sugar, as the cookies already contain sugar. Apart from that I love the graham cracker crust, which is just perfect for creamy pies and cheesecakes! I made the graham crackers from my recipe here and I always have some in stock. It's worth it! The crackers are good for a very long time and you can also freeze them!
The pie tastes wonderfully, like lime, is a bit sour, fruity, refreshing and creamy. It is not heavy at all, especially if you skip the whipped cream on top. It's not necessary at all!
The pie is whipped up in half an hour and just needs to cool then. But with this freezing temperatures outside this is done in no time!
If you like to bake this pie gluten-free, use my gluten-free graham cracker for the crust. It's so easy to bake this one gluten-free!
One year ago: double chocolate chip cookies
Two years ago: red thai curry paste
Three years ago: hazelnut sourdough bread
Four years ago: apple galette
Five years ago: puff pastry tart with root vegetables
Key Lime Pie
yields: 1 pie 23 – 28 cm in diameter
adapted from Smitten Kitchen
Ingredients:
150 g graham cracker (also gluten-free graham cracker possible)
40 g butter
1,5 Tbsp finely grated zest of organic limes (from about 4 limes)
3 large egg yolks
400 g sweetened condensed milk (1 can)
150 ml lime juice of 6 limes (or less and fill the rest up from bottled lime juice)
Preheat the oven to 180° C conventional heating (top/bottom).
Use a food processor to grind the graham crackers finely (alternatively use a rolling pin and a freezing bag). Melt the butter and mix with the cookie crumbs.
Press the cookie crumbs into a pie or tart dish. The dish should be between 23 and 28 cm in diameter. 23 cm would be perfect, my dish was 28 cm on top, which also worked.
Bake the crust for 10 minutes. Let cool on a rack. Keep the oven switched on.
In a stand mixer whisk the egg yolks with the lime zest until thick and pale. Add the condensed milk and whisk until thick and creamy. Whisk in the lime juice.
Pour the filling into the crust and bake the pie for 10 minutes. The pie is pale but firm and a bit jiggly. Let the pie cool on a rack completely and store in the fridge.
If you like you can add some whipped cream on top. Also a thick layer of meringue is often added on top and grilled. I prefer the pie without any toppings, so the combination of sour filling and sweet crust is just perfect!