Thursday, 15th January 2015
Some time ago I told you that I love to have breakfast. Just, I don't have time for that. I want to sleep instead. At least in the week. So mostly I eat a yogurt at work and that's it. That's ok, but not the best. And because I'm a bit fastidious demanding about yogurt (don't buy the big brands, no fruit pieces, no softened granola, no artifical flavours, so mostly organic) I don't have a lot to choose anymore, as I don't want to eat the same sort of yogurt every day.
Granola isn't working for me either, because I have jaw problems. Sometimes also back or head and sometimes neck. Sandwiches remind me of school and I don't need that anymore. 13 years of school sandwiches, no thanks! As I feel the cold I prefer a warm breakfast. Indeed a lot of breakfasts can be perfectly served warm and are easy and quick to prepare. Like semolina porridge!
A delicious relict of my childhood, which I like to make all over again. Semolina only needs milk and 5 minutes (or another fluid, hard-nosed people may just use water). Add some fruit. No fresh fruit for me. Yes, I also eat fresh fruit very rarely!
I prefer it cooked, with pleasure also still warm. Also warms from the inside! Preserved fruit is so great and handy! You can eat cherries in winter and quinces in the spring! Preserved in a delicious spiced syrup it also sweetenes the porridge. The perfect quick and warming breakfast!
PS: You can also cook this for children for lunch! Without fruit even I ate it as a child ;)!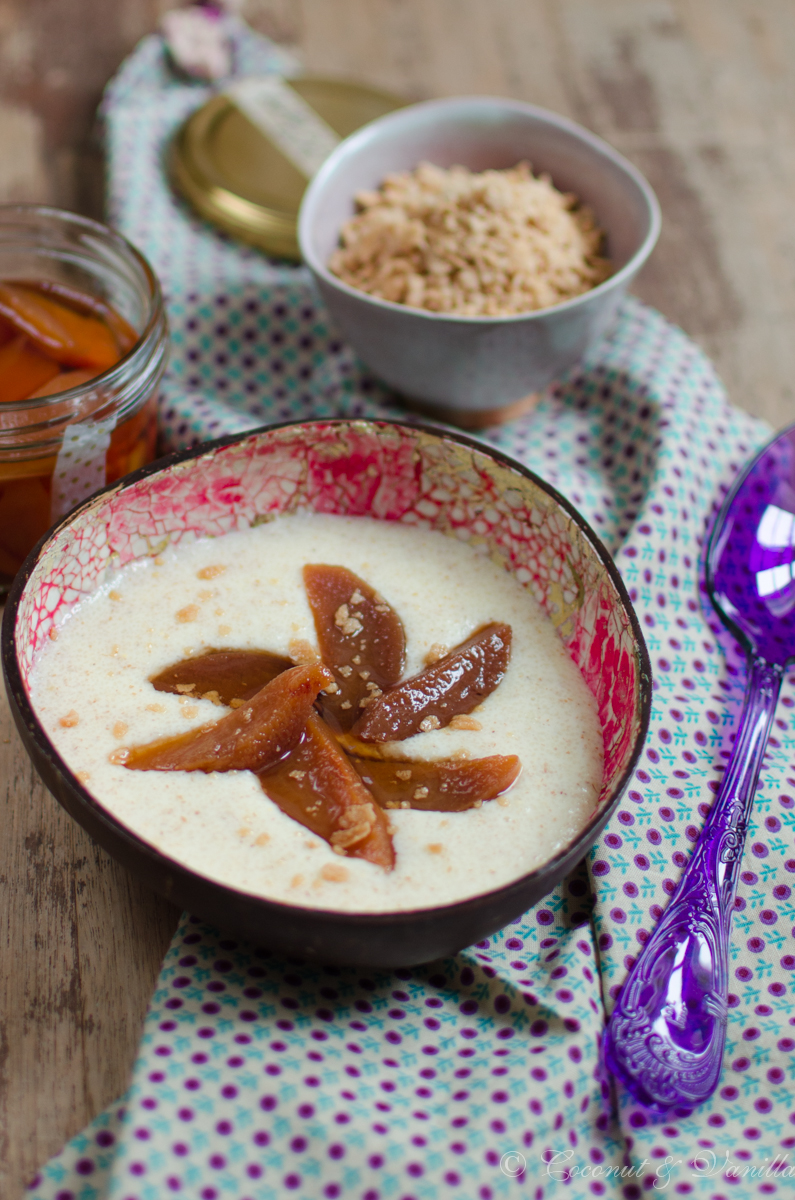 Four years ago: pasta with mushrooms
Five years ago: blueberry buttermilk panna cotta
Semolina Porridge
yields: 1 portion
Ingredients:
25 g wheat or spelt semolina
250 ml whole milk (or nut milk or anythin else you prefer)
Bring the milk to a boil. Stir in the semolina and simmer on low heat until the porridge thickens. Remove from the heat, close with a lid and rest for 5 minutes.
I never add any sugar for semolina porridge, as I prefer to sweeten it afterwards with syrup, fruit or cinnamon sugar.
Preserved Quinces in Chai-Tea Syrup
adapted from preserving by the pint by Marisa McClellan
yields: 3 250 ml jars
Ingredients:
3 – 4 quinces (about 700 g)
300 g sugar
2 Tbsp loose black chai tea
Prepare and sterilize the jars.
Peel and core the quinces. Slice them thinly.
Fill the tea in a teabag or a tea egg. Add with the sugar and 350 ml water to a pot. Add the quince slices, bring to a boil and simmer for 15 – 20 minutes on low heat. Taste the syrup and if the chai tea taste is to your liking remove the tea. Cook the quinces until they are done and a fork can easily be inserted in a quince slice. I also kept the tea that long in the syrup.
Divide the quince slices amongst the jars. Boil the syrup again and cook until thick (another 10 – 15 minutes). Cover the quinces with the syrup and close the jars with lids.
A vacuum should emerge in the jars, when the jars have cooled completeley. The quinces will be good in the syrup without cooking them in a waterbath.
If no vacuum is emerging or you want to make sure that one will emerge, preserve the quinces by cooking the jars in water.
Therefore use a large pot with a grid on the bottom and place the jars in there. Fill with water, about 1 cm above the lids. The jars should not touch each other. Bring the water to a boil and cook for 10 minutes. Then remove the jars from the water and let them cool on a kitchen towel.
The quinces are preserved for at least 1 year. Store in a dark and cool place and after you've opened a jar, store it in the fridge.