Sunday, 14th December 2014
Maccharoni and cheese are like sea and salt, fish and chips or potato dumplings with sauce. A perfect pair, which belongs together. And like dumplings with sauce this is true soulfood!
I wanted to give you this recipe for such a long time, but I never managed to take a good photo. This meal is so easy and you only need simple ingredients that are mostly at home after all. I make it when I'm out of ideas, lazy and hungry! After that I always want to eat in an instant and the daylight is already gone, too!
The photo isn't what I would describe as a good photo to me. I tried my new softbox and after playing around with Lightroom a bit, the photo is usable. Although it isn't good for my criterions, this is "only" my blog and I need to stay realistic and show you the recipes I like the most ;). It's autumn now (and feels like winter) and daylight is only there when I'm at work. And that are mostly the days when I'm making dishes like maccharoni and cheese.
I made this dish about 20 times and I'm in love every time! Maccharoni and cheese are not just pasta with cheese, but pasta with a bechamel-cheese-sauce, which makes this dish so damn good! This dish is definitely not on the light side, but therefor it's vegetarian 😉 and a nice winter dish!
I use the recipe from the book The Pioneer Woman Cooks by Ree Drummond. The book is all about down-to-earth US dishes, spiked with some "extraordinary" recipes by Ree. The Mexican influence is noticable, especially in a lot of breakfast recipes (like huevos rancheros for example). The sweet stuff is almost no edible, because it's way too sweet, typically American. It's the first book of Ree and it also shows her life at the ranch and her family. It's very beautiful and equipped with step-by-step instructions like on her blog. If you want to dive in the typical American cliché, but long for working simple recipes, you are just right with this book!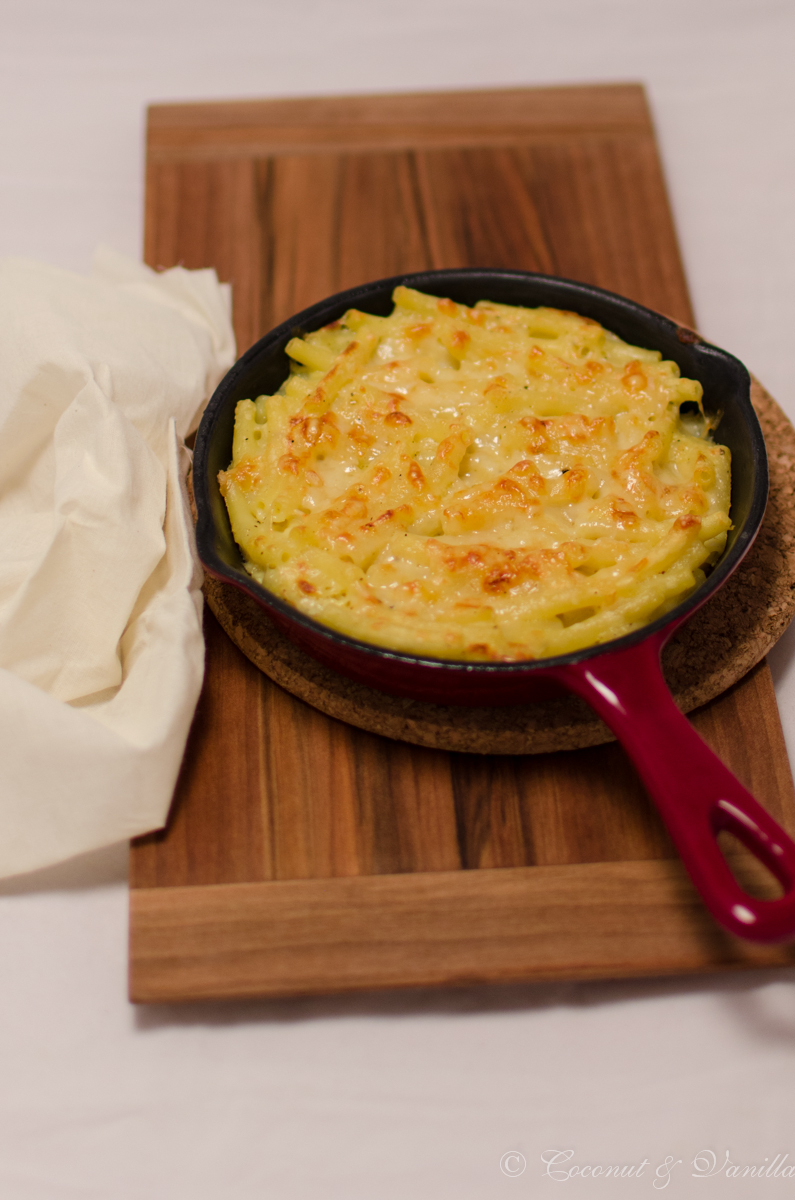 Two years ago: wild boar with rose hip sauce
Three years ago: homemade chocolate bars
Four years ago: eggnog & gingerbread
Five years ago:
Maccharoni and Cheese
adapted from The Pioneer Woman Cooks by Ree Drummond
yields: 4 – 6 portions
Ingredients:
500 g short maccharoni
salt
200 g strong cheese like gruyere, coarsely grated
30 g butter
40 g wheat flour
500 ml milk
2 tsp mustard
1 egg
pepper, freshly ground
a bit of chili powder (depending on the pungency of the chili, please try this out with your favourite chili powder)
butter for the pan
Bring a large pot of water to the boil, salt and cook the maccharoni until al dente. Better a bit too al dente than too soft! Drain, rinse with cold water and drain again.
Meanwhile melt the butter in a saucepan and whisk in the flour. When the flour is incorporated, add the milk and cook at medium heat until the sauce thickens. Whisk from time to time so no lumps are forming and the sauce doesn't burn! Whisk in the mustard. Remove the saucepan from the heat.
Whisk the egg in a small bowl. Add a bit of sauce to the egg (50 – 100 ml) and whisk instantly. Whisk the egg into the rest of the bechamel sauce. Heat the sauce again until it thickens further while whisking. Stir in 2/3 of the cheese and let it melt. Remove the saucepan from the heat.
Season with salt and pepper and a bit of chili powder (be careful, see ingredients list!)
Butter a baking dish.
Stir together the pasta with the sauce. Spread the pasta in the baking dish and sprinkle with the rest of the cheese.
Bake the casserole at 200° C for 25 – 30 minutes until it browns.
Optional: Turn to grill (about 230° C or default) after 20 minutes and grill the casserole for another 5 – 10 minutes.
Serve immediately!
Leftovers can be stored in the fridge for several days.