Saturday, 31st May 2014
Gifts from the kitchen is a book theme I always love! Therefore I was immediately hooked as I saw the new book by Kosmos and then I noticed it was written by Regine Stroner! Regine Stroner already wrote two of my favourite cookbooks: Backen für Weihnachten and Bald ist Weihnachten
The year before last year a "sequel" to Bald ist Weihnachten was published: Wünsch Dir was!: Geschenke aus der Weihnachtsküche. For me there were not enough new ideas in it, so it didn't make it into my bookshelf. Is Selbst gemacht & mitgebracht different and can it convince me this time?
The first glance on Selbst gemacht & mitgebracht tells me it is a beautiful book with great photos. The gifts are wonderful staged. The wrapping ideas are versatile and they used a lot of recycled material. Not my kind of thing, I'm just too impatient for that. I'm working better with ready made bags, boxes, ribbons and masking tape.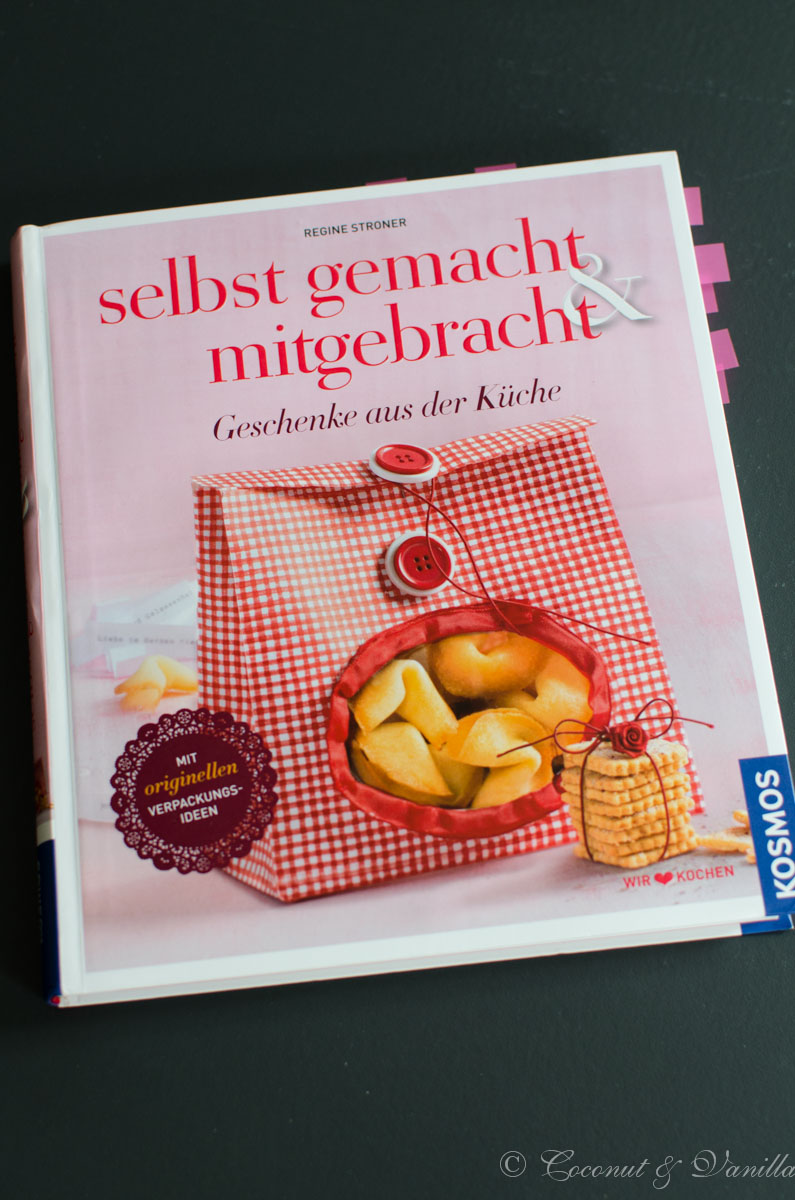 I had the book a lot in my hands and browsed through it, but I just didn't caught fire. Finally I marked a few recipes. Thereby the book offers a wide selection and a lot of categories.
But somehow everything was already there. Or is it just me? I definitely do not need any marmalade and jellys in a gift book! I can't stand it anymore! Those recipes bring no added value and are almost always the same. And there are enough books on the market for that purpose. Or is it just me again?
I made the pistachio-parmesan-cracker, the tomato-grissini and the japonais with chocolate filling. The recipes weren't that magical, but maybe with some small changes they may be the next time. Some things are just clear when you made the dish. Like the grissini need to be very thin and you need to bake two batches, because just a few fit on a baking sheet (and half the recipe is quite enough). Next time I slice the pistachio cracker thinner, because then they will be crispy and not soft (but nonetheless very good!). The japonais however didn't convince me at all. They weren't round, smooth and even like macarons (as they look on the photo) and they should be piped in the size of a thumb nail. Thumb nail size, really?! Look at your thumb nail and tell me, if that is a good size for a macaron, which should also be filled afterwards! It's too elaborate for me and this detail is very annoying (there are small and large thumb nails, right). But I expect, that things like this are tested beforehand and some thoughtful tips might be helpful in these cases.
Selbst gemacht & mitgebracht gets 3 of 5 points. I would have given more points, if the recipes would have been more innovative and would not include marmalade and jellys again. Also the recipes I tried didn't worked out like I expected. Next time I know what I can do better, but I expect that recipes in a cookbook work the first time I try them.
The recipes work with limitations and who doesn't own a book like this or a similar one, will definitely enjoy this one! Who, like me does already own some of this kind doesn't need this book implicitly. 
Kosmos Verlag kindly provided this cookbook for free.