Tuesday, 4th September 2012
I think blackberries are my favourite fruit this summer, after raspberries or rather strawberries?! Um, difficult decision. In any case it's the right decision to buy as much as possible of these summer fruits and to make this remarkable pie with blackberries.
The nice thing about blackberries is, that they keep very firm while baking, not like their sister strawberry and they do not mould as easy as their sister raspberry.
And if you believe it or not, they perfectly fit with chocolate! This pie totally surprised me about how everything matches so fine: fruit and chocolate, covered in delicious dough. I just do not recommend to make such a high rim like me, because that was a bit too much. But I had to so much dough.
I tried to adapt that in the recipe. But as I used a rectangular spring pan (which is a good idea, since the ratio filling/dough is just right then), you have to see, if you end up with some leftover dough or not, depending on which kind of pan and size you use.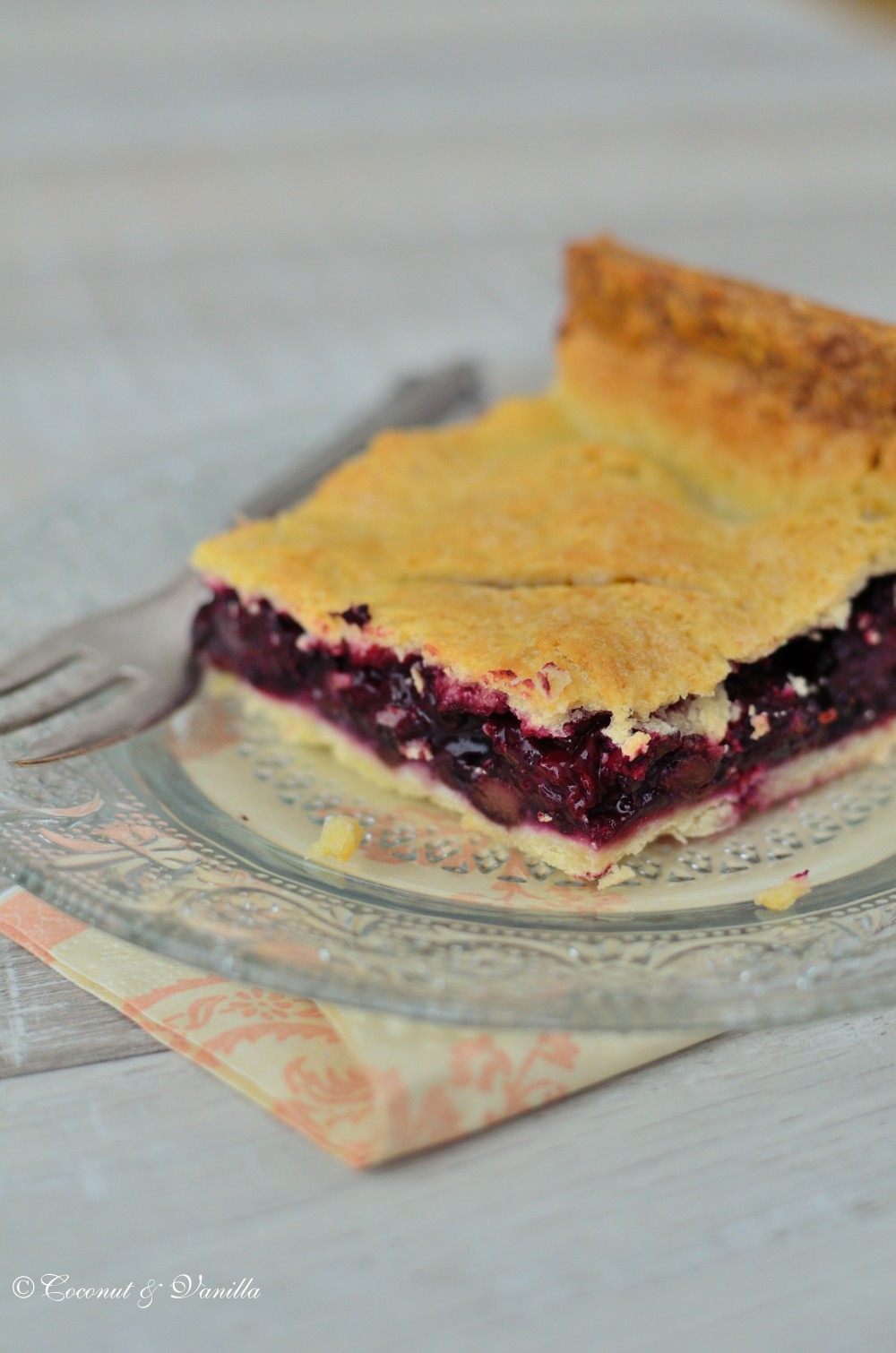 Two years ago: Plum Galettes
Blackberry-Chocolate-Pie
adapted from White on Rice Couple
yields: one rectangular pie (24 x 24 cm), although I didn't test it, I assume a 28 cm pan works well, too
Ingredients:
for the dough:
400 g flour

50 g sugar

1/4 tsp fine sea salt

180 g butter

1 large egg

cold water (about 50 ml)
for the filling:
500 g blackberries

50 g sugar

1,5 Tbsp corn starch

100 g chocolate chips
furthermore:
cream for brushing the top of the pie
Preheat the oven to 180° C. Butter the pan.
Mix the flour, sugar and salt for the dough. Add the butter and incorporate until it's all crumbly. Whisk the egg and add to the dough and incorporate. Add the water bit by bit, until you have a smooth dough. You may not need all of the water.
Half the dough. Roll them out, larger than the pan, because you'll need to form a rim, too.
Place one half in the pan and form a rim.
Spread the chocolate chips on the dough.
Mix the sugar and the corn starch, the toss with the berries. Spread the berries on the chocolate chips.
Place the second half of the dough on the filling. The two dough pieces should meet at the rim. Press it together with you fingertips. Leave 1 cm as a rim, cut the rest off with a knife.
Brush the top and the edges with cream.
Using a knife, cut slits into the top of the pie.
Bake 30-40 minutes, until the pie is golden brown.
Remove from the oven and allow to cool.
Taste lovely lukewarm, when the chocolate chips are still molten. Tastes great fresh from the fridge!