Friday, 27th April 2012
I'm so enthusiastic about the book "La Tartine Gourmande" from Béatrice Peltre of the same-titled blog. Some weeks ago I already infected Ina from Butterfinger with my enthusiasm. As she got the book for her birthday, we decided to cook through the book – although geographically separated.
So every 2 weeks, every Friday we résumé about a cooked recipe from the book, and provide some own pictures of it. We won't provide the recipes, because Béa wants to sell her cookbooks, too, of course (but we may make an exception to give you an insight in the book with a delicious recipe).
That will be really exciting. Because who's really cooking through a whole cookbook?! I mean there are always recipes, which are not so appealing to you, although you love the book.
I will try to cook the recipe quite like the original says, so you can truly imagine how they work.
I can already recommend this book to anyone, since I've cooked quite a few recipes out of it. They were all tasty and worked like a charm. Moreover the recipes are just different, than what I know. Béa really made an effort to write something unique. Her pictures are corresponding, as you know them from her blog. The book is high-quality bound in a perfect format.
There are almost no recipes with meat in it, some more with fish. A lot of vegetarian ones, which I like. Your sweet tooth doesn't go short either. All of the recipes are gluten-free, but can also be made with other flours without any problem.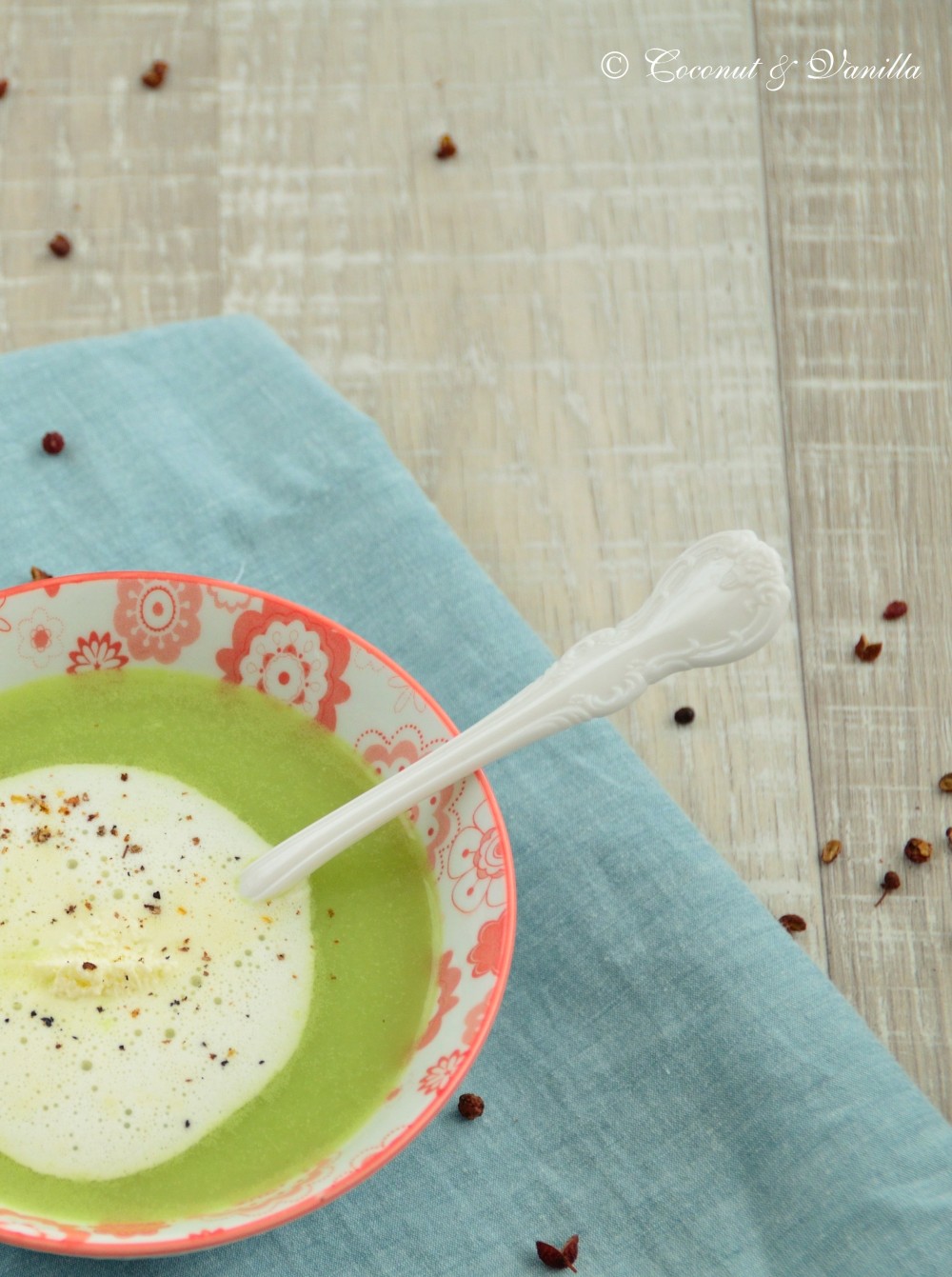 We began with the Fennel and green pea soup with wasabi-flavored whipped cream and sautéed shrimp (p 76).
The soup is very thin, as it is passed through a fine sieve after puréeing it. This step is essential, because the texture is just stunning. I would like to describe it with silky. And the colour!
It really tastes like peas and fennel. What I really loved was the use of Sichuan pepper. Unfortunately this pepper is used much too less and ekes out a niche existence in my kitchen. The Sichuan pepper peps up the flavour of the soup tremendously without overshadowing it.
My wasabi whipped cream didn't taste much of wasabi at all. But that was all my fault. I used a wasabi replacement from the whole foods store, because it's quite creepy if you look on the ingredient list of so called wasabi sold in supermarkets. Real wasabi is hard to get, but that's not important for me, anyway. I just should have taken more pseudo-wasabi, than I did.
The shrimp were delicious. But I liked the plain soup so very much, that I wouldn't need the extra aroma of the cream and the shrimp. Additionally frills, that I would omit.
Anyway the soup isn't made to eat one's fill, because of its texture. Also the amount of soup is rather enough for 3 persons as a starter, than for 4.