Sunday, 19th February 2012
I'm back from vacation and after 6 weeks I'm totally relaxed, but not ready for the next step to come (writing application). The trip was great, but I'm so glad that I can finally prepare my own food again.
First culinary thing I made after we came home was to bake a bread. Ok first feed the starter overnight, then bake the bread. This is my favourite bread so far. It's again a recipe from Jeffrey Hamelman's book Bread: A Baker's Book of Techniques and Recipes, in which I substituted the walnuts with hazelnuts. It's also good with walnuts, but it's more special with hazelnuts and I prefer that hearty taste. I also thought about substituting them with other nuts, such as cashews, macadamia, peanuts (ok specifically no nuts), almonds or even pecans. But then I remember the taste of my favourite hazelnut bread, and I add hazelnuts again, but the day will come for the other nuts!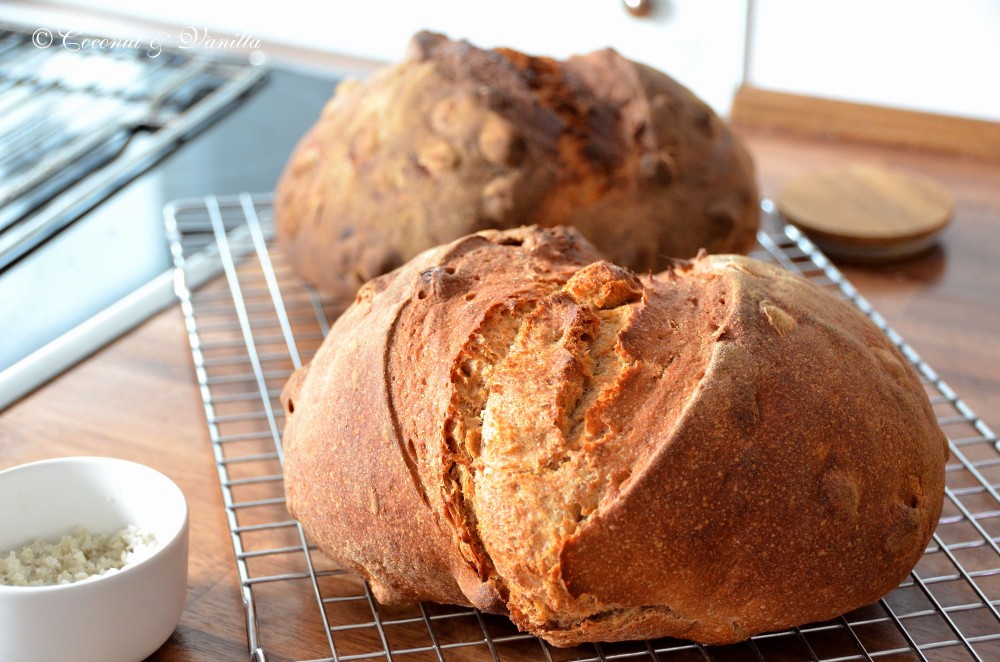 The bread always works, yes it is the bread that worked for me the first time I made it from the book, which was as I began to bake sourdough bread (but I'm still a beginner).
The bread tastes great with everything, but my favourites are just butter, with a piece of cheese,too or sweet with jam. A lovely combination is a slice of that bread with (best) quince or elderflower jelly and a piece of cheese. I need to provide you the recipe for the elderflower jelly this spring, when I need to make a new batch, it's divine.
You will love this bread after first bite, and it will slip in your standard repertoire just by saying "bread".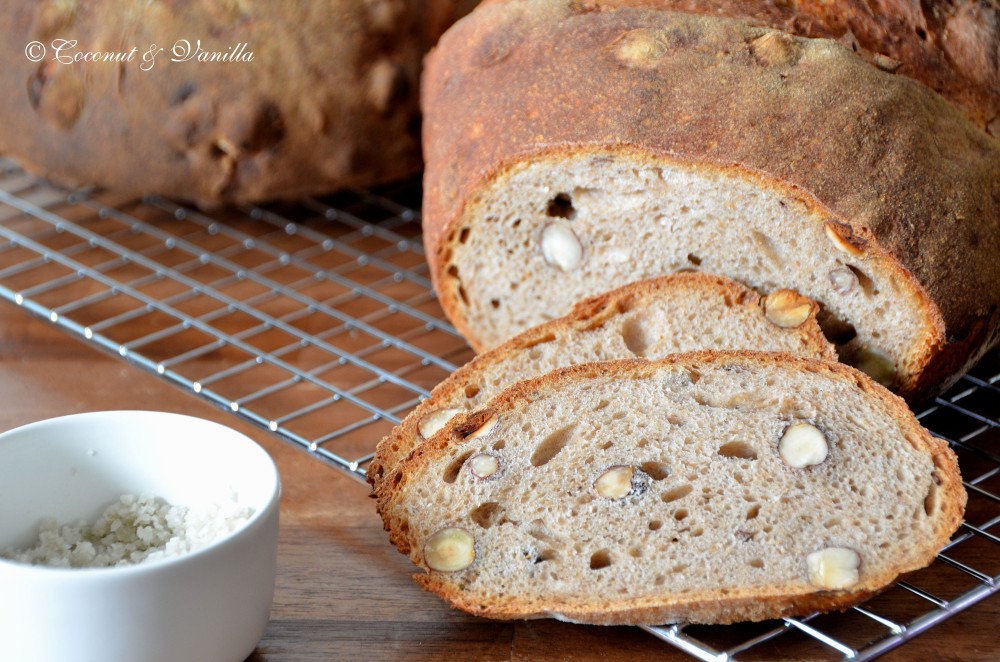 One year ago: Apple Galette
Two years ago: Puff Pastry Tart with Root Vegetables
Hazelnut Bread
adapted from Bread: A Baker's Book of Techniques and Recipes from Jeffrey Hamelman
yields: 2 medium-sized breads at 750 g each
Sourdough:
1 Tbsp + 2 tsp mature sourdough culture

270 g whole-rye flour

225 g water
Mix the ingredients for the sourdough homogenously and let it ripen for 14-16 hours at room temperature (21° C/70° F).
Dough:
sourdough: everything minus 2 Tbsp

450 g high-gluten flour

180 g whole-rye flour

385 g water

1 Tbsp fine sea salt

1,5 tsp instant dry yeast

200 g hazelnuts
Mix all the ingredients except the hazelnuts with the dough hook. 3 minutes on first speed, then 3-4 minutes on second speed. Add the hazelnuts and mix until uniformly dispersed.
Let it rest for one hour, covered with plastic foil.
Divide the dough into to equal sized pieces and shape round or oblong.
Let it rest covered for 50-60 minutes.
Bake with normal steam for 15 minutes at 235° C / 460° F, then lover the oven temperature to 225° C / 440° F and bake for 15-20 minutes, if you are using a pizza stone. As I were not using a pizza stone, the bread got too fast too dark so I baked them for 15 minutes at 220° C / 430° F and then for 20-25 minutes at 200° C / 390° F.
Cool on a wire rack.
The right temperatures and times for your oven are only found through experimenting, as every oven reacts different.
I already wrote about bread baking in detail and also steaming the oven here.