Friday, 12th December 2014
Every year I talk about my cookbook tips of the year (2013, 2012). It's time again and maybe you'll find a gift for you or for you beloved ones amongst my tips!
It was a good year for cookbooks it seems to me. I had a lot in my hands and there are still a few on my wish list. I canceled some of them after flipping through them in the bookstore, others just hopped onto my list, then!
A Salad for All Seasons – Harry Eastwood
I recommended this book without cooking of it, because I was convinced of Harry Eastwood. And boy, I was right! I tested some dishes in this book and ate a lot of delicious stuff! Amongst these were dishes, that were very simple and easy, but tasted phenomenal!
The book offers salads by the seasons. You get hearty salads as main dishes, sweet salads and light summer salads! Harry uses old ideas and freshens them up,as well as new ones. Although I'm not a fan of salads normally, I'm a huge fan of this book!
Huge recommendation, buy it in an instant! 5 of 5 points!
Whole-grain Mornings – Megan Gordon
I love love love cookbooks for breakfast only! Please more of them! Long cosy sunday breakfast session, every weekend something different on the table? Yes, please! Megan Gordon introduces us to "whole grain" breakfast ideas sorted by seasons, which is very convenient. Berries in summer, plums in autumn and warm winter spices in winter.
"Whole grain" sounds so 80ies to me and like a diet my mother followed in my childhood ;). But isn't whole grain in again, because of its health benefits? Right! A lot of vitamins and nutrients are in the husks, alike vegetables and fruits.
Therefore it's a great approach to start healthy and replete into the day! Of course the recipes sound all very delicious and encourage to start cooking. Good thing is: they are delicious! Some of these recipes are savoury like frittata, quiche, rice stir-fry with vegetables and if you are not that kind of gal who likes that for breakfast, you have another excuse to use this cookbook in the evening, too!
Visually the book is beautiful, too, very snuggly and cosy. The story of Megan how she developed whole grain breakfast ideas is very interesting and entertaining, it fits in the conept. Some of the ingredients are not so well-known (at least in Germany) and not so easy to get (I relate to some grains, gluten-free flakes and groat from differing grains or cereals). But you can substitute them mostly and some of them are available in a whole foods store or online. To me these "exotic" ingredients are exciting, because they offer you a whole different world of flavours!
I already made the oat porridge with carrots, orange and coconut from this book. A huge recommendation! This book shouldn't be missed in any book case and get's 5 of 5 points!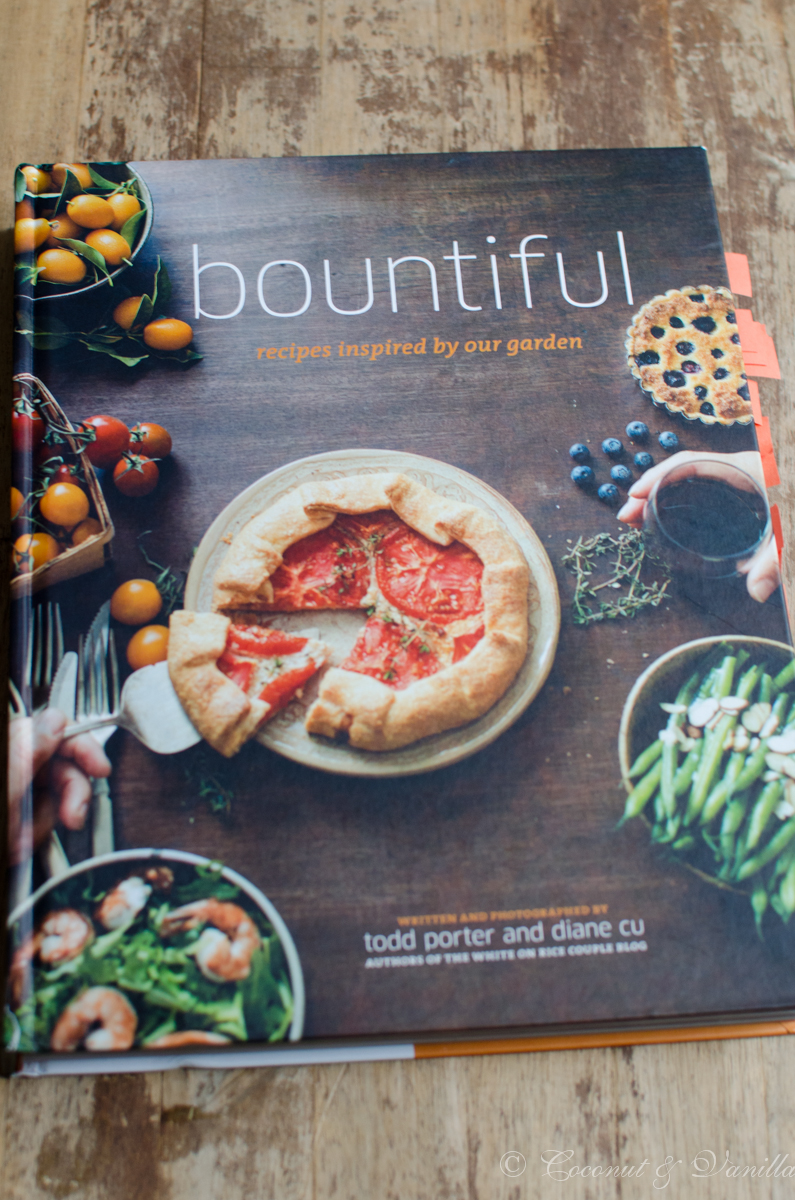 Bountiful – Diane Cu & Todd Porter (englisch)
Diane and Todd of the blog White on Rice Couple published their first cookbook. There are already a lot of blogger cookbooks on the market these days, but not every one is really good. This one is! Although their ideas are not always to my taste (the overly sweet taste of Americans is not my cup of tea), I love their food photography. Clear, colourful, happy and makes you hungry! A lot of times they give you an insight on the blog on their wonderful garden and their harvest (they have so many different citrus trees, very fascinating and beautiful!). The same applies for their first cookbook, only the recipes are more consistent and more suitable for Germans.
The recipes are seperated into ingredients and easy and more elaborate recipes are included. Everyone finds something here. The photos are great, a must have for me only because of this! 4 of 5 points!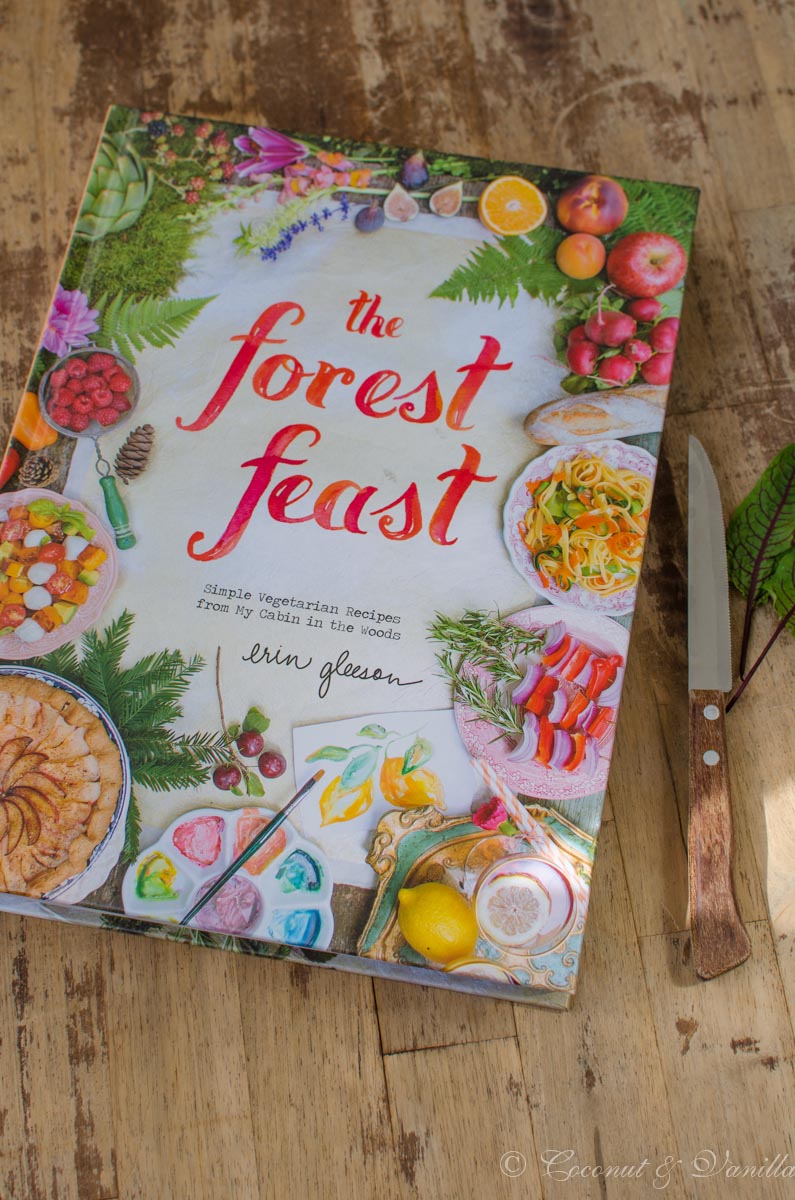 The Forest Feast – Erin Gleeson
Another foodblogger cookbook and another one which is especially wonderful! I already recommended it in October (click), but I don't want to miss it in this comprehension.
Erin created very easy dishes, which are set in scene all the more lavishly. Therefore she doesn't uses a lot of props, but water colours! So this cookbook isn't just a cookbook, but also a book of art. This was the main reason I wanted this book. It is so beautifully depictured. It's colourful, happy and in between are some photos of her cabin in the woods (!!) in California (!!). Wow, is there anymore to say!?
The recipes aren't the critical factor for this book (although I can highly recommend the "drinks" section), but the beautiful realisation!
This book gets 4 of 5 points and a recommendation for all of those who want beautiful books  in which you can also just browse for a while and enjoy!
The Banh Mi Handbook by Andrea Nguyen

I bought this small book at Waterstones in Londong (huge tip, if you are in London, the cookbook section is intoxicating!). The advantage was I could browse through all the english cookbooks which I was interested in. But this book wasn't on my radar before.
Banh Mi is a vietnamese sandwich, made traditionally with french baguette, pickled vegetables, liver paté and sauce. All this is thrown into disarray in this book, which is genius! The book is really a handbook to banh mi and describes how to make it with a lot of different ingredients for every category. Possibilites are listed what bread can be used and also how to bake the perfect banh mi roll. But you don't have to, you could also choose from a lot of other possibilites of bread and rolls. Then vegetables. Quick pickling your own one or take something you have at home. Make your own liver paté or other meat, fish or tofu? Sauce: store-bought or homemade? In what mood are you, how much time and what ingredients do you have?
This book can make a lot of little. Create always different Banh Mis? Definitely with this book! Maintain the charme of vietnamese banh mis? Yes, also this!
A really extraordinary book, which is suitable for everyone who likes to eat any kind of sandwich! Also great for folk who are looking for new ideas for sandwiches for work. Still this book is authentic, down-to-earth and explains everything necessary. 5 of 5 points! And if you don't buy it after you read my hymn of praise, I don't know, if I know you at all!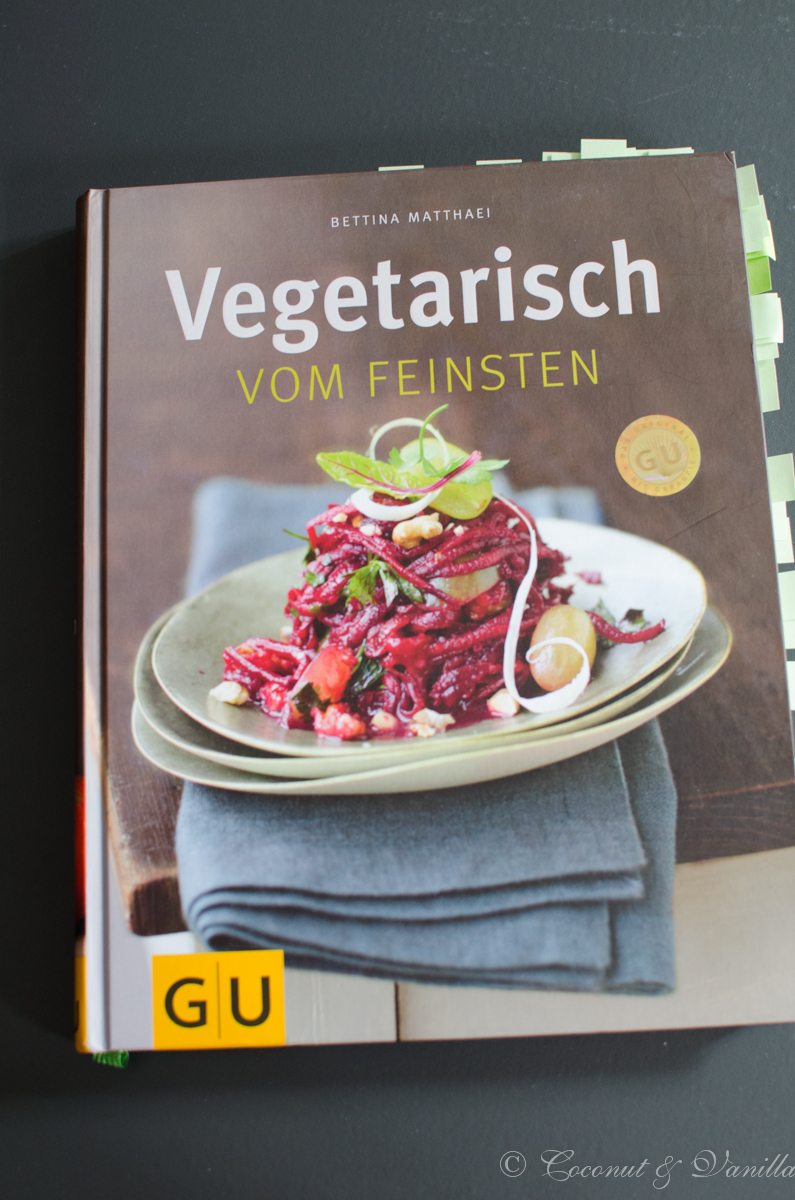 Vegetarisch vom Feinsten by Bettina Matthaei

Somehow there's nothing new on vegetarian cookbooks. I mean really new! Not "new" collections of recipes from other books of the same publisher. No thanks!
Vegetarisch vom Feinsten ("vegetarian at its finest") isn't new, it's was already published in 2011. But it's quite unknown, like a small treasure, which you sometimes find in between other more prominent books in the bookstore.
Then you open it and its recipes transfix you! Really good different recipes! What you need to know: this book is not for quick meals. Not for everyday and not for after work dinners. But for special dishes. For the muse on weekends without meat. It lives up to its name!
A book you should own, if you cook vegetarian and are interested in new recipes. Beautiful food photography invites you to cook. 5 of 5 points, go buy it!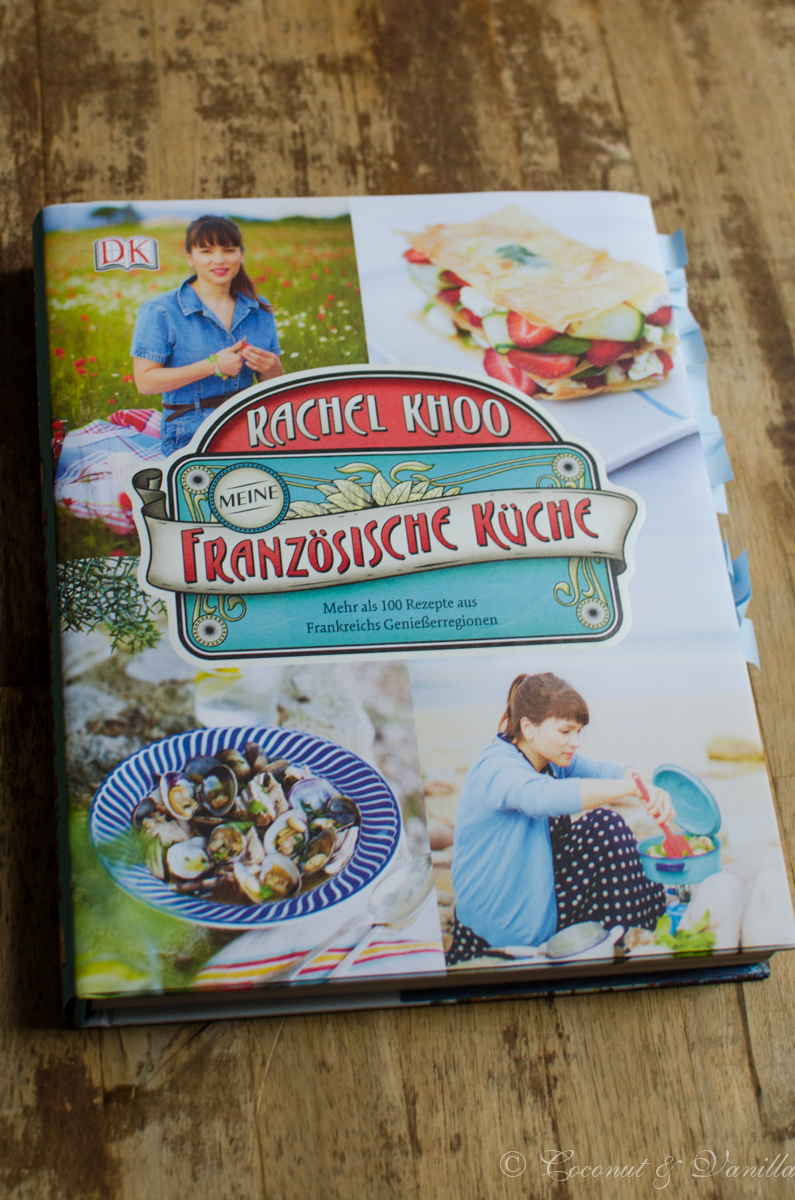 My little french kitchen – Rachel Khoo
I already gave you a small insight in this book with the recipe of the chocolate tart with crème fraîche (click). French cuisine can be very exciting, but it can be also be the opposite. Rachel Khoo makes every dish interesting and converts old classics into new ones and this is the clou! She is pictured a lot of times in her book, casual, but chic, but she doesn't exaggerate, so you don't get fed up of her easily. The photos are also casual, but chic and have this special Jamie Oliver touch. Could be, because it's the same photographer!
I could sit with Rachel in the dunes and eat clam butter with cidre on rustic bread. And that is also what makes this book different! You are in there with her and that makes it even more likeable. Not only the book, but als Rachel Khoo!
For every beginner this is a great book to get to know the French kitchen. Does it have to be so authentic every time? For me it has to have a true core and taste good. 5 points for the author and 5 of 5 points for the book!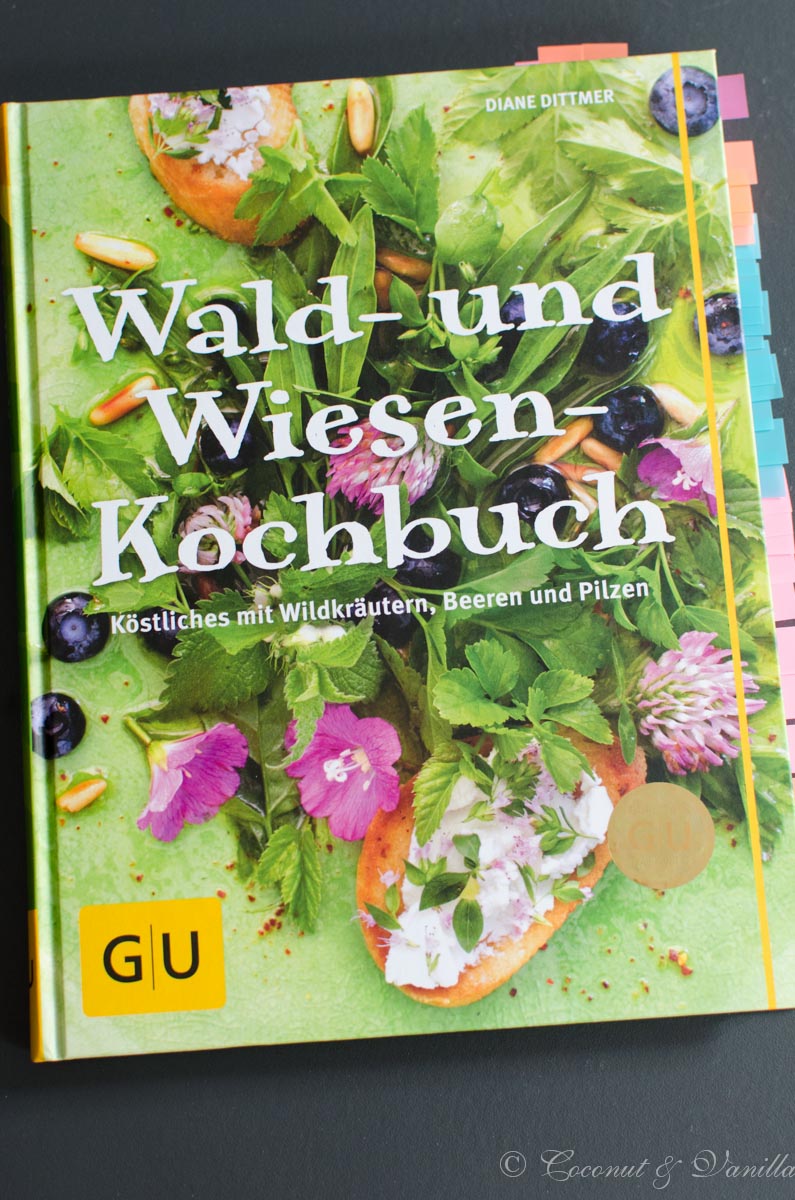 Wald- und Wiesen-Kochbuch by Diane Dittmer
I wrote a recommendation about this book in summer (click), but as I like it so much I don't want to miss it here!
The book is seperated into seasons and is about different wild herbs, flowers, berries and mushroom, which have to me foraged (mostly). A lot of great recipes are in this book to deal with this foraged food, which are innovative and sexy! But those recipes are not kooky, but doable for everybody. The recipes are highlighted with really beautiful food photography, which is colourful, vivid and "wild". Gorgeous!
If you are looking for good new recipes to use your foreaged food, this is the book to buy! 4,5 of 5 points!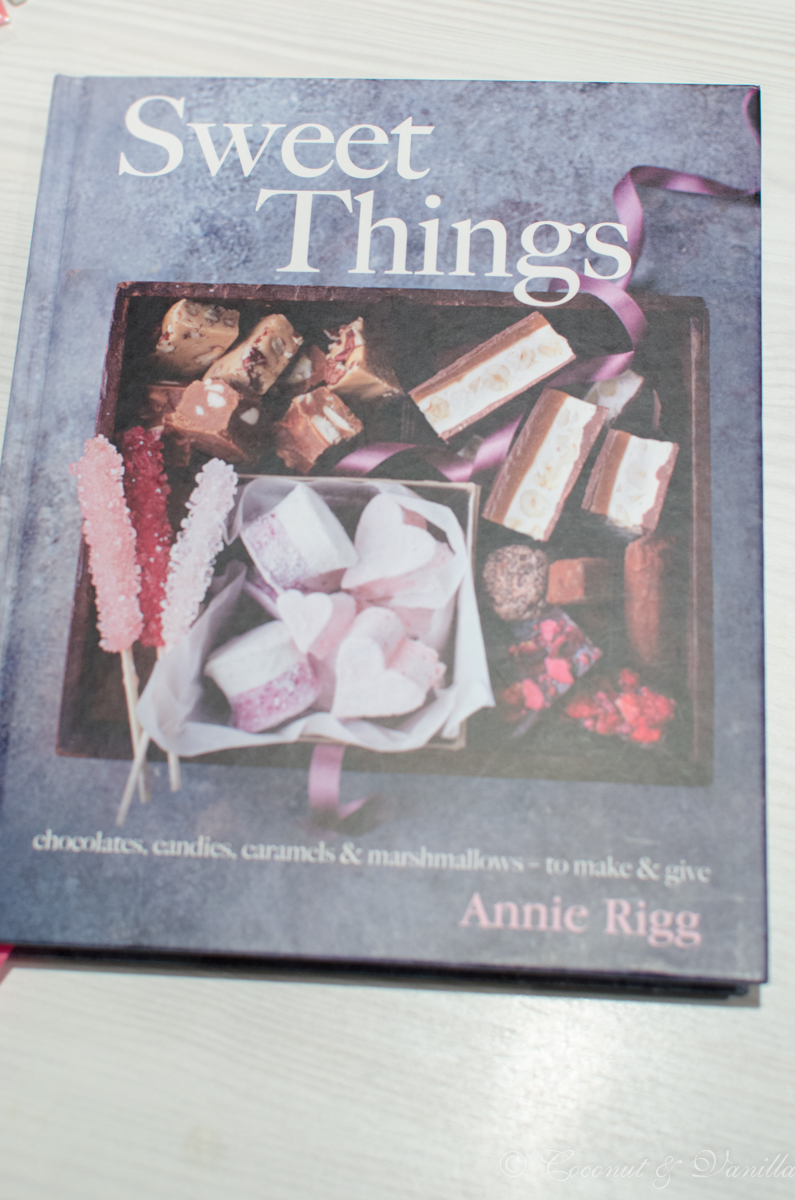 Sweet Things by Annie Rigg
I bought this great book in London, too. It wasn't available in German then and I didn't know that a publishment was planned in Germany. My experience is with the english version, I don't know how the German translation is.
This book is full with recipes for truffles, chocolates, marshmallows, candies and a lot of other sweets! The descriptions are very good and detailed, as it is necessary for delicate stuff like that. Very interesting recipes, a lot are suitable as a culinary gift, but consider the short shelf life of some sweets!
I made the peanut butter cups from this book and I loved them!
The photos are a dream and its fun to photograph the sweets, because they are so pretty! Also the book is good for ideas how to style gorgeous photos. 5 of 5 points for this book!