Sunday, 13th October 2013
If you are lucky you might get some late blackberries and peaches for this delicious gluten-free crumble. Unfortunately I didn't managed it to blog earlier, but as it fits with the gluten-free theme at the moment and as the combination of peaches and blackberries is that good (I wasn't convinced at all before) I had to blog it nonetheless. I found the recipe in the gluten-free girls aka Shauna James Ahern's second book.
I own all of her three books and I especially like the first one where she tells her story becoming the gluten-free girl, which is very interesting and good written. The second book is much more experimental and is mostly filled with elaborate recipes, so I use it quite seldom. The new and third book is in my possession since recently and like the title Gluten-Free Girl Every Day promises it's filled with gluten-free recipes for everyday. The first glance promises a great collection of recipes!
This crumble just tastes scrumptious as gluten-free, but if you don't own the right flours and don't have to eat gluten-free, just use regular wheat flour, which works also fine. If you don't get any peaches and blackberries, use pears and apples or quinces. You could also experiment with plums! Adapt it from season to season and enjoy it warm from the oven, in my opinion that's how the crumble tastes best!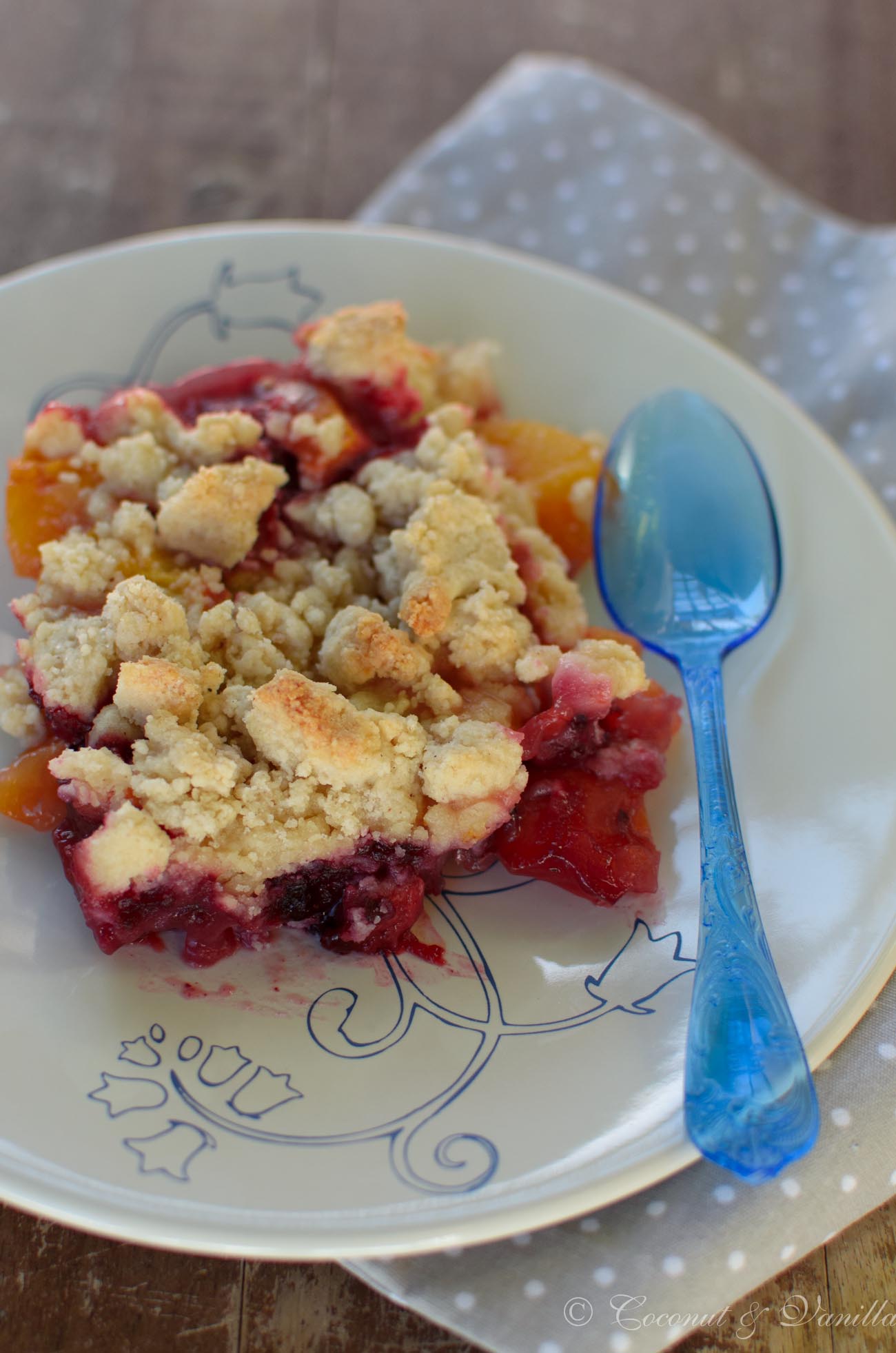 Two years ago: tart flambée
Three years ago: peach shortbread
Four years ago: apple tart
gluten-free Peach Blackberry Crumble

adapted from The Gluten-Free Girl and the Chef by Shauna James Ahern and Daniel Ahern
yields: 4 portions
Ingredients:
30 g sorghum flour
30 g tapioka flour
50 g potato flour/starch
50 g sweet rice flour
30 g almond flour or very fine ground almonds
55 g brown sugar
1 pinch of salt
1/4 tsp cinnamon
3 Tbsp cold butter
60 g sour cream
250 g blackberries (edit: raspberries are also great)
6 small peaches, pits removed and cut into pieces
2 Tbsp sugar
2 tsp corn starch
1/2 lemon, juice and zest grated
Preheat the oven to 180° C (convection 160° C).
Mix the flours with the almonds, sugar, salt and cinnamon. Dice the cold butter and mix with the flour until it looks like coarse cornmeal,using a stand mixer or food processor.
Mix the blackberries and peaches with the lemon juice. Mix the sugar, cornstarch and lemon zest and stir in the fruit.
Butter a pan and place the fruit in it. Cover with streusel and bake for about 30 minutes until the crumble begins to brown. It's possible that the crumble won't brown much, because of the gluten-free flours, nevertheless it's done after 30 minutes. If you prefer it more browned you can put it under the hot grill for a few minutes.
Enjoy warm from the oven or cold.