Sunday, 6th October 2013
Pesto always rocks! And as you might noticed it doesn't always have to be just basil (which is annoying, anyway, if you don't have any basil at home). I already introduced you to cauliflower pesto, pea pesto and swiss chard pesto and today we are again in the vegetables section and it will be yellow! Beautiful yellow corn pesto!
Maybe you don't know what to cook with corn anyway, except grilled ears of corn with herbed butter, which are totally amazing, but in addition to that most of you only think of corn when it comes from a can. Ugh, yuck!
This corn pesto is perfectly summery (but you can also smuggle it into autumn, since corn is still abundant then) and it works with these luscious fresh ears of corn from the farmer's market. Corn from the can is a no go here!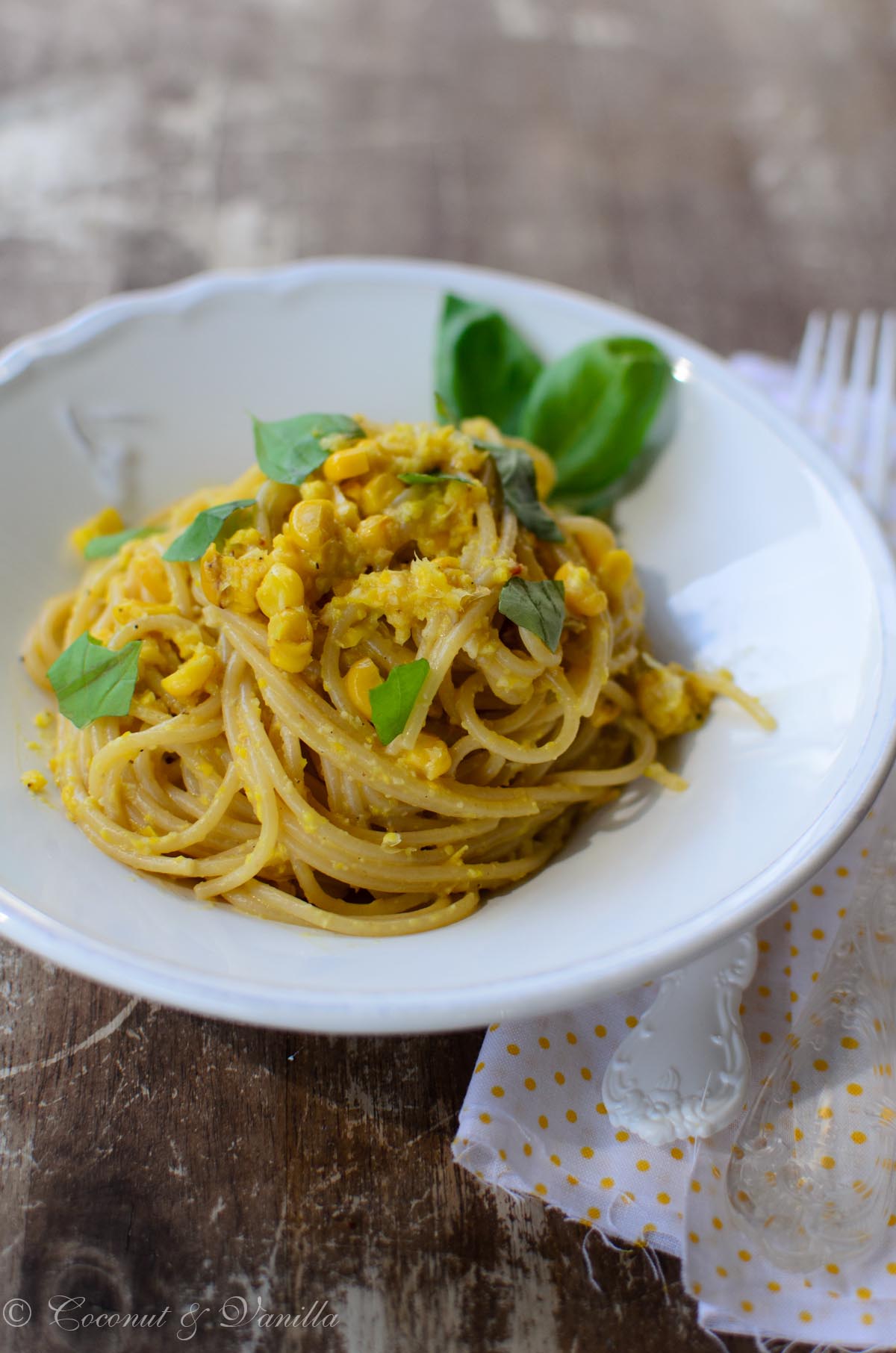 One year ago: franconian yellow beetroot salad
Two years ago: frozen yogurt with lemon
Three years ago: peach shortbread
Four years ago: mini red kuri squash quiches and nuttily lamb's lettuce
Corn Pesto

adapted from Lottie + Doof
Ingredients:
3 fresh ears of corn, kernels cut off
1 garlic clove, minced
sea salt
pepper
1/4 tsp red pepper flakes
25 g parmesan, grated, plus more for serving
20 g pine nuts, toasted (alternative: chopped almonds)
about 80 ml olive oil (I add olive oil by touch)
about 30 basil leaves, coarsely torn
optional: 4 slices bacon, cooked and coarsely crumbled
If you use the bacon (it will be crumbled upon the dish in the end) use the bacon fat for cooking the corn. If not, heat a bit of olive oil in a skillet.
Add corn, garlic, some salt and pepper and the pepper flakes and sauté the corn until al dente, it should not brown. Reserve 1/4 of the corn kernels and add the rest to a food processor and add the parmesan and pine nuts and purée. Add the olive oil gradually and purée until the pesto is smooth. Season with salt and pepper and add the rest of corn kernels and the basil.
Cook the pasta and reserve some pasta water to thin out the pesto (if you like). Add the pesto to the pasta and sprinkle with the bacon and serve with grated parmesan.