Friday, 7th June 2013
There are a lot of box subscriptions possible these days. And the contents do not always agree with promises of the consigner. I had good and bad experiences already.
I also don't want to have useless stuff at home, which I don't use. I'm not just talking about stuff I don't need, because it's redundant, but also products from big companies with disgusting ingredients, listed in every supermarket. Because if I want that, I can buy it myself, right?!
So you have to set yourself apart in the box market! Which does the Foodist box! In the first moment you may think Foodist box what's that? Foodist made my mouth water by saying "a box with delicatessen from small manufactures". Delicatessen? Small manufactures? Everything organic? Yes, please! And I was even more smitten, as I noticed some products were even fair trade. So they send me a box for testing.
I was excited as I unpacked, because it was such a good choice of products. I also liked the presentation of the products as well as their manufactures. It's kind of personal, the box is true and not over the top.
As you can see we couldn't hold back and already drunk the iced tea and opened the gummy bears. Oops! Also epic fail at photographing: I forgot to add the macadamia nuts and had to insert them later with GIMP.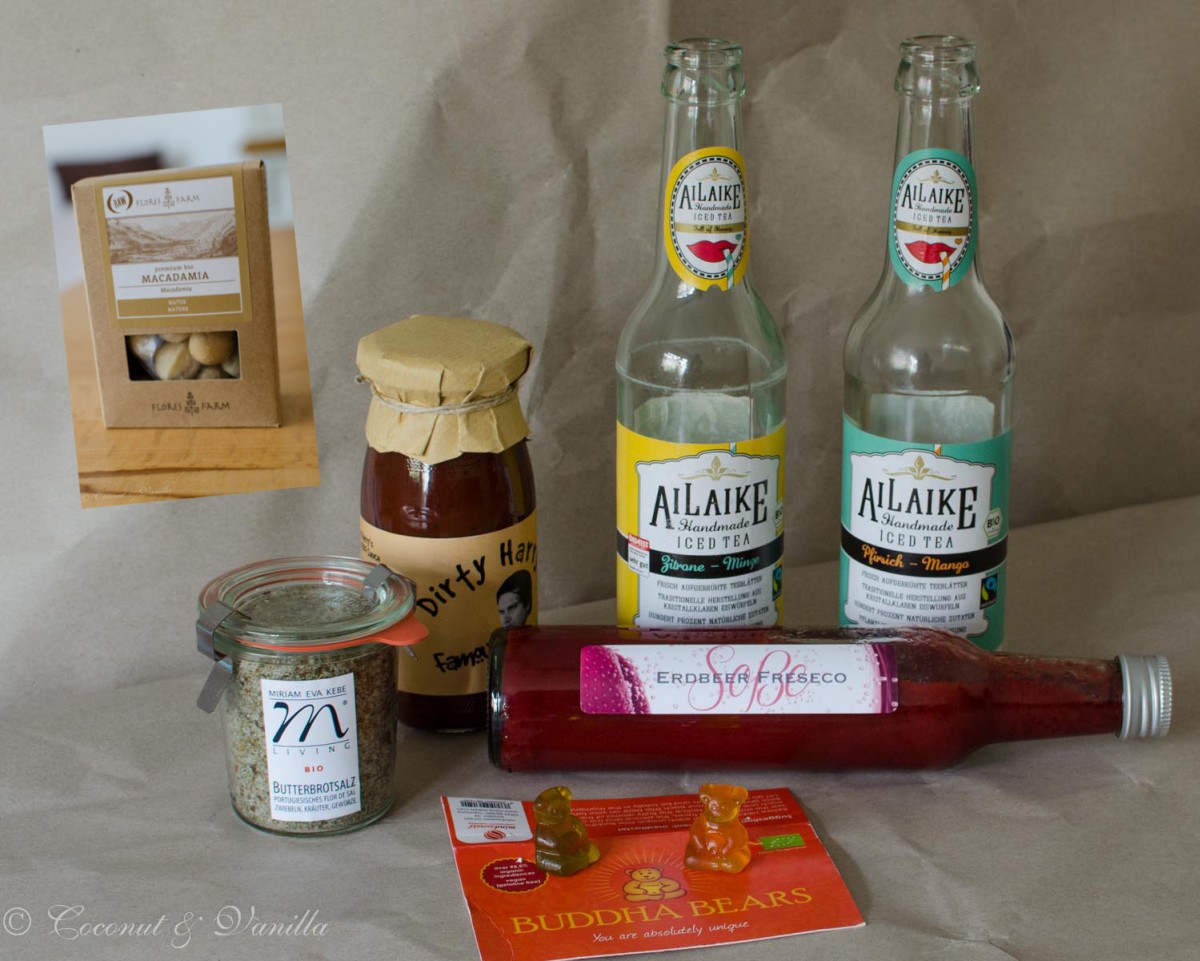 So this was in the may box and my opinion after I tried the products:
Dirty Harry's famous BBQ Sauce by Münchner Kindl: Very delicious, the best BBQ sauce I've ever tasted! Exactly the right mixture of tomatoes, sweet-, hot- and smokiness. Good looking rustic packaging!
Buddha Bears gummy bears by Mindsweets: Since they are made without gelatin the texture is a bit strange in the first moment, but they taste great!
macadamia nut by Flores Farm: Delicious premium-quality nuts. In my opinion macadamia nuts are lacking a bit of taste, I rather would have tried some other nuts by Flores Farm, especially after I spied more of them in a whole foods store 😉 (pecans!).
Butterbrotsalz ("buttered bread salt") by Miriam Eva Kebe Living: I was quite sceptical towards this salt, since I couldn't imagine its purpose. Moreover, we already use salted butter for our bread, so it would've been too much to add more salt on top. But we found other ways to integrate it in our eating habits, like on top of caprese, steak and hard boiled eggs (my favourite: buttered bread – sliced hard boiled egg + buttered bread salt = yum). The salt is delicious and brings some dishes to shine even more. It convinced me fully! An additional plus for its pretty reusable packaging in Weck jars.
Erdbeer-Fresco-Soße (strawberry fresco sauce) by Foodist, Marge and Sekthof Sieben: Very good strawberry sauce!
Iced Tea in peach-mango and lemon-mint by Ailaike: We didn't liked this product at all. Peach-mango tasted artificial like pink bubblegum, lemon-mint was ok, but nothing more. Nice packaging and witty name – (A)i l(a)ike!
And if you like a product you can just order it on Foodist. Isn't that great?
I spotted the nuts and the gummy bears also in a local whole foods store, so it's possible to get some of the products in stores without ordering them online.
I didn't know any of the products or brands before, so it was a really surprising box. Except for one product I liked everything and there were even some products I would buy for myself again. I love the large designed brochure, where they introduced the products, its purpose, the manufactures and the production. For me the best box for trying new interesting high quality food.
 You can also buy the Foodist box as a gift, which is a great idea for people who love good food  (or already own everything)! Another funny idea is the ladies and gentlemen's box, although as a woman I would prefer the gentlemen's box ;).
So from my own conviction I can recommend the Foodist box. One box costs 24 euro, but every box is worth more than 30 euro. A fair price for these products.