Saturday, 9th March 2013
Some months ago Heidi blogged this wonderful salad on 101 cookbooks. Originally named the greenest salad, because you can't make it any greener than this. This salad combines vegetables, fruits (yes, avocados are berries!) and nuts for a dish which sticks out for its different aromas and textures. Therefore it's just more than a green salad, it's greener than green, the greenest salad it is.
If you are struggling to make something nice with broccoli, this salad is your opportunity to let it shine! I love broccoli and it's just perfect for this dish, since it makes a great texture component here.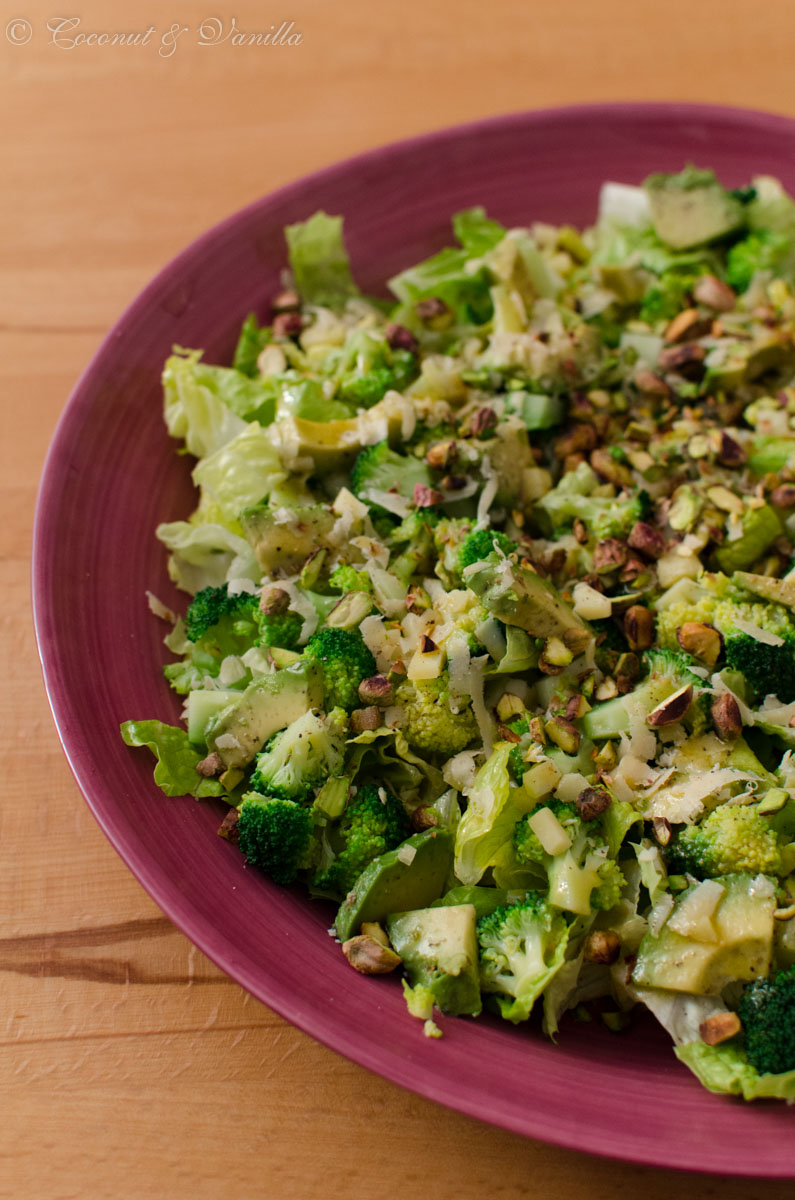 One year ago: gluten-free orange polenta cake
Two years ago: meatloaf à la Jamie
Three years ago: tofu balls with tomato sauce
Broccoli Avocado Salad
adapted from 101 cookbooks
yields: 2-4 servings (depending on serving it as a side dish or just with some bread, butter and cheese)
Ingredients:
1 baby romaine lettuce
1 small broccoli
1 avocado
30 g pistachios, toasted and coarsely chopped
20-30 g parmesan, coarsely grated
salt, pepper
6 Tbsp olive oil
2 Tbsp elderflower vinegar (or white balsamico, apple cider vinegar)
1 tsp honey
1 tsp dijon mustard
Peel the broccoli stem and dice it into 1 cm pieces. Cut the florets into bite-sized pieces. Bring a medium pot of water to boil, salt and add the broccoli. Cook for 1 minute, then drain and run under cold water. The broccoli should be still crisp and bright in colour.
Cut off the base of the lettuce and quarter it lenghtwise. Slice the quarters crosswise into 1,5 cm strips. Wash and spin dry.
Half the avocado, remove the pit and half the halves again. Peel it and slice it crosswise.
Combine oil, vinegar, honey and mustard in a screw top jar. Seal and shake vigorously.
Place the lettuce on a large platter, then add the broccoli and the avocado slices. Sprinkle with pistachios and season with salt and pepper (you can also toss everything in bowl, but I prefer it arranged on a platter). Drizzle with dressing and sprinkle with the grated parmesan.