Monday, 1st October 2012
Today I have a classic for you! Beetroot Salad, in this case with yellow beetroot – which changes nothing in the flavour – made Franconian style. In Germany you can buy preserved beetroot salad, which tastes quite similar. I love this salad since childhood, but homemade is always best. The salad tastes fresher and you can adapt the firmness of the beets to your likes.
This is still my favourite salad made of beetroots, because it has a perfect acidity, is perfectly spiced and a light meal. The dressing reminds me of a potato salad from southern Germany, mainly made of vinegar and broth.
Just some time ago I didn't know a lot of ways to prepare beetroots, but this salad was always one. Luckily a garden makes me imaginative! So this won't be the last recipe with beetroots, for sure!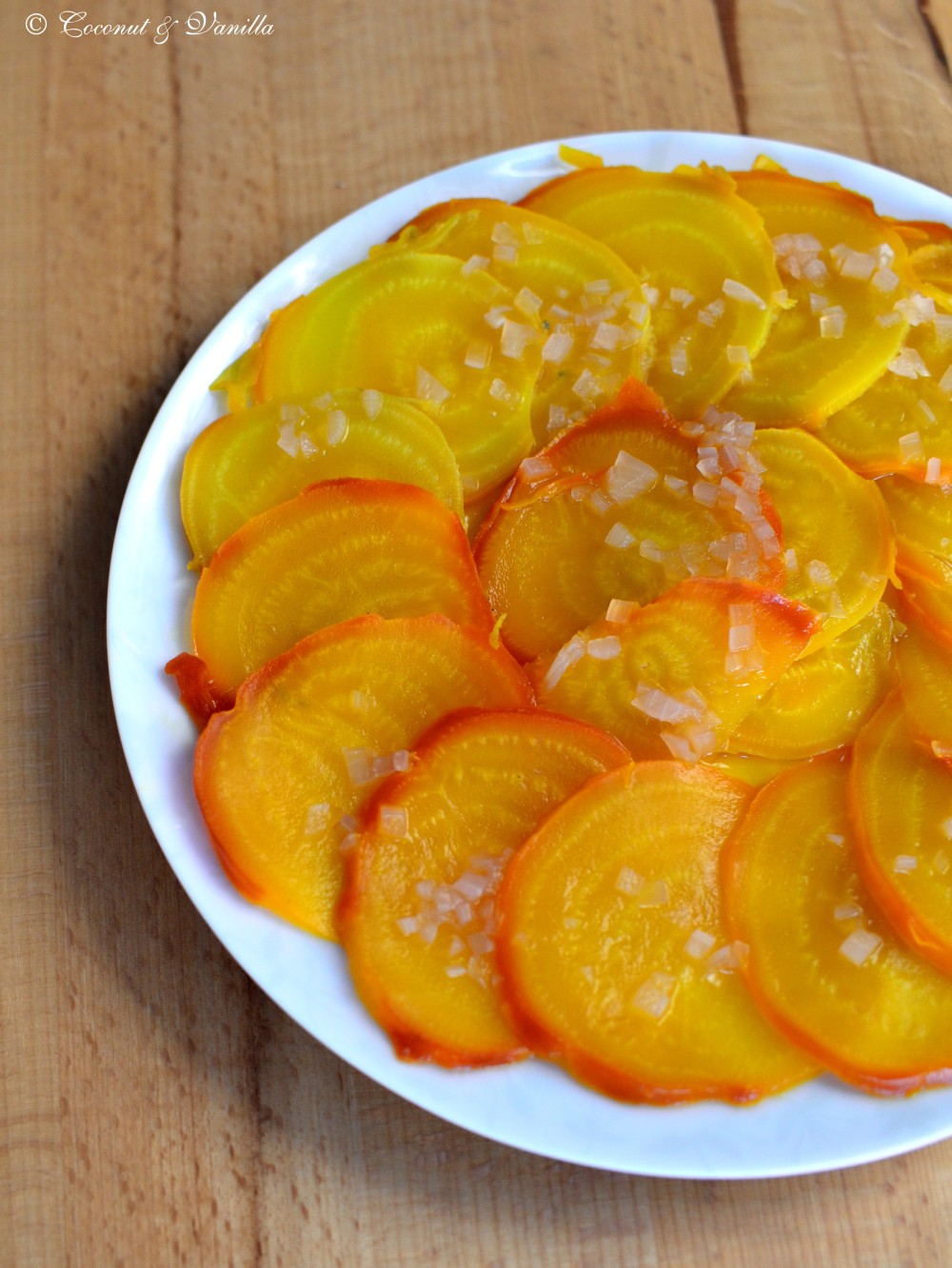 One year ago: Frozen Yogurt with Lemon
Two years ago: gluten-free Sugar Cookies
Three years ago: Triple Mousse
Franconian yellow Beetroot Salad
for 2 persons
slightly adapted from the great cookbook Sadd und Dsufriedn Das Neue Nürnberger Kochbuch 
Ingredients:
2-3 beetroots, about 500 g

60 ml red wine vinegar

125 ml water

salt

pepper

1/2 tsp sugar

1 small onion

1 clove

1 bay leaf
Cook the beetroots in salted water. Strain, rinse with cold water and let it cool down shortly. Peel of the skin with a small knife.
Cut the beetroots into slices or slice with a mandoline. It's your choice, how thick you like them.
Finely dice the onion and mix with the other ingredients (except the beets) in a small saucepan. Bring to the boil and cook for 15 minutes.
Pour steaming hot over the beetroot. Let it steep for a couple of hours, best for 24 hours! But the salad tastes already divine after 30-60 minutes!