Tuesday, 14th August 2012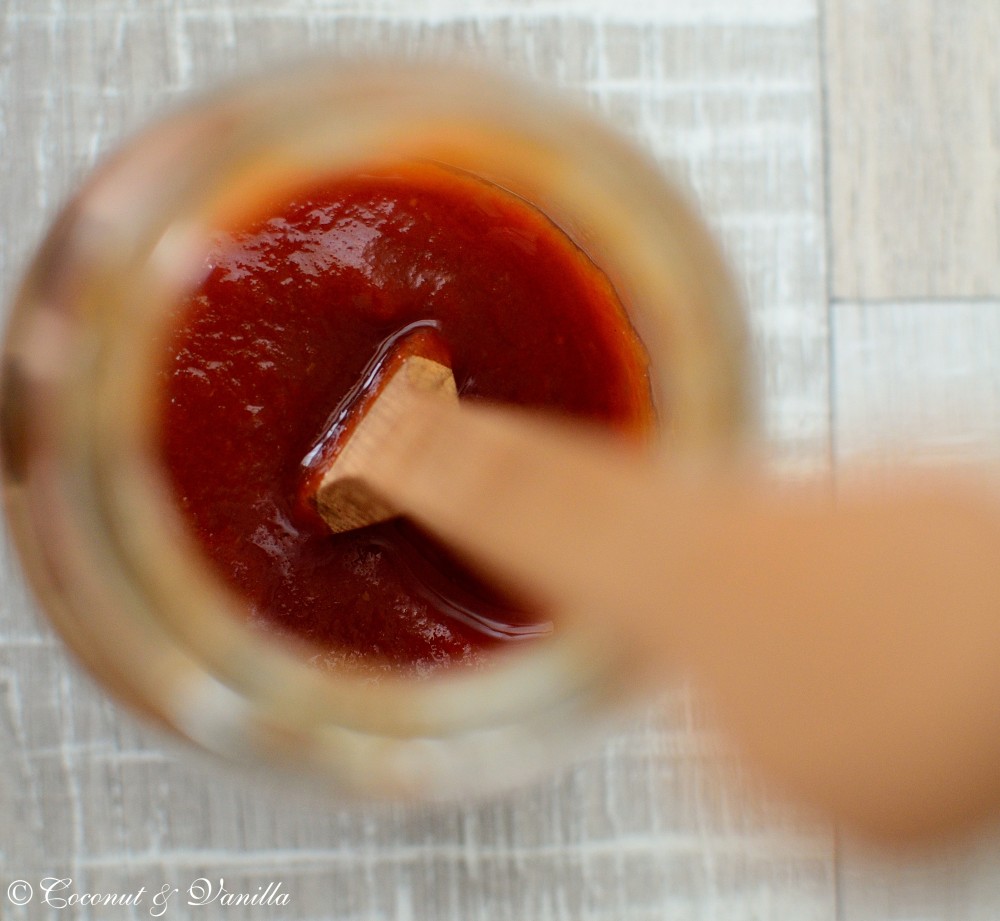 I will now present you the best recipe of the summer, what am I saying, the year!
I'm a really tomato ketchup lover! The stuff of my childhood still belongs to bratwurst and fish sticks for me! And the stuff of my childhood is bought from a global brand ever since, which is named like a relative of mine.
You know I make a lot of things myself, but I was always sceptical about making ketchup. I thought it could never reach the original.
Last week I gave it a try. I even cooked two recipes simultaneously for comparing. But after a short time it was already clear that one recipe is a loser… because powdered paprika in ketchup is just completely wrong.
But the other recipe made my eyes lighten up! It tasted like the original, but even a bit better. It was more complex, intensive and still tasted like ketchup has to taste!
I'm afraid we will only eat homemade tomato ketchup anymore. Afraid? Yes, because you will need A LOT of tomatoes for this delicious stuff. You will need the tripled amount of tomatoes, that you want in ketchup. That's because after pureeing the sauce, you have to press it through a sieve to remove the coarser rests of the vegetables and the seeds, because you don't want to have that in your ketchup! Finally a ketchup needs to have that velvety silky texture. And you will only get it by reducing the sauce.
The most beautiful tasty German tomatoes are now in season for sensational prices. I've already seen awesome San Marzano on our market for 2,40 €/kg! If you find these or giant ox heart tomatoes, buy and use these, because they have less seeds and liquid and more flesh as normal tomatoes.
Go, buy tomatoes, a few kilo right away and make ketchup! It doesn't make a lot of work, it just needs some time. Therefore you can enjoy the result one year long, given that you made enough!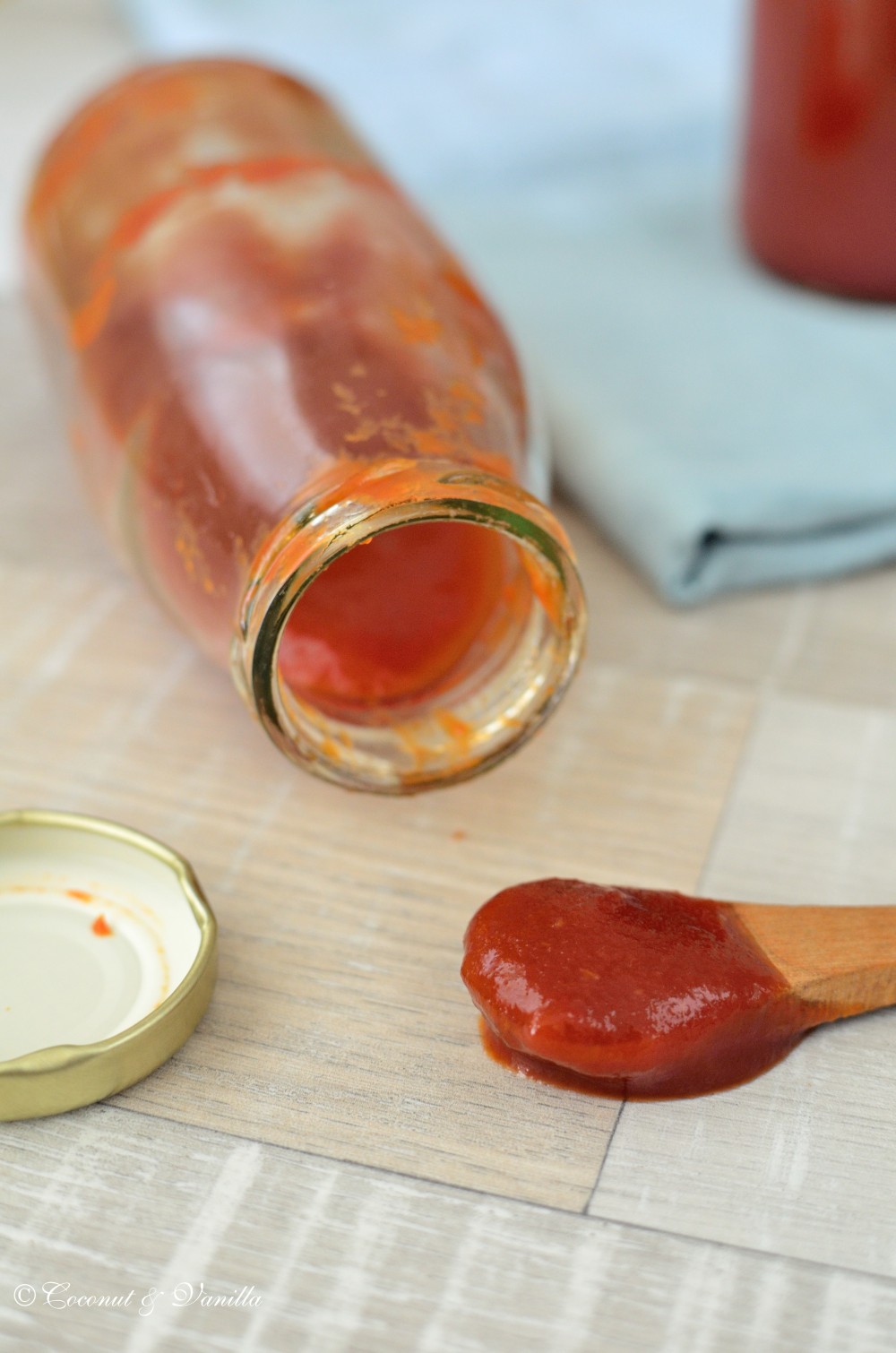 One year ago: Flaxseed Sourdough Bread
Two years ago: The best Chocolate Chip Cookies
Three years ago: Death by Chocolate
Homemade Tomato Ketchup
adapted from Geschenkideen aus der Küche by Nicole Stich
yields about 350ml
Ingredients:
1 kg ripe, firm and aromatic tomatoes (best San Marzano or giant ox heart)

2 cm ginger, peeled and sliced

25 black peppercorns

4 bay leaves

4 cloves

1/2 small celeriac, peeled

2 garlic cloves, peeled and finely diced

1 onion, peeled and finely diced

1/2 large red chilli

5-6 slices dried porcini (or 1/2 tsp ground)

6 Tbsp muscovado sugar

200 ml white vine vinegar

1 tsp fine sea salt
Cut an X in the bottom of each tomato, place in a large bowl and pour boiling water over them. Let them rest for 1 minute. The tomatoes should be completely in the water. And don't let them rest too long, as they will soften and are more difficult to chop.
Pour them into a colander and rinse with cold water in order to cool them down. Remove the skin with a small knife (when I am handling a lot of tomatoes, I like to work with disposable gloves, since the hands won't get soft and wrinkled by the water, it's not that slippery and the hands won't get red). Quarter the tomatoes and remove the stems.
Place the tomatoes in a large broad pot or a stainless steel pan with a high rim.
Put the ginger, peppercorns, bay leaves and the cloves in a tea bag and seal it with kitchen twine. Add to the tomatoes.
Slice the celeriac 1/2 cm thick and the chilli into thin rings. Add both to the tomatoes, as well as the rest of the ingredients.
Bring to the boil and let it simmer on low to medium heat for 30 minutes.
Remove the celeriac and the spice bag.
Purée the tomato sauce finely. Place a large mesh strainer over a large bowl and press the sauce through it to remove any seeds and vegetable bits. In the sieve should be remaining a firm mush. Don't forget to use the purée under the sieve.
Wash the pan/pot shortly to remove any seeds. Place the sauce into the pan/pot and boil it down on middle heat for 30 to 60 minutes, depending on the amount of sauce you have (it might be taking even longer for really large amounts, I didn't tested it, yet). Stir with a silicone spatula every now an then and scrape the bottom of the pan. In the end the ketchup shouldn't be running from the spatula, but dripping thickly off it.
Fill the ketchup in small sterilized bottles and close them tightly.
Keeps closed until the next tomato harvest. Should be consumed as fast as you can, when opened and kept in the fridge (I don't have any experience by now), because of that use small bottles (I use 250 ml).