Monday, 9th April 2012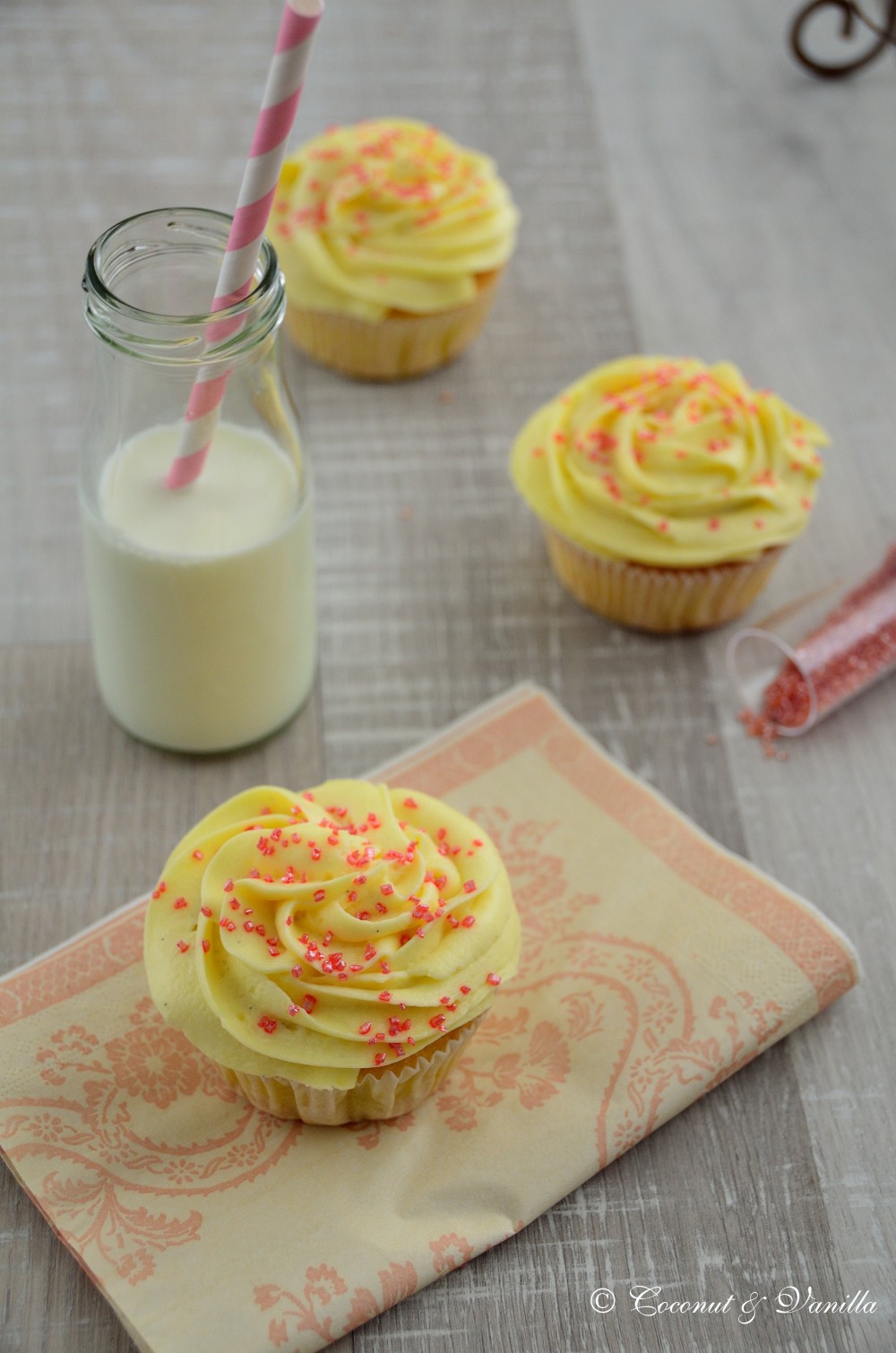 For Easter I have the ultimate eggnog high: eggnog cupcakes. I got hooked on that. No, not the eggnog, the cupcakes. After discovering the light version of topping cupcakes with pudding cream, I'm delighted with them. My cupcakes will never be heavy! Promise! This cupcakes are also convincing with light- and fluffiness.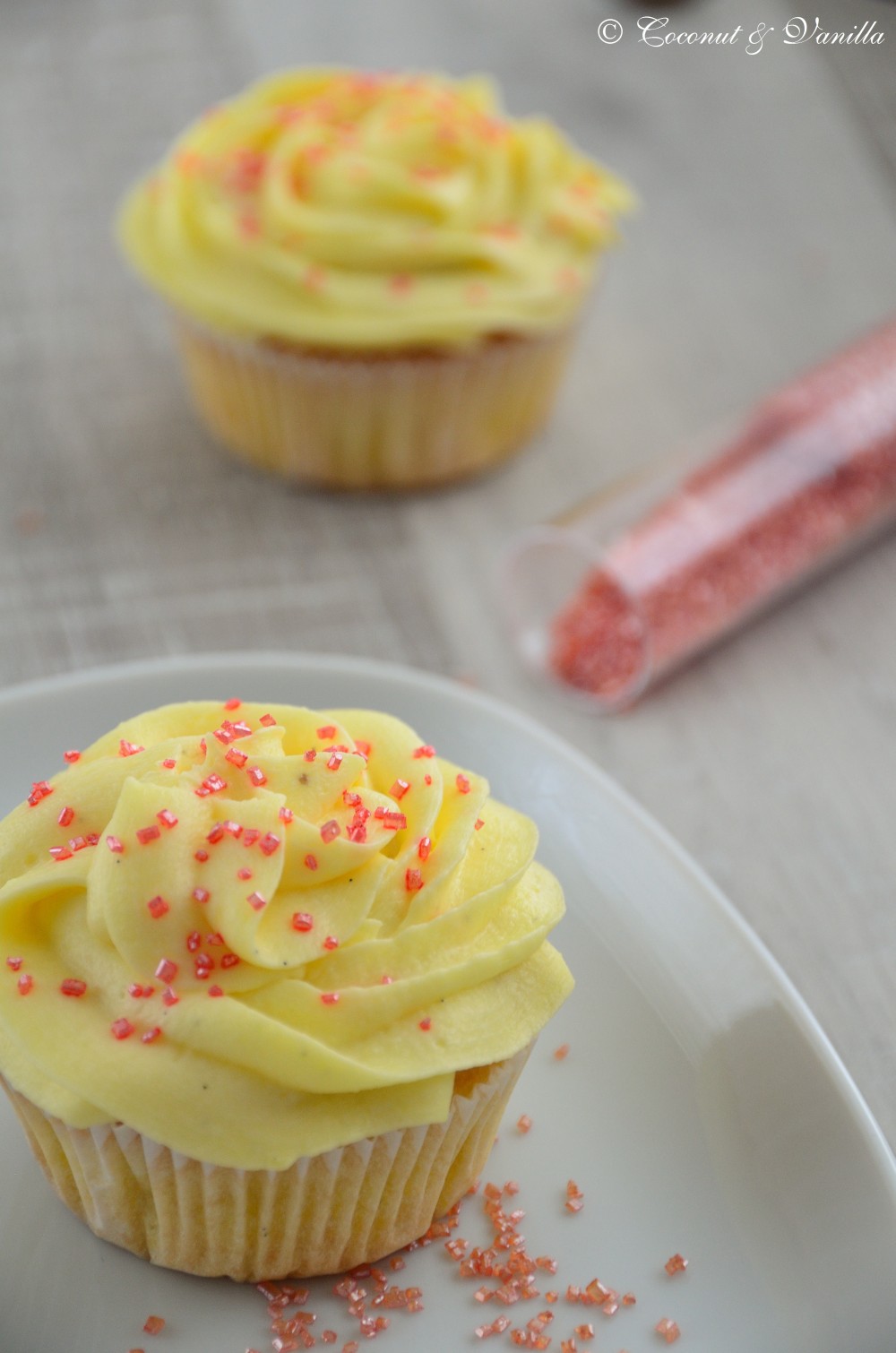 The dough is a simple eggnog cake recipe, which works also great as a pound cake with the same amount of dough (just bake longer and skip the pudding cream). The topping is again made of pudding, but this time homemade eggnog pudding. I didn't used any convenience product. And of course you can eat the pudding just right away, delicious! In this cupcakes everything is homemade, even the eggnog (with this recipe). Everything is whisked together fast and you will taste, that it's homemade.
The cupcakes need to be cooled, but taken out of the fridge 10-15 minutes before serving for developing the manifold eggnog aroma.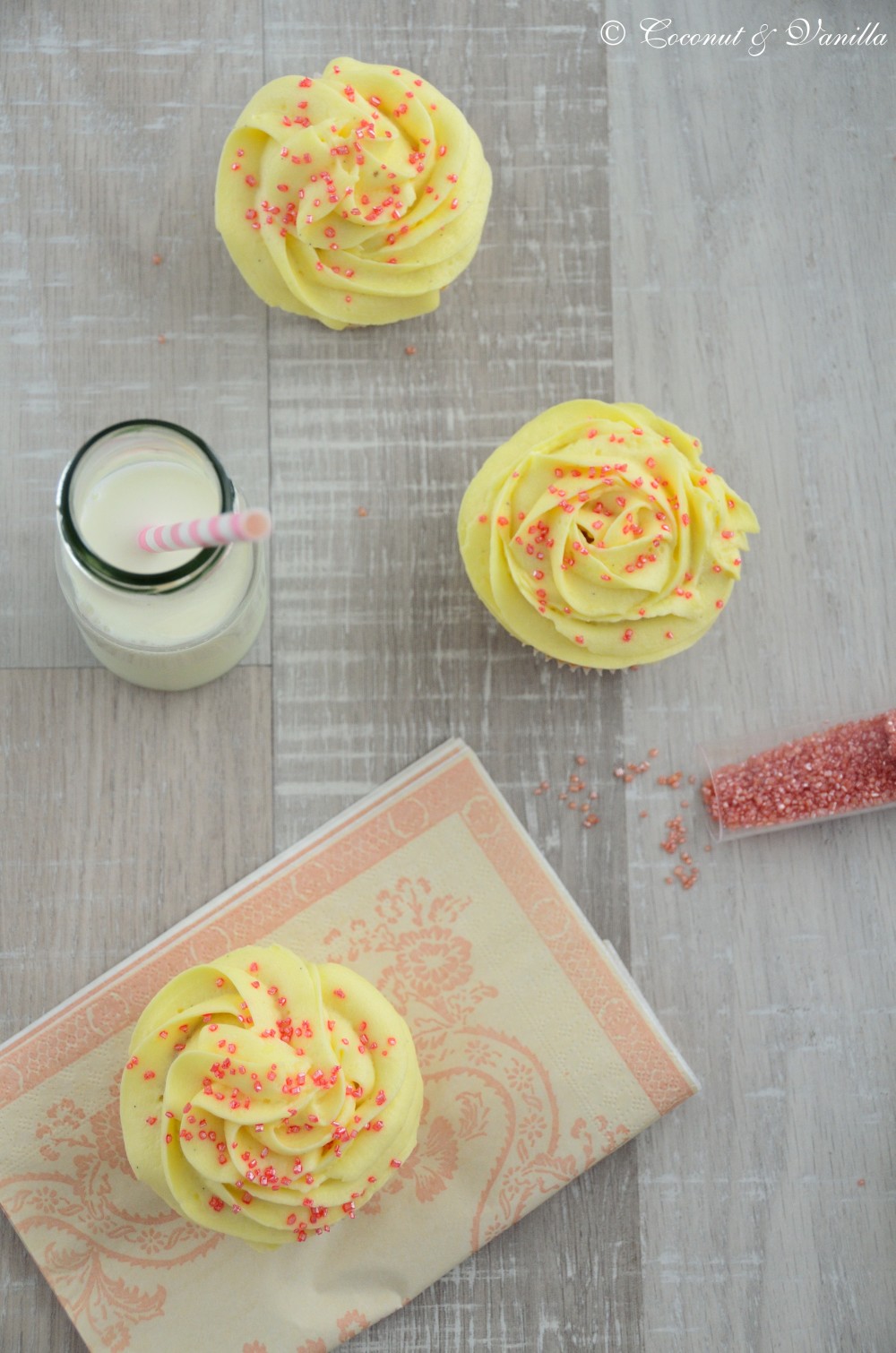 One year ago: Rhubarb Muffins
Eggnog Cupcakes
yields:  18
Ingredients:
for the cakes:
5 eggs

150 g powdered sugar

2 Tbsp vanilla sugar

1 pinch of salt

250 ml sunflower oil

150 g corn starch

100 g flour

4 tsp baking powder
for the topping:
400 ml whole milk

50 g sugar

40 g corn starch, sieved

2 egg yolks

100 g butter, at room temperature
Preheat the oven to 160° C. Line the cupcake forms with paper moulds.
Beat the eggs with the powdered and vanilla sugar and the salt, until they are pale and fluffy. Continue beating, while adding the eggnog. Then add the oil gradually and beat 2 minutes more.
Add the flour, corn starch and the baking powder and fold it in.
Fill the moulds with the dough. About 2 tablespoons per mould, they should be filled for about three quarters.
Bake the cakes for 20-25 minutes, until golden brown and an inserted skewer comes out clean!
Let them cool completely.
In a medium saucepan bring the milk, 100 ml eggnog and the sugar to the boil. Whisk together the remaining 100 ml eggnog, the corn starch and the egg yolks.
Remove the saucepan from the heat when it's boiling and add the egg mixture gradually while whisking. Bring it again to the boil (it's enough to put it on the heat for a very short time).
Place some plastic foil directly on the surface and let it cool completely (place it in the fridge, when it has cooled out).
Cream the butter and add the eggnog pudding by tablespoons. Mix until well combined.
Fill the cream into a pastry bag with your favourite tip and top the cupcakes with the cream.
Keep refrigerated, but don't forget to remove them 10-15 minutes from the fridge before serving!